Your I Ching Hexagram is
THE THUN HEXAGRAM
Lingam of Earth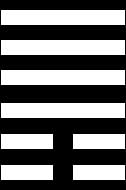 THUN: A retirement. Though thy force be spent.
Adroit withdrawal masters the event!
Peril! Withdraw! Keep still - though tail yet show.
Hold fast thy purpose subtly, even so.
Gracious to them that bind thee; hate their ire;
maugre their will, the great have wit to retire.
Retreat in order - even the gods admire.
Retreat with dignity - rekindle fire.