Your I Ching Hexagram is
THE I HEXAGRAM
Earth of Fire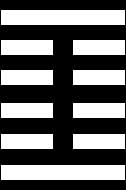 I: Nourishment; the matter and the mode,
demand that thought should indicate the road.
Suffice thyself; else - how thy jaw shall quiver!
Look neither down nor up, the sages say.
Ill nourished, action merely means affray.
But lo! Below thee bleats the tiger's prey.
Improper method? Firm and cautious stay!
But thou, who nurturest all, mayst cross the river.