Blind Spot Spread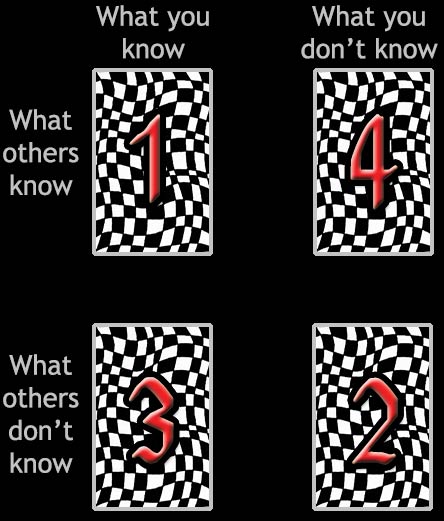 Difficulty: Varies
This tarot spread is used to enhance self-awareness. Questions about learning something about oneself or things that are hidden work very well with this tarot spread, although no question is necessary.
This tarot card displays the obvious identity, the part of oneself that is consciously known and projected to others.
This card indicates unconscious driving forces that neither the reader nor others are aware of about them, the great unknown. Nobody knows what this tarot card means, at least not yet...
The part of oneself that is concealed, to keep others from discovering, is apparent in this card.
This is the Blind Spot. This is what was asked about, that which this reading should bring awareness of. The reader may wish to pay close attention to these mannerisms.
Your Blind Spot Reading
| | | |
| --- | --- | --- |
| | What you know | What you don't know |
| What others know | The Egg | The Rods |
| | | |
| What others don't know | The Bear | The Sun |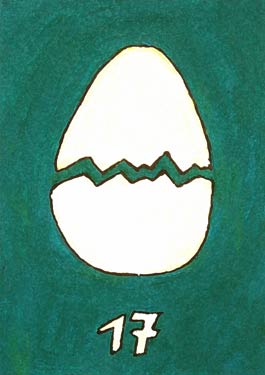 This card displays your obvious identity, the part of you that everyone knows.
The Egg
The process of cleansing one's self. The stork is a deliverer. It delivers the message of card that occurs before it to the card that appears after the Stork. The ever-evolving nature of love.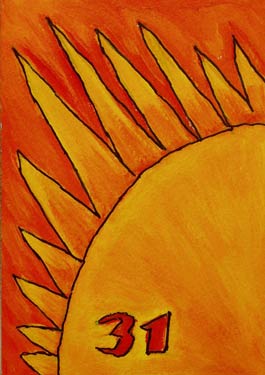 This card shows unconscious driving forces that neither you nor your company is aware of about you. This is the Great Unknown.
The Sun
Realm of Fire

This is the highest energy. Everything is free, on a new way, will get a new form soon. This is inspirational energy, what we for example feel when highly motivated start a new project. At this point we can ask ourself what energy actually is.

Creation, brilliance, success, heat, positivity, happiness, will-power, aura, the absolute, the centre of attention. The Sun suggests great honours.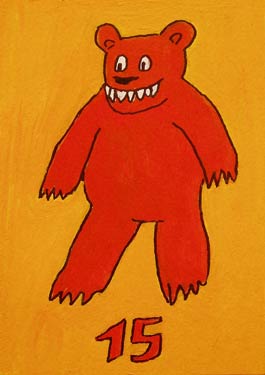 The secrets you keep from others are shown by this card.
The Bear
Power, great strength, protection, spiritual energy, fame, a foundation of truth – but possibly jealousy, envy, and through these, tremendous wrath. The Bear is a very powerful sign, but be wary of the potential for excessive force.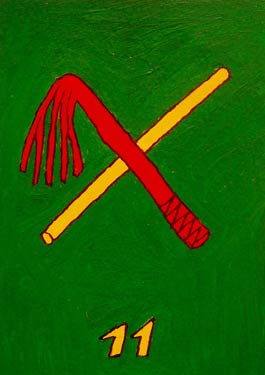 This is your Blind Spot. This is what you asked about - what you wished to be made aware of by this reading.
The Rods
The Rods represent family quarrels, arguments, heated debate, domestic trouble, strife, cleansing by fire, consequences, and the number two and duality. This card indicates the need to make some significant changes in your domestic situation.