Relationship Spread #2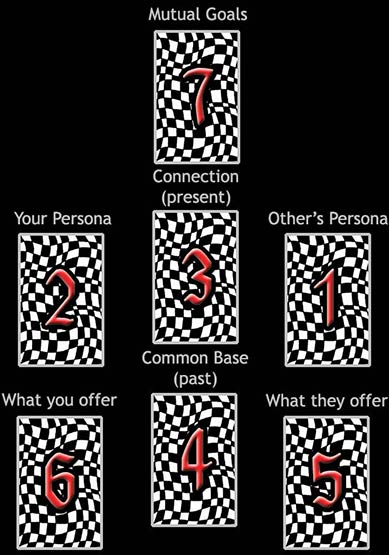 Difficulty: Easy
This relationship spread focuses more on the common ground of the relationship, with three cards in the middle column showing the common ground. The middle column essentially displays the past, present, and future of the relationship.
Card #4 stands for the common base of the relationship, which may be thought of as the past events which have shaped their characters, bringing them together. The current connection that binds them together is Card #3, indicating the values shared. Card #7 implies the common goals that would keep the pair together moving into the future.
The columns on either side show what each partner brings to the table. Remember, relationships need not be romantic, and the partners could even be groups rather than individuals. In this layout, the other person is on the left-hand side and the reader on the right.
Cards #1 & #2 indicate the separate personalities of each member of the relationship. These cards form a sort of bridge with the cards beneath them, #5 & #6, which show the qualities that each partner offers the other person, and thus to the relationship as a whole.
Your Relationship #2 Reading
| | | |
| --- | --- | --- |
| | Mutual Goals | |
| Your Qualities | Connection (Present) | Others' Qualities |
| What You Bring | Common Base (Past) | What They Bring |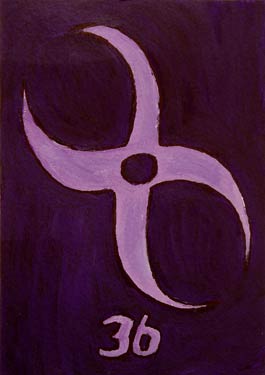 7: Mutual Goals
The Crucifix
Symbol of fate, karma, guilt, knowledge, belief, tests, sacrifice, grand endings, tough love, and hard lessons. The Crucifix indicates that you may have to make a considerable sacrifice.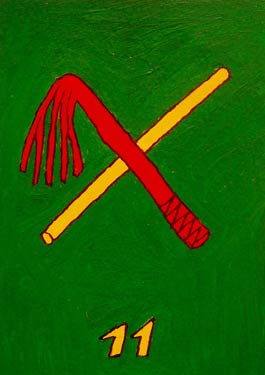 3: Connection
The Rods
The Rods represent family quarrels, arguments, heated debate, domestic trouble, strife, cleansing by fire, consequences, and the number two and duality. This card indicates the need to make some significant changes in your domestic situation.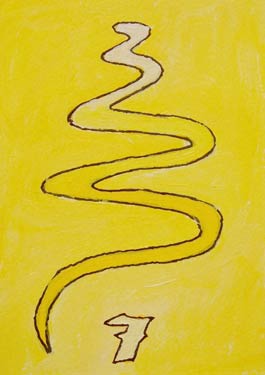 4: Common Base
The Snake
Realm of Air

The snake has been searching and learning for a long time. Tried this, tried that, and so came nearer and nearer to the truth. It means the highest consciousness (yellow and white) following a long way of experiences.

Temptations, dark forces, cunning, deviousness, earthly intelligence, lower nature, and biological urges. The Serpent may represent someone trying to trick you. Be wary of people trying to take advantage of you, who may lead you down the wrong path. If the cards surrounding this card are favourable to you, this is a sign that you may be the one who is being devious.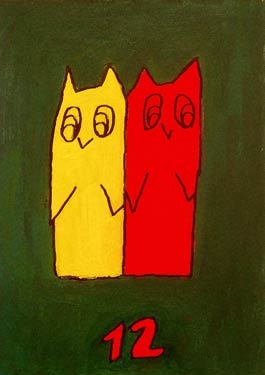 2: Your Qualities
The Owls
Meditation, fantasy, further education, also two older people, perhaps a couple. Butterflies and nervous excitement. The Owls may indicate social fear and subsequent flight.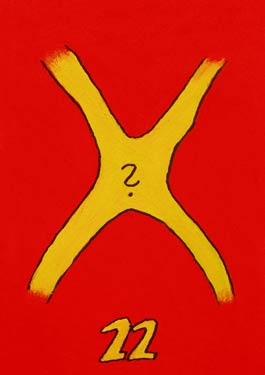 1: Their Qualities
The Ways
A choice, probability, not knowing, doubts. The Crossroads indicate the need to make a choice. You can easily avoid your problems, but you may wish to address these issues before they grow so big that they will take far more energy to deal with.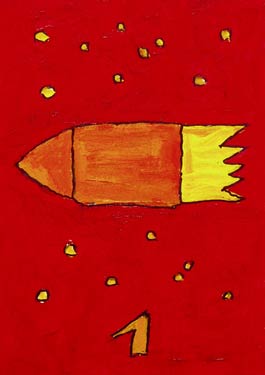 6: What You Bring
The Rocket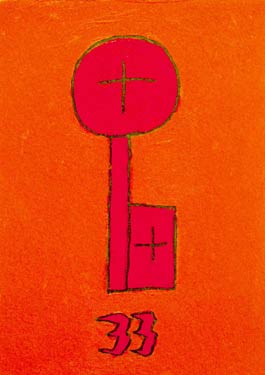 5: What They Bring
The Key
Understanding, truth, knowledge, advice, probabilities, and possibilities. The Key means that you have what it takes to move on to another level.