3 Card Spread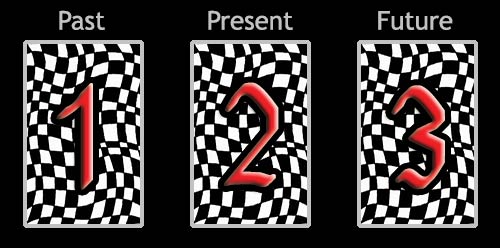 Difficulty: Very easy
This simplistic chronological spread can be used to shed light on the influences that are now behind you, current influences, and what is approaching in the near future. Not much explanation is necessary on this one.
Your 3 Card Reading
The Past

The Owls
The Present

The Cloud
The Future

The Ring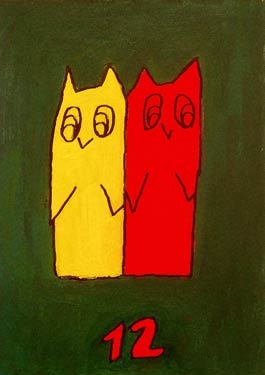 The Past
The Owls
Meditation, fantasy, further education, also two older people, perhaps a couple. Butterflies and nervous excitement. The Owls may indicate social fear and subsequent flight.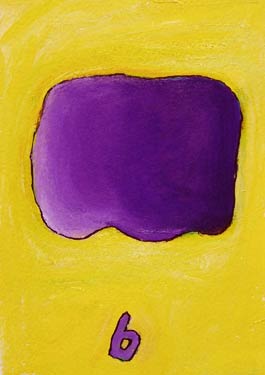 The Present
The Cloud
Everywhere in the air there are tiniest particles of water. We can't see them. But if it cools down these particles assemble and the haze condenses. So we never have 100% clear air. The cloud shows how our plans and thoughts begin to materialize or the other way how material things hinder the clearness.

Doubts, secret fears, worries, and weakness. A negative period of time on the horizon. It is suggested that you use this period of down time to your advantage by contemplating your situation and meditating on possible ways to fix the issues that may have caused the problem.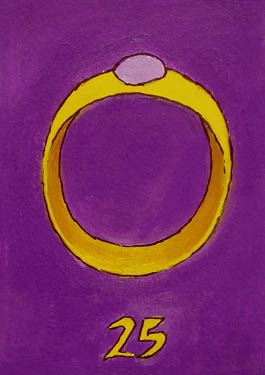 The Future
The Ring
In the area of water (everything flows together to one) the ring shows new connections. For connections we need an inside and an outside, what means new life, new separation.

Karma, cycles, monotony, group work, connections, contracts, promises, and protection. The Ring signifies solidification.