The Astrological Layout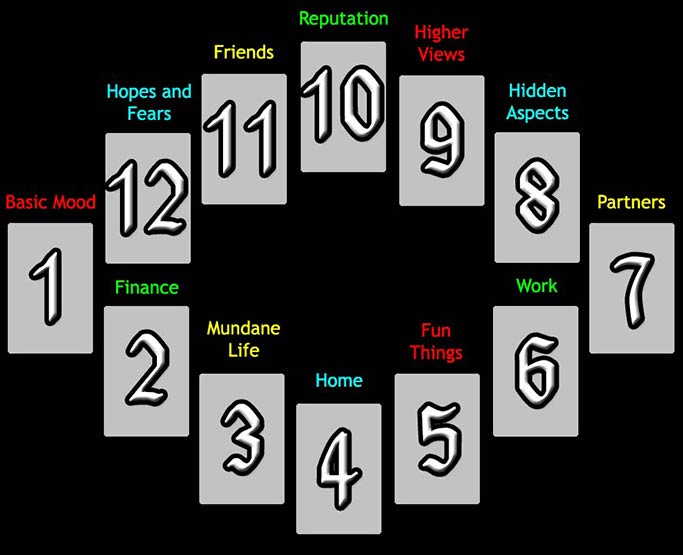 Difficulty: Complicated
The Astrological Tarot Layout is based on houses of astrology. This complicated layout takes several steps to understand.
The first step is to interpret the card for each individual position in the layout.
The second step involves further examination of the main axes. Positions 1 & 7 show the relationship theme, #1 representing you, #7 your partner. Positions 4 & 10 indicate motion. #4 shows where you are, and #10 shows what you are moving towards.
The third step involves breaking down the chart into triads according to their house elements.
Positions 1, 5, & 9 represent the Fire triad, which shows about temperment and personal development.
Positions 2, 6, & 10 represent the Earth triad, which is concerned with materialism, money, and work.
Positions 3, 7, & 11 represent the Air triad, which has to do with thoughts, ideas, and connections with other people.
Positions 4, 8, & 12 represent the Water triad, which is the realm of emotions, moods, intuition, and yearnings.
Further, you may connect other patterns and correlations between certain numbers. Certain numbers such as the set of 5, 7, & 8 often speak about a particular theme.
Your Astrological Reading
1: Basic Mood

Bamboo 4
Symbol: Carp

The Carp tile indicates the attainment of inner-peace, tranquility, and freedom from the pressures of everyday life. Contentment will be realized. The Carp's vibrant colors suggest a rich life. This may mean the coming of material and/or spiritual wealth.
2: Finance

Bamboo 8
Symbol: Mushroom

The Mushroom tile represents eternal life and oddity. It gets these attributes from the fact that mushrooms in nature always seem to regenerate and often popup where they are unexpected. The notion of oddity is derived from the mushroom seemingly having the nature of a plant, but lacking leaves. The Mushroom tile foretells the coming of unexpected events that will have a lasting impact on you.
3: Mundane Life

Autumn
Symbol: The Farmer

The Farmer represents rewards gained through hard work and faith in oneself. He harvests riches from the planting and nurturing of his crops.
4: Home

Wan 9
Symbol: Heavens

The Heaven tile suggests completion. This tile denotes a time for you to consider moving on to your next goal.
5: Fun Things

Bamboo 5
Symbol: Lotus Flower

The Lotus Flower tile represents birth or rebirth. On a spiritual level it may indicate you are about to reach new heights in your understanding of your place in the cosmos. Physically it may suggest a child is coming, or a new project is about to emerge. The Lotus Flower tile also speaks of regeneration, and may indicate a time of recovery from hardship; a new beginning.
6: Work

Worm
This creature lives off the dirt of the earth, collecting valuable nutrients that make it a symbol of energy and revitalization. Naturally the worm is an old Tibetan home remedy with tremendous healing properties. Aiding both yin and yang energies, as well as practically every other vital organ and body system, it represents a powerful cure-all - a soltion to a broad variety of problems.
7: Partners

Wan 2
Symbol: Sword

The Sword tile indicates a decision must be made before attainment of your goals can be reached.
8: Hidden Aspects

Circles 2
Symbol: Pine Tree

The Pine Tree tile represents strength and resolve. It often refers to a powerful, determined man. While powerful, this person is not violent, but very skilled in attaining his goals through diplomacy.
9: Higher Views

Orchid
Symbol: Refinement

The Orchid tile suggests there may be rare and refined experiences coming into your life. Enjoy them!
10: Reputation

Chrysanthemum
Symbol: Pleasure

The Chrysanthemum tile indicates you will enjoy a happy time filled with social activities and leisurely moments untainted by the demands of everyday life.
11: Friends

Wan 5
Symbol: House

The House tile represents a building in which you spend much time. If your reading is positive it may well be that this building has the important function providing you with a stable environment in which you are comfortable. If the reading is negative it may represent a structure in which you are stressed and uncomfortable.
12: Hopes and Fears

Spring
Symbol: The Fisherman

The tile of The Fisherman suggests success can be attained through the application of common sense and careful management of your time and relationships. The Fisherman is thorough and patient. He knows that while his efforts will be rewarded as long as he does not give up.