The Astrological Layout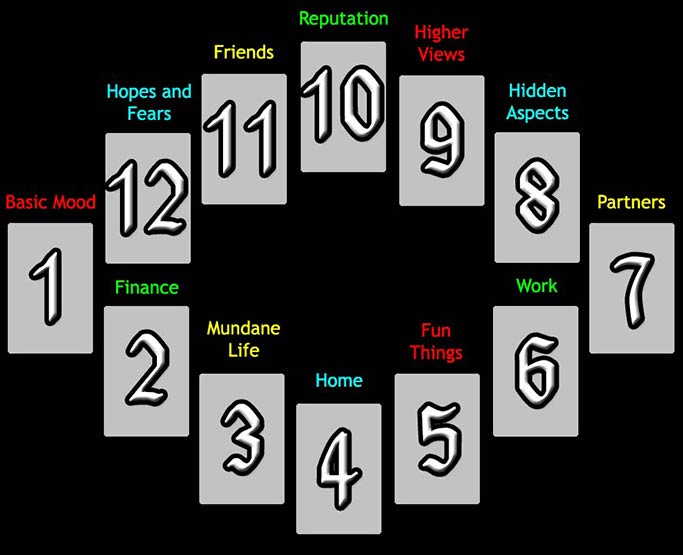 Difficulty: Complicated
The Astrological Tarot Spread is based upon houses of astrology. This complicated spread takes several steps to understand.
The first step is to interpret the tarot tile for each individual position in the spread.
The second step involves further examination of the main axes. Positions 1 & 7 show the relationship theme, #1 representing the reader, #7 their partner. Positions 4 & 10 indicate motion. #4 indicates where the reader is now, and #10 suggests what they are moving towards.
The third step involves breaking down the chart into triads according to their house elements.
Positions 1, 5, & 9 represent the Fire triad, symbolizing temperament and personal development.
Positions 2, 6, & 10 represent the Earth triad, concerned with materialism, money, and work.
Positions 3, 7, & 11 represent the Air triad, which has to do with thoughts, ideas, and connections with other people.
Positions 4, 8, & 12 represent the Water triad, the realm of emotions, moods, intuition, and yearnings.
Further, other patterns and correlations between certain numbers can be noted. Certain numbers such as the set of 5, 7, & 8 often speak about a particular theme.
Your Astrological Reading
1: Basic Mood

Wan 9
Symbol: Heavens

The Heaven tile suggests completion. This tile denotes a time for you to consider moving on to your next goal.
2: Finance

Cat
A cunning and wily hunter, though aloof and somewhat of a loner. The cat's eyes are said to drive evil spirits away, especially at night because of the way they seem to glow in the dark. The cat is symbolic of night-time and represents a light in the dark, a guiding spirit.
3: Mundane Life

Chrysanthemum
Symbol: Pleasure

The Chrysanthemum tile indicates you will enjoy a happy time filled with social activities and leisurely moments untainted by the demands of everyday life.
4: Home

Circles 4
Symbol: Jade

The Jade tile indicates hard work resulting in spectacular results. Jade is thought to be an immortal stone to many. Therefore, is also denotes longevity of relationships, life and principled values.
5: Fun Things

Rat
The rat represents industry, hard work, and determination. The rat shrewdly builds up a stockpile during the summer, so that when times get tough it will be well prepared. On the negative side, this creature can be cowardly, cunning, and cruel – and a major pest which spreads disease and destruction.
6: Work

White Dragon
Symbol: The Unknown

The White Dragon tile denotes unknown factors in your reading. Exactly what these factors are is beyond our vision, but they will have an impact on your life.
7: Partners

Bamboo 5
Symbol: Lotus Flower

The Lotus Flower tile represents birth or rebirth. On a spiritual level it may indicate you are about to reach new heights in your understanding of your place in the cosmos. Physically it may suggest a child is coming, or a new project is about to emerge. The Lotus Flower tile also speaks of regeneration, and may indicate a time of recovery from hardship; a new beginning.
8: Hidden Aspects

Spring
Symbol: The Fisherman

The tile of The Fisherman suggests success can be attained through the application of common sense and careful management of your time and relationships. The Fisherman is thorough and patient. He knows that while his efforts will be rewarded as long as he does not give up.
9: Higher Views

West Wind
Symbol: Metal

The West Wind tile represents an obstacle that must be faced before you can make progress towards your goals. This obstacle may be anything, from a person to needing to find work.
10: Reputation

Rooster
A proud and dominant animal who likes to strut his stuff. The rooster is the ultimate symbol of reliability and punctuality, as he never misses his morning duty of crowing at the dawn. Naturally this creature symbolises new beginnings. Also, he is a protector of the home domain.
11: Friends

Bamboo 9
Symbol: Willow Tree

The Willow Tree tile represents adaptability and survival in the face of harsh conditions. The Willow bends before the bitter winter winds, but does not break. The Willow tile suggests compromise. You must be willing to give some to get some.
12: Hopes and Fears

Orchid
Symbol: Refinement

The Orchid tile suggests there may be rare and refined experiences coming into your life. Enjoy them!