The Reversed Compass Layout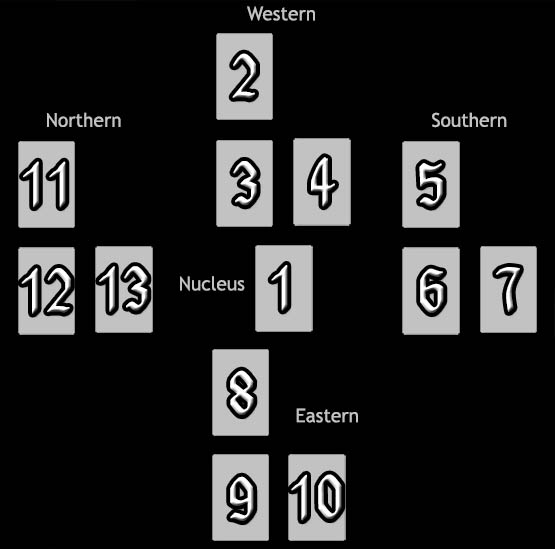 Difficulty: Hard
This reading sets the tiles in the celestial form instead of the terrestrial format that is used in navigational compasses. This is done to follow the traditions inherent in Chinese Philosophy. This complex reading is very flexible in that you may focus on a specific or general question, or no question at all when using it.
In the Reversed Compass Reading, each of the sets of tiles have a certain type of influence on the issue represented by The Nucleus. To interpret this reading properly you must separately relate each of the directional tile sets to The Nucleus.
Your Reversed Compass Reading


Western



Northern

Nucleus



Southern



Eastern



1: The Nucleus

Green Dragon
Symbol: Commence

The Green Dragon tile suggests the time has come for you to begin a new project, or to take your life in a new direction.
The Western tiles explore obstacles and strife caused by the Nucleus.
2: Western Tile 1

Bamboo
Symbol: Scholarship

The Bamboo tile indicates an adaptable, useful spirit. The Bamboo tile is also associated with scholarly pursuits.
3: Western Tile 2

Bamboo 3
Symbol: Toad

The Toad tile indicates some troubling moments along your life's path, but these aches will heal. It also suggests your ambition may be greater than your reach.
4: Western Tile 3

Circles 1
Symbol: Pearl

The Pearl tile denotes the attainment of wealth and a life of luxury. The task will be to balance the spiritual self with the physical self.
The Southern tiles represent current and near-future influences that are affecting the Nucleus.
5: Southern Tile 1

Wan 1
Symbol: Entering

The Entering tile indicates that barriers you now face will soon be lifted. Opportunity and success are ahead, but you must have the courage and energy to take advantage of them.
6: Southern Tile 2

Worm
This creature lives off the dirt of the earth, collecting valuable nutrients that make it a symbol of energy and revitalization. Naturally the worm is an old Tibetan home remedy with tremendous healing properties. Aiding both yin and yang energies, as well as practically every other vital organ and body system, it represents a powerful cure-all - a soltion to a broad variety of problems.
7: Southern Tile 3

West Wind
Symbol: Metal

The West Wind tile represents an obstacle that must be faced before you can make progress towards your goals. This obstacle may be anything, from a person to needing to find work.
The Eastern tiles are a composite of the factors in your personality that are influencing the Nucleus.
8: Eastern Tile 1

Winter
Symbol: The Scholar

The Scholar represents gain through intellectual pursuits. The Scholar's mind is sharp and finds solutions to the most difficult problems.
9: Eastern Tile 2

Circles 7
Symbol: Insect

The Insect tile indicates short-term gain through a short flurry of hectic work. It is important to realize that the gains the Insect tile offers are not lasting, or of long-term importance. At best they are a stopgap until more substantial goals come along.
10:: Eastern Tile 3

Bamboo 5
Symbol: Lotus Flower

The Lotus Flower tile represents birth or rebirth. On a spiritual level it may indicate you are about to reach new heights in your understanding of your place in the cosmos. Physically it may suggest a child is coming, or a new project is about to emerge. The Lotus Flower tile also speaks of regeneration, and may indicate a time of recovery from hardship; a new beginning.
The Northern tiles indicate the outcome of the issue that the Nucleus represents.
11: Northern Tile 1

Circles 2
Symbol: Pine Tree

The Pine Tree tile represents strength and resolve. It often refers to a powerful, determined man. While powerful, this person is not violent, but very skilled in attaining his goals through diplomacy.
12: Northern Tile 2

South Wind
Symbol: Fire

The South Wind tile is considered to be a very good sign in a reading. It almost ensures a satisfactory end to any problem.
13: Northern Tile 3

Plum Blossom
Symbol: Innocence

The Plum tile reflects renewal and viewing your world with fresh viewpoints. It is an inherently happy tile. The Plum tile also suggests inexperience, a trait you must not allow to make you an easy target.