Decision Layout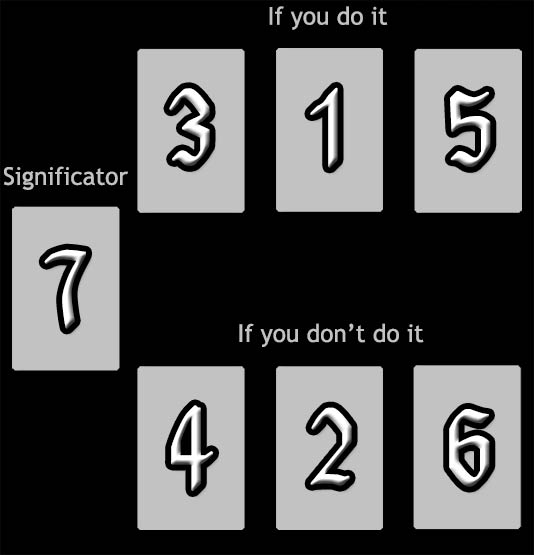 Difficulty: Easy
This simple but highly useful layout calls for a question to be asked in this format:
"What happens if I do (X), and what happens if I do not do (X)?"
Please note that it should not be viewed as a decision between 2 different options, but about whether or not a single option should be exercised. A second option would call for a separate reading.
Tile #7 is the significator, the overall theme of the query.
Tiles #3, #1, & #5 represent the chronological sequence of events that occurs if you choose to do (X).
Tiles #4, #2, & #6 represent the chronological sequence of events that unfolds if you choose NOT to do (X).
Your Decision Reading
The Significator

Wan 8
Outcome if you do it:

Wan 9

Bamboo 2

Wan 6
Outcome if you don't do it:

Bamboo 3

Bamboo 5

Plum Blossom

Wan 8
Symbol: Knot

The Knot tile represents both bonding and severing. If the Sword tile (2 Wan) is in your reading then the time to sever ties with someone or something is at hand. Conversely if the Duck tile (2 Bamboo) is in your reading then there is bond that will strengthen. If both appear in your reading, then you have a relationship of some kind that is of undecided value.
Outcome if you do it:

Wan 9
Symbol: Heavens

The Heaven tile suggests completion. This tile denotes a time for you to consider moving on to your next goal.

Bamboo 2
Symbol: Duck

The Duck tile symbolizes a long lasting relationship with the strength to overcome all obstacles. It suggests fidelity and trustworthiness. Regardless of the type of partnership in question, the second Bamboo tile indicates a strong, healthy relationship.

Wan 6
Symbol: Fire

The Fire tile is a strong warning that something is wrong or out of balance. The Fire tile is a warning. Your resources are in jeopardy. These endangered resources may be financial or spiritual or physical. In fact, resources of all types may be in danger.
Outcome if you do not do it:

Bamboo 3
Symbol: Toad

The Toad tile indicates some troubling moments along your life's path, but these aches will heal. It also suggests your ambition may be greater than your reach.

Bamboo 5
Symbol: Lotus Flower

The Lotus Flower tile represents birth or rebirth. On a spiritual level it may indicate you are about to reach new heights in your understanding of your place in the cosmos. Physically it may suggest a child is coming, or a new project is about to emerge. The Lotus Flower tile also speaks of regeneration, and may indicate a time of recovery from hardship; a new beginning.

Plum Blossom
Symbol: Innocence

The Plum tile reflects renewal and viewing your world with fresh viewpoints. It is an inherently happy tile. The Plum tile also suggests inexperience, a trait you must not allow to make you an easy target.