Decision Layout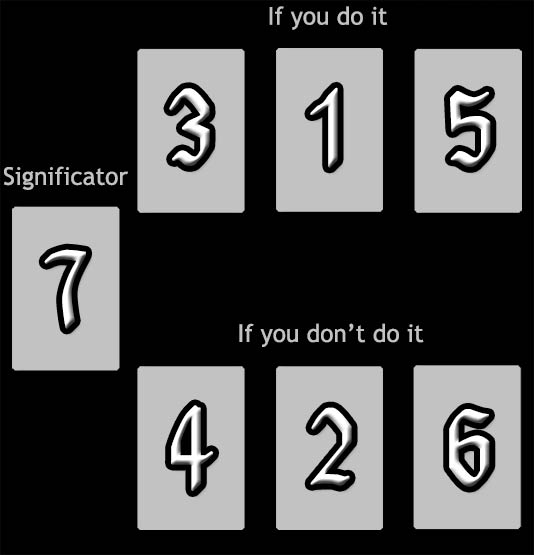 Difficulty: Easy
This simple but highly useful spread calls for a question to be asked in this format:
"What happens if I do (X), and what happens if I do not do (X)?"
Please note that it should not be viewed as a decision between two different options, but about whether a single option should be exercised or not. A second option would call for a separate reading.
Tile #7 is the significator, the overall theme of the query.
Tiles #3, #1, & #5 represent the chronological sequence of events that occurs if the reader chooses to do (X).
Tiles #4, #2, & #6 represent the chronological sequence of events that unfolds if the reader chooses not to do (X).
Your Decision Reading
The Significator

Rat
Outcome if you do it:

East Wind

Bamboo 1

Wan 9
Outcome if you don't do it:

Circles 9

South Wind

Bamboo 4

Rat
The rat represents industry, hard work, and determination. The rat shrewdly builds up a stockpile during the summer, so that when times get tough it will be well prepared. On the negative side, this creature can be cowardly, cunning, and cruel – and a major pest which spreads disease and destruction.
Outcome if you do it:

East Wind
Symbol: Wood

Generally the East Wind tile represents the querent. The tiles nearest the East tile in a reading have added importance.

Bamboo 1
Symbol: Peacock

This is the first tile of the first suit in a Mahjong set. Overall, it represents success. However, it also warns that success sometimes turns to arrogance, which can lead to loss of everything that has been gained. The Peacock tile also suggests a change in your life path is forthcoming.

Wan 9
Symbol: Heavens

The Heaven tile suggests completion. This tile denotes a time for you to consider moving on to your next goal.
Outcome if you do not do it:

Circles 9
Symbol: Unicorn

The Unicorn tile indicates a clear vision of the future and the ability to see people for who they really are. In rare cases the Unicorn tile may suggest a person with psychic powers.

South Wind
Symbol: Fire

The South Wind tile is considered to be a very good sign in a reading. It almost ensures a satisfactory end to any problem.

Bamboo 4
Symbol: Carp

The Carp tile indicates the attainment of inner-peace, tranquillity, and freedom from the pressures of everyday life. Contentment will be realised. The Carp's vibrant colours suggest a rich life. This may mean the coming of material and/or spiritual wealth.