Decision Layout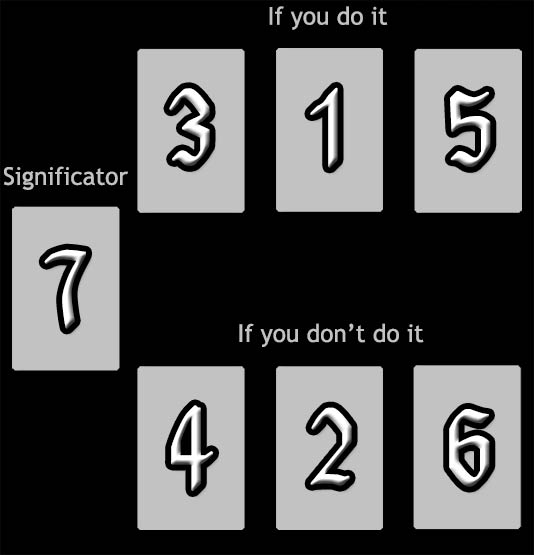 Difficulty: Easy
This simple but highly useful layout calls for a question to be asked in this format:
"What happens if I do (X), and what happens if I do not do (X)?"
Please note that it should not be viewed as a decision between 2 different options, but about whether or not a single option should be exercised. A second option would call for a separate reading.
Tile #7 is the significator, the overall theme of the query.
Tiles #3, #1, & #5 represent the chronological sequence of events that occurs if you choose to do (X).
Tiles #4, #2, & #6 represent the chronological sequence of events that unfolds if you choose NOT to do (X).
Your Decision Reading
The Significator

Bamboo 5
Outcome if you do it:

Orchid

Circles 5

Wan 5
Outcome if you don't do it:

Winter

North Wind

Bamboo 3

Bamboo 5
Symbol: Lotus Flower

The Lotus Flower tile represents birth or rebirth. On a spiritual level it may indicate you are about to reach new heights in your understanding of your place in the cosmos. Physically it may suggest a child is coming, or a new project is about to emerge. The Lotus Flower tile also speaks of regeneration, and may indicate a time of recovery from hardship; a new beginning.
Outcome if you do it:

Orchid
Symbol: Refinement

The Orchid tile suggests there may be rare and refined experiences coming into your life. Enjoy them!

Circles 5
Symbol: Dragon

The Dragon tile indicates good luck and large fortunes. Effort is not a prerequisite for the gain suggested by the Dragon tile. You cannot work towards acquiring the Dragon's gifts. They will come when they come, and will most likely be a surprise.

Wan 5
Symbol: House

The House tile represents a building in which you spend much time. If your reading is positive it may well be that this building has the important function providing you with a stable environment in which you are comfortable. If the reading is negative it may represent a structure in which you are stressed and uncomfortable.
Outcome if you do not do it:

Winter
Symbol: The Scholar

The Scholar represents gain through intellectual pursuits. The Scholar's mind is sharp and finds solutions to the most difficult problems.

North Wind
Symbol: Water

The North Wind tile indicates there will be difficult moments ahead. These can be canceled out if the South Wind Tile is in your reading as well.

Bamboo 3
Symbol: Toad

The Toad tile indicates some troubling moments along your life's path, but these aches will heal. It also suggests your ambition may be greater than your reach.