Decision Layout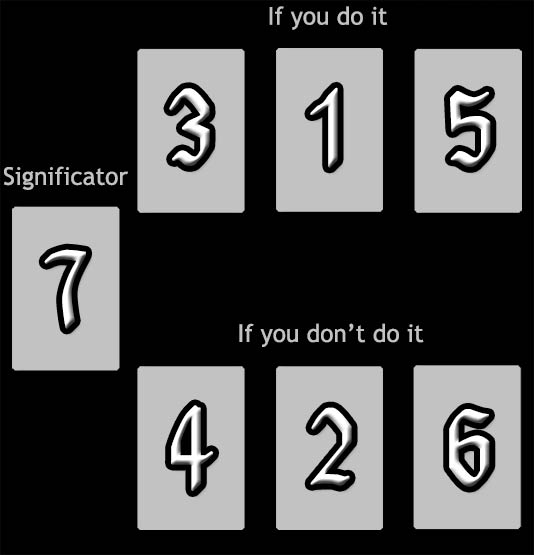 Difficulty: Easy
This simple but highly useful spread calls for a question to be asked in this format:
"What happens if I do (X), and what happens if I do not do (X)?"
Please note that it should not be viewed as a decision between two different options, but about whether a single option should be exercised or not. A second option would call for a separate reading.
Tile #7 is the significator, the overall theme of the query.
Tiles #3, #1, & #5 represent the chronological sequence of events that occurs if the reader chooses to do (X).
Tiles #4, #2, & #6 represent the chronological sequence of events that unfolds if the reader chooses not to do (X).
Your Decision Reading
The Significator

Wan 2
Outcome if you do it:

Orchid

West Wind

Circles 4
Outcome if you don't do it:

Bamboo 7

Bamboo 3

Wan 7

Wan 2
Symbol: Sword

The Sword tile indicates a decision must be made before attainment of your goals can be reached.
Outcome if you do it:

Orchid
Symbol: Refinement

The Orchid tile suggests there may be rare and refined experiences coming into your life. Enjoy them!

West Wind
Symbol: Metal

The West Wind tile represents an obstacle that must be faced before you can make progress towards your goals. This obstacle may be anything, from a person to needing to find work.

Circles 4
Symbol: Jade

The Jade tile indicates hard work resulting in spectacular results. Jade is thought to be an immortal stone to many. Therefore, is also denotes longevity of relationships, life and principled values.
Outcome if you do not do it:

Bamboo 7
Symbol: Tortoise

The Tortoise tile suggests impatience with the time certain aspects are taking to play themselves out. It is likely any open issues you may have will need extra attention and patience to resolve properly. The Tortoise also symbolises long life.

Bamboo 3
Symbol: Toad

The Toad tile indicates some troubling moments along your life's path, but these aches will heal. It also suggests your ambition may be greater than your reach.

Wan 7
Symbol: Seven Stars

The Seven Stars tile signifies creative growth and power. Creativity should be applied to the area this tile appears. This is a place to let your imagination run free. The Seven Stars tile also indicates hope for the future.