Decision Layout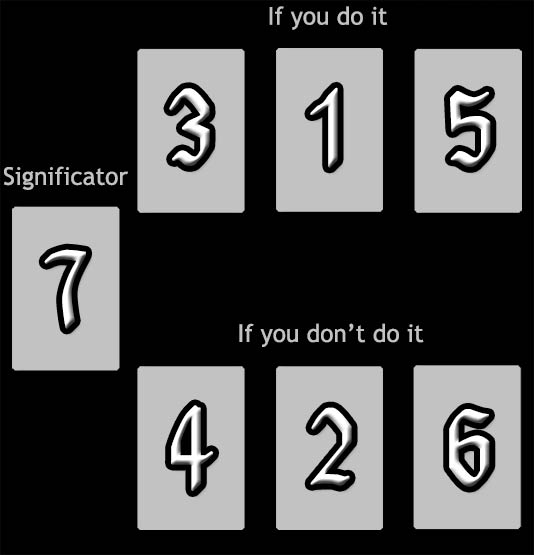 Difficulty: Easy
This simple but highly useful spread calls for a question to be asked in this format:
"What happens if I do (X), and what happens if I do not do (X)?"
Please note that it should not be viewed as a decision between two different options, but about whether a single option should be exercised or not. A second option would call for a separate reading.
Tile #7 is the significator, the overall theme of the query.
Tiles #3, #1, & #5 represent the chronological sequence of events that occurs if the reader chooses to do (X).
Tiles #4, #2, & #6 represent the chronological sequence of events that unfolds if the reader chooses not to do (X).
Your Decision Reading
The Significator

Wan 6
Outcome if you do it:

Wan 5

Worm

Wan 9
Outcome if you don't do it:

Wan 7

Rat

Wan 1

Wan 6
Symbol: Fire

The Fire tile is a strong warning that something is wrong or out of balance. The Fire tile is a warning. Your resources are in jeopardy. These endangered resources may be financial or spiritual or physical. In fact, resources of all types may be in danger.
Outcome if you do it:

Wan 5
Symbol: House

The House tile represents a building in which you spend much time. If your reading is positive it may well be that this building has the important function providing you with a stable environment in which you are comfortable. If the reading is negative it may represent a structure in which you are stressed and uncomfortable.

Worm
This creature lives off the dirt of the earth, collecting valuable nutrients that make it a symbol of energy and revitalisation. Naturally the worm is an old Tibetan home remedy with tremendous healing properties. Aiding both yin and yang energies, as well as practically every other vital organ and body system, it represents a powerful cure-all – a solution to a broad variety of problems.

Wan 9
Symbol: Heavens

The Heaven tile suggests completion. This tile denotes a time for you to consider moving on to your next goal.
Outcome if you do not do it:

Wan 7
Symbol: Seven Stars

The Seven Stars tile signifies creative growth and power. Creativity should be applied to the area this tile appears. This is a place to let your imagination run free. The Seven Stars tile also indicates hope for the future.

Rat
The rat represents industry, hard work, and determination. The rat shrewdly builds up a stockpile during the summer, so that when times get tough it will be well prepared. On the negative side, this creature can be cowardly, cunning, and cruel – and a major pest which spreads disease and destruction.

Wan 1
Symbol: Entering

The Entering tile indicates that barriers you now face will soon be lifted. Opportunity and success are ahead, but you must have the courage and energy to take advantage of them.