Decision Layout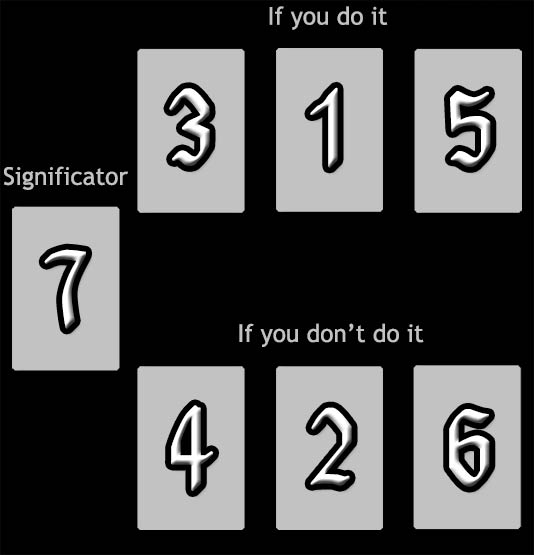 Difficulty: Easy
This simple but highly useful layout calls for a question to be asked in this format:
"What happens if I do (X), and what happens if I do not do (X)?"
Please note that it should not be viewed as a decision between 2 different options, but about whether or not a single option should be exercised. A second option would call for a separate reading.
Tile #7 is the significator, the overall theme of the query.
Tiles #3, #1, & #5 represent the chronological sequence of events that occurs if you choose to do (X).
Tiles #4, #2, & #6 represent the chronological sequence of events that unfolds if you choose NOT to do (X).
Your Decision Reading
The Significator

Bamboo 8
Outcome if you do it:

Plum Blossom

Circles 9

Wan 9
Outcome if you don't do it:

Summer

South Wind

Wan 7

Bamboo 8
Symbol: Mushroom

The Mushroom tile represents eternal life and oddity. It gets these attributes from the fact that mushrooms in nature always seem to regenerate and often popup where they are unexpected. The notion of oddity is derived from the mushroom seemingly having the nature of a plant, but lacking leaves. The Mushroom tile foretells the coming of unexpected events that will have a lasting impact on you.
Outcome if you do it:

Plum Blossom
Symbol: Innocence

The Plum tile reflects renewal and viewing your world with fresh viewpoints. It is an inherently happy tile. The Plum tile also suggests inexperience, a trait you must not allow to make you an easy target.

Circles 9
Symbol: Unicorn

The Unicorn tile indicates a clear vision of the future and the ability to see people for who the really are. In rare cases the Unicorn tile may suggest a person with psychic powers.

Wan 9
Symbol: Heavens

The Heaven tile suggests completion. This tile denotes a time for you to consider moving on to your next goal.
Outcome if you do not do it:

Summer
Symbol: The Woodcutter

The Woodcutter employs three of the 5 elements central to Chinese philosophy: Fire, Wood and Metal. He is ambitious and full of drive and energy. He represents gain and success through dedicated work.

South Wind
Symbol: Fire

The South Wind tile is considered to be a very good sign in a reading. It almost ensures a satisfactory end to any problem.

Wan 7
Symbol: Seven Stars

The Seven Stars tile signifies creative growth and power. Creativity should be applied to the area this tile appears. This is a place to let your imagination run free. The Seven Stars tile also indicates hope for the future.