Game Plan Layout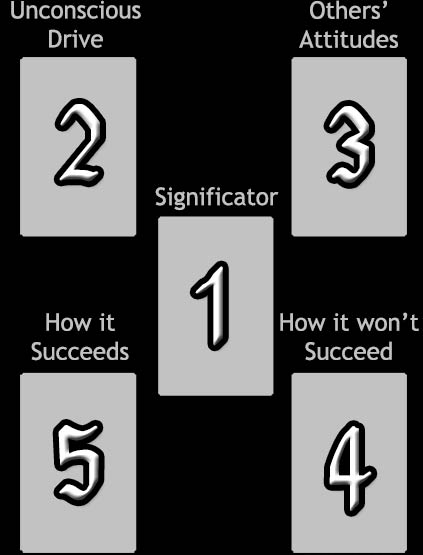 Difficulty: Easy
When a person has a certain plan in mind, this simple five-tile spread presents a choice, hinting at what action or attitude should be taken for their plan to succeed, and what should be avoided to help the plan work out for the best.
The initial tile is laid in the centre of the layout, the significator. The following four tiles are laid out clockwise around the significator.
In this spread, the second tile is about what drives the reader, but also says they are not fully conscious of this, perhaps even completely unaware of it. It provides a hint as to the reason they strive for their goal.
The third tile uncovers what others think of the reader and their goals. The reader may or may not be aware of this. Sometimes other people factor into the plans (and sometimes they don't).
The fourth tile suggests what not to do. If things are permitted to go down this path, the plan will collapse.
The fifth tile is a hint as to how to make this plan work out favourably. The idea this tile presents should be followed to make the plan successful. It is the differences between Tiles #4 & #5 that should be noted, as the differences provide important clues.
Your Game Plan Reading
Unconscious Drive

Circles 8
External Influences

Circles 6
Significator

White Dragon
How it Will Succeed

Circles 1
How it Will Not Succeed

Bamboo 6

White Dragon
Symbol: The Unknown

The White Dragon tile denotes unknown factors in your reading. Exactly what these factors are is beyond our vision, but they will have an impact on your life.

Circles 8
Symbol: White Tiger

The White Tiger tile epitomises masculinity in its purest form. The male represented by the White Tiger is brave and assertive. He will fight to protect what he feels is right.

Circles 6
Symbol: Peach

The Peach tile represents the female spirit in its purest form. Where the Peach tile appears, it is likely a woman or possibly a young girl will play an important role in outcome of your reading.

Bamboo 6
Symbol: Water

The Water tile denotes a need for communication. A trip may be necessary to communicate properly. You may be called upon to present proof of ownership or that an event actually took place.

Circles 1
Symbol: Pearl

The Pearl tile denotes the attainment of wealth and a life of luxury. The task will be to balance the spiritual self with the physical self.