Game Plan Layout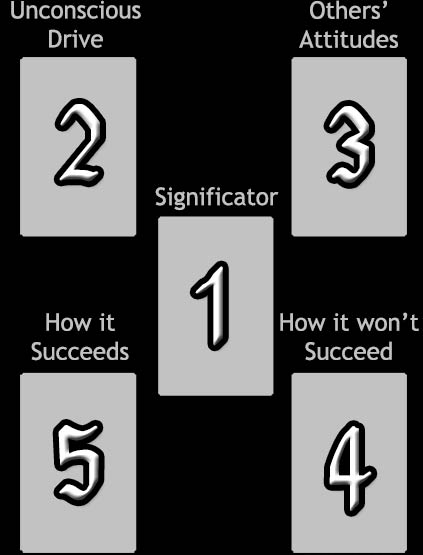 Difficulty: Easy
When you have a certain plan in mind, this simple 5-card layout presents a choice, hinting at what action or attitude should be taken for your plan to succeed, and what should be avoided in order to help your plan work out for the best.
The initial card is laid in the center of the layout, the significator. The following 4 cards are laid out clockwise around the significator.
In this layout, the second card shows what drives you, but also says you are not fully conscious of this, perhaps even completely unaware of it. It gives you a hint as to the reason that you strive for your goal.
The third card shows what others think of you and your goals. You may or may not be aware of this. Sometimes other people factor into your plans, and sometimes they don't.
The fourth card shows what you should not do. If things are permitted to go down this path, your plan will collapse.
The fifth card is a hint as to how to make your plan work out favorably. The idea that this card presents should be followed in order to make your plan a success. It is the differences between Tiles #4 and #5 that should be noted, as the differences provide the clues you need.
Your Game Plan Reading
Unconscious Drive

Autumn
External Influences

Rooster
Significator

Bamboo 7
How it Will Succeed

Spring
How it Will Not Succeed

Bamboo 8

Bamboo 7
Symbol: Tortoise

The Tortoise tile suggests impatience with the time certain aspects are taking to play themselves out. It is likely any open issues you may have will need extra attention and patience to resolve properly. The Tortoise also symbolizes long life.

Autumn
Symbol: The Farmer

The Farmer represents rewards gained through hard work and faith in oneself. He harvests riches from the planting and nurturing of his crops.

Rooster
A proud and dominant animal who likes to strut his stuff. The rooster is the ultimate symbol of reliability and punctuality, as he never misses his morning duty of crowing at the dawn. Naturally this creature symbolizes new beginnings. Also he is a protector of the home domain.

Bamboo 8
Symbol: Mushroom

The Mushroom tile represents eternal life and oddity. It gets these attributes from the fact that mushrooms in nature always seem to regenerate and often popup where they are unexpected. The notion of oddity is derived from the mushroom seemingly having the nature of a plant, but lacking leaves. The Mushroom tile foretells the coming of unexpected events that will have a lasting impact on you.

Spring
Symbol: The Fisherman

The tile of The Fisherman suggests success can be attained through the application of common sense and careful management of your time and relationships. The Fisherman is thorough and patient. He knows that while his efforts will be rewarded as long as he does not give up.