Game Plan Layout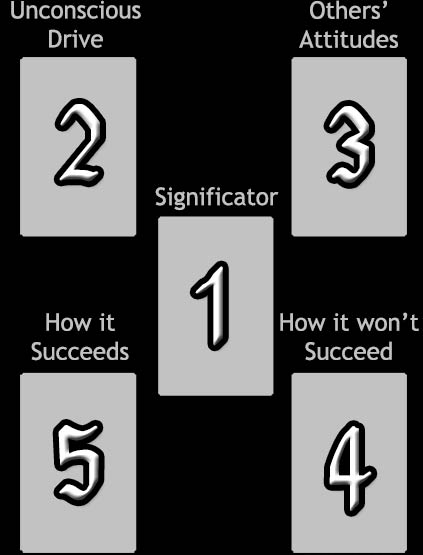 Difficulty: Easy
When a person has a certain plan in mind, this simple five-tile spread presents a choice, hinting at what action or attitude should be taken for their plan to succeed, and what should be avoided to help the plan work out for the best.
The initial tile is laid in the centre of the layout, the significator. The following four tiles are laid out clockwise around the significator.
In this spread, the second tile is about what drives the reader, but also says they are not fully conscious of this, perhaps even completely unaware of it. It provides a hint as to the reason they strive for their goal.
The third tile uncovers what others think of the reader and their goals. The reader may or may not be aware of this. Sometimes other people factor into the plans (and sometimes they don't).
The fourth tile suggests what not to do. If things are permitted to go down this path, the plan will collapse.
The fifth tile is a hint as to how to make this plan work out favourably. The idea this tile presents should be followed to make the plan successful. It is the differences between Tiles #4 & #5 that should be noted, as the differences provide important clues.
Your Game Plan Reading
Unconscious Drive

Bamboo 9
External Influences

Bamboo 1
Significator

Spring
How it Will Succeed

Circles 6
How it Will Not Succeed

North Wind

Spring
Symbol: The Fisherman

The tile of The Fisherman suggests success can be attained through the application of common sense and careful management of your time and relationships. The Fisherman is thorough and patient. He knows that while his efforts will be rewarded as long as he does not give up.

Bamboo 9
Symbol: Willow Tree

The Willow Tree tile represents adaptability and survival in the face of harsh conditions. The Willow bends before the bitter winter winds, but does not break. The Willow tile suggests compromise. You must be willing to give some to get some.

Bamboo 1
Symbol: Peacock

This is the first tile of the first suit in a Mahjong set. Overall, it represents success. However, it also warns that success sometimes turns to arrogance, which can lead to loss of everything that has been gained. The Peacock tile also suggests a change in your life path is forthcoming.

North Wind
Symbol: Water

The North Wind tile indicates there will be difficult moments ahead. These can be cancelled out if the South Wind Tile is in your reading as well.

Circles 6
Symbol: Peach

The Peach tile represents the female spirit in its purest form. Where the Peach tile appears, it is likely a woman or possibly a young girl will play an important role in outcome of your reading.