Relationship Layout #1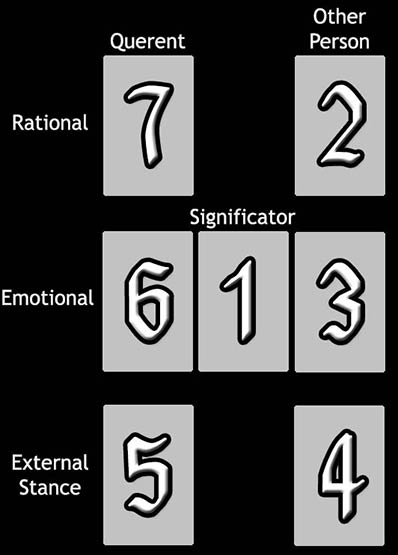 Difficulty: Easy
This layout is easy to read, like a convenient chart. In this spread, court tiles generally indicate actual people with the same characteristics. Knights (or corresponding princes, but not kings) and queens are meant to represent actual men and women in this layout. Look for patterns in the tiles as always.
Tile #1 is the overall significator of the relationship. The two columns on either side of the significator characterise each individual's role in the relationship. The relationship does not have to be romantic. In fact, it could be a relationship between a person and a group, or even how two groups relate.
The top row, tiles #7 & #2, is about the conscious thoughts of each person, or what they think about the relationship and likewise how they view their partner.
The middle row, tiles #6 & #3, reveals the way each individual feels about the other. Emotional awareness corresponds to a person's unconscious thoughts that run deep, affecting a person in ways he or she is not fully aware of.
The bottom row, tiles #5 & #4, represents the way each person behaves, in other words the stance taken regarding the relationship. The way a person acts may be genuine, but sometimes people are phony and manipulative, so it is best to weigh this tile against the other person's tiles to determine how they match up.
Your Relationship #1 Reading
You
Other Person
Thought

Winter

Bamboo
Emotion

Wan 9
The Significator

West Wind

Circles 1
External Stance

White Dragon

Circles 2

The Significator
West Wind
Symbol: Metal

The West Wind tile represents an obstacle that must be faced before you can make progress towards your goals. This obstacle may be anything, from a person to needing to find work.

The Querent's Thoughts
Winter
Symbol: The Scholar

The Scholar represents gain through intellectual pursuits. The Scholar's mind is sharp and finds solutions to the most difficult problems.

The Other Person's Thoughts
Bamboo
Symbol: Scholarship

The Bamboo tile indicates an adaptable, useful spirit. The Bamboo tile is also associated with scholarly pursuits.

The Querent's Emotions
Wan 9
Symbol: Heavens

The Heaven tile suggests completion. This tile denotes a time for you to consider moving on to your next goal.

The Other Person's Emotions
Circles 1
Symbol: Pearl

The Pearl tile denotes the attainment of wealth and a life of luxury. The task will be to balance the spiritual self with the physical self.

The Querent's External Stance
White Dragon
Symbol: The Unknown

The White Dragon tile denotes unknown factors in your reading. Exactly what these factors are is beyond our vision, but they will have an impact on your life.

The Other Person's External Stance
Circles 2
Symbol: Pine Tree

The Pine Tree tile represents strength and resolve. It often refers to a powerful, determined man. While powerful, this person is not violent, but very skilled in attaining his goals through diplomacy.