Relationship Layout #2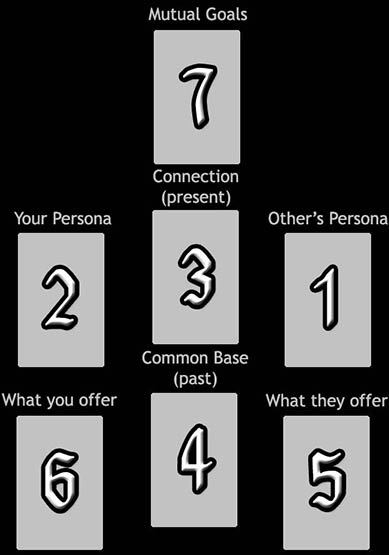 Difficulty: Easy
This relationship spread focuses more on the common ground of the relationship, with three tiles in the middle column showing the common ground. The middle column essentially displays the past, present, and future of the relationship.
Tile #4 stands for the common base of the relationship, which may be thought of as the past events which have shaped their characters, bringing them together. The current connection that binds them together is Tile #3, indicating the values shared. Tile #7 implies the common goals that would keep the pair together moving into the future.
The columns on either side show what each partner brings to the table. Remember, relationships need not be romantic, and the partners could even be groups rather than individuals. In this layout, the other person is on the left-hand side and the reader on the right.
Tiles #1 & #2 indicate the separate personalities of each member of the relationship. These tiles form a sort of bridge with the tiles beneath them, #5 & #6, which show the qualities that each partner offers the other person, and thus to the relationship as a whole.
Your Relationship #2 Reading
| | | |
| --- | --- | --- |
| | Mutual Goals | |
| Your Qualities | Connection (Present) | Others' Qualities |
| What You Bring | Common Base (Past) | What They Bring |

7: Mutual Goals
Worm
This creature lives off the dirt of the earth, collecting valuable nutrients that make it a symbol of energy and revitalisation. Naturally the worm is an old Tibetan home remedy with tremendous healing properties. Aiding both yin and yang energies, as well as practically every other vital organ and body system, it represents a powerful cure-all – a solution to a broad variety of problems.

3: Connection
South Wind
Symbol: Fire

The South Wind tile is considered to be a very good sign in a reading. It almost ensures a satisfactory end to any problem.

4: Common Base
Wan 2
Symbol: Sword

The Sword tile indicates a decision must be made before attainment of your goals can be reached.

2: Your Qualities
Circles 8
Symbol: White Tiger

The White Tiger tile epitomises masculinity in its purest form. The male represented by the White Tiger is brave and assertive. He will fight to protect what he feels is right.

1: Their Qualities
Chrysanthemum
Symbol: Pleasure

The Chrysanthemum tile indicates you will enjoy a happy time filled with social activities and leisurely moments untainted by the demands of everyday life.

6: What You Bring
Autumn

5: What They Bring
Circles 6
Symbol: Peach

The Peach tile represents the female spirit in its purest form. Where the Peach tile appears, it is likely a woman or possibly a young girl will play an important role in outcome of your reading.