Relationship Layout #2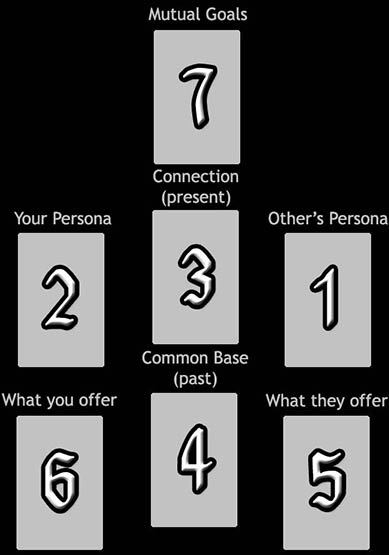 Difficulty: Easy
This relationship layout focuses on the common ground of the relationship, with 3 cards in the middle column showing the common ground. The middle column essentially shows the past, present, and future of the relationship.

Tile #4 shows the common base of the relationship, which may be thought of as the past events which have shaped their characters, bringing them together. Tile #3 represents the current connection that binds them together, the values they share. Tile #7 shows the common goals that would keep them together moving into the future.

The columns on either side show what each partner brings to the table. Remember, relationships need not be romantic, and they partners could even be groups rather than individuals, whatever you choose. In this layout, the other person is on the left hand side, and you, the querent on the right.

Tiles #1 & 2 indicate the separate personalities of each member of the relationship. These cards form a sort of bridge with the cards beneath them, #5 & 6, which show the qualities that each partner offers the other person, and thus to the relationship as a whole.
Your Relationship #2 Reading
| | | |
| --- | --- | --- |
| | Mutual Goals | |
| Your Qualities | Connection (Present) | Others' Qualities |
| What You Bring | Common Base (Past) | What They Bring |

7: Mutual Goals
Bamboo 6
Symbol: Water

The Water tile denotes a need for communication. A trip may be necessary to communicate properly. You may be called upon to present proof of ownership or that an event actually took place.

3: Connection
Red Dragon
Symbol: Center

The Red Dragon tile is indicative of success and the fulfillment of your goals.

4: Common Base
Circles 8
Symbol: White Tiger

The White Tiger tile is epitomizes masculinity in its purest form. The male represented by the White Tiger is brave and assertive. He will fight to protect what he feels is right.

2: Your Qualities
Bamboo 1
Symbol: Peacock

This is the first tile of the first suit in a Mahjong set. Overall, it represents success. However it also warns that success sometimes turns to arrogance, which can lead to loss of everything that has been gained. The Peacock tile also suggests a change in your life path is forthcoming.

1: Their Qualities
Wan 3
Symbol: Land

The Land tile suggests either a stable setting in which you are already thriving, or one that will exist in the near future. With stability your success and vision will grow.

6: What You Bring
North Wind

5: What They Bring
Worm
This creature lives off the dirt of the earth, collecting valuable nutrients that make it a symbol of energy and revitalization. Naturally the worm is an old Tibetan home remedy with tremendous healing properties. Aiding both yin and yang energies, as well as practically every other vital organ and body system, it represents a powerful cure-all - a soltion to a broad variety of problems.