Relationship Layout #2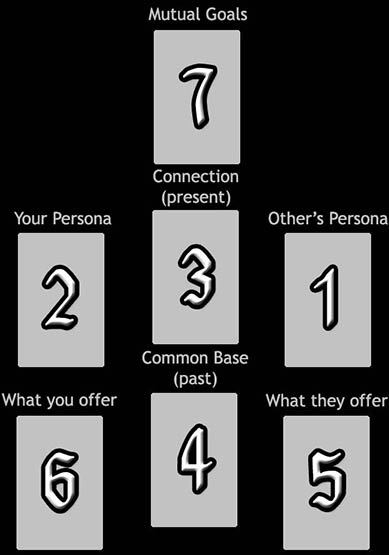 Difficulty: Easy
This relationship layout focuses on the common ground of the relationship, with 3 cards in the middle column showing the common ground. The middle column essentially shows the past, present, and future of the relationship.

Tile #4 shows the common base of the relationship, which may be thought of as the past events which have shaped their characters, bringing them together. Tile #3 represents the current connection that binds them together, the values they share. Tile #7 shows the common goals that would keep them together moving into the future.

The columns on either side show what each partner brings to the table. Remember, relationships need not be romantic, and they partners could even be groups rather than individuals, whatever you choose. In this layout, the other person is on the left hand side, and you, the querent on the right.

Tiles #1 & 2 indicate the separate personalities of each member of the relationship. These cards form a sort of bridge with the cards beneath them, #5 & 6, which show the qualities that each partner offers the other person, and thus to the relationship as a whole.
Your Relationship #2 Reading
| | | |
| --- | --- | --- |
| | Mutual Goals | |
| Your Qualities | Connection (Present) | Others' Qualities |
| What You Bring | Common Base (Past) | What They Bring |

7: Mutual Goals
Circles 9
Symbol: Unicorn

The Unicorn tile indicates a clear vision of the future and the ability to see people for who the really are. In rare cases the Unicorn tile may suggest a person with psychic powers.

3: Connection
South Wind
Symbol: Fire

The South Wind tile is considered to be a very good sign in a reading. It almost ensures a satisfactory end to any problem.

4: Common Base
North Wind
Symbol: Water

The North Wind tile indicates there will be difficult moments ahead. These can be canceled out if the South Wind Tile is in your reading as well.

2: Your Qualities
Circles 6
Symbol: Peach

The Peach tile represents the female spirit in its purest form. Where the Peach tile appears it is likely a woman or possibly a young girl will play an important role in outcome of your reading.

1: Their Qualities
Circles 4
Symbol: Jade

The Jade tile indicates hard work resulting in spectacular results. Jade is thought to be an immortal stone to many. Therefore is also denotes longevity of relationships, life and principled values.

6: What You Bring
Wan 1

5: What They Bring
West Wind
Symbol: Metal

The West Wind tile represents an obstacle that must be faced before you can make progress towards your goals. This obstacle may be anything, from a person to needing to find work.