Relationship Layout #2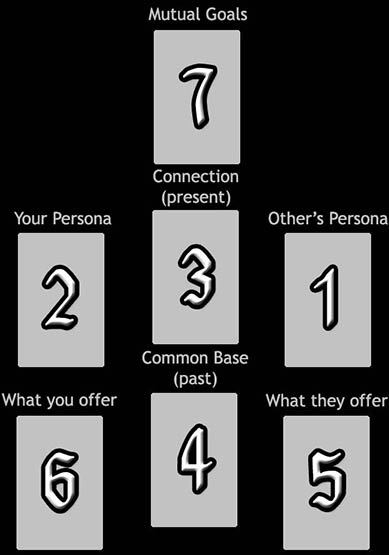 Difficulty: Easy
This relationship spread focuses more on the common ground of the relationship, with three tiles in the middle column showing the common ground. The middle column essentially displays the past, present, and future of the relationship.
Tile #4 stands for the common base of the relationship, which may be thought of as the past events which have shaped their characters, bringing them together. The current connection that binds them together is Tile #3, indicating the values shared. Tile #7 implies the common goals that would keep the pair together moving into the future.
The columns on either side show what each partner brings to the table. Remember, relationships need not be romantic, and the partners could even be groups rather than individuals. In this layout, the other person is on the left-hand side and the reader on the right.
Tiles #1 & #2 indicate the separate personalities of each member of the relationship. These tiles form a sort of bridge with the tiles beneath them, #5 & #6, which show the qualities that each partner offers the other person, and thus to the relationship as a whole.
Your Relationship #2 Reading
| | | |
| --- | --- | --- |
| | Mutual Goals | |
| Your Qualities | Connection (Present) | Others' Qualities |
| What You Bring | Common Base (Past) | What They Bring |

7: Mutual Goals
Wan 1
Symbol: Entering

The Entering tile indicates that barriers you now face will soon be lifted. Opportunity and success are ahead, but you must have the courage and energy to take advantage of them.

3: Connection
White Dragon
Symbol: The Unknown

The White Dragon tile denotes unknown factors in your reading. Exactly what these factors are is beyond our vision, but they will have an impact on your life.

4: Common Base
Worm
This creature lives off the dirt of the earth, collecting valuable nutrients that make it a symbol of energy and revitalisation. Naturally the worm is an old Tibetan home remedy with tremendous healing properties. Aiding both yin and yang energies, as well as practically every other vital organ and body system, it represents a powerful cure-all – a solution to a broad variety of problems.

2: Your Qualities
Circles 2
Symbol: Pine Tree

The Pine Tree tile represents strength and resolve. It often refers to a powerful, determined man. While powerful, this person is not violent, but very skilled in attaining his goals through diplomacy.

1: Their Qualities
Wan 7
Symbol: Seven Stars

The Seven Stars tile signifies creative growth and power. Creativity should be applied to the area this tile appears. This is a place to let your imagination run free. The Seven Stars tile also indicates hope for the future.

6: What You Bring
Bamboo 7

5: What They Bring
Bamboo 3
Symbol: Toad

The Toad tile indicates some troubling moments along your life's path, but these aches will heal. It also suggests your ambition may be greater than your reach.