The Love Triangle Layout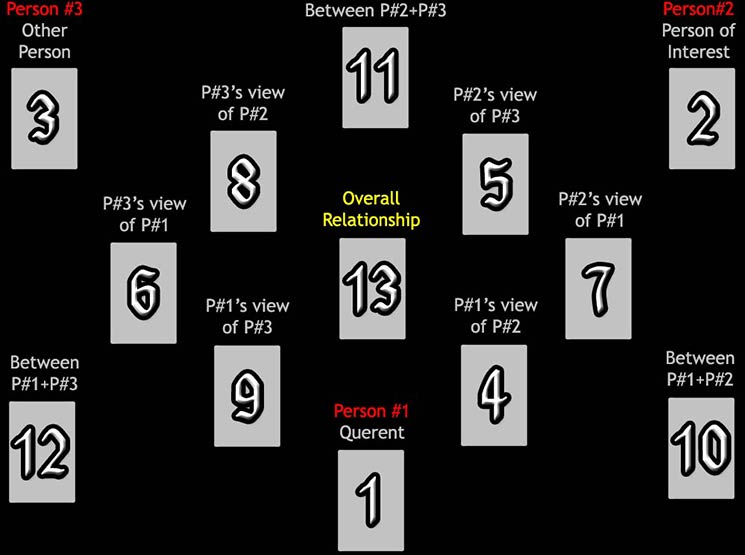 Difficulty: Somewhat Complicated
This layout can be used to determine the dynamics of the relationship between 3 people, whether or not romance is involved. This layout is drawn in the form of a hexagram, consisting of several large and small triangles. This layout is somewhat complicated, but only because of the complicated nature of this type of relationship.
The first step is to interpret the card for each individual position in the layout. Generally the querent asks about a relationship that he or she is involved with, but this does not have to be the case. Ordinarily the querent's representative card is #1, the querent's person of interest is #2, and the other person would be #3.
The second step fills in the downward triangle and involves further examination of the individuals through their views of the other people. Each person has 2 more cards showing the way they see and relate to the other members of the triangle. For example, Tile #6 shows how Person #3 relates to Person #1, while Tile #9 shows Person #1's attitude toward Person #3.
The next step completes the upward triangle and the hexagram, focusing on cards 10-13. It also completes the many smaller triangles and shows the potential for each relationship. The final card, #13 can be considered the significator of the reading, which shows the overall potential for this 3-way relationship.
Your Love Triangle Reading
| | | | | | | |
| --- | --- | --- | --- | --- | --- | --- |
| P#3 | | 3to2 | 2+3 | 2to3 | | P#2 |
| | 3to1 | | Overall | | 2to1 | |
| 1+3 | | 1to3 | | 1to2 | | 1+2 |
| | | | P#1 | | | |
| | | | | | | |
1: Person #1

Wan 5
Symbol: House

The House tile represents a building in which you spend much time. If your reading is positive it may well be that this building has the important function providing you with a stable environment in which you are comfortable. If the reading is negative it may represent a structure in which you are stressed and uncomfortable.
2: Person #2

Wan 4
Symbol: Lute

The Lute tile indicates a need for relaxation, a break from the stress of your everyday life. For people nearing the end of their career it may suggest that the time for them to retire has come.
3: Person #3

White Dragon
Symbol: The Unknown

The White Dragon tile denotes unknown factors in your reading. Exactly what these factors are is beyond our vision, but they will have an impact on your life.
4: Person #1's view of #2

Cat
A cunning and wiley hunter, though aloof and somewhat of a loner. The cat's eyes are said to drive evil spirits away, especially at night because of the way they seem to glow in the dark. The cat is symbolic of nighttime and represents a light in the dark, a guiding spirit.
5: Person #2's view of #3

South Wind
Symbol: Fire

The South Wind tile is considered to be a very good sign in a reading. It almost ensures a satisfactory end to any problem.
6: Person #3's view of #1

Wan 9
Symbol: Heavens

The Heaven tile suggests completion. This tile denotes a time for you to consider moving on to your next goal.
7: Person #2's view of #1

Wan 1
Symbol: Entering

The Entering tile indicates that barriers you now face will soon be lifted. Opportunity and success are ahead, but you must have the courage and energy to take advantage of them.
8: Person #3's view of #2

Bamboo
Symbol: Scholarship

The Bamboo tile indicates an adaptable, useful spirit. The Bamboo tile is also associated with scholarly pursuits.
9: Person #1's view of #3

Wan 6
Symbol: Fire

The Fire tile is a strong warning that something is wrong or out of balance. The Fire tile is a warning. Your resources are in jeopardy. These endangered resources may be financial or spiritual or physical. In fact, resources of all types may be in danger.
10: Overall relationship between persons #1 and #2

Wan 8
Symbol: Knot

The Knot tile represents both bonding and severing. If the Sword tile (2 Wan) is in your reading then the time to sever ties with someone or something is at hand. Conversely if the Duck tile (2 Bamboo) is in your reading then there is bond that will strengthen. If both appear in your reading, then you have a relationship of some kind that is of undecided value.
11: Overall relationship between persons #2 and #3

Rat
The rat represents industry, hard work, and determination. The rat shrewdly builds up a stockpile during the summer, so that when times get tough it will be well prepared. On the negative side, this creature can be cowardly, cunning, and cruel - and a major pest which spreads disease and destruction.
12: Overall relationship between persons #1 and #3

Wan 3
Symbol: Land

The Land tile suggests either a stable setting in which you are already thriving, or one that will exist in the near future. With stability your success and vision will grow.
13: Overall 3-way Relationship

Bamboo 1
Symbol: Peacock

This is the first tile of the first suit in a Mahjong set. Overall, it represents success. However it also warns that success sometimes turns to arrogance, which can lead to loss of everything that has been gained. The Peacock tile also suggests a change in your life path is forthcoming.