Three-Tile Layout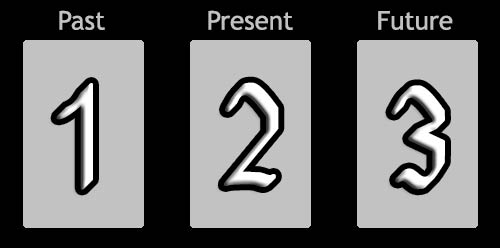 Difficulty: Very easy
This simplistic chronological spread can be used to shed light on the influences that have passed, current influences, and what is approaching in the near future. Not much explanation is necessary for this simple layout.
Your Three-Tile Reading
The Past

Circles 3
The Present

Wan 8
The Future

East Wind

The Past
Circles 3
Symbol: Phoenix

The Phoenix tile indicates great happiness and joy. The Phoenix is said to be reborn out its ashes. Accordingly, the Phoenix tile also denotes sure recovery from any setbacks encountered.

The Present
Wan 8
Symbol: Knot

The Knot tile represents both bonding and severing. If the Sword tile (2 Wan) is in your reading then the time to sever ties with someone or something is at hand. Conversely if the Duck tile (2 Bamboo) is in your reading then there is bond that will strengthen. If both appear in your reading, then you have a relationship of some kind that is of undecided value.

The Future
East Wind
Symbol: Wood

Generally the East Wind tile represents the querent. The tiles nearest the East tile in a reading have added importance.