Three Bones Layout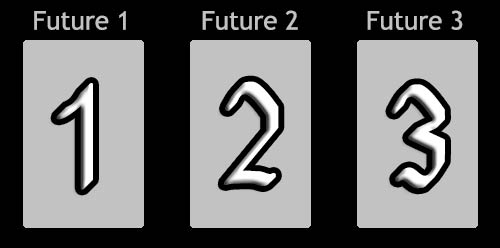 Difficulty: Very easy
This method of reading draws three tiles out of a randomized group of mahjong tiles. They are flipped to answer the question in chronological order.
Your Three Bones Reading
#1

Circles 3
#2

Circles 7
#3

Circles 6

Bone #1
Circles 3
Symbol: Phoenix

The Phoenix tile indicates great happiness and joy. The Phoenix is said to be reborn out its ashes. Accordingly, the Phoenix tile also denotes sure recovery from any setbacks encountered.

Bone #2
Circles 7
Symbol: Insect

The Insect tile indicates short-term gain through a short flurry of hectic work. It is important to realise that the gains the Insect tile offers are not lasting, or of long-term importance. At best they are a stopgap until more substantial goals come along.

Bone #3
Circles 6
Symbol: Peach

The Peach tile represents the female spirit in its purest form. Where the Peach tile appears, it is likely a woman or possibly a young girl will play an important role in outcome of your reading.