3 Bones Layout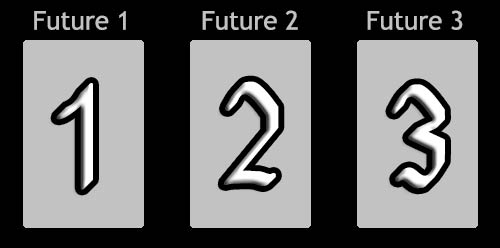 Difficulty: Very easy
This method of reading draws 3 tiles out of the mixed group of mahjong tiles or dominoes. They are flipped to answer the query in chronological order.
Your 3 Bones Reading
#1

Circles 3
#2

East Wind
#3

Wan 7

Bone #1
Circles 3
Symbol: Phoenix

The Phoenix tile indicates great happiness and joy. The Phoenix is said to be reborn out its ashes. Accordingly the Phoenix tile also denotes sure recovery from any setbacks encountered.

Bone #2
East Wind
Symbol: Wood

Generally the East Wind tile represents the querent. The tiles nearest the East tile in a reading have added importance.

Bone #3
Wan 7
Symbol: Seven Stars

The Seven Stars tile signifies creative growth and power. Creativity should be applied to the area this tile appears. This is a place to let your imagination run free. The Seven Stars tile also indicates hope for the future.