3 Bones Layout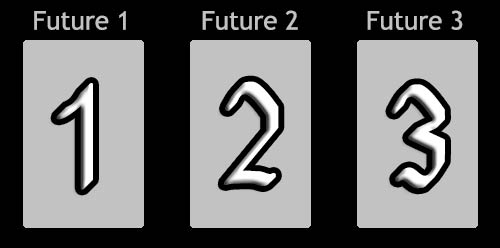 Difficulty: Very easy
This method of reading draws 3 tiles out of the mixed group of mahjong tiles or dominoes. They are flipped to answer the query in chronological order.
Your 3 Bones Reading
#1

Wan 7
#2

Bamboo 9
#3

Red Dragon

Bone #1
Wan 7
Symbol: Seven Stars

The Seven Stars tile signifies creative growth and power. Creativity should be applied to the area this tile appears. This is a place to let your imagination run free. The Seven Stars tile also indicates hope for the future.

Bone #2
Bamboo 9
Symbol: Willow Tree

The Willow Tree tile represents adaptability and survival in the face of harsh conditions. The Willow bends before the bitter winter winds, but does not break. The Willow tile suggests compromise. You must be willing to give some to get some.

Bone #3
Red Dragon
Symbol: Center

The Red Dragon tile is indicative of success and the fulfillment of your goals.