The Three Dragons Layout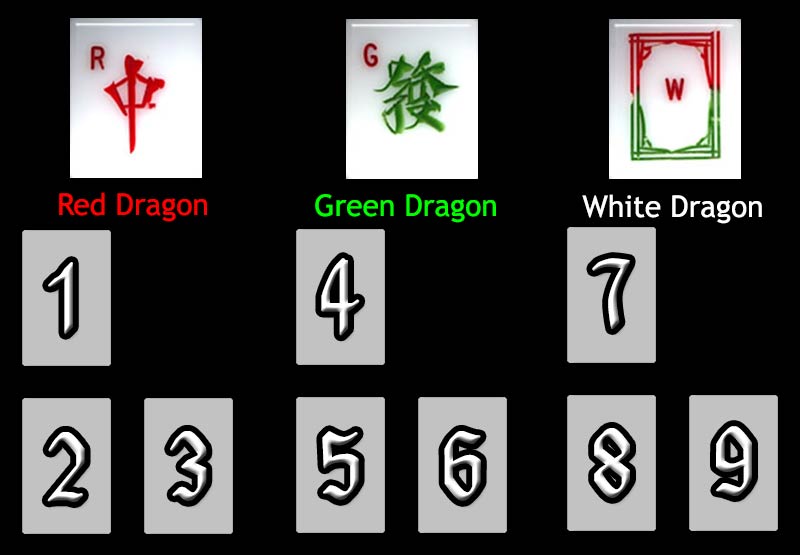 Difficulty: Moderate
In Chinese culture, the dragon is generally considered a sign of great luck and power. However, in mahjong, red, green, and white dragons represent three distinct influences that can affect a person's life. The Dragon Reading creates a relationship between sets of tiles to each dragon, to explore how the three dragons will influence things now and in the near future.
Your Three Dragons Reading

Red
Dragon


Green
Dragon


White
Dragon


















Red Dragon

Red #1

Green Dragon
Symbol: Commence

The Green Dragon tile suggests the time has come for you to begin a new project, or to take your life in a new direction.
Red #2

Circles 4
Symbol: Jade

The Jade tile indicates hard work resulting in spectacular results. Jade is thought to be an immortal stone to many. Therefore, is also denotes longevity of relationships, life and principled values.
Red #3

South Wind
Symbol: Fire

The South Wind tile is considered to be a very good sign in a reading. It almost ensures a satisfactory end to any problem.
Green Dragon

Green #1

East Wind
Symbol: Wood

Generally the East Wind tile represents the querent. The tiles nearest the East tile in a reading have added importance.
Green #2

Bamboo 8
Symbol: Mushroom

The Mushroom tile represents eternal life and oddity. It gets these attributes from the fact that mushrooms in nature always seem to regenerate and often popup where they are unexpected. The notion of oddity is derived from the mushroom seemingly having the nature of a plant, but lacking leaves. The Mushroom tile foretells the coming of unexpected events that will have a lasting impact on you.
Green #3

Wan 2
Symbol: Sword

The Sword tile indicates a decision must be made before attainment of your goals can be reached.
White Dragon

White #1

Spring
Symbol: The Fisherman

The tile of The Fisherman suggests success can be attained through the application of common sense and careful management of your time and relationships. The Fisherman is thorough and patient. He knows that while his efforts will be rewarded as long as he does not give up.
White #2

Circles 6
Symbol: Peach

The Peach tile represents the female spirit in its purest form. Where the Peach tile appears, it is likely a woman or possibly a young girl will play an important role in outcome of your reading.
White #3

Circles 1
Symbol: Pearl

The Pearl tile denotes the attainment of wealth and a life of luxury. The task will be to balance the spiritual self with the physical self.