The Three Dragons Layout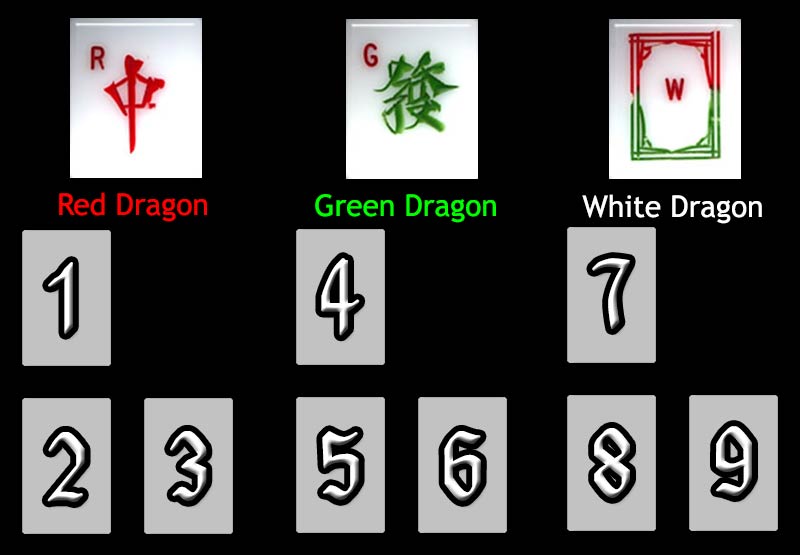 Difficulty: Moderate
In Chinese culture, the dragon is generally considered a sign of great luck and power. However, in mahjong, red, green, and white dragons represent three distinct influences that can affect a person's life. The Dragon Reading creates a relationship between sets of tiles to each dragon, to explore how the three dragons will influence things now and in the near future.
Your Three Dragons Reading

Red
Dragon


Green
Dragon


White
Dragon


















Red Dragon

Red #1

Circles 4
Symbol: Jade

The Jade tile indicates hard work resulting in spectacular results. Jade is thought to be an immortal stone to many. Therefore, is also denotes longevity of relationships, life and principled values.
Red #2

Bamboo 6
Symbol: Water

The Water tile denotes a need for communication. A trip may be necessary to communicate properly. You may be called upon to present proof of ownership or that an event actually took place.
Red #3

Bamboo 3
Symbol: Toad

The Toad tile indicates some troubling moments along your life's path, but these aches will heal. It also suggests your ambition may be greater than your reach.
Green Dragon

Green #1

Spring
Symbol: The Fisherman

The tile of The Fisherman suggests success can be attained through the application of common sense and careful management of your time and relationships. The Fisherman is thorough and patient. He knows that while his efforts will be rewarded as long as he does not give up.
Green #2

Wan 3
Symbol: Land

The Land tile suggests either a stable setting in which you are already thriving, or one that will exist in the near future. With stability your success and vision will grow.
Green #3

Chrysanthemum
Symbol: Pleasure

The Chrysanthemum tile indicates you will enjoy a happy time filled with social activities and leisurely moments untainted by the demands of everyday life.
White Dragon

White #1

East Wind
Symbol: Wood

Generally the East Wind tile represents the querent. The tiles nearest the East tile in a reading have added importance.
White #2

Bamboo 1
Symbol: Peacock

This is the first tile of the first suit in a Mahjong set. Overall, it represents success. However, it also warns that success sometimes turns to arrogance, which can lead to loss of everything that has been gained. The Peacock tile also suggests a change in your life path is forthcoming.
White #3

Bamboo 4
Symbol: Carp

The Carp tile indicates the attainment of inner-peace, tranquillity, and freedom from the pressures of everyday life. Contentment will be realised. The Carp's vibrant colours suggest a rich life. This may mean the coming of material and/or spiritual wealth.