The Three Dragons Layout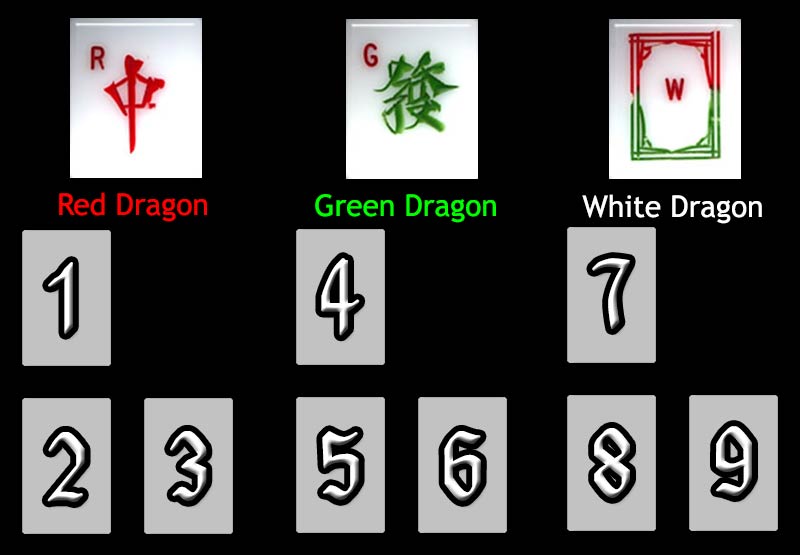 Difficulty: Moderate
In Chinese culture the Dragon is generally considered a sign of great luck and power. However in mahjong, the red, green, and white dragons represent three distinct influences that can affect your life. The Dragon Reading creates a relationship between sets of tiles to each Dragon, to explore how the 3 Dragons will influence you now and in the near future.
Your Three Dragons Reading

Red
Dragon


Green
Dragon


White
Dragon


















Red Dragon

Red #1

West Wind
Symbol: Metal

The West Wind tile represents an obstacle that must be faced before you can make progress towards your goals. This obstacle may be anything, from a person to needing to find work.
Red #2

Circles 8
Symbol: White Tiger

The White Tiger tile is epitomizes masculinity in its purest form. The male represented by the White Tiger is brave and assertive. He will fight to protect what he feels is right.
Red #3

Bamboo 6
Symbol: Water

The Water tile denotes a need for communication. A trip may be necessary to communicate properly. You may be called upon to present proof of ownership or that an event actually took place.
Green Dragon

Green #1

Cat
A cunning and wiley hunter, though aloof and somewhat of a loner. The cat's eyes are said to drive evil spirits away, especially at night because of the way they seem to glow in the dark. The cat is symbolic of nighttime and represents a light in the dark, a guiding spirit.
Green #2

Circles 3
Symbol: Phoenix

The Phoenix tile indicates great happiness and joy. The Phoenix is said to be reborn out its ashes. Accordingly the Phoenix tile also denotes sure recovery from any setbacks encountered.
Green #3

Autumn
Symbol: The Farmer

The Farmer represents rewards gained through hard work and faith in oneself. He harvests riches from the planting and nurturing of his crops.
White Dragon

White #1

Red Dragon
Symbol: Center

The Red Dragon tile is indicative of success and the fulfillment of your goals.
White #2

Wan 7
Symbol: Seven Stars

The Seven Stars tile signifies creative growth and power. Creativity should be applied to the area this tile appears. This is a place to let your imagination run free. The Seven Stars tile also indicates hope for the future.
White #3

Wan 6
Symbol: Fire

The Fire tile is a strong warning that something is wrong or out of balance. The Fire tile is a warning. Your resources are in jeopardy. These endangered resources may be financial or spiritual or physical. In fact, resources of all types may be in danger.