The Three Dragons Layout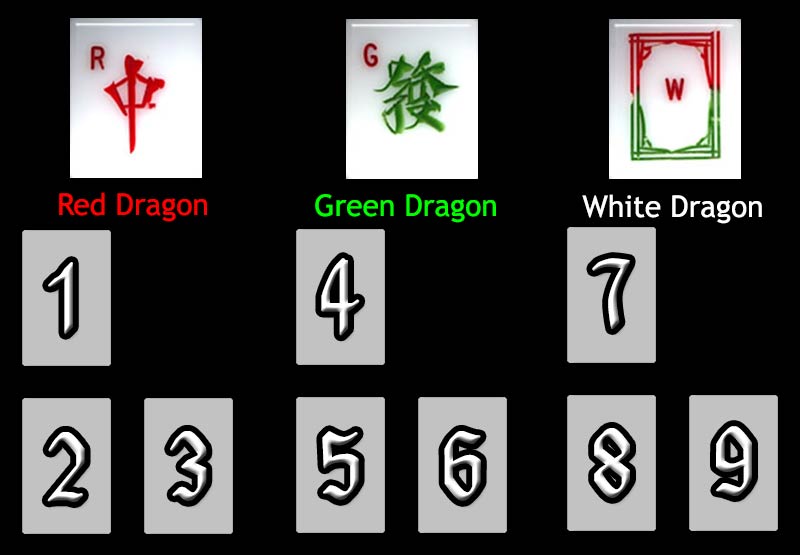 Difficulty: Moderate
In Chinese culture the Dragon is generally considered a sign of great luck and power. However in mahjong, the red, green, and white dragons represent three distinct influences that can affect your life. The Dragon Reading creates a relationship between sets of tiles to each Dragon, to explore how the 3 Dragons will influence you now and in the near future.
Your Three Dragons Reading

Red
Dragon


Green
Dragon


White
Dragon


















Red Dragon

Red #1

Bamboo 6
Symbol: Water

The Water tile denotes a need for communication. A trip may be necessary to communicate properly. You may be called upon to present proof of ownership or that an event actually took place.
Red #2

Wan 7
Symbol: Seven Stars

The Seven Stars tile signifies creative growth and power. Creativity should be applied to the area this tile appears. This is a place to let your imagination run free. The Seven Stars tile also indicates hope for the future.
Red #3

Red Dragon
Symbol: Center

The Red Dragon tile is indicative of success and the fulfillment of your goals.
Green Dragon

Green #1

Circles 2
Symbol: Pine Tree

The Pine Tree tile represents strength and resolve. It often refers to a powerful, determined man. While powerful, this person is not violent, but very skilled in attaining his goals through diplomacy.
Green #2

Circles 8
Symbol: White Tiger

The White Tiger tile is epitomizes masculinity in its purest form. The male represented by the White Tiger is brave and assertive. He will fight to protect what he feels is right.
Green #3

Cat
A cunning and wiley hunter, though aloof and somewhat of a loner. The cat's eyes are said to drive evil spirits away, especially at night because of the way they seem to glow in the dark. The cat is symbolic of nighttime and represents a light in the dark, a guiding spirit.
White Dragon

White #1

Bamboo 8
Symbol: Mushroom

The Mushroom tile represents eternal life and oddity. It gets these attributes from the fact that mushrooms in nature always seem to regenerate and often popup where they are unexpected. The notion of oddity is derived from the mushroom seemingly having the nature of a plant, but lacking leaves. The Mushroom tile foretells the coming of unexpected events that will have a lasting impact on you.
White #2

Rooster
A proud and dominant animal who likes to strut his stuff. The rooster is the ultimate symbol of reliability and punctuality, as he never misses his morning duty of crowing at the dawn. Naturally this creature symbolizes new beginnings. Also he is a protector of the home domain.
White #3

Summer
Symbol: The Woodcutter

The Woodcutter employs three of the 5 elements central to Chinese philosophy: Fire, Wood and Metal. He is ambitious and full of drive and energy. He represents gain and success through dedicated work.