The Three Dragons Layout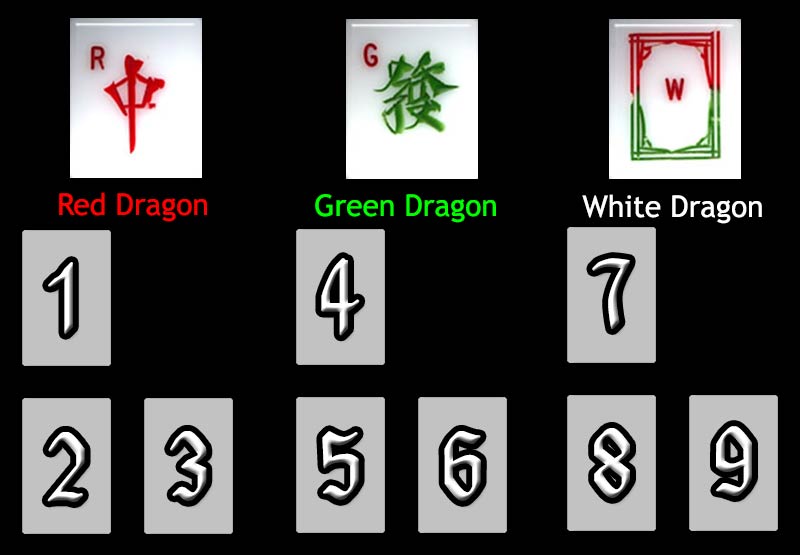 Difficulty: Moderate
In Chinese culture, the dragon is generally considered a sign of great luck and power. However, in mahjong, red, green, and white dragons represent three distinct influences that can affect a person's life. The Dragon Reading creates a relationship between sets of tiles to each dragon, to explore how the three dragons will influence things now and in the near future.
Your Three Dragons Reading

Red
Dragon


Green
Dragon


White
Dragon


















Red Dragon

Red #1

Bamboo 1
Symbol: Peacock

This is the first tile of the first suit in a Mahjong set. Overall, it represents success. However, it also warns that success sometimes turns to arrogance, which can lead to loss of everything that has been gained. The Peacock tile also suggests a change in your life path is forthcoming.
Red #2

Summer
Symbol: The Woodcutter

The Woodcutter employs three of the five elements central to Chinese philosophy: Fire, Wood and Metal. He is ambitious and full of drive and energy. He represents gain and success through dedicated work.
Red #3

Worm
This creature lives off the dirt of the earth, collecting valuable nutrients that make it a symbol of energy and revitalisation. Naturally the worm is an old Tibetan home remedy with tremendous healing properties. Aiding both yin and yang energies, as well as practically every other vital organ and body system, it represents a powerful cure-all – a solution to a broad variety of problems.
Green Dragon

Green #1

Bamboo 9
Symbol: Willow Tree

The Willow Tree tile represents adaptability and survival in the face of harsh conditions. The Willow bends before the bitter winter winds, but does not break. The Willow tile suggests compromise. You must be willing to give some to get some.
Green #2

Circles 1
Symbol: Pearl

The Pearl tile denotes the attainment of wealth and a life of luxury. The task will be to balance the spiritual self with the physical self.
Green #3

Circles 3
Symbol: Phoenix

The Phoenix tile indicates great happiness and joy. The Phoenix is said to be reborn out its ashes. Accordingly, the Phoenix tile also denotes sure recovery from any setbacks encountered.
White Dragon

White #1

South Wind
Symbol: Fire

The South Wind tile is considered to be a very good sign in a reading. It almost ensures a satisfactory end to any problem.
White #2

Bamboo 8
Symbol: Mushroom

The Mushroom tile represents eternal life and oddity. It gets these attributes from the fact that mushrooms in nature always seem to regenerate and often popup where they are unexpected. The notion of oddity is derived from the mushroom seemingly having the nature of a plant, but lacking leaves. The Mushroom tile foretells the coming of unexpected events that will have a lasting impact on you.
White #3

Red Dragon
Symbol: Centre

The Red Dragon tile is indicative of success and the fulfilment of your goals.