Decision Layout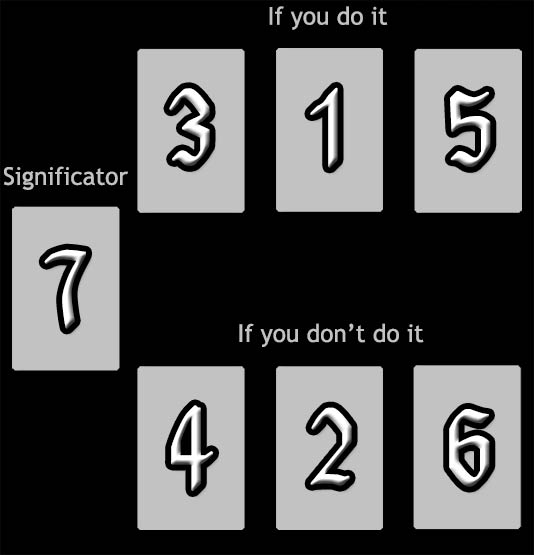 Difficulty: Easy
This simple but highly useful layout calls for a question to be asked in this format:
"What happens if I do (X), and what happens if I do not do (X)?"
Please note that it should not be viewed as a decision between 2 different options, but about whether or not a single option should be exercised. A second option would call for a separate reading.
Card #7 is the significator, the overall theme of the query.
Cards #3, #1, & #5 represent the chronological sequence of events that occurs if you choose to do (X).
Cards #4, #2, & #6 represent the chronological sequence of events that unfolds if you choose NOT to do (X).
Your Decision Reading
The Significator

Four/Two
Outcome if you do it:

Two/Six

Four/Five

Three/Three
Outcome if you don't do it:

One/Five

Two/Two

Blank/Blank

Four/Two
This is a bad omen of instability and obstruction. There is danger from enemies and evil spirits. A red article or triangular object you have acquired may be causing you harm. A person in the western direction may be responsible. Obstacles are blocking your success. Only evil activities have good prospects for success.
Outcome if you do it:

Two/Six
The mind is clear like a bright lamp that dispells darkness. You are at a stage in which the potential for personal growth is almost unlimited. Follow your inner light, and you will know what is right for you and those around you. Allow no obstacles or faults to hinder your actions.

Four/Five
Your pursuits are spoiled; hopes are scattered like dust in the wind. You would be well advised to perform suppression rituals, burial rituals, or a peaceful fire ritual. Enemies wish you ill. Welcome visitors bring bad news. You have accumulated bad energies through faulty decisions, and you may need to retrace your steps to see where things went wrong.

Three/Three
Wealth increases like a river feeding the ocean. This sign is especially good for works involving water, however marriage or rituals involving fire are not favored.
Outcome if you do not do it:

One/Five
You will hear good news from a friend. Fame and fortune shall increase should you accept their help. Your actions will be successful if you allow yourself to hear their words.

Two/Two
New unions and the strengthening of established unions are just around the corner. These unions may be secular and/or spiritual, and will prove successful. Be open to change, but do not abandon your values. Works of virtue and power are favored by this sign. Fire activities are highly favored and increase happiness much, but works involving water, earth, and fixed objects are not at all favorable, even bad.

Blank/Blank
The Double Blank is perhaps the grandest of dominoes. This domino often symbolizes a major change. It is the domino of fate, destiny, providence, and karma. Several new paths will open for you, and you are spiritually and intellectually ready to take them on. However, if this domino is drawn in a single-domino reading, it simply means to ask the question again at a later time.