Decision Layout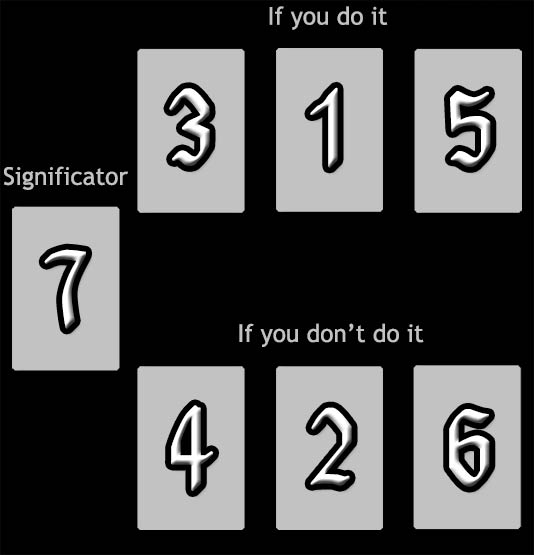 Difficulty: Easy
This simple but highly useful layout calls for a question to be asked in this format:
"What happens if I do (X), and what happens if I do not do (X)?"
Please note that it should not be viewed as a decision between 2 different options, but about whether or not a single option should be exercised. A second option would call for a separate reading.
Card #7 is the significator, the overall theme of the query.
Cards #3, #1, & #5 represent the chronological sequence of events that occurs if you choose to do (X).
Cards #4, #2, & #6 represent the chronological sequence of events that unfolds if you choose NOT to do (X).
Your Decision Reading
The Significator

Blank/Five
Outcome if you do it:

Six/Two

Three/Four

Four/Two
Outcome if you don't do it:

Blank/Four

Five/Six

Five/One

Blank/Five
Now is a time to strengthen your family ties. You may even want to consider having a child. Your family life should take precedence. Works involving spiritual communication with ancestors will be tremendously beneficial.
Outcome if you do it:

Six/Two
What you have asked will be settled like the clarity of daylight. Things will work out well. However, things do not work out so well in questions regarding earth, houses, and objects used as supports such as tables or stages.

Three/Four
The sign of the Golden Lotus or "the unploughed harvest" indicates success in your aims. It may take a little time, but things will get better and better if you address your spiritual self now. You may even want to consider mentoring someone; share your experience and open your heart to those who need guidance.

Four/Two
This is a bad omen of instability and obstruction. There is danger from enemies and evil spirits. A red article or triangular object you have acquired may be causing you harm. A person in the western direction may be responsible. Obstacles are blocking your success. Only evil activities have good prospects for success.
Outcome if you do not do it:

Blank/Four
Your world is about to become more harmonious. All the pieces will come together, and personal power will take form, leading to a hightened level of confidence. However, for this to occur you must be open to change and embrace new ideas.

Five/Six
A sign of good fortune, your plans will be fulfilled. There will be good news. However, other people's promises will bear no results. Trust your own feelings, thoughts and drives over those of the people around you. Only you are responsible for deciding the proper path for you, and right now advice from others may not be compatible with your plans.

Five/One
This sign is also known as "the wish-fulfilling tree." There will be quick success. Matters involving the delivery of news are particularly favorable. Decorations and streamers are very effective.