Decision Layout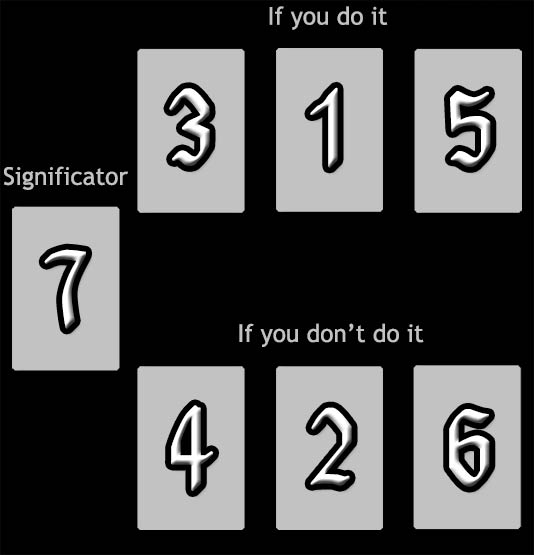 Difficulty: Easy
This simple but highly useful layout calls for a question to be asked in this format:
"What happens if I do (X), and what happens if I do not do (X)?"
Please note that it should not be viewed as a decision between two different options, but about whether a single option should be exercised or not. A second option would call for a separate reading.
Domino #7 is the significator, the overall theme of the query.
Dominoes #3, #1, & #5 represent the chronological sequence of events that occurs if the reader chooses to do (X).
Dominoes #4, #2, & #6 represent the chronological sequence of events that unfolds if the reader chooses not to do (X).
Your Decision Reading
The Significator

Four/Blank
Outcome if you do it:

Five/Five

Two/Three

One/Six
Outcome if you don't do it:

One/Five

Four/Five

Blank/Two

Four/Blank
Remember that you will reap what you sew. Do not allow yourself to become greedy or totally self-absorbed. To do so will leave you isolated and unhappy, even if you had all the money in the world.
Outcome if you do it:

Five/Five
This sign indicates a growth in popularity. There may be fighting, but you will be victorious. Fame may yield fast wealth or fortune in smaller scattered pieces. If dispelling ghosts, you will be successful if you offer small gifts such as tea.

Two/Three
It is best to postpone your efforts to achieve them later, as they will not be successful yet. There will be great obstacles and destruction if you press forward. This would appear to be a negative sign, however works of destruction will have much success. Now may be a good time to organise your plans and develop new strategies for managing the tasks before you.

One/Six
This domino is like a personal visit from the chief deity governing MO divination. A visit from Manjushri himself is the most awesome sign of them all. Your goals will certainly be achieved if you heed his advice and choose to tie up loose ends. The completion of old projects that you have left unfinished will be highly beneficial. Visualising and meditating on Manjushri is highly recommended.
Outcome if you do not do it:

One/Five
You will hear good news from a friend. Fame and fortune shall increase should you accept their help. Your actions will be successful if you allow yourself to hear their words.

Four/Five
Your pursuits are spoiled; hopes are scattered like dust in the wind. You would be well advised to perform suppression rituals, burial rituals, or a peaceful fire ritual. Enemies wish you ill. Welcome visitors bring bad news. You have accumulated bad energies through faulty decisions, and you may need to retrace your steps to see where things went wrong.

Blank/Two
New friendships and opportunities will soon be yours. It is possible you will meet a new love, or the love you already have will deepen. However, you must be open to change and dare to take risks.