Decision Layout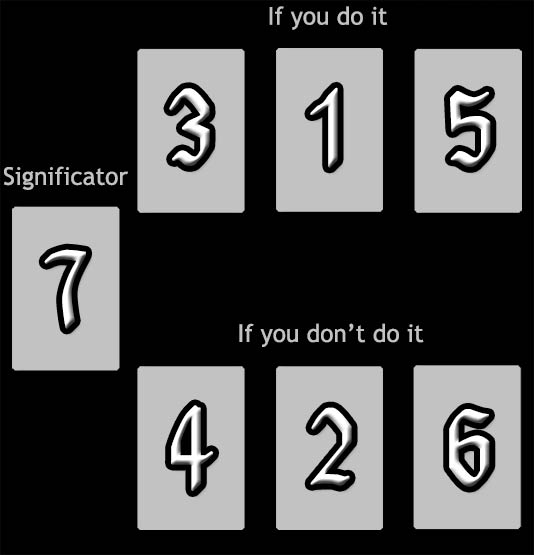 Difficulty: Easy
This simple but highly useful layout calls for a question to be asked in this format:
"What happens if I do (X), and what happens if I do not do (X)?"
Please note that it should not be viewed as a decision between two different options, but about whether a single option should be exercised or not. A second option would call for a separate reading.
Domino #7 is the significator, the overall theme of the query.
Dominoes #3, #1, & #5 represent the chronological sequence of events that occurs if the reader chooses to do (X).
Dominoes #4, #2, & #6 represent the chronological sequence of events that unfolds if the reader chooses not to do (X).
Your Decision Reading
The Significator

Two/Blank
Outcome if you do it:

Blank/Blank

Three/Three

Two/Six
Outcome if you don't do it:

Five/Five

One/Five

Five/Six

Two/Blank
You now have great potential for growth. It is recommended that you take advantage of this time by exploring every avenue available for you to grow, whether spiritually or materially.
Outcome if you do it:

Blank/Blank
The Double Blank is perhaps the grandest of dominoes. This domino often symbolises a major change. It is the domino of fate, destiny, providence, and karma. Several new paths will open for you, and you are spiritually and intellectually ready to take them on. However, if this domino is drawn in a single-domino reading, it simply means to ask the question again at a later time.

Three/Three
Wealth increases like a river feeding the ocean. This sign is especially good for works involving water, however marriage or rituals involving fire are not favoured.

Two/Six
The mind is clear like a bright lamp that dispels darkness. You are at a stage in which the potential for personal growth is almost unlimited. Follow your inner light, and you will know what is right for you and those around you. Allow no obstacles or faults to hinder your actions.
Outcome if you do not do it:

Five/Five
This sign indicates a growth in popularity. There may be fighting, but you will be victorious. Fame may yield fast wealth or fortune in smaller scattered pieces. If dispelling ghosts, you will be successful if you offer small gifts such as tea.

One/Five
You will hear good news from a friend. Fame and fortune shall increase should you accept their help. Your actions will be successful if you allow yourself to hear their words.

Five/Six
A sign of good fortune, your plans will be fulfilled. There will be good news. However, other people's promises will bear no results. Trust your own feelings, thoughts and drives over those of the people around you. Only you are responsible for deciding the proper path for you, and right now advice from others may not be compatible with your plans.