Decision Layout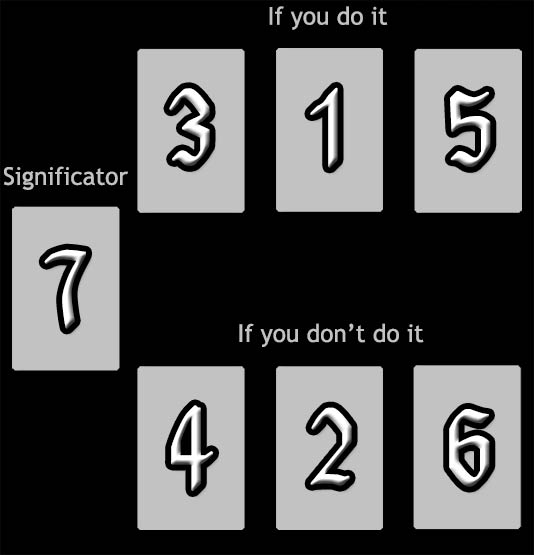 Difficulty: Easy
This simple but highly useful layout calls for a question to be asked in this format:
"What happens if I do (X), and what happens if I do not do (X)?"
Please note that it should not be viewed as a decision between 2 different options, but about whether or not a single option should be exercised. A second option would call for a separate reading.
Card #7 is the significator, the overall theme of the query.
Cards #3, #1, & #5 represent the chronological sequence of events that occurs if you choose to do (X).
Cards #4, #2, & #6 represent the chronological sequence of events that unfolds if you choose NOT to do (X).
Your Decision Reading
The Significator

Six/Five
Outcome if you do it:

Three/Six

Two/Five

One/Four
Outcome if you don't do it:

Two/Three

Blank/Two

One/One

Six/Five
If you work steadily and carefully, the results will be good. Avoid fickle thoughts which dissipate mental energies. Travel and giving will be beneficial. Offerings to natural spirits such as ancestors and trees is beneficial, and performance of spiritual practices will have a hightened effect if not performed at their regular location.
Outcome if you do it:

Three/Six
Allow your feelings and passions to guide you. Do not allow your emotions to take a back seat to your intellect at this time. Explore your deepest feelings about every aspect of your life and act to ease any lingering negativity. Peaceful activities and purification rituals are beneficial. Destructive works will not succeed.

Two/Five
Spontaneous strength arises from within, like wind fueling the fire. Dreams and fantasies lead you to your correct path. Activities of power and destruction have great potential when used in accordance with a higher power. More offerings should be made to your spiritual protectors. Results will be good for what you wish to achieve, though works involving water will only be mediocre.

One/Four
Like inheriting a fortune, there is great prosperity, wealth, and well-being. This sign is as money falling from the sky directly into your hands. You have been steady in the long run, and your prospects for success are very bright. Friends will increase, and even enemies will fall under your control. If someone is ill, they will recover in time, the cause being that they have displeased a certain deity.
Outcome if you do not do it:

Two/Three
It is best to postpone your efforts to achieve them later, as they will not be successful yet. There will be great obstacles and destruction if you press forward. This would appear to be a negative sign, however works of destruction will have much success. Now may be a good time to organize your plans and develop new strategies for managing the tasks before you.

Blank/Two
New friendships and opportunities will soon be yours. It is possible you will meet a new love, or the love you already have will deepen. However you must be open to change and dare to take risks.

One/One
The time is at hand to pursue new ventures. Your wishes will be accomplished, exceeding all expectations. The study of logic will bear tremendous fruit, as would diligent meditation upon your special deity or spirit guide. Partnerships are extremely well-favored. Opportunities may seem too good to be true, but hear them out fully before ruling anything out.