Decision Layout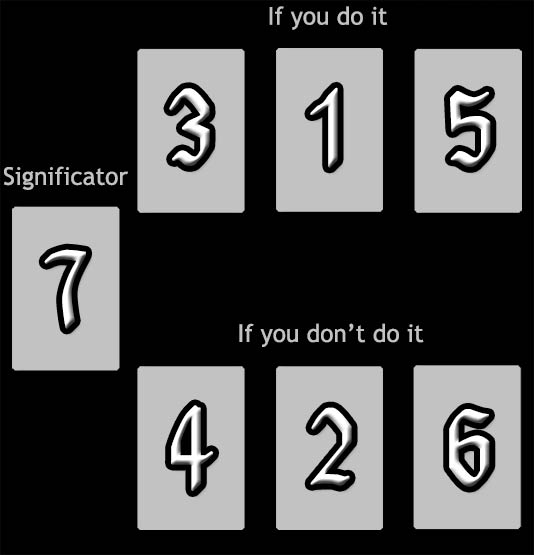 Difficulty: Easy
This simple but highly useful layout calls for a question to be asked in this format:
"What happens if I do (X), and what happens if I do not do (X)?"
Please note that it should not be viewed as a decision between two different options, but about whether a single option should be exercised or not. A second option would call for a separate reading.
Domino #7 is the significator, the overall theme of the query.
Dominoes #3, #1, & #5 represent the chronological sequence of events that occurs if the reader chooses to do (X).
Dominoes #4, #2, & #6 represent the chronological sequence of events that unfolds if the reader chooses not to do (X).
Your Decision Reading
The Significator

Six/Three
Outcome if you do it:

Three/Five

One/Two

Three/Four
Outcome if you don't do it:

Blank/Three

Blank/One

Two/Four

Six/Three
The sign of 'the Good Moon' suggests that you will find pleasure without obstacles. Light-hearted activities will be successful, but using too much power or force will not work. White-coloured objects are favoured by this feminine sign.
Outcome if you do it:

Three/Five
This sign indicates a great disturbance, and that happiness will be destroyed. There is most likely an enemy, perhaps even a lawsuit. Black magic may have been performed against you. You are being harmed by reciprocal fighting, gossip, or by having gone to a place of much quarrelling. Nothing you do will produce successful results unless you intend to do harm. Now is the time to confront your enemies and settle differences. You should try to find a positive way to vent negative emotions, such as taking action against a perceived injustice. Rituals of making yellow clay stupas representative of deities, saints, or sacred happenings would be beneficial.

One/Two
You will bear witness to an amazing sign. This is a sign of unification, good fortune, success, harmony, and happiness. You should continue on the same path you have been on. The prospects of this sign are not merely good, but excellent. Your life will be enriched.

Three/Four
The sign of the Golden Lotus or 'the unploughed harvest' indicates success in your aims. It may take a little time, but things will get better and better if you address your spiritual self now. You may even want to consider mentoring someone; share your experience and open your heart to those who need guidance.
Outcome if you do not do it:

Blank/Three
You have the opportunity before you to strengthen your spirit. It would be of great advantage to take this opportunity for spiritual growth, as these moments are fleeting and somewhat rare.

Blank/One
A new life's path is unfolding before you. Opportunities abound. You will do well if you have the courage to move down this new path, as long as you do not stray from acting morally.

Two/Four
There will be no results, as a dried-up tree produces no fruit. This sign indicates that your reach may have exceeded your grasp. The constantly afflicted mind cannot achieve its desires, and therefore continues to suffer. Too many, or too lofty wishes will not be fulfilled. This sign also suggests performing rituals to ancestors and earth spirits to rectify disturbances.