Game Plan Layout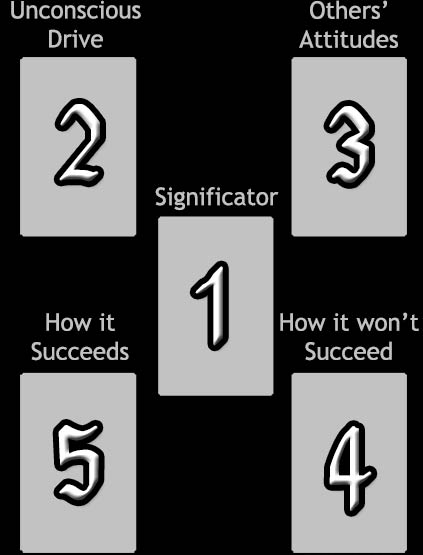 Difficulty: Easy
When you have a certain plan in mind, this simple 5-card layout presents a choice, hinting at what action or attitude should be taken for your plan to succeed, and what should be avoided in order to help your plan work out for the best.
The initial card is laid in the center of the layout, the significator. The following 4 cards are laid out clockwise around the significator.
In this layout, the second card shows what drives you, but also says you are not fully conscious of this, perhaps even completely unaware of it. It gives you a hint as to the reason that you strive for your goal.
The third card shows what others think of you and your goals. You may or may not be aware of this. Sometimes other people factor into your plans, and sometimes they don't.
The fourth card shows what you should not do. If things are permitted to go down this path, your plan will collapse.
The fifth card is a hint as to how to make your plan work out favorably. The idea that this card presents should be followed in order to make your plan a success. It is the differences between Cards #4 and #5 that should be noted, as the differences provide the clues you need.
Your Game Plan Reading
Unconscious Drive

Five/Six
External Influences

Five/Three
Significator

Blank/Two
How it Will Succeed

Two/Five
How it Will Not Succeed

Five/Four

Blank/Two
New friendships and opportunities will soon be yours. It is possible you will meet a new love, or the love you already have will deepen. However you must be open to change and dare to take risks.

Five/Six
A sign of good fortune, your plans will be fulfilled. There will be good news. However, other people's promises will bear no results. Trust your own feelings, thoughts and drives over those of the people around you. Only you are responsible for deciding the proper path for you, and right now advice from others may not be compatible with your plans.

Five/Three
Who is capable of catching a piece of paper in the wind? This sign suggests dissipation and energy wasted on small things. Thoughts are scattered and the mind is too distracted to focus well. Advice will not be taken, and you would be better off to perform a ritual to stabilize your thoughts, even if it is difficult.

Five/Four
Matters of property, life, friends, and family are unfavorable. There are great obstacles that you need to focus on subverting. You may have been given a yellow article or a type of square object with earth spirits and local spirits that are harming you.

Two/Five
This is a sign of great strength, and that you will achieve great success at the expense of your enemies. Powerful and destructive activities will meet with great success. Rituals to your spiritual protectors should be continually performed. Works involving earth and water will have difficulties.