Game Plan Layout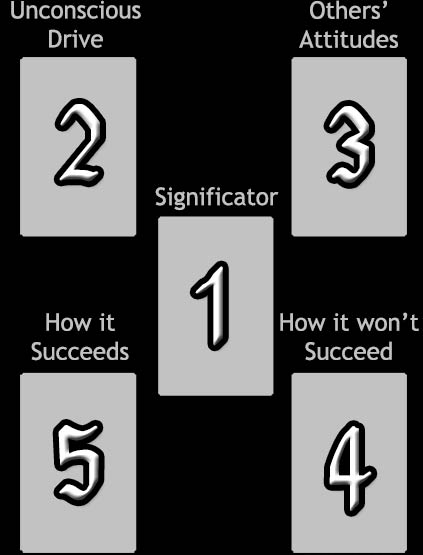 Difficulty: Easy
When you have a certain plan in mind, this simple 5-card layout presents a choice, hinting at what action or attitude should be taken for your plan to succeed, and what should be avoided in order to help your plan work out for the best.
The initial card is laid in the center of the layout, the significator. The following 4 cards are laid out clockwise around the significator.
In this layout, the second card shows what drives you, but also says you are not fully conscious of this, perhaps even completely unaware of it. It gives you a hint as to the reason that you strive for your goal.
The third card shows what others think of you and your goals. You may or may not be aware of this. Sometimes other people factor into your plans, and sometimes they don't.
The fourth card shows what you should not do. If things are permitted to go down this path, your plan will collapse.
The fifth card is a hint as to how to make your plan work out favorably. The idea that this card presents should be followed in order to make your plan a success. It is the differences between Cards #4 and #5 that should be noted, as the differences provide the clues you need.
Your Game Plan Reading
Unconscious Drive

Three/Five
External Influences

Two/Four
Significator

Three/Six
How it Will Succeed

Six/Four
How it Will Not Succeed

Two/Blank

Three/Six
Allow your feelings and passions to guide you. Do not allow your emotions to take a back seat to your intellect at this time. Explore your deepest feelings about every aspect of your life and act to ease any lingering negativity. Peaceful activities and purification rituals are beneficial. Destructive works will not succeed.

Three/Five
This sign indicates a great disturbance, and that happiness will be destroyed. There is most likely an enemy, perhaps even a lawsuit. Black magic may have been performed against you. You are being harmed by reciprocal fighting, gossip, or by having gone to a place of much quarreling. Nothing you do will produce successful results unless you intend to do harm. Now is the time to confront your enemies and settle differences. You should try to find a positive way to vent negative emotions, such as taking action against a perceived injustice. Rituals of making yellow clay stupas representative of deities, saints, or sacred happenings would be beneficial.

Two/Four
There will be no results, as a dried-up tree produces no fruit. This sign indictates that your reach may have exceeded your grasp. The constantly afflicted mind cannot achieve its desires, and therefore continues to suffer. Too many, or too lofty wishes will not be fulfilled. This sign also suggests performing rituals to ancestors and earth spirits to rectify disturbances.

Two/Blank
You now have great potential for growth. It is recommended that you take advantage of this time by exploring every avenue available for you to grow, whether spiritually or materially.

Six/Four
Steady work will accomplish much, especially if performed quickly. It is difficult to predict beyond this, except that air activities such as sending letters or news are not favored. Fiery activities are preferred.