Game Plan Layout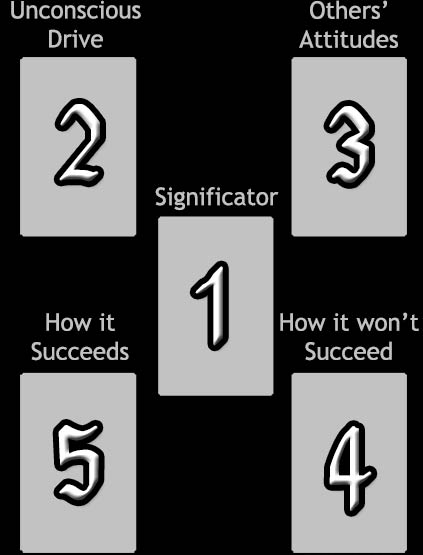 Difficulty: Easy
When a person has a certain plan in mind, this simple five-domino layout presents a choice, hinting at what action or attitude should be taken for their plan to succeed, and what should be avoided to help the plan work out for the best.
The initial domino is laid in the centre of the layout, the significator. The following four dominoes are laid out clockwise around the significator.
In this layout, the second domino is about what drives the reader, but also says they are not fully conscious of this, perhaps even completely unaware of it. It provides a hint as to the reason they strive for their goal.
The third domino uncovers what others think of the reader and their goals. The reader may or may not be aware of this. Sometimes other people factor into the plans (and sometimes they don't).
The fourth domino suggests what not to do. If things are permitted to go down this path, the plan will collapse.
The fifth domino is a hint as to how to make this plan work out favourably. The idea this domino presents should be followed to make the plan successful. It is the differences between Dominoes #4 & #5 that should be noted, as the differences provide important clues.
Your Game Plan Reading
Unconscious Drive

Three/Six
External Influences

Four/Six
Significator

Blank/Six
How it Will Succeed

One/One
How it Will Not Succeed

Two/Five

Blank/Six
You now have the opportunity for material gain. New ventures are on the horizon. You must make a decision which of these new ventures best suits your ambitions for the future.

Three/Six
Allow your feelings and passions to guide you. Do not allow your emotions to take a back seat to your intellect at this time. Explore your deepest feelings about every aspect of your life and act to ease any lingering negativity. Peaceful activities and purification rituals are beneficial. Destructive works will not succeed.

Four/Six
This sign indicates great stability, and that projects already begun will meet with success. Generally, a favourable sign, the only problem may be a delay in travel, as this is a sign of staying in one place.

Two/Five
This is a sign of great strength, and that you will achieve great success at the expense of your enemies. Powerful and destructive activities will meet with great success. Rituals to your spiritual protectors should be continually performed. Works involving earth and water will have difficulties.

One/One
The time is at hand to pursue new ventures. Your wishes will be accomplished, exceeding all expectations. The study of logic will bear tremendous fruit, as would diligent meditation upon your special deity or spirit guide. Partnerships are extremely well-favoured. Opportunities may seem too good to be true, but hear them out fully before ruling anything out.