Game Plan Layout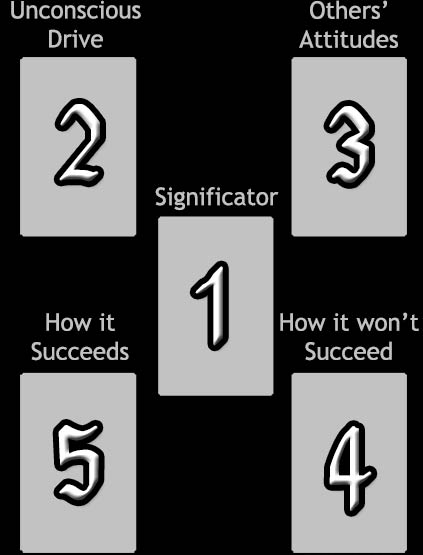 Difficulty: Easy
When you have a certain plan in mind, this simple 5-card layout presents a choice, hinting at what action or attitude should be taken for your plan to succeed, and what should be avoided in order to help your plan work out for the best.
The initial card is laid in the center of the layout, the significator. The following 4 cards are laid out clockwise around the significator.
In this layout, the second card shows what drives you, but also says you are not fully conscious of this, perhaps even completely unaware of it. It gives you a hint as to the reason that you strive for your goal.
The third card shows what others think of you and your goals. You may or may not be aware of this. Sometimes other people factor into your plans, and sometimes they don't.
The fourth card shows what you should not do. If things are permitted to go down this path, your plan will collapse.
The fifth card is a hint as to how to make your plan work out favorably. The idea that this card presents should be followed in order to make your plan a success. It is the differences between Cards #4 and #5 that should be noted, as the differences provide the clues you need.
Your Game Plan Reading
Unconscious Drive

Two/Six
External Influences

Two/Five
Significator

Five/Five
How it Will Succeed

Three/One
How it Will Not Succeed

Two/One

Five/Five
This sign indicates a growth in popularity. There may be fighting, but you will be victorious. Fame may yield fast wealth or fortune in smaller scattered pieces. If dispelling ghosts, you will be successful if you offer small gifts such as tea.

Two/Six
The mind is clear like a bright lamp that dispells darkness. You are at a stage in which the potential for personal growth is almost unlimited. Follow your inner light, and you will know what is right for you and those around you. Allow no obstacles or faults to hinder your actions.

Two/Five
This is a sign of great strength, and that you will achieve great success at the expense of your enemies. Powerful and destructive activities will meet with great success. Rituals to your spiritual protectors should be continually performed. Works involving earth and water will have difficulties.

Two/One
The eye of transcendental wisdom shall open. The advice of a good friend should be followed, and this will prove very beneficial. Skrying rituals will be fruitful.

Three/One
Generally a good sign, this indicates that malignant spirits have left you. Your ails will subside, and your plans will be fulfilled.