Path Layout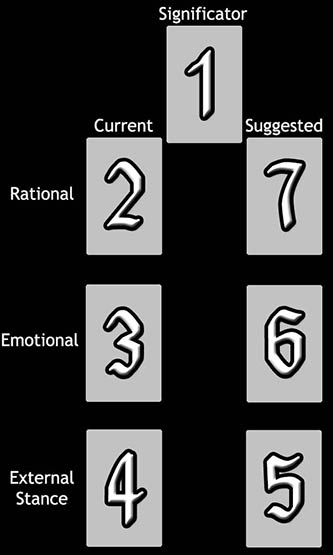 Difficulty: Easy
For the Path, the querent asks for suggestions on how to behave properly in order to achieve a desired result. The Current column shows how the querent has been acting, and the Suggestedcolumn suggests how the querent should act in order to achieve a certain goal. The chart-like layout uses the standard 3 levels: Rational, Emotional, and External Stance (how one projects one's self outwardly). When comparing the Current to Suggested cards, the most important thing is to notice the differences between the 2 cards. It is these differences which hint at the behaviors that you should think about changing.
Card #1 is the significator, the card which should reflect the nature of the query and/or the desired outcome.
Card #2 shows the way you are and have been thinking. Card #7 shows how you need to change the way you think in order to serve yourself better.
Card #3 tells you about your emotional attitude. Though it may seem difficult to manipulate one's own emotions, it can be done if you put your mind to it. For example, acting a certain way such as smiling intently for a few minutes will lead the emotions to follow. If you try this, as silly as the exercise seems, you will find that this evokes the emotion of happiness. For this reading, you should try to make yourself feel the way that Card #6 tells you.
External Stance means how you act outwardly, how you hope others see you. Card #4 tells you how you were acting, while #5 indicates how you should act outwardly, for other people's sake. It is the differences between these cards that hint at what behavior patterns should be altered.
Your Path Reading
Current

The Significator

Two/Three

Suggested

Thought


Four/Five

One/Two

Emotion


Blank/Five

Four/Four

External Stance


Four/Three

Four/One

The Significator
Two/Three
It is best to postpone your efforts to achieve them later, as they will not be successful yet. There will be great obstacles and destruction if you press forward. This would appear to be a negative sign, however works of destruction will have much success. Now may be a good time to organize your plans and develop new strategies for managing the tasks before you.

Current Thoughts
Four/Five
Your pursuits are spoiled; hopes are scattered like dust in the wind. You would be well advised to perform suppression rituals, burial rituals, or a peaceful fire ritual. Enemies wish you ill. Welcome visitors bring bad news. You have accumulated bad energies through faulty decisions, and you may need to retrace your steps to see where things went wrong.

Suggested Thoughts
One/Two
You will bear witness to an amazing sign. This is a sign of unification, good fortune, success, harmony, and happiness. You should continue on the same path you have been on. The prospects of this sign are not merely good, but excellent. Your life will be enriched.

Current Emotions
Blank/Five
Now is a time to strengthen your family ties. You may even want to consider having a child. Your family life should take precedence. Works involving spiritual communication with ancestors will be tremendously beneficial.

Suggested Emotions
Four/Four
This is a sign of great prosperity and wealth. Resources will be vast, and things will be very good. Rituals involving earth and wealth energies and construction of stupas, shrines, and the like are beneficial. Rituals of destruction are not beneficial, and there is a possibility of delay in travel or in switching any plans.

Current External Stance
Four/Three
Also known as "the wish-fulfilling cow," this sign indicates an increase in happiness. It may appear that an evil spirit has recently attacked you, but this is not the case. You should be content to know that this setback was necessary, as it is sometimes necessary to take a step back in order to take 2 steps forward.

Suggested External Stance
Four/One
The Treasury of Jewels is a sign of perfect prosperity, also known as "getting butter from milk or gems from the sea." Your wishes will be fulfilled, and prospects for the future are very bright.