Path Layout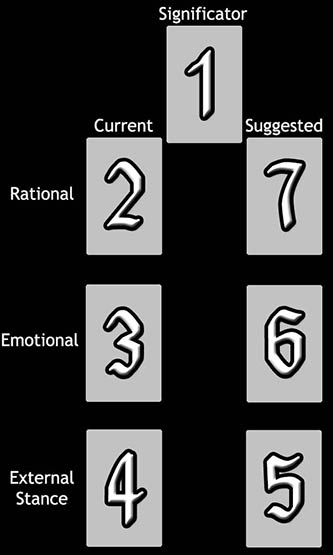 Difficulty: Easy
For the Path, the querent asks for suggestions on how to behave properly in order to achieve a desired result. The Current column shows how the querent has been acting, and the Suggestedcolumn suggests how the querent should act in order to achieve a certain goal. The chart-like layout uses the standard 3 levels: Rational, Emotional, and External Stance (how one projects one's self outwardly). When comparing the Current to Suggested cards, the most important thing is to notice the differences between the 2 cards. It is these differences which hint at the behaviors that you should think about changing.
Card #1 is the significator, the card which should reflect the nature of the query and/or the desired outcome.
Card #2 shows the way you are and have been thinking. Card #7 shows how you need to change the way you think in order to serve yourself better.
Card #3 tells you about your emotional attitude. Though it may seem difficult to manipulate one's own emotions, it can be done if you put your mind to it. For example, acting a certain way such as smiling intently for a few minutes will lead the emotions to follow. If you try this, as silly as the exercise seems, you will find that this evokes the emotion of happiness. For this reading, you should try to make yourself feel the way that Card #6 tells you.
External Stance means how you act outwardly, how you hope others see you. Card #4 tells you how you were acting, while #5 indicates how you should act outwardly, for other people's sake. It is the differences between these cards that hint at what behavior patterns should be altered.
Your Path Reading
Current

The Significator

Blank/Two

Suggested

Thought


One/Three

Blank/Blank

Emotion


One/One

One/Five

External Stance


Six/Five

Four/One

The Significator
Blank/Two
New friendships and opportunities will soon be yours. It is possible you will meet a new love, or the love you already have will deepen. However you must be open to change and dare to take risks.

Current Thoughts
One/Three
Bathing in nectar, your happiness shall increase. Friends and wealth will build up substantially. Prospects are good for all things. Your agility will be impressive - quick like a slippery fish. It will be very beneficial should you seek visions in peaceful fire rituals.

Suggested Thoughts
Blank/Blank
The Double Blank is perhaps the grandest of dominoes. This domino often symbolizes a major change. It is the domino of fate, destiny, providence, and karma. Several new paths will open for you, and you are spiritually and intellectually ready to take them on. However, if this domino is drawn in a single-domino reading, it simply means to ask the question again at a later time.

Current Emotions
One/One
The time is at hand to pursue new ventures. Your wishes will be accomplished, exceeding all expectations. The study of logic will bear tremendous fruit, as would diligent meditation upon your special deity or spirit guide. Partnerships are extremely well-favored. Opportunities may seem too good to be true, but hear them out fully before ruling anything out.

Suggested Emotions
One/Five
You will hear good news from a friend. Fame and fortune shall increase should you accept their help. Your actions will be successful if you allow yourself to hear their words.

Current External Stance
Six/Five
If you work steadily and carefully, the results will be good. Avoid fickle thoughts which dissipate mental energies. Travel and giving will be beneficial. Offerings to natural spirits such as ancestors and trees is beneficial, and performance of spiritual practices will have a hightened effect if not performed at their regular location.

Suggested External Stance
Four/One
The Treasury of Jewels is a sign of perfect prosperity, also known as "getting butter from milk or gems from the sea." Your wishes will be fulfilled, and prospects for the future are very bright.