Path Layout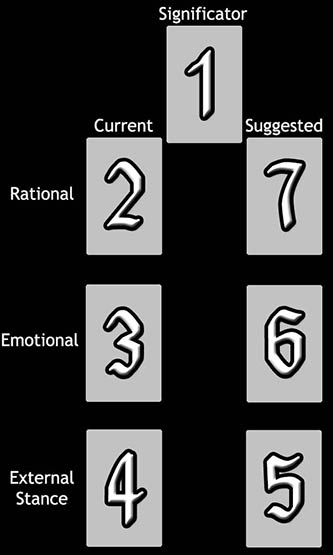 Difficulty: Easy
For the Path, the querent asks for suggestions on how to behave properly in order to achieve a desired result. The Current column shows how the querent has been acting, and the Suggestedcolumn suggests how the querent should act in order to achieve a certain goal. The chart-like layout uses the standard 3 levels: Rational, Emotional, and External Stance (how one projects one's self outwardly). When comparing the Current to Suggested cards, the most important thing is to notice the differences between the 2 cards. It is these differences which hint at the behaviors that you should think about changing.
Card #1 is the significator, the card which should reflect the nature of the query and/or the desired outcome.
Card #2 shows the way you are and have been thinking. Card #7 shows how you need to change the way you think in order to serve yourself better.
Card #3 tells you about your emotional attitude. Though it may seem difficult to manipulate one's own emotions, it can be done if you put your mind to it. For example, acting a certain way such as smiling intently for a few minutes will lead the emotions to follow. If you try this, as silly as the exercise seems, you will find that this evokes the emotion of happiness. For this reading, you should try to make yourself feel the way that Card #6 tells you.
External Stance means how you act outwardly, how you hope others see you. Card #4 tells you how you were acting, while #5 indicates how you should act outwardly, for other people's sake. It is the differences between these cards that hint at what behavior patterns should be altered.
Your Path Reading
Current

The Significator

One/Three

Suggested

Thought


Two/Four

Five/Blank

Emotion


Six/Six

Three/Two

External Stance


Two/Five

Four/Blank

The Significator
One/Three
Bathing in nectar, your happiness shall increase. Friends and wealth will build up substantially. Prospects are good for all things. Your agility will be impressive - quick like a slippery fish. It will be very beneficial should you seek visions in peaceful fire rituals.

Current Thoughts
Two/Four
There will be no results, as a dried-up tree produces no fruit. This sign indictates that your reach may have exceeded your grasp. The constantly afflicted mind cannot achieve its desires, and therefore continues to suffer. Too many, or too lofty wishes will not be fulfilled. This sign also suggests performing rituals to ancestors and earth spirits to rectify disturbances.

Suggested Thoughts
Five/Blank
You are in a place where you can discover new aspects about yourself and the world you live in. Open up your spirit to new ways of seeing things and muster the courage act based upon this new knowledge. It is a time for you to act on the basis of logical analysis. Weigh your choices before making any decisions. To act on impulse now may be very harmful to your future.

Current Emotions
Six/Six
The sign of "The Stainless Sky" suggests that you should listen carefully to the spirits of the air. Your mind should be cleansed of impure thoughts. This sign also suggests that to retain friends or wealth, small offerings should be made. Generally this is an average sign, neither bad nor good.

Suggested Emotions
Three/Two
Like the flow of water stops when its source is cut off, this is a sign of stagnation and declination. This sign suggests that you need to reestablish your connection to a higher power. A spiritual source has been blocked, and your intentions have been corrupted. Earthly desires and new relationships are not favorable.

Current External Stance
Two/Five
This is a sign of great strength, and that you will achieve great success at the expense of your enemies. Powerful and destructive activities will meet with great success. Rituals to your spiritual protectors should be continually performed. Works involving earth and water will have difficulties.

Suggested External Stance
Four/Blank
Remember that you will reap what you sew. Do not allow yourself to become greedy or totally self-absorbed. To do so will leave you isolated and unhappy, even if you had all the money in the world.