Path Layout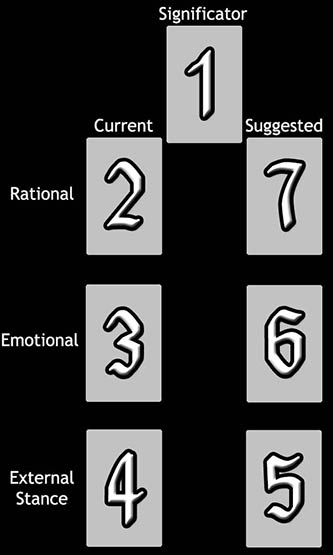 Difficulty: Easy
For the Path reading, one asks for suggestions how to behave properly to achieve a desired result. The Current column represents how the reader has been acting, and the Suggestedcolumn suggests how they should act to achieve a certain goal. The chart-like layout uses the standard three levels: Rational, Emotional, and External Stance (how one projects oneself outwardly). When comparing the Current and Suggested dominoes, the most important thing is to notice the differences between the two dominoes. It is these differences which hint at the behaviours that should be altered.
Domino #1 is the significator, the domino which should reflect the nature of the query and/or the desired outcome.
Domino #2 shows the way the reader is and has been thinking. Domino #7 suggests how to change the way one thinks to serve themselves better.
Domino #3 suggests the reader's emotional attitude. Though it may seem difficult to manipulate one's own emotions, it can be done if one puts their mind to it. For example, acting a certain way such as smiling intently for a few minutes will lead the emotions to follow. When a person tries this, as silly as the exercise seems, they find this to evoke the emotion of happiness. For this reading, one should try to make themselves feel the way that Domino #6 suggests.
External Stance means how one acts outwardly, how they hope others see them. Domino #4 is about how the reader has been acting, while #5 indicates how they should act outwardly, for other people's sake. It is the differences between these dominoes that hint at what behaviour patterns should be altered.
Your Path Reading
Current

The Significator

Two/Six

Suggested

Thought


One/Six

Three/Two

Emotion


Two/Four

Two/Two

External Stance


Six/Six

Three/Four

The Significator
Two/Six
The mind is clear like a bright lamp that dispels darkness. You are at a stage in which the potential for personal growth is almost unlimited. Follow your inner light, and you will know what is right for you and those around you. Allow no obstacles or faults to hinder your actions.

Current Thoughts
One/Six
This domino is like a personal visit from the chief deity governing MO divination. A visit from Manjushri himself is the most awesome sign of them all. Your goals will certainly be achieved if you heed his advice and choose to tie up loose ends. The completion of old projects that you have left unfinished will be highly beneficial. Visualising and meditating on Manjushri is highly recommended.

Suggested Thoughts
Three/Two
Like the flow of water stops when its source is cut off, this is a sign of stagnation and declination. This sign suggests that you need to re-establish your connection to a higher power. A spiritual source has been blocked, and your intentions have been corrupted. Earthly desires and new relationships are not favourable.

Current Emotions
Two/Four
There will be no results, as a dried-up tree produces no fruit. This sign indicates that your reach may have exceeded your grasp. The constantly afflicted mind cannot achieve its desires, and therefore continues to suffer. Too many, or too lofty wishes will not be fulfilled. This sign also suggests performing rituals to ancestors and earth spirits to rectify disturbances.

Suggested Emotions
Two/Two
New unions and the strengthening of established unions are just around the corner. These unions may be secular and/or spiritual, and will prove successful. Be open to change, but do not abandon your values. Works of virtue and power are favoured by this sign. Fire activities are highly favoured and increase happiness much, but works involving water, earth, and fixed objects are not at all favourable, even bad.

Current External Stance
Six/Six
The sign of 'The Stainless Sky' suggests that you should listen carefully to the spirits of the air. Your mind should be cleansed of impure thoughts. This sign also suggests that to retain friends or wealth, small offerings should be made. Generally, this is an average sign, neither bad nor good.

Suggested External Stance
Three/Four
The sign of the Golden Lotus or 'the unploughed harvest' indicates success in your aims. It may take a little time, but things will get better and better if you address your spiritual self now. You may even want to consider mentoring someone; share your experience and open your heart to those who need guidance.