Relationship Layout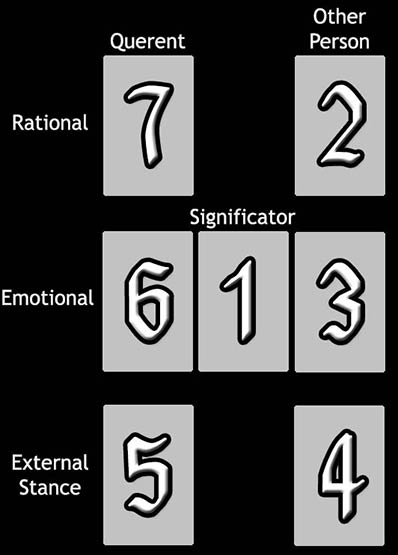 Difficulty: Easy
This layout is easy to read, like a convenient chart. In this layout, court cards generally indicate actual people with the same characteristics. Knights (or corresponding Princes, but not Kings) and Queens are meant to represent actual men and women in this tarot layout. Look for patterns in the cards as always.
Card #1 is the overall significator of the relationship. The 2 columns on either side of the significator characterize each individual's role in the relationship. The relationship does not have to be romantic. In fact it could be a relationship between a person and a group, or even how 2 groups relate.
The top row, cards #7 & 2, shows the conscious thoughts of each person, or what they think about the relationship and likewise how they view their partner.
The middle row, cards #6 & 3, shows the way each individual feels about the other. Emotional awareness corresponds to a person's unconscious thoughts that run deep, effecting a person in ways he or she is not fully aware of.
The bottom row, cards #5 & 4, represents the way each person behaves, in other words the stance taken regarding the relationship. The way a person acts may be genuine, but sometimes people are phony and manipulative, so it is best to weigh this card against your partner's other cards to determine if they match up.
Your Relationship Reading
You
Other Person
Thought

Six/Three

One/Four
Emotion

Four/Three
The Significator

Four/Five

Four/Four
External Stance

Three/Blank

One/Two

The Significator
Four/Five
Your pursuits are spoiled; hopes are scattered like dust in the wind. You would be well advised to perform suppression rituals, burial rituals, or a peaceful fire ritual. Enemies wish you ill. Welcome visitors bring bad news. You have accumulated bad energies through faulty decisions, and you may need to retrace your steps to see where things went wrong.

The Querent's Thoughts
Six/Three
The sign of "the Good Moon" suggests that you will find pleasure without obstacles. Light-hearted activities will be successful, but using too much power or force will not work. White-colored objects are favored by this feminine sign.

The Other Person's Thoughts
One/Four
Like inheriting a fortune, there is great prosperity, wealth, and well-being. This sign is as money falling from the sky directly into your hands. You have been steady in the long run, and your prospects for success are very bright. Friends will increase, and even enemies will fall under your control. If someone is ill, they will recover in time, the cause being that they have displeased a certain deity.

The Querent's Emotions
Four/Three
Also known as "the wish-fulfilling cow," this sign indicates an increase in happiness. It may appear that an evil spirit has recently attacked you, but this is not the case. You should be content to know that this setback was necessary, as it is sometimes necessary to take a step back in order to take 2 steps forward.

The Other Person's Emotions
Four/Four
This is a sign of great prosperity and wealth. Resources will be vast, and things will be very good. Rituals involving earth and wealth energies and construction of stupas, shrines, and the like are beneficial. Rituals of destruction are not beneficial, and there is a possibility of delay in travel or in switching any plans.

The Querent's External Stance
Three/Blank
That which has confused you will soon become clear. Your ability to think lucidly is reaching its zenith. Solutions to lingering problems will soon be obvious to you, and you may question how it was possible that you did not see this before.

The Other Person's External Stance
One/Two
You will bear witness to an amazing sign. This is a sign of unification, good fortune, success, harmony, and happiness. You should continue on the same path you have been on. The prospects of this sign are not merely good, but excellent. Your life will be enriched.