Relationship Layout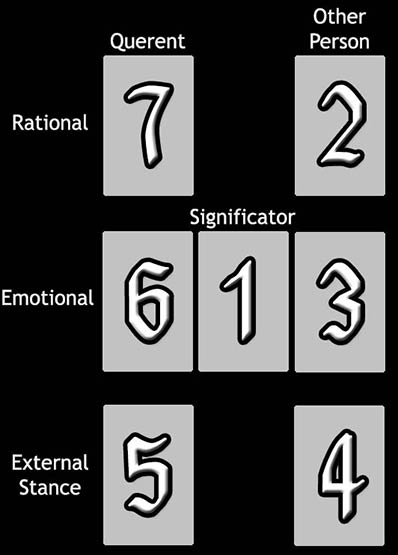 Difficulty: Easy
This layout is easy to read, like a convenient chart. In this layout, court cards generally indicate actual people with the same characteristics. Knights (or corresponding Princes, but not Kings) and Queens are meant to represent actual men and women in this tarot layout. Look for patterns in the cards as always.
Card #1 is the overall significator of the relationship. The 2 columns on either side of the significator characterize each individual's role in the relationship. The relationship does not have to be romantic. In fact it could be a relationship between a person and a group, or even how 2 groups relate.
The top row, cards #7 & 2, shows the conscious thoughts of each person, or what they think about the relationship and likewise how they view their partner.
The middle row, cards #6 & 3, shows the way each individual feels about the other. Emotional awareness corresponds to a person's unconscious thoughts that run deep, effecting a person in ways he or she is not fully aware of.
The bottom row, cards #5 & 4, represents the way each person behaves, in other words the stance taken regarding the relationship. The way a person acts may be genuine, but sometimes people are phony and manipulative, so it is best to weigh this card against your partner's other cards to determine if they match up.
Your Relationship Reading
You
Other Person
Thought

Six/Six

Blank/Three
Emotion

Five/One
The Significator

Three/Six

One/Four
External Stance

Two/Two

Blank/Five

The Significator
Three/Six
Allow your feelings and passions to guide you. Do not allow your emotions to take a back seat to your intellect at this time. Explore your deepest feelings about every aspect of your life and act to ease any lingering negativity. Peaceful activities and purification rituals are beneficial. Destructive works will not succeed.

The Querent's Thoughts
Six/Six
The sign of "The Stainless Sky" suggests that you should listen carefully to the spirits of the air. Your mind should be cleansed of impure thoughts. This sign also suggests that to retain friends or wealth, small offerings should be made. Generally this is an average sign, neither bad nor good.

The Other Person's Thoughts
Blank/Three
You have the opportunity before you to strengthen your spirit. It would be of great advantage to take this opportunity for spiritual growth, as these moments are fleeting and somewhat rare.

The Querent's Emotions
Five/One
This sign is also known as "the wish-fulfilling tree." There will be quick success. Matters involving the delivery of news are particularly favorable. Decorations and streamers are very effective.

The Other Person's Emotions
One/Four
Like inheriting a fortune, there is great prosperity, wealth, and well-being. This sign is as money falling from the sky directly into your hands. You have been steady in the long run, and your prospects for success are very bright. Friends will increase, and even enemies will fall under your control. If someone is ill, they will recover in time, the cause being that they have displeased a certain deity.

The Querent's External Stance
Two/Two
New unions and the strengthening of established unions are just around the corner. These unions may be secular and/or spiritual, and will prove successful. Be open to change, but do not abandon your values. Works of virtue and power are favored by this sign. Fire activities are highly favored and increase happiness much, but works involving water, earth, and fixed objects are not at all favorable, even bad.

The Other Person's External Stance
Blank/Five
Now is a time to strengthen your family ties. You may even want to consider having a child. Your family life should take precedence. Works involving spiritual communication with ancestors will be tremendously beneficial.