Relationship Layout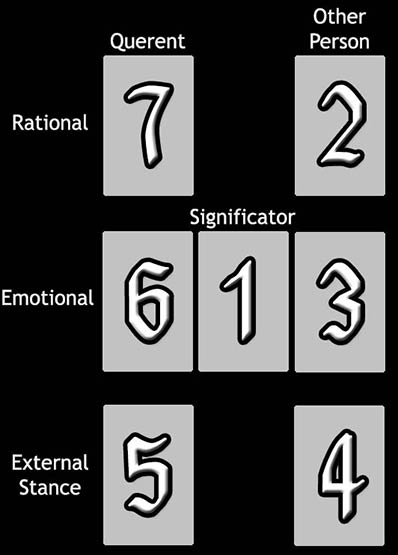 Difficulty: Easy
This layout is easy to read, like a convenient chart. In this layout, court cards generally indicate actual people with the same characteristics. Knights (or corresponding Princes, but not Kings) and Queens are meant to represent actual men and women in this tarot layout. Look for patterns in the cards as always.
Card #1 is the overall significator of the relationship. The 2 columns on either side of the significator characterize each individual's role in the relationship. The relationship does not have to be romantic. In fact it could be a relationship between a person and a group, or even how 2 groups relate.
The top row, cards #7 & 2, shows the conscious thoughts of each person, or what they think about the relationship and likewise how they view their partner.
The middle row, cards #6 & 3, shows the way each individual feels about the other. Emotional awareness corresponds to a person's unconscious thoughts that run deep, effecting a person in ways he or she is not fully aware of.
The bottom row, cards #5 & 4, represents the way each person behaves, in other words the stance taken regarding the relationship. The way a person acts may be genuine, but sometimes people are phony and manipulative, so it is best to weigh this card against your partner's other cards to determine if they match up.
Your Relationship Reading
You
Other Person
Thought

Four/Four

Five/Six
Emotion

Five/Blank
The Significator

Blank/One

Three/Six
External Stance

One/Five

Three/One

The Significator
Blank/One
A new life's path is unfolding before you. Opportunities abound. You will do well if you have the courage to move down this new path, as long as you do not stray from acting morally.

The Querent's Thoughts
Four/Four
This is a sign of great prosperity and wealth. Resources will be vast, and things will be very good. Rituals involving earth and wealth energies and construction of stupas, shrines, and the like are beneficial. Rituals of destruction are not beneficial, and there is a possibility of delay in travel or in switching any plans.

The Other Person's Thoughts
Five/Six
A sign of good fortune, your plans will be fulfilled. There will be good news. However, other people's promises will bear no results. Trust your own feelings, thoughts and drives over those of the people around you. Only you are responsible for deciding the proper path for you, and right now advice from others may not be compatible with your plans.

The Querent's Emotions
Five/Blank
You are in a place where you can discover new aspects about yourself and the world you live in. Open up your spirit to new ways of seeing things and muster the courage act based upon this new knowledge. It is a time for you to act on the basis of logical analysis. Weigh your choices before making any decisions. To act on impulse now may be very harmful to your future.

The Other Person's Emotions
Three/Six
Allow your feelings and passions to guide you. Do not allow your emotions to take a back seat to your intellect at this time. Explore your deepest feelings about every aspect of your life and act to ease any lingering negativity. Peaceful activities and purification rituals are beneficial. Destructive works will not succeed.

The Querent's External Stance
One/Five
You will hear good news from a friend. Fame and fortune shall increase should you accept their help. Your actions will be successful if you allow yourself to hear their words.

The Other Person's External Stance
Three/One
Generally a good sign, this indicates that malignant spirits have left you. Your ails will subside, and your plans will be fulfilled.