Relationship Layout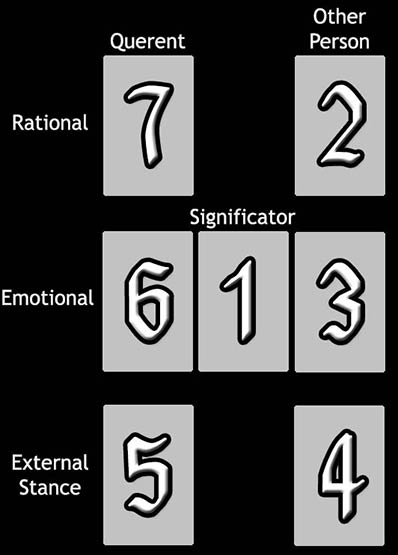 Difficulty: Easy
This layout is easy to read, like a convenient chart. In this layout, court dominoes generally indicate actual people with the same characteristics. Knights (or corresponding princes, but not kings) and queens are meant to represent actual men and women in this layout. Look for patterns in the dominoes as always.
Domino #1 is the overall significator of the relationship. The two columns on either side of the significator characterise each individual's role in the relationship. The relationship does not have to be romantic. In fact, it could be a relationship between a person and a group, or even how two groups relate.
The top row, dominoes #7 & #2, is about the conscious thoughts of each person, or what they think about the relationship and likewise how they view their partner.
The middle row, dominoes #6 & #3, reveals the way each individual feels about the other. Emotional awareness corresponds to a person's unconscious thoughts that run deep, affecting a person in ways he or she is not fully aware of.
The bottom row, dominoes #5 & #4, represents the way each person behaves, in other words the stance taken regarding the relationship. The way a person acts may be genuine, but sometimes people are phony and manipulative, so it is best to weigh this domino against the other person's dominoes to determine how they match up.
Your Relationship Reading
You
Other Person
Thought

Five/Three

One/Two
Emotion

Blank/Five
The Significator

Blank/Blank

Four/Four
External Stance

One/Blank

Blank/Three

The Significator
Blank/Blank
The Double Blank is perhaps the grandest of dominoes. This domino often symbolises a major change. It is the domino of fate, destiny, providence, and karma. Several new paths will open for you, and you are spiritually and intellectually ready to take them on. However, if this domino is drawn in a single-domino reading, it simply means to ask the question again at a later time.

The Querent's Thoughts
Five/Three
Who is capable of catching a piece of paper in the wind? This sign suggests dissipation and energy wasted on small things. Thoughts are scattered and the mind is too distracted to focus well. Advice will not be taken, and you would be better off to perform a ritual to stabilise your thoughts, even if it is difficult.

The Other Person's Thoughts
One/Two
You will bear witness to an amazing sign. This is a sign of unification, good fortune, success, harmony, and happiness. You should continue on the same path you have been on. The prospects of this sign are not merely good, but excellent. Your life will be enriched.

The Querent's Emotions
Blank/Five
Now is a time to strengthen your family ties. You may even want to consider having a child. Your family life should take precedence. Works involving spiritual communication with ancestors will be tremendously beneficial.

The Other Person's Emotions
Four/Four
This is a sign of great prosperity and wealth. Resources will be vast, and things will be very good. Rituals involving earth and wealth energies and construction of stupas, shrines, and the like are beneficial. Rituals of destruction are not beneficial, and there is a possibility of delay in travel or in switching any plans.

The Querent's External Stance
One/Blank
You are standing before a blank canvas and have the freedom to choose how you fill it. New powers and energies will be available to you if you are open to them. Your choices will determine your future.

The Other Person's External Stance
Blank/Three
You have the opportunity before you to strengthen your spirit. It would be of great advantage to take this opportunity for spiritual growth, as these moments are fleeting and somewhat rare.