Relationship Layout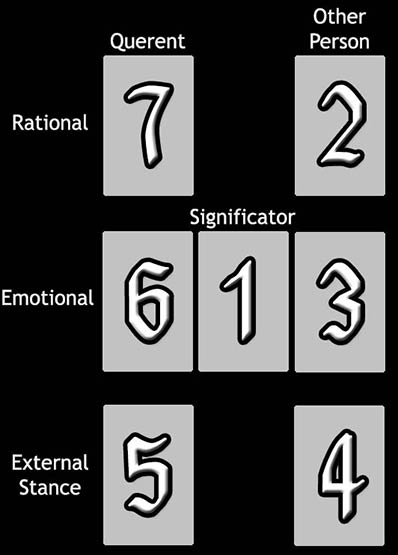 Difficulty: Easy
This layout is easy to read, like a convenient chart. In this layout, court dominoes generally indicate actual people with the same characteristics. Knights (or corresponding princes, but not kings) and queens are meant to represent actual men and women in this layout. Look for patterns in the dominoes as always.
Domino #1 is the overall significator of the relationship. The two columns on either side of the significator characterise each individual's role in the relationship. The relationship does not have to be romantic. In fact, it could be a relationship between a person and a group, or even how two groups relate.
The top row, dominoes #7 & #2, is about the conscious thoughts of each person, or what they think about the relationship and likewise how they view their partner.
The middle row, dominoes #6 & #3, reveals the way each individual feels about the other. Emotional awareness corresponds to a person's unconscious thoughts that run deep, affecting a person in ways he or she is not fully aware of.
The bottom row, dominoes #5 & #4, represents the way each person behaves, in other words the stance taken regarding the relationship. The way a person acts may be genuine, but sometimes people are phony and manipulative, so it is best to weigh this domino against the other person's dominoes to determine how they match up.
Your Relationship Reading
You
Other Person
Thought

Two/Six

Four/Four
Emotion

Six/Four
The Significator

One/Five

Three/Five
External Stance

Six/Six

One/One

The Significator
One/Five
You will hear good news from a friend. Fame and fortune shall increase should you accept their help. Your actions will be successful if you allow yourself to hear their words.

The Querent's Thoughts
Two/Six
The mind is clear like a bright lamp that dispels darkness. You are at a stage in which the potential for personal growth is almost unlimited. Follow your inner light, and you will know what is right for you and those around you. Allow no obstacles or faults to hinder your actions.

The Other Person's Thoughts
Four/Four
This is a sign of great prosperity and wealth. Resources will be vast, and things will be very good. Rituals involving earth and wealth energies and construction of stupas, shrines, and the like are beneficial. Rituals of destruction are not beneficial, and there is a possibility of delay in travel or in switching any plans.
The Querent's Emotions
Six/Four
Steady work will accomplish much, especially if performed quickly. It is difficult to predict beyond this, except that air activities such as sending letters or news are not favoured. Fiery activities are preferred.

The Other Person's Emotions
Three/Five
This sign indicates a great disturbance, and that happiness will be destroyed. There is most likely an enemy, perhaps even a lawsuit. Black magic may have been performed against you. You are being harmed by reciprocal fighting, gossip, or by having gone to a place of much quarrelling. Nothing you do will produce successful results unless you intend to do harm. Now is the time to confront your enemies and settle differences. You should try to find a positive way to vent negative emotions, such as taking action against a perceived injustice. Rituals of making yellow clay stupas representative of deities, saints, or sacred happenings would be beneficial.

The Querent's External Stance
Six/Six
The sign of 'The Stainless Sky' suggests that you should listen carefully to the spirits of the air. Your mind should be cleansed of impure thoughts. This sign also suggests that to retain friends or wealth, small offerings should be made. Generally, this is an average sign, neither bad nor good.

The Other Person's External Stance
One/One
The time is at hand to pursue new ventures. Your wishes will be accomplished, exceeding all expectations. The study of logic will bear tremendous fruit, as would diligent meditation upon your special deity or spirit guide. Partnerships are extremely well-favoured. Opportunities may seem too good to be true, but hear them out fully before ruling anything out.