Past Present Future Layout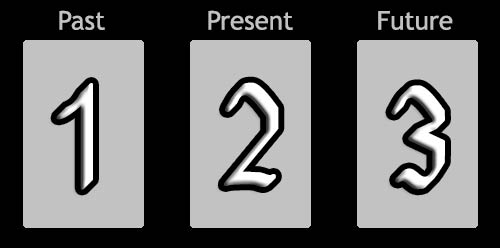 Difficulty: Very easy
This simplistic chronological layout can be used to shed light on the influences that are now behind you, current influences, and what is approaching in the near future. No explanation is necessary for this layout.
Your Past Present Future Reading
The Past

Blank/Six
The Present

Two/Two
The Future

One/Five

The Past
Blank/Six
You now have the opportunity for material gain. New ventures are on the horizon. You must make a decision which of these new ventures best suits your ambitions for the future.

The Present
Two/Two
New unions and the strengthening of established unions are just around the corner. These unions may be secular and/or spiritual, and will prove successful. Be open to change, but do not abandon your values. Works of virtue and power are favored by this sign. Fire activities are highly favored and increase happiness much, but works involving water, earth, and fixed objects are not at all favorable, even bad.

The Future
One/Five
You will hear good news from a friend. Fame and fortune shall increase should you accept their help. Your actions will be successful if you allow yourself to hear their words.