Past Present Future Layout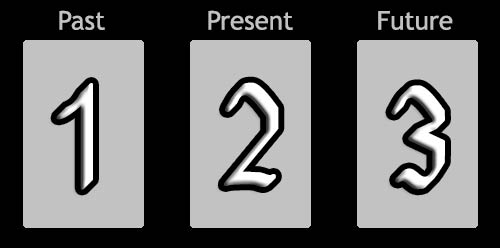 Difficulty: Very easy
This simplistic chronological layout can be used to shed light on the influences that are now behind you, current influences, and what is approaching in the near future. No explanation is necessary for this layout.
Your Past Present Future Reading
The Past

One/Three
The Present

Six/Six
The Future

Six/Five

The Past
One/Three
Bathing in nectar, your happiness shall increase. Friends and wealth will build up substantially. Prospects are good for all things. Your agility will be impressive - quick like a slippery fish. It will be very beneficial should you seek visions in peaceful fire rituals.

The Present
Six/Six
The sign of "The Stainless Sky" suggests that you should listen carefully to the spirits of the air. Your mind should be cleansed of impure thoughts. This sign also suggests that to retain friends or wealth, small offerings should be made. Generally this is an average sign, neither bad nor good.

The Future
Six/Five
If you work steadily and carefully, the results will be good. Avoid fickle thoughts which dissipate mental energies. Travel and giving will be beneficial. Offerings to natural spirits such as ancestors and trees is beneficial, and performance of spiritual practices will have a hightened effect if not performed at their regular location.