Past Present Future Layout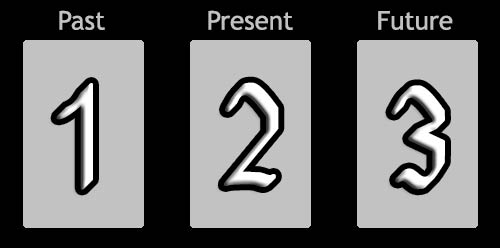 Difficulty: Very easy
This simplistic chronological layout can be used to shed light on the influences that are now behind you, current influences, and what is approaching in the near future. No explanation is necessary for this layout.
Your Past Present Future Reading
The Past

Two/Five
The Present

Blank/One
The Future

Four/Six

The Past
Two/Five
Spontaneous strength arises from within, like wind fueling the fire. Dreams and fantasies lead you to your correct path. Activities of power and destruction have great potential when used in accordance with a higher power. More offerings should be made to your spiritual protectors. Results will be good for what you wish to achieve, though works involving water will only be mediocre.

The Present
Blank/One
A new life's path is unfolding before you. Opportunities abound. You will do well if you have the courage to move down this new path, as long as you do not stray from acting morally.

The Future
Four/Six
This sign indicates great stability, and that projects already begun will meet with success. Generally a favorable sign, the only problem may be a delay in travel, as this is a sign of staying in one place.