Past Present Future Layout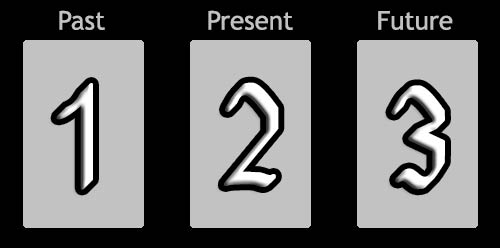 Difficulty: Very easy
This simplistic chronological layout can be used to shed light on the influences that have passed, current influences, and what is approaching in the near future. Not much explanation is necessary for this simple layout.
Your Past Present Future Reading
The Past

Blank/Two
The Present

Three/Three
The Future

One/Five

The Past
Blank/Two
New friendships and opportunities will soon be yours. It is possible you will meet a new love, or the love you already have will deepen. However, you must be open to change and dare to take risks.

The Present
Three/Three
Wealth increases like a river feeding the ocean. This sign is especially good for works involving water, however marriage or rituals involving fire are not favoured.

The Future
One/Five
You will hear good news from a friend. Fame and fortune shall increase should you accept their help. Your actions will be successful if you allow yourself to hear their words.