Past Present Future Layout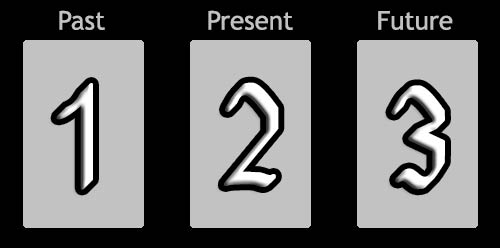 Difficulty: Very easy
This simplistic chronological layout can be used to shed light on the influences that have passed, current influences, and what is approaching in the near future. Not much explanation is necessary for this simple layout.
Your Past Present Future Reading
The Past

One/Three
The Present

Four/Four
The Future

Blank/Blank

The Past
One/Three
Bathing in nectar, your happiness shall increase. Friends and wealth will build up substantially. Prospects are good for all things. Your agility will be impressive – quick like a slippery fish. It will be very beneficial should you seek visions in peaceful fire rituals.

The Present
Four/Four
This is a sign of great prosperity and wealth. Resources will be vast, and things will be very good. Rituals involving earth and wealth energies and construction of stupas, shrines, and the like are beneficial. Rituals of destruction are not beneficial, and there is a possibility of delay in travel or in switching any plans.

The Future
Blank/Blank
The Double Blank is perhaps the grandest of dominoes. This domino often symbolises a major change. It is the domino of fate, destiny, providence, and karma. Several new paths will open for you, and you are spiritually and intellectually ready to take them on. However, if this domino is drawn in a single-domino reading, it simply means to ask the question again at a later time.