Three Bones Layout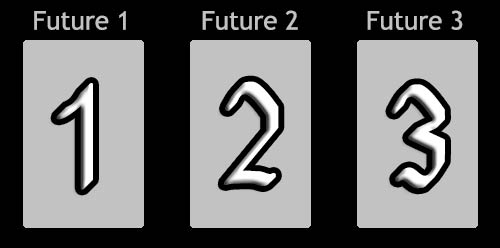 Difficulty: Very easy
This method of reading draws three tiles out of a randomized group of dominoes. They are flipped to answer the question in chronological order.
Your Three Bones Reading
#1

Two/Three
#2

Blank/Five
#3

Four/Four

Bone #1
Two/Three
It is best to postpone your efforts to achieve them later, as they will not be successful yet. There will be great obstacles and destruction if you press forward. This would appear to be a negative sign, however works of destruction will have much success. Now may be a good time to organise your plans and develop new strategies for managing the tasks before you.

Bone #2
Blank/Five
Now is a time to strengthen your family ties. You may even want to consider having a child. Your family life should take precedence. Works involving spiritual communication with ancestors will be tremendously beneficial.

Bone #3
Four/Four
This is a sign of great prosperity and wealth. Resources will be vast, and things will be very good. Rituals involving earth and wealth energies and construction of stupas, shrines, and the like are beneficial. Rituals of destruction are not beneficial, and there is a possibility of delay in travel or in switching any plans.