3 Bones Layout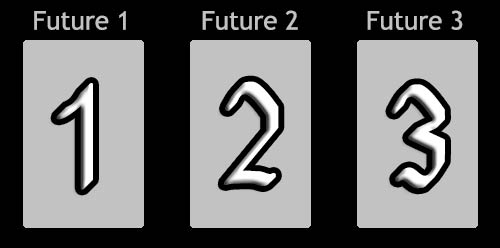 Difficulty: Very easy
This method of reading draws 3 tiles out of the mixed group of dominoes. They are flipped to answer the query in chronological order.
Your 3 Bones Reading
#1

Two/Two
#2

One/Four
#3

Four/Four

Bone #1
Two/Two
New unions and the strengthening of established unions are just around the corner. These unions may be secular and/or spiritual, and will prove successful. Be open to change, but do not abandon your values. Works of virtue and power are favored by this sign. Fire activities are highly favored and increase happiness much, but works involving water, earth, and fixed objects are not at all favorable, even bad.

Bone #2
One/Four
Like inheriting a fortune, there is great prosperity, wealth, and well-being. This sign is as money falling from the sky directly into your hands. You have been steady in the long run, and your prospects for success are very bright. Friends will increase, and even enemies will fall under your control. If someone is ill, they will recover in time, the cause being that they have displeased a certain deity.

Bone #3
Four/Four
This is a sign of great prosperity and wealth. Resources will be vast, and things will be very good. Rituals involving earth and wealth energies and construction of stupas, shrines, and the like are beneficial. Rituals of destruction are not beneficial, and there is a possibility of delay in travel or in switching any plans.