3 Bones Layout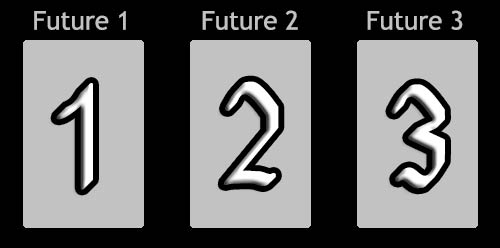 Difficulty: Very easy
This method of reading draws 3 tiles out of the mixed group of dominoes. They are flipped to answer the query in chronological order.
Your 3 Bones Reading
#1

One/Three
#2

Five/Six
#3

Three/Three

Bone #1
One/Three
Bathing in nectar, your happiness shall increase. Friends and wealth will build up substantially. Prospects are good for all things. Your agility will be impressive - quick like a slippery fish. It will be very beneficial should you seek visions in peaceful fire rituals.

Bone #2
Five/Six
A sign of good fortune, your plans will be fulfilled. There will be good news. However, other people's promises will bear no results. Trust your own feelings, thoughts and drives over those of the people around you. Only you are responsible for deciding the proper path for you, and right now advice from others may not be compatible with your plans.

Bone #3
Three/Three
Wealth increases like a river feeding the ocean. This sign is especially good for works involving water, however marriage or rituals involving fire are not favored.