3 Bones Layout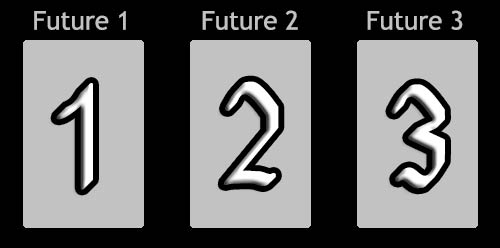 Difficulty: Very easy
This method of reading draws 3 tiles out of the mixed group of dominoes. They are flipped to answer the query in chronological order.
Your 3 Bones Reading
#1

One/Five
#2

Three/Five
#3

Two/Five

Bone #1
One/Five
You will hear good news from a friend. Fame and fortune shall increase should you accept their help. Your actions will be successful if you allow yourself to hear their words.

Bone #2
Three/Five
This sign indicates a great disturbance, and that happiness will be destroyed. There is most likely an enemy, perhaps even a lawsuit. Black magic may have been performed against you. You are being harmed by reciprocal fighting, gossip, or by having gone to a place of much quarreling. Nothing you do will produce successful results unless you intend to do harm. Now is the time to confront your enemies and settle differences. You should try to find a positive way to vent negative emotions, such as taking action against a perceived injustice. Rituals of making yellow clay stupas representative of deities, saints, or sacred happenings would be beneficial.

Bone #3
Two/Five
This is a sign of great strength, and that you will achieve great success at the expense of your enemies. Powerful and destructive activities will meet with great success. Rituals to your spiritual protectors should be continually performed. Works involving earth and water will have difficulties.