The Astrological Spread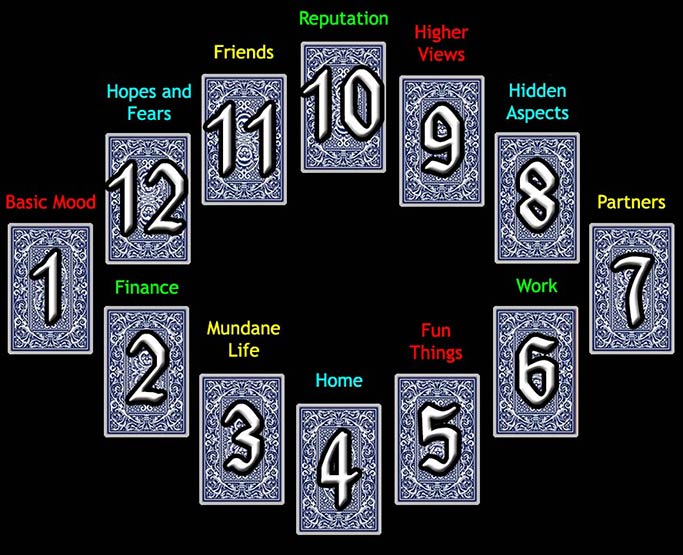 Difficulty: Complicated
The Astrological Tarot Spread is based on houses of astrology. This complicated spread takes several steps to understand.
The first step is to interpret the card for each individual position in the spread.
The second step involves further examination of the main axes. Positions 1 & 7 show the relationship theme, #1 representing you, #7 your partner. Positions 4 & 10 indicate motion. #4 shows where you are, and #10 shows what you are moving towards.
The third step involves breaking down the chart into triads according to their house elements.
Positions 1, 5, & 9 represent the Fire triad, which shows about temperment and personal development.
Positions 2, 6, & 10 represent the Earth triad, which is concerned with materialism, money, and work.
Positions 3, 7, & 11 represent the Air triad, which has to do with thoughts, ideas, and connections with other people.
Positions 4, 8, & 12 represent the Water triad, which is the realm of emotions, moods, intuition, and yearnings.
Further, you may connect other patterns and correlations between certain numbers. Certain numbers such as the set of 5, 7, & 8 often speak about a particular theme.
Your Astrological Reading
1: Basic Mood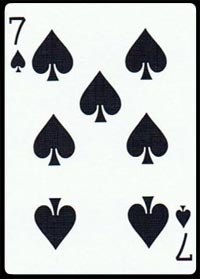 Seven of Spades
"Futility"
Moon in Aquarius
Fighting a hopeless battle in vain, with no prospect of victory. Partial success by stalling through lack of energy when victory is achieved.
2: Finance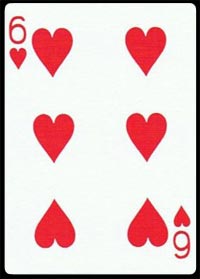 Six of Hearts
"Pleasure"
Sun in Scorpio
Natural harmony, satisfaction, beginnings of steady increase
3: Mundane Life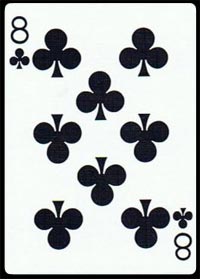 Eight of Clubs
"Swiftness"
Mercury in Saggitarius
Action, explosive energy, electricity, fast communication, gain of rapid speed, light, quickness.
4: Home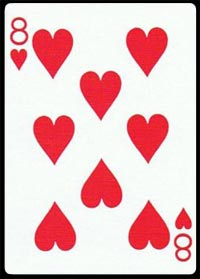 Eight of Hearts
"Indolence"
Saturn in Pisces
Success abandoned, apathy, misery, transience, instability, a small victory. Sometimes means abandonment of materialistic pursuits in favor of the spiritual.
5: Fun Things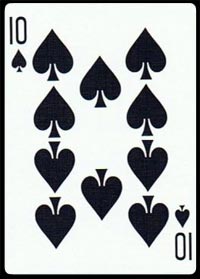 Ten of Spades
"Ruin"
Sun in Gemini
Reason divorced from reality, the end of sanity, disaster, failure. Spiritually may mean the end of delusion.
6: Work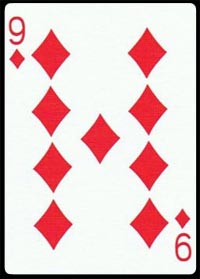 Nine of Diamonds
"Gain"
Venus in Virgo
Inheritence, increase in wealth, material fortune, accomplishment.
7: Partners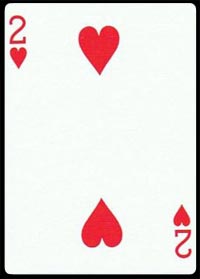 Two of Hearts
"Love"
Venus in Cancer
Perfect harmony between male and female radiates warmth and ecstacy. Love, union, friendship, warmth, comfort, passion, affinity, intercourse.
8: Hidden Aspects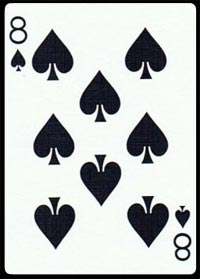 Eight of Spades
"Interference"
Jupiter in Gemini
Waste of enegy in attention to details at the expense of the big picture. Restriction. Sudden unforeseeable bad luck.
9: Higher Views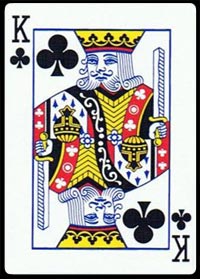 King of Clubs
Saggitarius

A man of action, generosity, pride, and impetuousness.
10: Reputation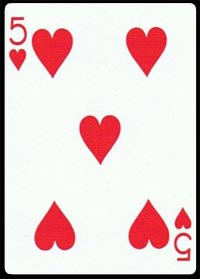 Five of Hearts
"Disappointment"
Mars in Scorpio
Disturbance ending pleasure. Grief, misfortune, sadness, regret, loss, treachery, bitterness, frustration, bad marriage, expectations unfulfilled.
11: Friends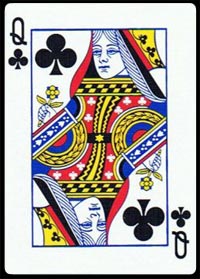 Queen of Clubs
Aries

A calm attractive woman. Strength relaxed. Persistent, adaptive, but intolerant of opposition.
12: Hopes and Fears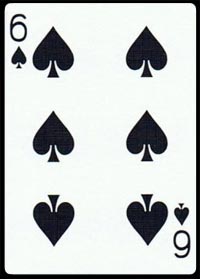 Six of Spades
"Science"
Mercury in Aquarius
A goal realized. All intellectual faculties agree on the matter at heart.