Game Plan Spread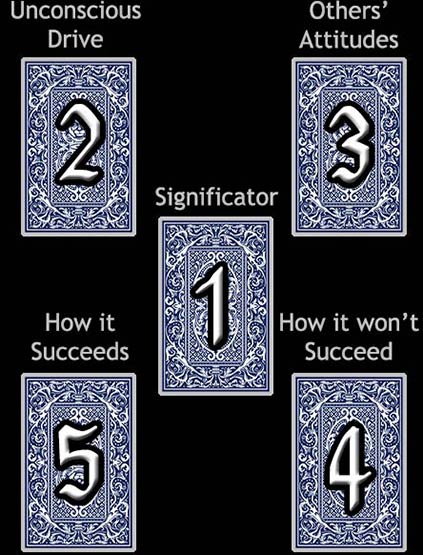 Difficulty: Easy
When you have a certain plan in mind, this simple 5-card spread presents a choice, hinting at what action or attitude should be taken for your plan to succeed, and what should be avoided in order to help your plan work out for the best.
The initial card is laid in the center of the layout, the significator. The following 4 cards are laid out clockwise around the significator.
In this spread, the second card shows what drives you, but also says you are not fully conscious of this, perhaps even completely unaware of it. It gives you a hint as to the reason that you strive for your goal.
The third card shows what others think of you and your goals. You may or may not be aware of this. Sometimes other people factor into your plans, and sometimes they don't.
The fourth card shows what you should not do. If things are permitted to go down this path, your plan will collapse.
The fifth card is a hint as to how to make your plan work out favorably. The idea that this card presents should be followed in order to make your plan a success. It is the differences between Cards #4 and #5 that should be noted, as the differences provide the clues you need.
Your Game Plan Reading
Unconscious Drive

Five of Spades
External Influences

Eight of Hearts
Significator

Ace of Spades
How it Will Succeed

Four of Clubs
How it Will Not Succeed

Eight of Spades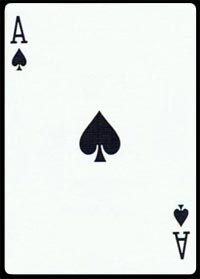 Ace of Spades
The Root of Air

Invoked force, conquest, strength through tribulation.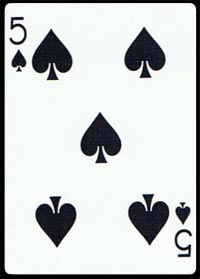 Five of Spades
"Defeat"
Venus in Aquarius
Weakness, loss, spite, malice, trouble, dishonor, anxiety. A driver of wedges.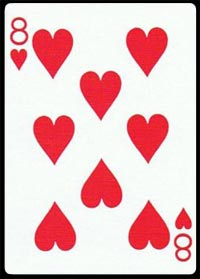 Eight of Hearts
"Indolence"
Saturn in Pisces
Success abandoned, apathy, misery, transience, instability, a small victory. Sometimes means abandonment of materialistic pursuits in favor of the spiritual.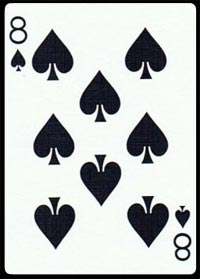 Eight of Spades
"Interference"
Jupiter in Gemini
Waste of enegy in attention to details at the expense of the big picture. Restriction. Sudden unforeseeable bad luck.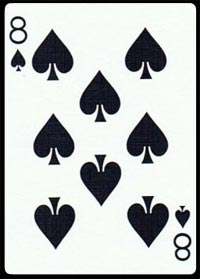 Four of Clubs
"Completion"
Venus in Aries
Solidification of a work. Harmony. Conclusions drawn from previous knowledge. Rest after completion of a work. A goal fulfilled.