Relationship Spread #2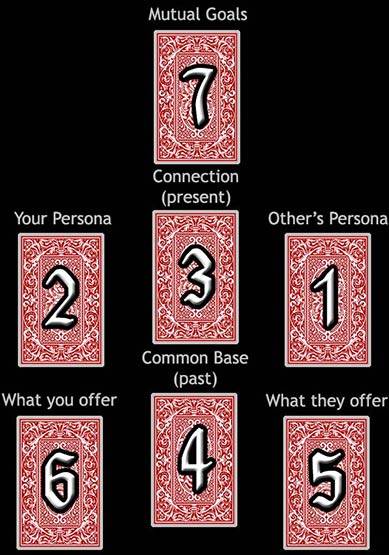 Difficulty: Easy
This relationship spread focuses on the common ground of the relationship, with 3 cards in the middle column showing the common ground. The middle column essentially shows the past, present, and future of the relationship.

Card #4 shows the common base of the relationship, which may be thought of as the past events which have shaped their characters, bringing them together. Card #3 represents the current connection that binds them together, the values they share. Card #7 shows the common goals that would keep them together moving into the future.

The columns on either side show what each partner brings to the table. Remember, relationships need not be romantic, and they partners could even be groups rather than individuals, whatever you choose. In this layout, the other person is on the left hand side, and you, the querent on the right.

Cards #1 & 2 indicate the separate personalities of each member of the relationship. These cards form a sort of bridge with the cards beneath them, #5 & 6, which show the qualities that each partner offers the other person, and thus to the relationship as a whole.
Your Relationship #2 Reading
| | | |
| --- | --- | --- |
| | Mutual Goals | |
| Your Qualities | Connection (Present) | Others' Qualities |
| What You Bring | Common Base (Past) | What They Bring |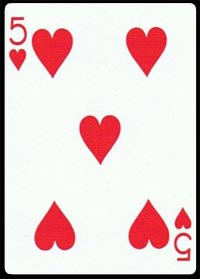 7: Mutual Goals
Five of Hearts
"Disappointment"
Mars in Scorpio
Disturbance ending pleasure. Grief, misfortune, sadness, regret, loss, treachery, bitterness, frustration, bad marriage, expectations unfulfilled.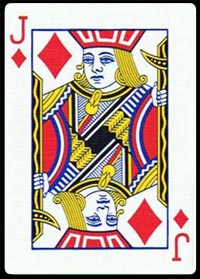 3: Connection
Jack of Diamonds
Taurus

A young man with skill in practical matters, reliable, and perhaps dull. He resents spiritual types, being beyond his scope.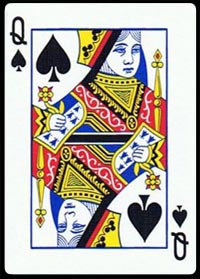 4: Common Base
Queen of Spades
Libra

A confident, gracious, just, perceptive, graceful, elegant woman.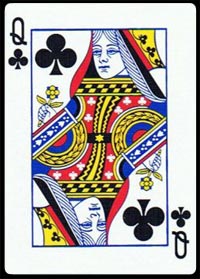 2: Your Qualities
Queen of Clubs
Aries

A calm attractive woman. Strength relaxed. Persistent, adaptive, but intolerant of opposition.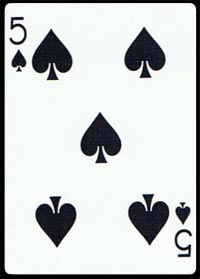 1: Their Qualities
Five of Spades
"Defeat"
Venus in Aquarius
Weakness, loss, spite, malice, trouble, dishonor, anxiety. A driver of wedges.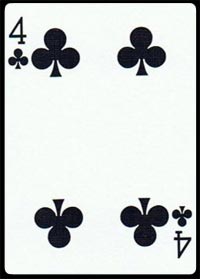 6: What You Bring
Four of Clubs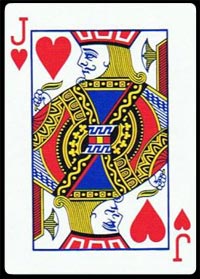 5: What They Bring
Jack of Hearts
Scorpio

A man who moves in shadows, who ambitiously lusts for great wisdom and power. His calm appearance masks an ocean of passion.
Ill-dignified: a merciless man of insatiable ambition.