Relationship Spread #2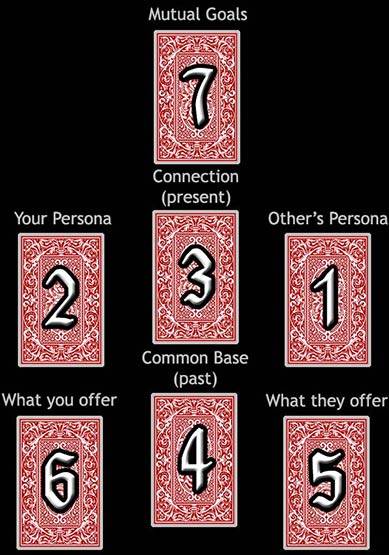 Difficulty: Easy
This relationship spread focuses on the common ground of the relationship, with 3 cards in the middle column showing the common ground. The middle column essentially shows the past, present, and future of the relationship.

Card #4 shows the common base of the relationship, which may be thought of as the past events which have shaped their characters, bringing them together. Card #3 represents the current connection that binds them together, the values they share. Card #7 shows the common goals that would keep them together moving into the future.

The columns on either side show what each partner brings to the table. Remember, relationships need not be romantic, and they partners could even be groups rather than individuals, whatever you choose. In this layout, the other person is on the left hand side, and you, the querent on the right.

Cards #1 & 2 indicate the separate personalities of each member of the relationship. These cards form a sort of bridge with the cards beneath them, #5 & 6, which show the qualities that each partner offers the other person, and thus to the relationship as a whole.
Your Relationship #2 Reading
| | | |
| --- | --- | --- |
| | Mutual Goals | |
| Your Qualities | Connection (Present) | Others' Qualities |
| What You Bring | Common Base (Past) | What They Bring |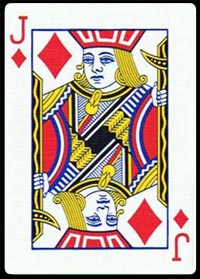 7: Mutual Goals
Jack of Diamonds
Taurus

A young man with skill in practical matters, reliable, and perhaps dull. He resents spiritual types, being beyond his scope.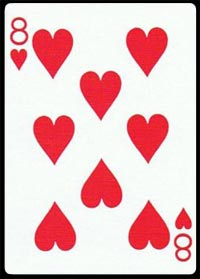 3: Connection
Eight of Hearts
"Indolence"
Saturn in Pisces
Success abandoned, apathy, misery, transience, instability, a small victory. Sometimes means abandonment of materialistic pursuits in favor of the spiritual.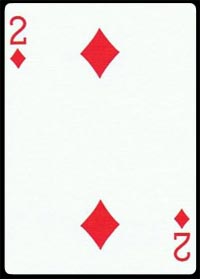 4: Common Base
Two of Diamonds
"Change"
Jupiter in Capricorn
Constant change, likely a pleasant change, visit to friends, wandering.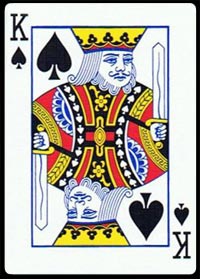 2: Your Qualities
King of Spades
Gemini

An active, skillful, witty, clever, fierce man.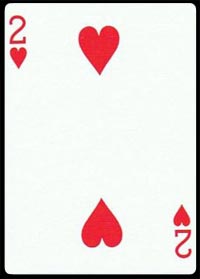 1: Their Qualities
Two of Hearts
"Love"
Venus in Cancer
Perfect harmony between male and female radiates warmth and ecstacy. Love, union, friendship, warmth, comfort, passion, affinity, intercourse.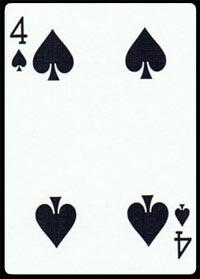 6: What You Bring
Four of Spades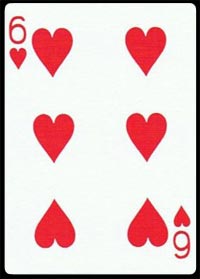 5: What They Bring
Six of Hearts
"Pleasure"
Sun in Scorpio
Natural harmony, satisfaction, beginnings of steady increase