Relationship Spread #2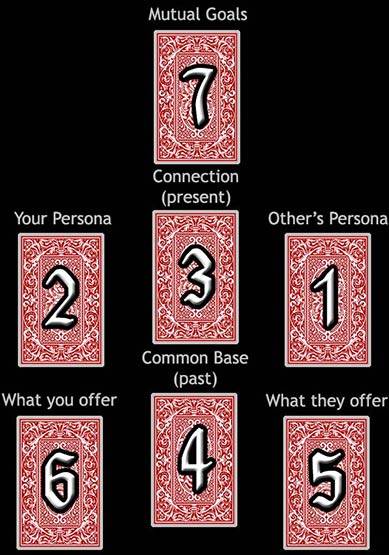 Difficulty: Easy
This relationship spread focuses on the common ground of the relationship, with 3 cards in the middle column showing the common ground. The middle column essentially shows the past, present, and future of the relationship.

Card #4 shows the common base of the relationship, which may be thought of as the past events which have shaped their characters, bringing them together. Card #3 represents the current connection that binds them together, the values they share. Card #7 shows the common goals that would keep them together moving into the future.

The columns on either side show what each partner brings to the table. Remember, relationships need not be romantic, and they partners could even be groups rather than individuals, whatever you choose. In this layout, the other person is on the left hand side, and you, the querent on the right.

Cards #1 & 2 indicate the separate personalities of each member of the relationship. These cards form a sort of bridge with the cards beneath them, #5 & 6, which show the qualities that each partner offers the other person, and thus to the relationship as a whole.
Your Relationship #2 Reading
| | | |
| --- | --- | --- |
| | Mutual Goals | |
| Your Qualities | Connection (Present) | Others' Qualities |
| What You Bring | Common Base (Past) | What They Bring |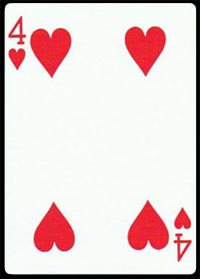 7: Mutual Goals
Four of Hearts
"Luxury"
Moon in Cancer
Giving in to desire. Excess, luxury, insatiability.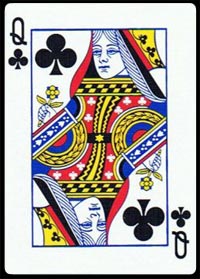 3: Connection
Queen of Clubs
Aries

A calm attractive woman. Strength relaxed. Persistent, adaptive, but intolerant of opposition.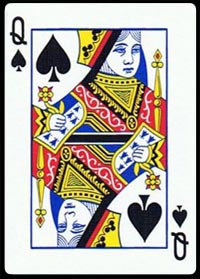 4: Common Base
Queen of Spades
Libra

A confident, gracious, just, perceptive, graceful, elegant woman.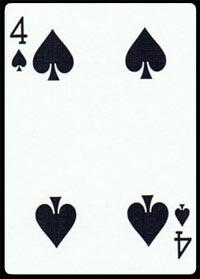 2: Your Qualities
Four of Spades
"Truce"
Jupiter in Libra
Recovery from a period of trouble. An oasis. Authority in the realm of intellect. Establishment of dogma.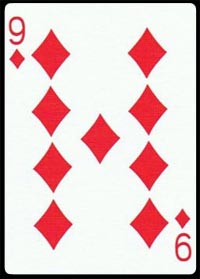 1: Their Qualities
Nine of Diamonds
"Gain"
Venus in Virgo
Inheritence, increase in wealth, material fortune, accomplishment.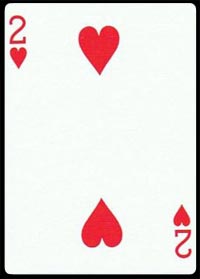 6: What You Bring
Two of Hearts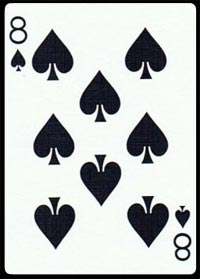 5: What They Bring
Eight of Spades
"Interference"
Jupiter in Gemini
Waste of enegy in attention to details at the expense of the big picture. Restriction. Sudden unforeseeable bad luck.