Relationship Spread #2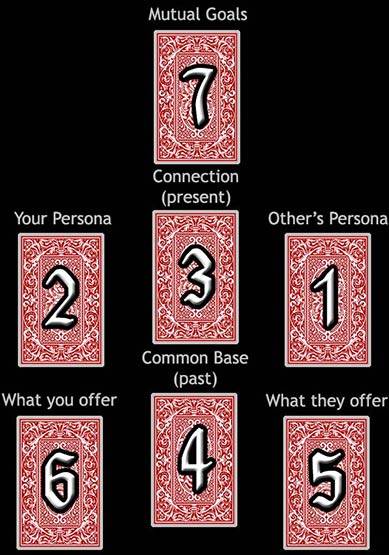 Difficulty: Easy
This relationship spread focuses more on the common ground of the relationship, with three cards in the middle column showing the common ground. The middle column essentially displays the past, present, and future of the relationship.
Card #4 stands for the common base of the relationship, which may be thought of as the past events which have shaped their characters, bringing them together. The current connection that binds them together is Card #3, indicating the values shared. Card #7 implies the common goals that would keep the pair together moving into the future.
The columns on either side show what each partner brings to the table. Remember, relationships need not be romantic, and the partners could even be groups rather than individuals. In this layout, the other person is on the left-hand side and the reader on the right.
Cards #1 & #2 indicate the separate personalities of each member of the relationship. These cards form a sort of bridge with the cards beneath them, #5 & #6, which show the qualities that each partner offers the other person, and thus to the relationship as a whole.
Your Relationship #2 Reading
| | | |
| --- | --- | --- |
| | Mutual Goals | |
| Your Qualities | Connection (Present) | Others' Qualities |
| What You Bring | Common Base (Past) | What They Bring |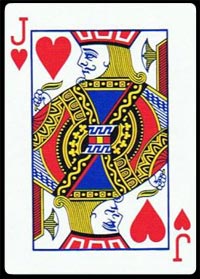 7: Mutual Goals
Jack of Hearts
Scorpio

A man who moves in shadows, who ambitiously lusts for great wisdom and power. His calm appearance masks an ocean of passion.
Ill-dignified: a merciless man of insatiable ambition.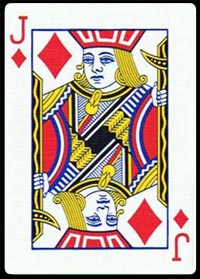 3: Connection
Jack of Diamonds
Taurus

A young man with skill in practical matters, reliable, and perhaps dull. He resents spiritual types, being beyond his scope.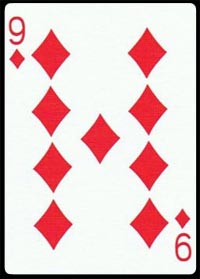 4: Common Base
Nine of Diamonds
'Gain'
Venus in Virgo
Inheritance, increase in wealth, material fortune, accomplishment.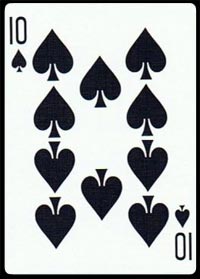 2: Your Qualities
Ten of Spades
'Ruin'
Sun in Gemini
Reason divorced from reality, the end of sanity, disaster, failure. Spiritually may mean the end of delusion.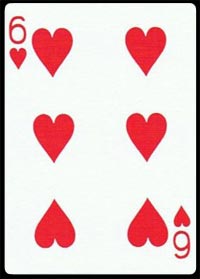 1: Their Qualities
Six of Hearts
'Pleasure'
Sun in Scorpio
Natural harmony, satisfaction, beginnings of steady increase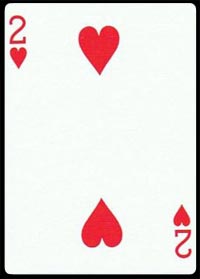 6: What You Bring
Two of Hearts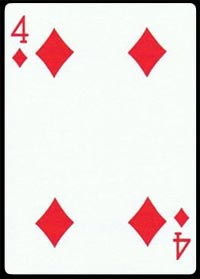 5: What They Bring
Four of Diamonds
'Power'
Sun in Capricorn
Earthly power, dominion, law and order, material success, skill in confrontation.