The Love Triangle Spread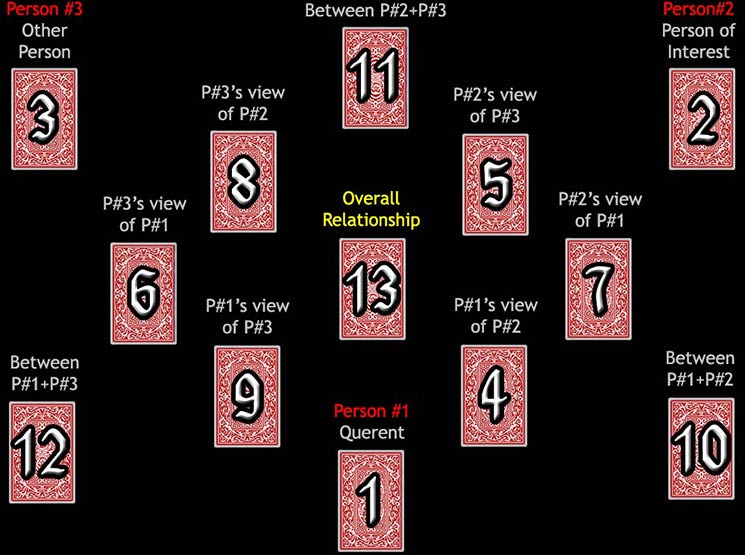 Difficulty: Somewhat Complicated
This spread can be used to determine the dynamics of the relationship between 3 people, whether or not romance is involved. This spread is drawn in the form of a hexagram, consisting of several large and small triangles. This spread is somewhat complicated, but only because of the complicated nature of this type of relationship.
The first step is to interpret the card for each individual position in the spread. Generally the querent asks about a relationship that he or she is involved with, but this does not have to be the case. Ordinarily the querent's representative card is #1, the querent's person of interest is #2, and the other person would be #3.
The second step fills in the downward triangle and involves further examination of the individuals through their views of the other people. Each person has 2 more cards showing the way they see and relate to the other members of the triangle. For example, Card #6 shows how Person #3 relates to Person #1, while Card #9 shows Person #1's attitude toward Person #3.
The next step completes the upward triangle and the hexagram, focusing on cards 10-13. It also completes the many smaller triangles and shows the potential for each relationship. The final card, #13 can be considered the significator of the reading, which shows the overall potential for this 3-way relationship.
Your Love Triangle Reading
| | | | | | | |
| --- | --- | --- | --- | --- | --- | --- |
| P#3 | | 3to2 | 2+3 | 2to3 | | P#2 |
| | 3to1 | | Overall | | 2to1 | |
| 1+3 | | 1to3 | | 1to2 | | 1+2 |
| | | | P#1 | | | |
| | | | | | | |
1: Person #1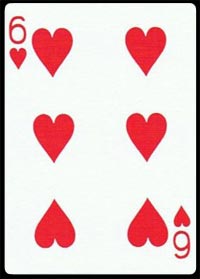 Six of Hearts
"Pleasure"
Sun in Scorpio
Natural harmony, satisfaction, beginnings of steady increase
2: Person #2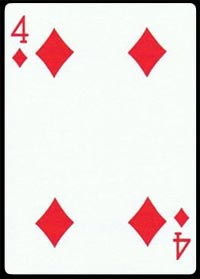 Four of Diamonds
"Power"
Sun in Capricorn
Earthly power, dominion, law and order, material success, skill in confrontation.
3: Person #3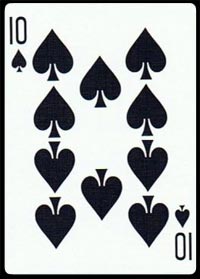 Ten of Spades
"Ruin"
Sun in Gemini
Reason divorced from reality, the end of sanity, disaster, failure. Spiritually may mean the end of delusion.
4: Person #1's view of #2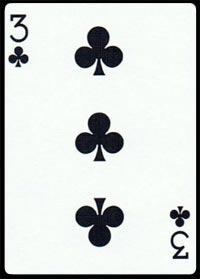 Three of Clubs
"Virtue"
Sun in Aries
Realization of hope. Noble cause. Pride and arrogance.
5: Person #2's view of #3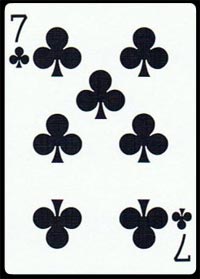 Seven of Clubs
"Valour"
Mars in Leo
Struggles, obstacles, difficulties met with courage. Small victories.
6: Person #3's view of #1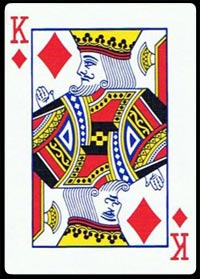 King of Diamonds
Virgo

Agricultural proficiency, skills regarding material concerns, perhaps preoccupied with material concerns and therefore dull.
7: Person #2's view of #1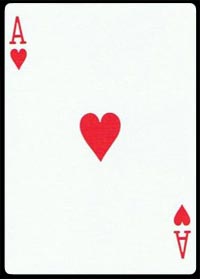 Ace of Hearts
The Root of Water

Joy, contentment, love, fruitfulness, beauty.
8: Person #3's view of #2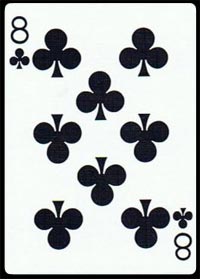 Eight of Clubs
"Swiftness"
Mercury in Saggitarius
Action, explosive energy, electricity, fast communication, gain of rapid speed, light, quickness.
9: Person #1's view of #3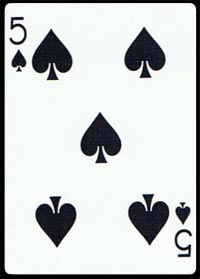 Five of Spades
"Defeat"
Venus in Aquarius
Weakness, loss, spite, malice, trouble, dishonor, anxiety. A driver of wedges.
10: Overall relationship between persons #1 and #2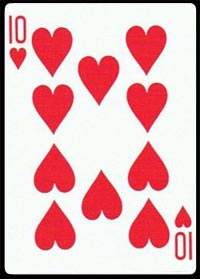 Ten of Hearts
"Satiety"
Mars in Pisces
Pleasure fulfilled yet incomplete.
11: Overall relationship between persons #2 and #3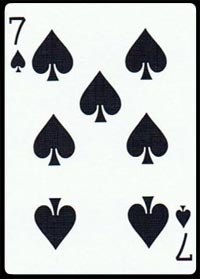 Seven of Spades
"Futility"
Moon in Aquarius
Fighting a hopeless battle in vain, with no prospect of victory. Partial success by stalling through lack of energy when victory is achieved.
12: Overall relationship between persons #1 and #3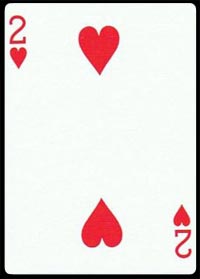 Two of Hearts
"Love"
Venus in Cancer
Perfect harmony between male and female radiates warmth and ecstacy. Love, union, friendship, warmth, comfort, passion, affinity, intercourse.
13: Overall 3-way Relationship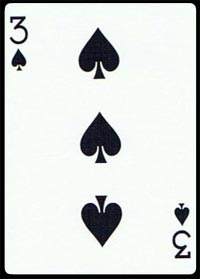 Three of Spades
"Sorrow"
Saturn in Libra
Melancholy, disruption, discord, delay, separation.