Path Spread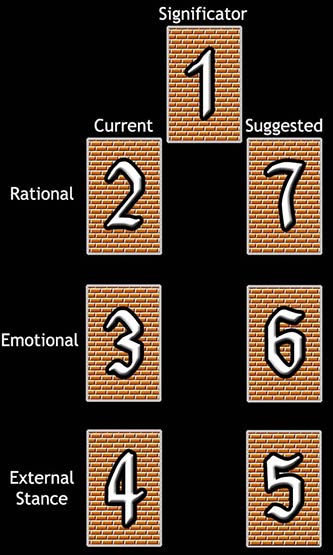 Difficulty: Easy
For the Path, the querent asks for suggestions on how to behave properly in order to achieve a desired result. The Current column shows how the querent has been acting, and the Suggestedcolumn suggests how the querent should act in order to achieve a certain goal. The chart-like spread uses the standard 3 levels: Rational, Emotional, and External Stance (how one projects one's self outwardly). When comparing the Current to Suggested cards, the most important thing is to notice the differences between the 2 cards. It is these differences which hint at the behaviors that you should think about changing.
Card #1 is the significator, the card which should reflect the nature of the query and/or the desired outcome.
Card #2 shows the way you are and have been thinking. Card #7 shows how you need to change the way you think in order to serve yourself better.
Card #3 tells you about your emotional attitude. Though it may seem difficult to manipulate one's own emotions, it can be done if you put your mind to it. For example, acting a certain way such as smiling intently for a few minutes will lead the emotions to follow. If you try this, as silly as the exercise seems, you will find that this evokes the emotion of happiness. For this reading, you should try to make yourself feel the way that Card #6 tells you.
External Stance means how you act outwardly, how you hope others see you. Card #4 tells you how you were acting, while #5 indicates how you should act outwardly, for other people's sake. It is the differences between these cards that hint at what behavior patterns should be altered.
Your Path Reading
Current

The Significator

4 of Disks - Power

Suggested

Thought


Knight of Cups

8 of Disks - Prudence

Emotion


Princess of Wands

7 of Swords - Futility

External Stance


The Aeon

Princess of Cups
The Significator
4 of Disks - Power
Sun in Capricorn

The disks have become square. At this phase revolution of the disks is undesirable. The fortress shows law and order. Earthly power and authority has been established.

Meaning:
Earthly power, dominion, law and order, material success, skill in confrontation. Also fortress, shelter, defense, home.
When ill-dignified: Prejudice, envy, suspicion.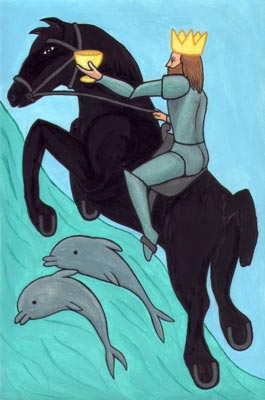 Current Thoughts
Knight of Cups
Pisces

The Knight of Cups rides a black horse, symbolizing the dark unconscious force of water. In his left hand he holds a gold cup filled with gold. His horse leaps above a wave, symbolizing the element of water at its most active state. Two dolphins leap along with the horse, representing Pisces.

Meaning:
A very sensitive, yet shallow man, who is quick to respond to attraction.
When ill-dignified: a sensual, idle man, a liar and a loser, prone to drug abuse.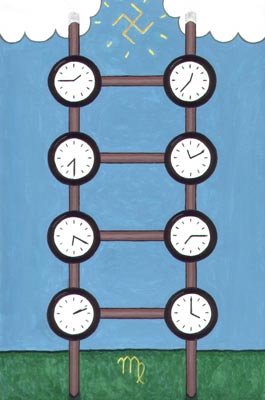 Suggested Thoughts
8 of Disks - Prudence
Sun in Virgo

This card is about the virtue of patience, or taking things in their proper times. Eight clocks are hung from Jacob's Ladder. With effort dreams will be attainable. Remember: one step at a time.

Meaning:
Industriousness, agriculture, building, construction, intelligence in material affairs.
When ill-dignified: too much care spent on details at the expense of the big picture.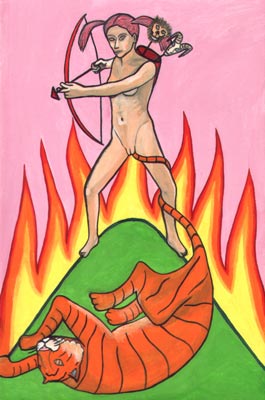 Current Emotions
Princess of Wands
A robust young woman stands on the mountain firing arrows. Her arrows represent the other Wands courts, Saggitarius, Aries, and Leo. She is a passionate, brilliant, and independent young woman. The tiger is a symbol of the lower animal nature that grounds her.

Meaning:
An individualistic energetic glowing young woman, impulsive in matters of love.
When ill-dignified: superficial, shallow, gossiping, unreliable, cruel, domineering.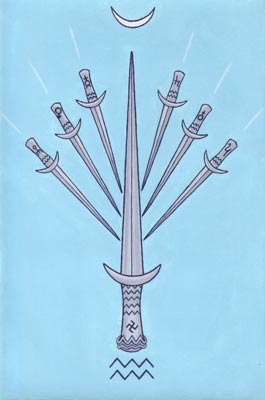 Suggested Emotions
7 of Swords - Futility
Moon in Aquarius

Six swords descend upon one large sword. The six moons have mutinously ganged up on their master. The battle seems hopeless. Even with the strongest blade, the numbers may be overwhelming.

Meaning:
Fighting a hopeless battle in vain, with no prospect of victory. Partial success by stalling through lack of energy when victory is achieved.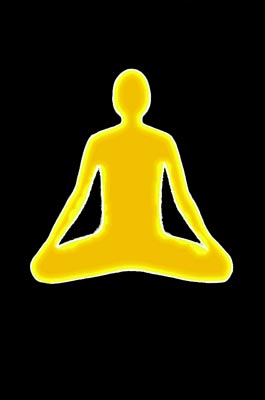 Current External Stance
The Aeon
Spirit

In a place beyond the Universe there exists a single solitary spirit. This is the perfection that we all strive for.

Meaning:
Dawn of a new era. Perfect self-knowledge. Wisdom. Union with god. The force of nature, raw spirit, barbelo, center of the universe, perfection, message from heaven, sign from above, god.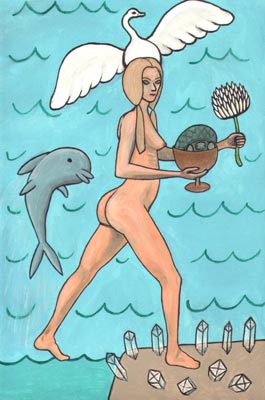 Suggested External Stance
Princess of Cups
A voluptuous young woman steps from the water onto land. Crystals form at her feet, symbolizing ideas taking shape. Her crown is a swan. In her right hand she carries a bronze cup with a tortoise inside it, and in her left hand she has a lotus. She is gentle, kind, and caring. This is a card of creation and formative energy.

Meaning:
A voluptuous, kind, romantic, dreamy young woman.
When ill-dignified: indolent, selfish woman.