Three-Card Spread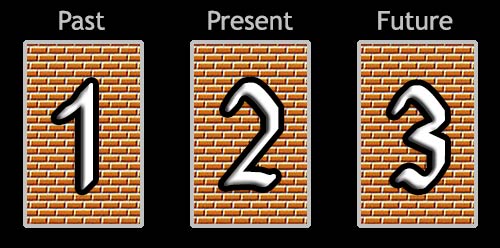 Difficulty: Very easy
This simplistic chronological spread can be used to shed light on the influences that have passed, current influences, and what is approaching in the near future. Not much explanation is necessary for this simple tarot spread.
Your Three-Card Reading
The Past

7 of Cups – Debauch
The Present

Knight of Disks
The Future

9 of Disks – Gain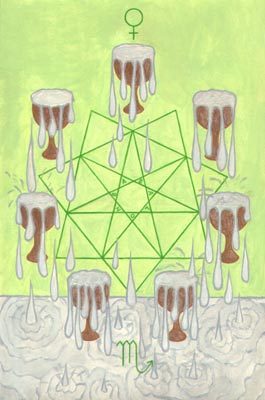 The Past
7 of Cups – Debauch
Venus in Scorpio

Seven copper cups in the shape of a septagram overflow with the oil of gladness, pleasure taken once again to excess. The star of Babylon is a symbol of whoredom.

Meaning:
Loss or lack of moral values. Deception, shameless indulgence, lust, fornication, intoxication, delusion, promises unfulfilled.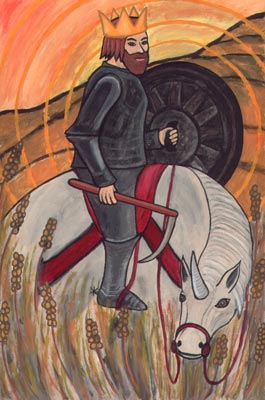 The Present
Knight of Disks
Virgo

The Knight of Disks rides the pale horse. His horse is in fact a unicorn, a symbol of Virgo. Bearing the sickle, he has come to reap the harvest. The shield radiates waves of energy that symbolise his connection with the sphere of earth. He is concerned primarily with material values.

Meaning:
Agricultural proficiency, skills regarding material concerns, perhaps preoccupied with material concerns and therefore dull.
When ill-dignified: a petty, jealous, small-minded man.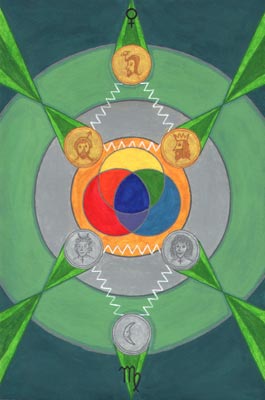 The Future
9 of Disks – Gain
Venus in Virgo

Six of the nine disks have now turned to coins, representing material gain. The three spiritual disks converge in the centre, forming a colour wheel and a rainbow. There are two triangles formed by the coins, one male and one female. A card of material gain.

Meaning:
Inheritance, increase in wealth, material fortune, accomplishment.
When ill-dignified: envy, theft.