Relationship Spread #1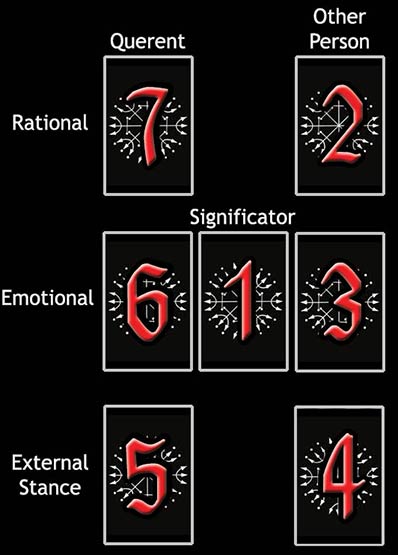 Difficulty: Easy
This spread is easy to read, like a convenient chart. In this spread, court cards generally indicate actual people with the same characteristics. Knights (or corresponding Princes, but not Kings) and Queens are meant to represent actual men and women in this tarot spread. Look for patterns in the cards as always.
Card #1 is the overall significator of the relationship. The 2 columns on either side of the significator characterize each individual's role in the relationship. The relationship does not have to be romantic. In fact it could be a relationship between a person and a group, or even how 2 groups relate.
The top row, cards #7 & 2, shows the conscious thoughts of each person, or what they think about the relationship and likewise how they view their partner.
The middle row, cards #6 & 3, shows the way each individual feels about the other. Emotional awareness corresponds to a person's unconscious thoughts that run deep, effecting a person in ways he or she is not fully aware of.
The bottom row, cards #5 & 4, represents the way each person behaves, in other words the stance taken regarding the relationship. The way a person acts may be genuine, but sometimes people are phony and manipulative, so it is best to weigh this card against your partner's other cards to determine if they match up.
Your Relationship #1 Reading
You
Other Person
Thought

4 of Spades

The Emperor
Emotion

Redemption
The Significator

Queen of Clubs

Ace of Hearts
External Stance

Temperance

King of Clubs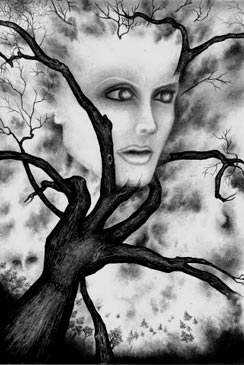 The Significator
Queen of Clubs
The personality or character trait of following through with an objective, despite the attempts of others to thwart progress. The ability to just 'know' their role in life, which is followed through regardless of any question of ethics or morals raised by those who are ignorant or less knowledgeable. This could indicate a person who will lead by example and will be able to back up the 'talk' with the 'walk'. Alternatively there could be a requirement for you to utilise this character trait.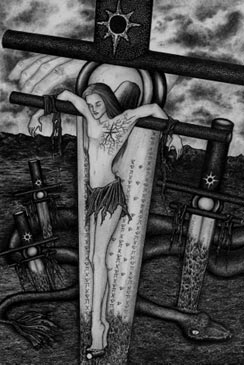 The Querent's Thoughts
4 of Spades
The need for mental release or relaxation. The taking of a 'time out' from situations that may have been the main contributory factors leading to mental fatigue. Acceptance of limitations, as well as acknowledgment of personal weaknesses. The courage to go public and be open regarding mistakes or shortcomings.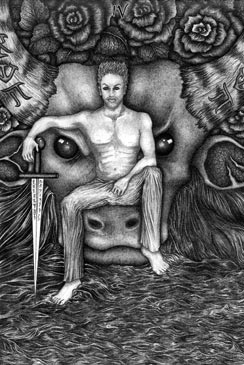 The Other Person's Thoughts
The Emperor
The Emperor card represents structure; the need for it or lack of it. It is about setting standards to adhere to, limitations and boundaries of rules of engagement and maintaining them. At a stage when one cannot identify such boundaries, The Emperor provides an idealized example until rigid adherence becomes a burden of expectations.

As the Seeker, this card represents the need to identify standards that are meaningful rather than those imposed by others. To discard old boundaries or limitations for new ones is a stage of self-regulation by which one identifies the principles to live by.

In a situation, this card suggests that stability may be achieved when a sound structure is in place.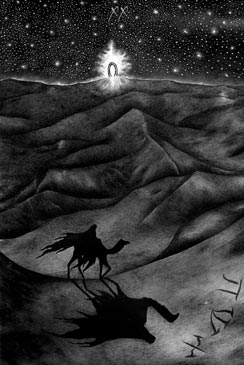 The Querent's Emotions
Redemption
It is where we will find the eye of the needle and cross it;
a place none may follow but it's going to be alright because we are finally ready to take
responsibility for choices we made; we are finally ready to face ourselves.
Who amongst us fear Judgement?
In search of redemption; what we reap as our reward is what we have sown all along.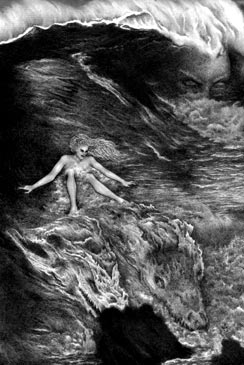 The Other Person's Emotions
Ace of Hearts
The possibility of extremes of emotion being experienced in equal measures. The real chance of being brought down to a ground level of being should we feel we have become over confident or egotistical. The start of an emotional roller coaster ride, possibly accompanied by a willingness to take risks even though it may cause us to crash harder as a result.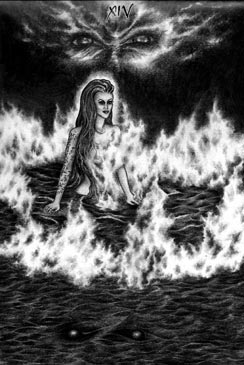 The Querent's External Stance
Temperance
Temperance demonstrates the ability to maintain equilirium between opposing elements; she is the bridge between extremes.

The Seeker as Temperance suggests a path of moderation; seeking internal balance before one is ready to face external challenges. This card may indicate the need to resolve conflicting aspects within ourselves before we are able to restore peace into our environment.

As a situation, this card indicates a stage of mediating between opposing views; finding the middle ground to facilitate progress; restoring order in a disruptive environment. As such, we may need to explore options that allow amicable solutions to present themselves rather than allow one or the other extreme to take over.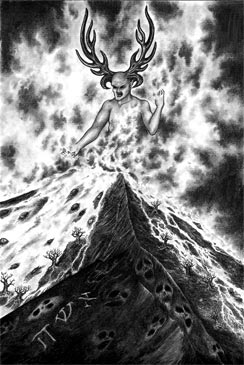 The Other Person's External Stance
King of Clubs
A person with strong beliefs of what is right and what is wrong, and will not be swayed in those beliefs. The ability to cut away anything that has no purpose or use to them. The urge to in right any personal sense of being wronged, flaunting a fighting spirit whereby arguments are backed up with appropriate actions. Coming across as being unforgiving by nature. Being aware of the bigger picture and long-term objective, and the taking of appropriate action regardless of the fact a few toes may be trod on along the way. This could indicate a person who likes to be active and can energise others around them with their enthusiasm.