3 Card Spread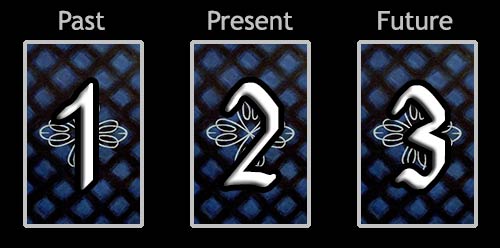 Difficulty: Very easy
This simplistic chronological spread can be used to shed light on the influences that are now behind you, current influences, and what is approaching in the near future. Not much explanation is necessary on this one.
Your 3 Card Reading
The Past

3 of Wands
The Present

Strength
The Future

The Lovers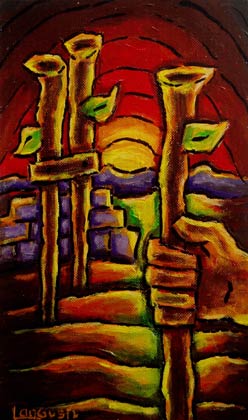 The Past
3 of Wands
In front of the rising sun the first posts are being erected for the building of a new house. The hand has taken a firm hold of the wand; part of the wall has already been erected.

The wall symbolizes the appearance of our conceptions. The mountains in the background show the definite ideas and conceptions that will materialize in the future.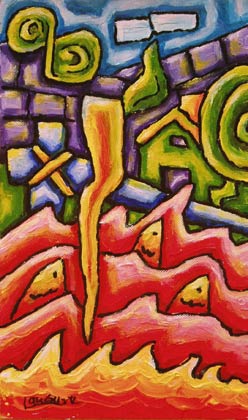 The Present
Strength
A sceptre and a sword seem to be fighting. Water and fire, portrayed in striking red, stand for subconscious strength. They are kept under control by the symbols of earth and air, the conscious elements, portrayed by the sword (clarity), the house (stability) and the wall (limits, firmness). The violet colour of the wall also shows a penetration of the colours red and blue.

The trees also contain this mixture of the elements, but they are growing cautiously as well as the clouds, water, which so to speak, becomes air (gaseous). They also stand for integration, which on the one hand makes us more flexible but on the other hand obscures things. The lemniscates, which can be seen clearly in magic, can be found in the two trees in the top left corner. It illustrates swinging into the next bend.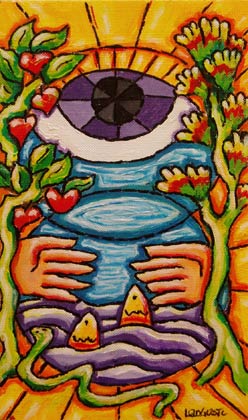 The Future
The Lovers
The picture shows the connection with the opposite theme represented by two circles (blue = conscious) which combine to form an oval. The oval represents striving for unity on a higher level. The two hands stand for polarity and the confrontation with the tree of eternity and the tree of knowledge (of good and evil) with heart-shaped fruit. The serpent is coiled up at the foot of the tree of knowledge.

The yellow background emphasizes the energy of the moment. Fish and water show the duality again and the produced flow of energy. The archangel Raphael watches over everyone with his blessing, indicated by God's eye.