3 Card Spread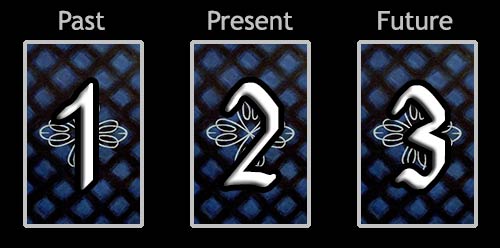 Difficulty: Very easy
This simplistic chronological spread can be used to shed light on the influences that are now behind you, current influences, and what is approaching in the near future. Not much explanation is necessary on this one.
Your 3 Card Reading
The Past

Prince of Cups
The Present

5 of Cups
The Future

8 of Cups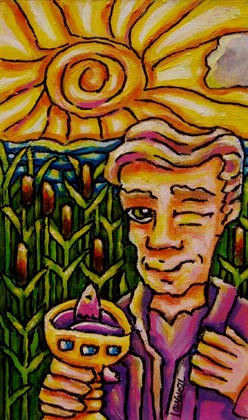 The Past
Prince of Cups
By winking, the prince is trying to make the marshy spot more attractive for a bathe. The content of his cup doesn't look like water. The sun brightens the scene, although the first cloud has already appeared.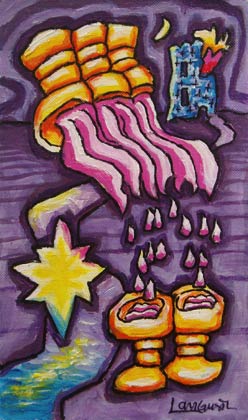 The Present
5 of Cups
Three cups are spilling their contents. The other two are collecting what is lost, suggesting that nothing can really be lost. Nevertheless the spill is important so that a change can take place.

The tower and the star refer to the cards, which are following the devil, which is related to the five cups. The flames in the tower can be understood as a heart. If the observer turns round he will take the path in the right direction and will not look back.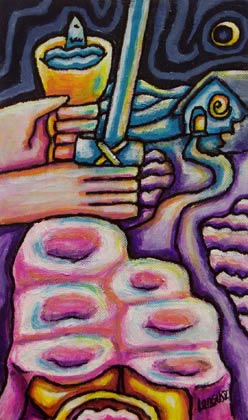 The Future
8 of Cups
Seven cups are covered with a cloth, so that they won't be damaged during absence. A cup is being held in the left hand and a sword in the right. They look like a complementary couple.

There is water to the right and left of the path and one must take care not to tread in it. In the background we can see the Hermit's hut and several hills, which could turn out to be mountains. The waxing moon shows uncertainty. The journey might not be too easy.