The Astrological Spread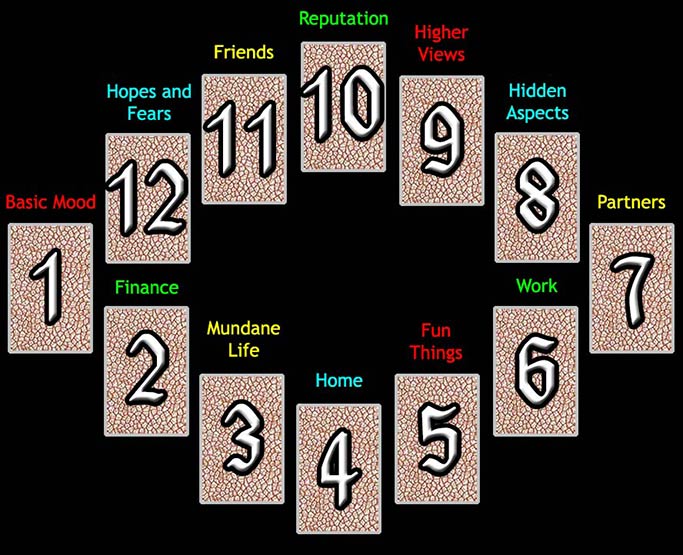 Difficulty: Complicated
The Astrological Tarot Spread is based on houses of astrology. This complicated spread takes several steps to understand.
The first step is to interpret the card for each individual position in the spread.
The second step involves further examination of the main axes. Positions 1 & 7 show the relationship theme, #1 representing you, #7 your partner. Positions 4 & 10 indicate motion. #4 shows where you are, and #10 shows what you are moving towards.
The third step involves breaking down the chart into triads according to their house elements.
Positions 1, 5, & 9 represent the Fire triad, which shows about temperment and personal development.
Positions 2, 6, & 10 represent the Earth triad, which is concerned with materialism, money, and work.
Positions 3, 7, & 11 represent the Air triad, which has to do with thoughts, ideas, and connections with other people.
Positions 4, 8, & 12 represent the Water triad, which is the realm of emotions, moods, intuition, and yearnings.
Further, you may connect other patterns and correlations between certain numbers. Certain numbers such as the set of 5, 7, & 8 often speak about a particular theme.
Your Astrological Reading
1: Basic Mood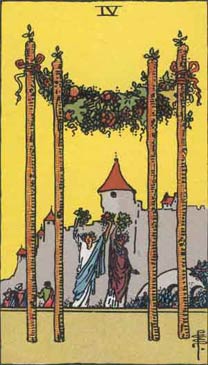 4 of Wands
From the four great staves planted in the foreground there is a great garland suspended; two female figures uplift nosegays; at their side is a bridge over a moat, leading to an old manorial house.

Divinatory Meaning:

They are for once almost on the surface - country life, haven of refuge, a species of domestic harvest-home, repose, concord, harmony, prosperity, peace, and the perfected work of these.
2: Finance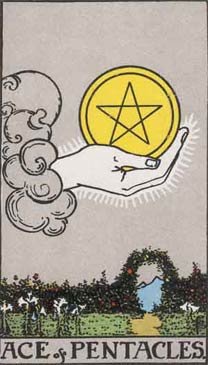 Ace of Pentacles
A hand - issuing from a cloud - holds up a pentacle.

Divinatory Meaning:

Perfect contentment, felicity, ecstasy; also speedy intelligence; gold.
3: Mundane Life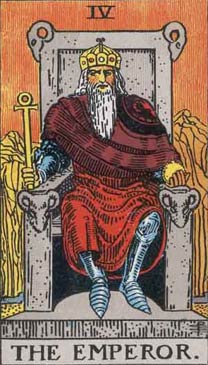 The Emperor
He has a form of the Crux ansata for his sceptre and a globe in his left hand. He is a crowned monarch - commanding, stately, seated on a throne, the arms of which axe fronted by ram heads. He is executive and realization, the power of this world, here clothed with the highest of its natural attributes. He is occasionally represented as seated on a cubic stone, which, however, confuses some of the issues. He is the virile power, to which the Empress responds, and in this sense is he who seeks to remove the Veil of Isis; yet she remains virgo intacta.

It should be understood that this card and that of the Empress do not precisely represent the condition of married life, though this state is implied. On the surface, as I have indicated, they stand for mundane royalty, uplifted on the seats of the mighty; but above this there is the suggestion of another presence. They signify also - and the male figure especially - the higher kingship, occupying the intellectual throne. Hereof is the lordship of thought rather than of the animal world. Both personalities, after their own manner, are full of strange experience, but theirs is not consciously the wisdom which draws from a higher world. The Emperor has been described as (a) will in its embodied form, but this is only one of its applications, and (b) as an expression of virtualities contained in the Absolute Being - but this is fantasy.

Divinatory Meaning:

Stability, power, protection, realization; a great person; aid, reason, conviction; also authority and will.
4: Home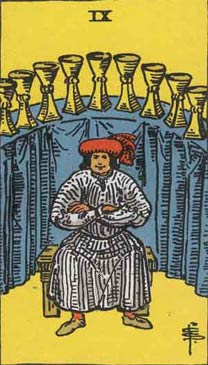 9 of Cups
A goodly personage has feasted to his heart's content, and abundant refreshment of wine is on the arched counter behind him, seeming to indicate that the future is also assured. The picture offers the material side only, but there are other aspects.

Divinatory Meaning:

Concord, contentment, physical bien-?tre; also victory, success, advantage; satisfaction for the Querent or person for whom the consultation is made.
5: Fun Things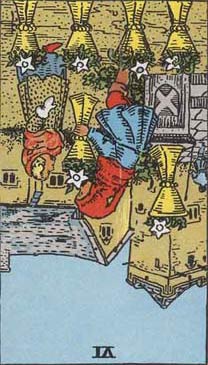 6 of Cups
Children in an old garden, their cups filled with flowers.

Reversed Meaning:

The future, renewal, that which will come to pass presently.
6: Work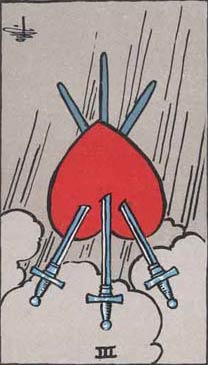 3 of Swords
Three swords piercing a heart; cloud and rain behind.

Reversed Meaning:

Mental alienation, error, loss, distraction, disorder, confusion.
7: Partners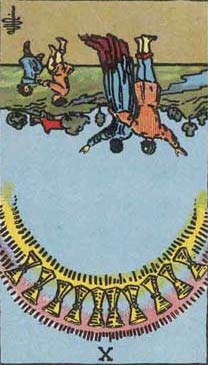 10 of Cups
Appearance of Cups in a rainbow; it is contemplated in wonder and ecstacy by a man and woman below, evidently husband and wife. His right arm is about her; his left is raised upward; she raises her right arm. The two children dancing near them have not observed the prodigy but are happy after their own manner. There is a home-scene beyond.

Reversed Meaning:

Repose of the false heart, indignation, violence.
8: Hidden Aspects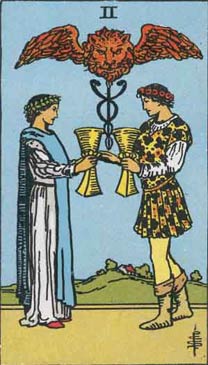 2 of Cups
A youth and maiden are pledging one another, and above their cups rises the Caduceus of Hermes, between the great wings of which there appears a lion's head. It is a variant of a sign which is found in a few old examples of this card. Some curious emblematical meanings are attached to it, but they do not concern us in this place.

Divinatory Meaning:

Love, passion, friendship, affinity, union, concord, sympathy, the interrelation of the sexes, and - as a suggestion apart from all offices of divination - that desire which is not in Nature, but by which Nature is sanctified.
9: Higher Views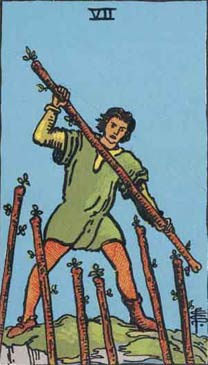 7 of Wands
A young man on a craggy eminence brandishing a staff; six other staves are raised towards him from below.

Divinatory Meaning:

It is a card of valour, for, on the surface, six are attacking one, who has, however, the vantage position. On the intellectual plane, it signifies discussion, wordy strife; in business - negotiations, war of trade, barter, competition. It is further a card of success, for the combatant is on the top and his enemies may be unable to reach him.
10: Reputation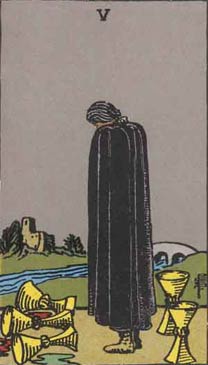 5 of Cups
A dark, cloaked figure, looking sideways at three prone cups two others stand upright behind him; a bridge is in the background, leading to a small keep or holding.

Divinatory Meaning:

It is a card of loss, but something remains over; three have been taken, but two are left; it is a card of inheritance, patrimony, transmission, but not corresponding to expectations; with some interpreters it is a card of marriage, but not without bitterness or frustration.
11: Friends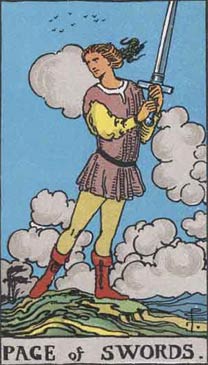 Page of Swords
A lithe, active figure holds a sword upright in both hands, while in the act of swift walking. He is passing over rugged land, and about his way the clouds are collocated wildly. He is alert and lithe, looking this way and that, as if an expected enemy might appear at any moment.

Divinatory Meaning:

Authority, overseeing, secret service, vigilance, spying, examination, and the qualities thereto belonging.
12: Hopes and Fears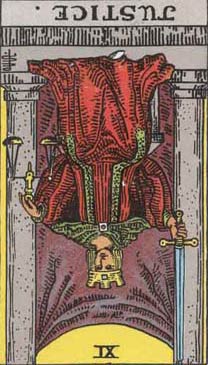 Justice
The figure is seated between pillars, like the High Priestess, and on this account it seems desirable to indicate that the moral principle which deals unto every man according to his works - while, of course, it is in strict analogy with higher things; - differs in its essence from the spiritual justice which is involved in the idea of election. The latter belongs to a mysterious order of Providence, in virtue of which it is possible for certain men to conceive the idea of dedication to the highest things. The operation of this is like the breathing of the Spirit where it wills, and we have no canon of criticism or ground of explanation concerning it. It is analogous to the possession of the fairy gifts and the high gifts and the gracious gifts of the poet: we have them or have not, and their presence is as much a mystery as their absence. The law of Justice is not however involved by either alternative. In conclusion, the pillars of Justice open into one world and the pillars of the High Priestess into another.

Reversed Meaning:

Law in all its departments, legal complications, bigotry, bias, excessive severity.