The Astrological Spread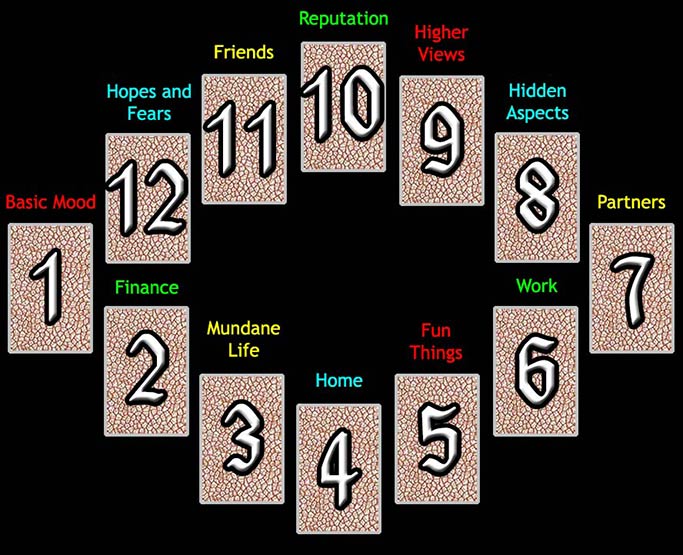 Difficulty: Complicated
The Astrological Tarot Spread is based upon houses of astrology. This complicated spread takes several steps to understand.
The first step is to interpret the tarot card for each individual position in the spread.
The second step involves further examination of the main axes. Positions 1 & 7 show the relationship theme, #1 representing the reader, #7 their partner. Positions 4 & 10 indicate motion. #4 indicates where the reader is now, and #10 suggests what they are moving towards.
The third step involves breaking down the chart into triads according to their house elements.
Positions 1, 5, & 9 represent the Fire triad, symbolizing temperament and personal development.
Positions 2, 6, & 10 represent the Earth triad, concerned with materialism, money, and work.
Positions 3, 7, & 11 represent the Air triad, which has to do with thoughts, ideas, and connections with other people.
Positions 4, 8, & 12 represent the Water triad, the realm of emotions, moods, intuition, and yearnings.
Further, other patterns and correlations between certain numbers can be noted. Certain numbers such as the set of 5, 7, & 8 often speak about a particular theme.
Your Astrological Reading
1: Basic Mood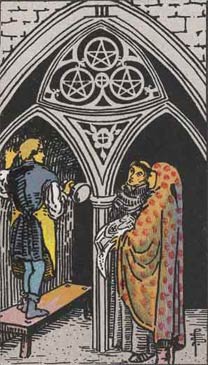 3 of Pentacles
A sculptor at his work in a monastery. Compare the design which illustrates the Eight of Pentacles. The apprentice or amateur therein has received his reward and is now at work in earnest.

Divinatory Meaning:

Metier, trade, skilled labour; usually, however, regarded as a card of nobility, aristocracy, renown, glory.
2: Finance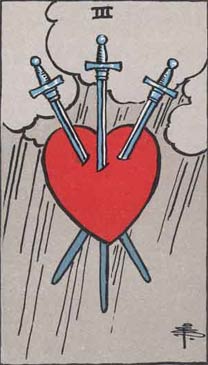 3 of Swords
Three swords piercing a heart; cloud and rain behind.

Divinatory Meaning:

Removal, absence, delay, division, rupture, dispersion, and all that the design signifies naturally, being too simple and obvious to call for specific enumeration.
3: Mundane Life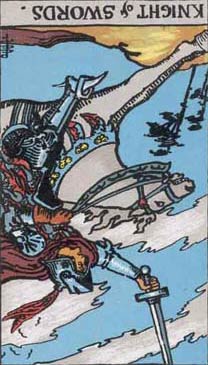 Knight of Swords
He is riding in full course, as if scattering his enemies. In the design he is really a prototypical hero of romantic chivalry. He might almost be Galahad, whose sword is swift and sure because he is clean of heart.

Reversed Meaning:

Imprudence, incapacity, extravagance.
4: Home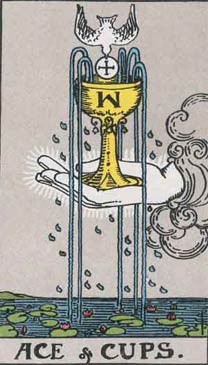 Ace of Cups
The waters are beneath, and thereon are water-lilies; the hand issues from the cloud, holding in its palm the cup, from which four streams are pouring; a dove, bearing in its bill a cross-marked Host, descends to place the Wafer in the Cup; the dew of water is falling on all sides. It is an intimation of that which may lie behind the Lesser Arcana.

Divinatory Meaning:

House of the true heart, joy, content, abode, nourishment, abundance, fertility; Holy Table, felicity hereof.
5: Fun Things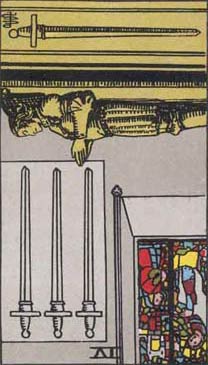 4 of Swords
The effigy of a knight in the attitude of prayer, at full length upon his tomb.

Reversed Meaning:

Wise administration, circumspection, economy, avarice, precaution, testament.
6: Work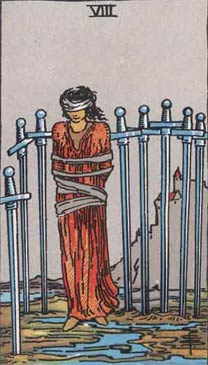 8 of Swords
A woman, bound and hoodwinked, with the swords of the card about her. Yet it is rather a card of temporary durance than of irretrievable bondage.

Divinatory Meaning:

Bad news, violent chagrin, crisis, censure, power in trammels, conflict, calumny; also, sickness.
7: Partners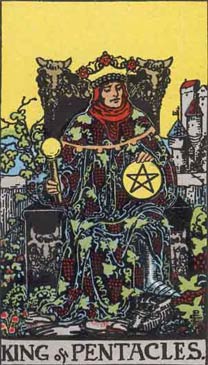 King of Pentacles
The figure calls for no special description – the face is rather dark, suggesting also courage, but somewhat lethargic in tendency. The bull's head should be noted as a recurrent symbol on the throne. The sign of this suit is represented throughout as engraved or blazoned with the pentagram, typifying the correspondence of the four elements in human nature and that by which they may be governed. In many old Tarot packs this suit stood for current coin, money, deniers. I have not invented the substitution of pentacles and I have no special cause to sustain in respect of the alternative. But the consensus of divinatory meanings is on the side of some change, because the cards do not happen to deal especially with questions of money.

Divinatory Meaning:

Valour, realising intelligence, business and normal intellectual aptitude, sometimes mathematical gifts and attainments of this kind; success in these paths.
8: Hidden Aspects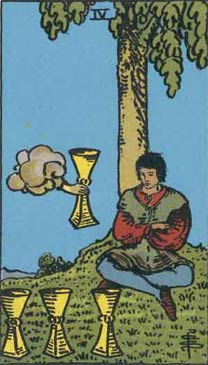 4 of Cups
A young man is seated under a tree and contemplates three cups set on the grass before him; an arm issuing from a cloud offers him another cup. His expression notwithstanding is one of discontent with his environment.

Divinatory Meaning:

Weariness, disgust, aversion, imaginary vexations, as if the wine of this world had caused satiety only; another wine, as if a fairy gift, is now offered the wastrel, but he sees no consolation therein. This is also a card of blended pleasure.
9: Higher Views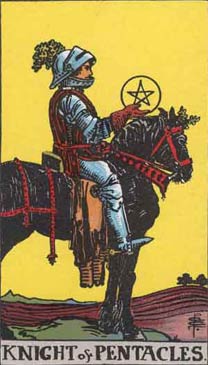 Knight of Pentacles
He rides a slow, enduring, heavy horse, to which his own aspect corresponds. He exhibits his symbol, but does not look therein.

Divinatory Meaning:

Utility, serviceableness, interest, responsibility, rectitude – all on the normal and external plane.
10: Reputation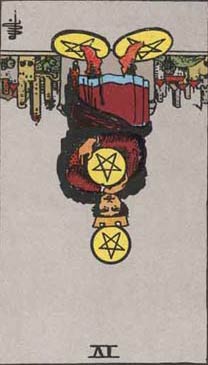 4 of Pentacles
A crowned figure, having a pentacle over his crown, clasps another with hands and arms; two pentacles are under his feet. He holds to that which he has.

Reversed Meaning:

Suspense, delay, opposition.
11: Friends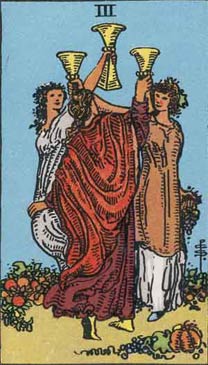 3 of Cups
Maidens in a garden-ground with cups uplifted, as if pledging one another.

Divinatory Meaning:

The conclusion of any matter in plenty, perfection and merriment; happy issue, victory, fulfilment, solace, healing.
12: Hopes and Fears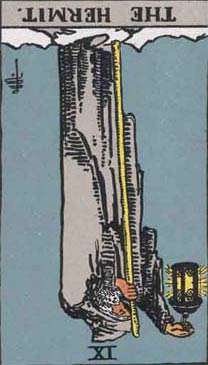 The Hermit
The variation from the conventional models in this card is only that the lamp is not enveloped partially in the mantle of its bearer, who blends the idea of the Ancient of Days with the Light of the World It is a star which shines in the lantern. I have said that this is a card of attainment, and to extend this conception the figure is seen holding up his beacon on an eminence. Therefore, the Hermit is not, as Court de Gebelin explained, a wise man in search of truth and justice; nor is he, as a later explanation proposes, an especial example of experience. His beacon intimates that – where I am, you also may be.

It is further a card which is understood quite incorrectly when it is connected with the idea of occult isolation, as the protection of personal magnetism against admixture. This is one of the frivolous renderings which we owe to Eliphas Levi. It has been adopted by the French Order of Martinism and some of us have heard a great deal of the Silent and Unknown Philosophy enveloped by his mantle from the knowledge of the profane. In true Martinism, the significance of the term Philosophe inconnu was of another order. It did not refer to the intended concealment of the Instituted Mysteries, much less of their substitutes, but – like the card itself – to the truth that the Divine Mysteries secure their own protection from those who are unprepared.

Reversed Meaning:

Concealment, disguise, policy, fear, unreasoned caution.