The Astrological Spread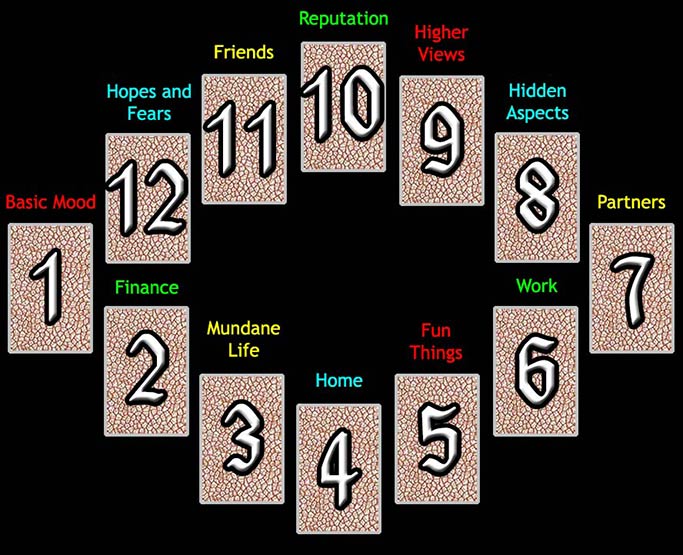 Difficulty: Complicated
The Astrological Tarot Spread is based upon houses of astrology. This complicated spread takes several steps to understand.
The first step is to interpret the tarot card for each individual position in the spread.
The second step involves further examination of the main axes. Positions 1 & 7 show the relationship theme, #1 representing the reader, #7 their partner. Positions 4 & 10 indicate motion. #4 indicates where the reader is now, and #10 suggests what they are moving towards.
The third step involves breaking down the chart into triads according to their house elements.
Positions 1, 5, & 9 represent the Fire triad, symbolizing temperament and personal development.
Positions 2, 6, & 10 represent the Earth triad, concerned with materialism, money, and work.
Positions 3, 7, & 11 represent the Air triad, which has to do with thoughts, ideas, and connections with other people.
Positions 4, 8, & 12 represent the Water triad, the realm of emotions, moods, intuition, and yearnings.
Further, other patterns and correlations between certain numbers can be noted. Certain numbers such as the set of 5, 7, & 8 often speak about a particular theme.
Your Astrological Reading
1: Basic Mood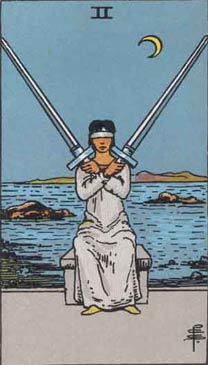 2 of Swords
A hoodwinked female figure balances two swords upon her shoulders.

Divinatory Meaning:

Conformity and the equipoise which it suggests, courage, friendship, concord in a state of arms; another reading gives tenderness, affection, intimacy. The suggestion of harmony and other favourable readings must be considered in a qualified manner, as Swords generally are not symbolical of beneficent forces in human affairs.
2: Finance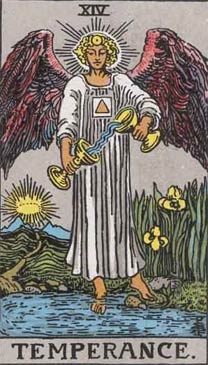 Temperance
A winged angel, with the sign of the sun upon his forehead and on his breast the square and triangle of the septenary. I speak of him in the masculine sense, but the figure is neither male nor female. It is held to be pouring the essences of life from chalice to chalice. It has one foot upon the earth and one upon waters, thus illustrating the nature of the essences. A direct path goes up to certain heights on the verge of the horizon, and above there is a great light, through which a crown is seen vaguely. Hereof is some part of the Secret of Eternal Life, as it is possible to man in his incarnation. All the conventional emblems are renounced herein.

So also are the conventional meanings, which refer to changes in the seasons, perpetual movement of life and even the combination of ideas. It is, moreover, untrue to say that the figure symbolises the genius of the sun, though it is the analogy of solar light, realised in the third part of our human triplicity. It is called Temperance fantastically, because, when the rule of it obtains in our consciousness, it tempers, combines and harmonises the psychic and material natures. Under that rule we know in our rational part something of whence we came and whither we are going.

Divinatory Meaning:

Economy, moderation, frugality, management, accommodation.
3: Mundane Life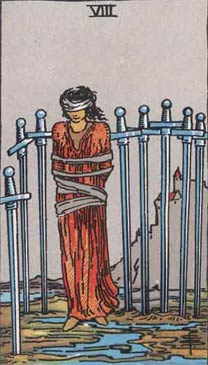 8 of Swords
A woman, bound and hoodwinked, with the swords of the card about her. Yet it is rather a card of temporary durance than of irretrievable bondage.

Divinatory Meaning:

Bad news, violent chagrin, crisis, censure, power in trammels, conflict, calumny; also, sickness.
4: Home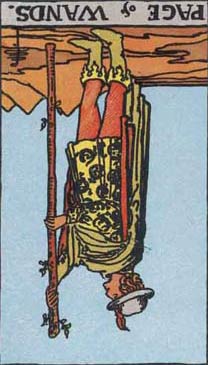 Page of Wands
In a scene similar to the former, a young man stands in the act of proclamation. He is unknown but faithful, and his tidings are strange.

Reversed Meaning:

Anecdotes, announcements, evil news. Also, indecision and the instability which accompanies it.
5: Fun Things
Queen of Swords
Her right hand raises the weapon vertically and the hilt rests on an arm of her royal chair the left hand is extended, the arm raised her countenance is severe but chastened; it suggests familiarity with sorrow. It does not represent mercy, and, her sword notwithstanding, she is scarcely a symbol of power.

Divinatory Meaning:

Widowhood, female sadness and embarrassment, absence, sterility, mourning, privation, separation.
6: Work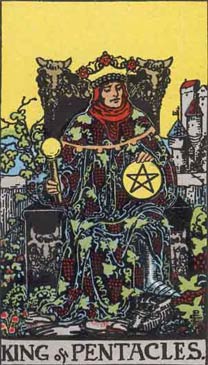 King of Pentacles
The figure calls for no special description – the face is rather dark, suggesting also courage, but somewhat lethargic in tendency. The bull's head should be noted as a recurrent symbol on the throne. The sign of this suit is represented throughout as engraved or blazoned with the pentagram, typifying the correspondence of the four elements in human nature and that by which they may be governed. In many old Tarot packs this suit stood for current coin, money, deniers. I have not invented the substitution of pentacles and I have no special cause to sustain in respect of the alternative. But the consensus of divinatory meanings is on the side of some change, because the cards do not happen to deal especially with questions of money.

Divinatory Meaning:

Valour, realising intelligence, business and normal intellectual aptitude, sometimes mathematical gifts and attainments of this kind; success in these paths.
7: Partners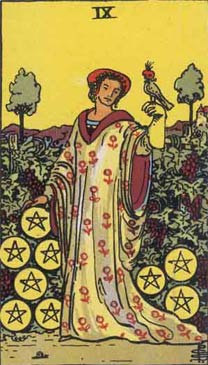 9 of Pentacles
A woman, with a bird upon her wrist, stands amidst a great abundance of grapevines in the garden of a manorial house. It is a wide domain, suggesting plenty in all things. Possibly it is her own possession and testifies to material well-being.

Divinatory Meaning:

Prudence, safety, success, accomplishment, certitude, discernment.
8: Hidden Aspects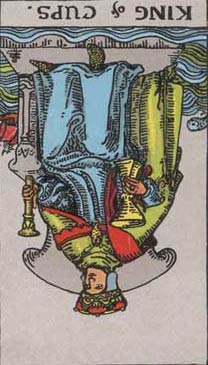 King of Cups
He holds a short sceptre in his left hand and a great cup in his right; his throne is set upon the sea; on one side a ship is riding and on the other a dolphin is leaping. The implicit is that the Sign of the Cup naturally refers to water, which appears in all the court cards.

Reversed Meaning:

Dishonest, double-dealing man; roguery, exaction, injustice, vice, scandal, pillage, considerable loss.
9: Higher Views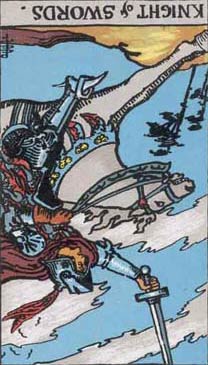 Knight of Swords
He is riding in full course, as if scattering his enemies. In the design he is really a prototypical hero of romantic chivalry. He might almost be Galahad, whose sword is swift and sure because he is clean of heart.

Reversed Meaning:

Imprudence, incapacity, extravagance.
10: Reputation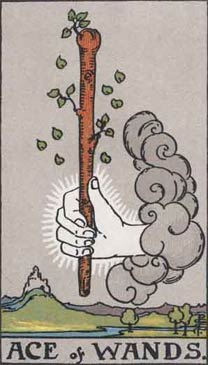 Ace of Wands
A hand issuing from a cloud grasps a stout wand or club.

Divinatory Meaning:

Creation, invention, enterprise, the powers which result in these; principle, beginning, source; birth, family, origin, and in a sense the virility which is behind them; the starting point of enterprises; according to another account, money, fortune, inheritance.
11: Friends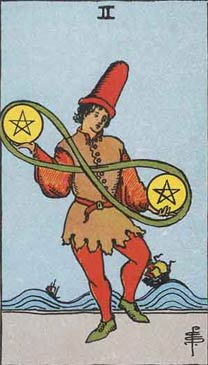 2 of Pentacles
A young man, in the act of dancing, has a pentacle in either hand, and they are joined by that endless cord which is like the number eight reversed.

Divinatory Meaning:

On the one hand it is represented as a card of gaiety, recreation and its connexions, which is the subject of the design; but it is read also as news and messages in writing, as obstacles, agitation, trouble, embroilment.
12: Hopes and Fears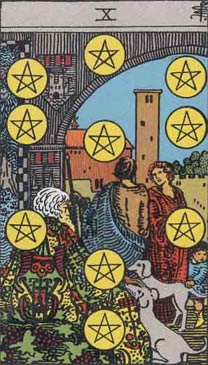 10 of Pentacles
A man and woman beneath an archway which gives entrance to a house and domain. They are accompanied by a child, who looks curiously at two dogs accosting an ancient personage seated in the foreground. The child's hand is on one of them.

Divinatory Meaning:

Gain, riches; family matters, archives, extraction, the abode of a family.