Blind Spot Spread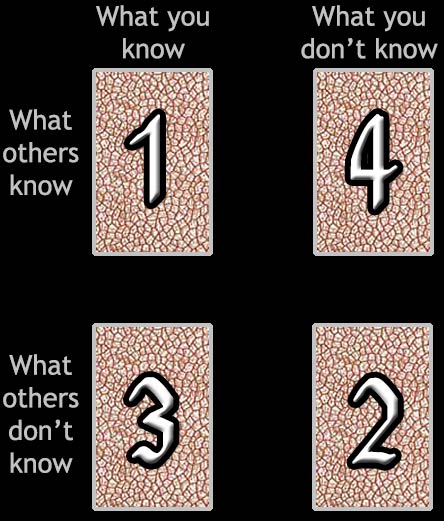 Difficulty: Varies
This tarot spread is used to enhance self-awareness. Questions about learning something about oneself or things that are hidden work very well with this tarot spread, although no question is necessary.
This tarot card displays the obvious identity, the part of oneself that is consciously known and projected to others.
This card indicates unconscious driving forces that neither the reader nor others are aware of about them, the great unknown. Nobody knows what this tarot card means, at least not yet...
The part of oneself that is concealed, to keep others from discovering, is apparent in this card.
This is the Blind Spot. This is what was asked about, that which this reading should bring awareness of. The reader may wish to pay close attention to these mannerisms.
Your Blind Spot Reading
| | | |
| --- | --- | --- |
| | What you know | What you don't know |
| What others know | The Last Judgment | The Chariot |
| | | |
| What others don't know | 2 of Swords | 7 of Cups |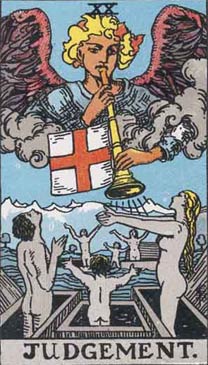 This card displays your obvious identity, the part of you that everyone knows.
The Last Judgment
The great angel is here encompassed by clouds, but he blows his bannered trumpet, and the cross as usual is displayed on the banner. The dead are rising from their tombs – a woman on the right, a man on the left hand, and between them their child, whose back is turned. But in this card there are more than three who are restored, and it has been thought worthwhile to make this variation as illustrating the insufficiency of current explanations. It should be noted that all the figures are as one in the wonder, adoration and ecstasy expressed by their attitudes. It is the card which registers the accomplishment of the great work of transformation in answer to the summons of the Supernal – which summons is heard and answered from within.

Herein is the intimation of a significance which cannot well be carried further in the present place. What is that within us which does sound a trumpet and all that is lower in our nature rises in response – almost in a moment, almost in the twinkling of an eye? Let the card continue to depict, for those who can see no further, the Last judgment and the resurrection in the natural body; but let those who have inward eyes look and discover therewith. They will understand that it has been called truly in the past a card of eternal life, and for this reason it may be compared with that which passes under the name of Temperance.

Divinatory Meaning:

Change of position, renewal, outcome. Another account specifies total loss though lawsuit.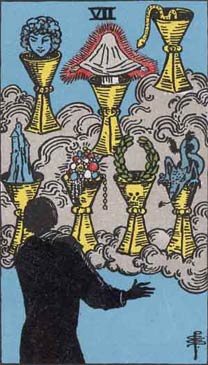 This card shows unconscious driving forces that neither you nor your company is aware of about you. This is the Great Unknown.
7 of Cups
Strange chalices of vision, but the images are more especially those of the fantastic spirit.

Divinatory Meaning:

Fairy favours, images of reflection, sentiment, imagination, things seen in the glass of contemplation; some attainment in these degrees, but nothing permanent or substantial is suggested.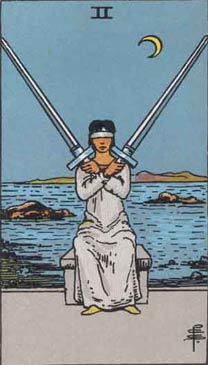 The secrets you keep from others are shown by this card.
2 of Swords
A hoodwinked female figure balances two swords upon her shoulders.

Divinatory Meaning:

Conformity and the equipoise which it suggests, courage, friendship, concord in a state of arms; another reading gives tenderness, affection, intimacy. The suggestion of harmony and other favourable readings must be considered in a qualified manner, as Swords generally are not symbolical of beneficent forces in human affairs.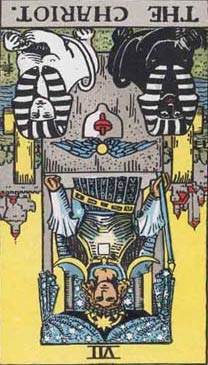 This is your Blind Spot. This is what you asked about – what you wished to be made aware of by this reading.
The Chariot
An erect and princely figure carrying a drawn sword and corresponding, broadly speaking, to the traditional description which I have given in the first part. On the shoulders of the victorious hero are supposed to be the Urim and Thummim. He has led captivity captive; he is conquest on all planes – in the mind, in science, in progress, in certain trials of initiation. He has thus replied to the sphinx, and it is on this account that I have accepted the variation of Eliphas Levi; two sphinxes thus draw his chariot. He is above all things triumph in the mind.

It is to be understood for this reason (a) that the question of the sphinx is concerned with a Mystery of Nature and not of the world of Grace, to which the charioteer could offer no answer; (b) that the planes of his conquest are manifest or external and not within himself; (c) that the liberation which he effects may leave himself in the bondage of the logical understanding; (d) that the tests of initiation through which he has passed in triumph are to be understood physically or rationally; and (e) that if he came to the pillars of that Temple between which the High Priestess is seated, he could not open the scroll called Tora, nor if she questioned him could he answer. He is not hereditary royalty and he is not priesthood.

Reversed Meaning:

Riot, quarrel, dispute, litigation, defeat.