Comic Strip Spread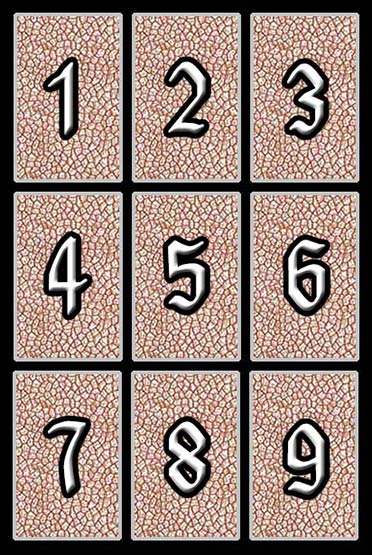 Difficulty: Easy
Note: This spread works best with decks like the Diary of a Broken Soul or Surrealist Tarot because they display scenes rather than pips and do not use reversals.
The Comic Strip Spread is a simple nine-card chronological spread that looks like a page of a comic book. This method should be used to get a glimpse of the future as it would pan out naturally. It may be insightful to use this spread in coordination with biorhythms. The spread is easy to read as a storyboard, just like a comic strip.
The main subject is apparent in the first card, while the story plays out through the following tarot cards.
It is important to pay particular attention to the cards and the relationships with their neighbours. Notice which directions the cards are facing, and how they interact.
Your Comic Strip Reading
| | | |
| --- | --- | --- |
| Page of Wands | 5 of Swords | 7 of Pentacles |
| 4 of Swords | 5 of Wands | 3 of Wands |
| 3 of Swords | Page of Cups | The Empress |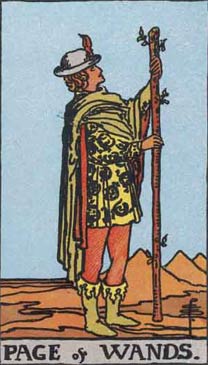 Card 1: Page of Wands
In a scene similar to the former, a young man stands in the act of proclamation. He is unknown but faithful, and his tidings are strange.

Divinatory Meaning:

Dark young man, faithful, a lover, an envoy, a postman. Beside a man, he will bear favourable testimony concerning him. A dangerous rival, if followed by the Page of Cups. Has the chief qualities of his suit. He may signify family intelligence.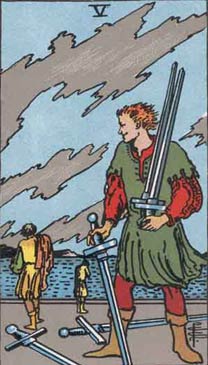 Card 2: 5 of Swords
A disdainful man looks after two retreating and dejected figures. Their swords lie upon the ground. He carries two others on his left shoulder, and a third sword is in his right hand, point to earth. He is the master in possession of the field.

Divinatory Meaning:

Degradation, destruction, revocation, infamy, dishonour, loss, with the variants and analogues of these.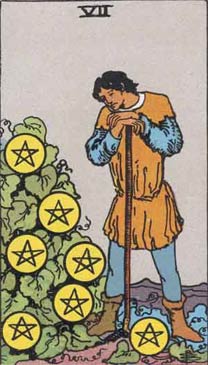 Card 3: 7 of Pentacles
A young man, leaning on his staff, looks intently at seven pentacles attached to a clump of greenery on his right; one would say that these were his treasures and that his heart was there.

Divinatory Meaning:

These are exceedingly contradictory; in the main, it is a card of money, business, barter; but one reading gives altercation, quarrels – and another innocence, ingenuity, purgation.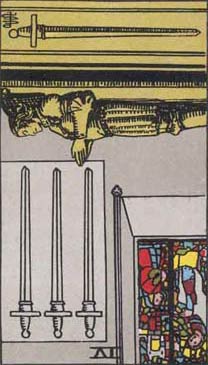 Card 4: 4 of Swords
The effigy of a knight in the attitude of prayer, at full length upon his tomb.

Reversed Meaning:

Wise administration, circumspection, economy, avarice, precaution, testament.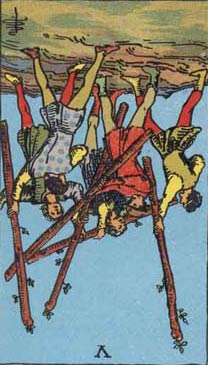 Card 5: 5 of Wands
A posse of youths, who are brandishing staves, as if in sport or strife. It is mimic warfare.

Reversed Meaning:

Litigation, disputes, trickery, contradiction.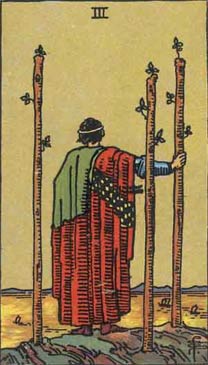 Card 6: 3 of Wands
A calm, stately personage, with his back turned, looking from a cliff's edge at ships passing over the sea. Three staves are planted in the ground, and he leans slightly on one of them.

Divinatory Meaning:

He symbolises established strength, enterprise, effort, trade, commerce, discovery; those are his ships, bearing his merchandise, which are sailing over the sea. The card also signifies able co-operation in business, as if the successful merchant prince were looking from his side towards yours with a view to help you.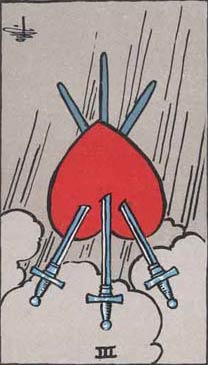 Card 7: 3 of Swords
Three swords piercing a heart; cloud and rain behind.

Reversed Meaning:

Mental alienation, error, loss, distraction, disorder, confusion.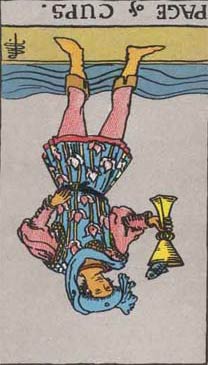 Card 8: Page of Cups
A fair, pleasing, somewhat effeminate page, of studious and intent aspect, contemplates a fish rising from a cup to look at him. It is the pictures of the mind taking form.

Reversed Meaning:

Taste, inclination, attachment, seduction, deception, artifice.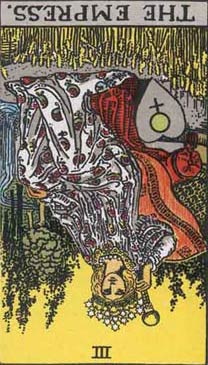 Card 9: The Empress
A stately figure, seated, having rich vestments and royal aspect, as of a daughter of heaven and earth. Her diadem is of twelve stars, gathered in a cluster. The symbol of Venus is on the shield which rests near her. A field of corn is ripening in front of her, and beyond there is a fall of water. The sceptre which she bears is surmounted by the globe of this world. She is the inferior Garden of Eden, the Earthly Paradise, all that is symbolised by the visible house of man. She is not Regina coeli, but she is still refugium peccatorum, the fruitful mother of thousands. There are also certain aspects in which she has been correctly described as desire and the wings thereof, as the woman clothed with the sun, as Gloria Mundi and the veil of the Sanctum Sanctorum; but she is not, I may add, the soul that has attained wings, unless all the symbolism is counted up another and unusual way. She is, above all things, universal fecundity and the outer sense of the Word. This is obvious, because there is no direct message which has been given to man like that which is borne by woman; but she does not herself carry its interpretation.

In another order of ideas, the card of the Empress signifies the door or gate by which an entrance is obtained into this life, as into the Garden of Venus; and then the way which leads out therefrom, into that which is beyond, is the secret known to the High Priestess: it is communicated by her to the elect. Most old attributions of this card are completely wrong on the symbolism – as, for example, its identification with the Word, Divine Nature, the Triad, and so forth.

Reversed Meaning:

Light, truth, the unravelling of involved matters, public rejoicings; according to another reading, vacillation.