Decision Spread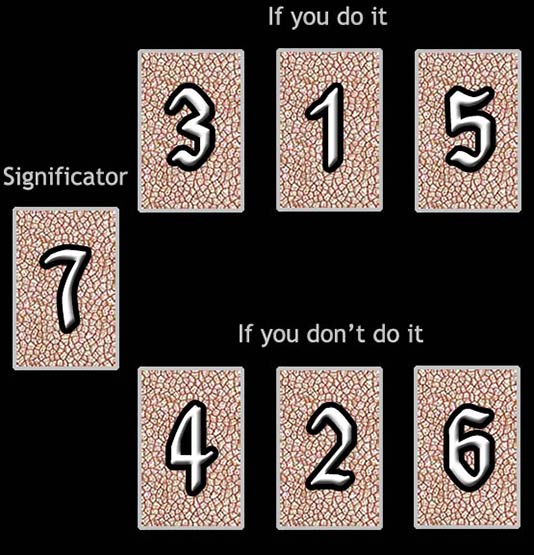 Difficulty: Easy
This simple but highly useful spread calls for a question to be asked in this format:
"What happens if I do (X), and what happens if I do not do (X)?"
Please note that it should not be viewed as a decision between 2 different options, but about whether or not a single option should be exercised. A second option would call for a separate reading.
Card #7 is the significator, the overall theme of the query.
Cards #3, #1, & #5 represent the chronological sequence of events that occurs if you choose to do (X).
Cards #4, #2, & #6 represent the chronological sequence of events that unfolds if you choose NOT to do (X).
Your Decision Reading
The Significator

Ace of Swords
Outcome if you do it:

The Hanged Man

2 of Wands

2 of Cups
Outcome if you don't do it:

Knight of Wands

8 of Wands

5 of Swords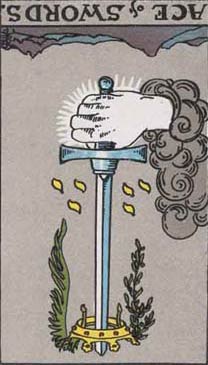 Ace of Swords
A hand issues from a cloud, grasping as word, the point of which is encircled by a crown.

Reversed Meaning:

The same, but the results are disastrous; another account says - conception, childbirth, augmentation, multiplicity.
Outcome if you do it: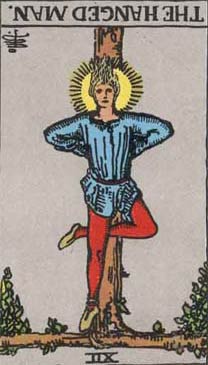 The Hanged Man
The gallows from which he is suspended forms a Tau cross, while the figure - from the position of the legs - forms a fylfot cross. There is a nimbus about the head of the seeming martyr. It should be noted (1) that the tree of sacrifice is living wood, with leaves thereon; (2) that the face expresses deep entrancement, not suffering; (3) that the figure, as a whole, suggests life in suspension, but life and not death. It is a card of profound significance, but all the significance is veiled. One of his editors suggests that Eliphas Levi did not know the meaning, which is unquestionable nor did the editor himself. It has been called falsely a card of martyrdom, a card of prudence, a card of the Great Work, a card of duty; but we may exhaust all published interpretations and find only vanity. It expresses the relation, in one of its aspects, between the Divine and the Universe.

He who can understand that the story of his higher nature is imbedded in this symbolism will receive intimations concerning a great awakening that is possible, and will know that after the sacred Mystery of Death there is a glorious Mystery of Resurrection.

Reversed Meaning:

Selfishness, the crowd, body politic.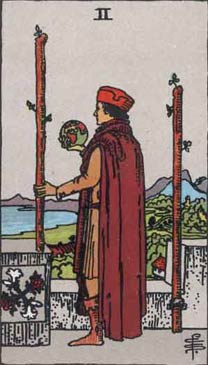 2 of Wands
A tall man looks from a battlemented roof over sea and shore; he holds a globe in his right hand, while a staff in his left rests on the battlement; another is fixed in a ring. The Rose and Cross and Lily should be noticed on the left side.

Divinatory Meaning:

Between the alternative readings there is no marriage possible; on the one hand, riches, fortune, magnificence; on the other, physical suffering, disease, chagrin, sadness, mortification. The design gives one suggestion; here is a lord overlooking his dominion and alternately contemplating a globe; it looks like the malady, the mortification, the sadness of Alexander amidst the grandeur of this world's wealth.
A young lady may expect trivial disappointments.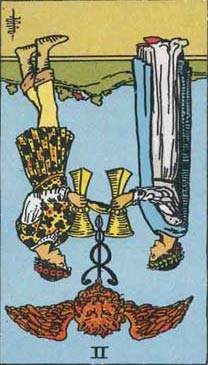 2 of Cups
A youth and maiden are pledging one another, and above their cups rises the Caduceus of Hermes, between the great wings of which there appears a lion's head. It is a variant of a sign which is found in a few old examples of this card. Some curious emblematical meanings are attached to it, but they do not concern us in this place.

Reversed Meaning:

Love, passion, friendship, affinity, union, concord, sympathy, the interrelation of the sexes, and - as a suggestion apart from all offices of divination - that desire which is not in Nature, but by which Nature is sanctified.
Outcome if you do not do it: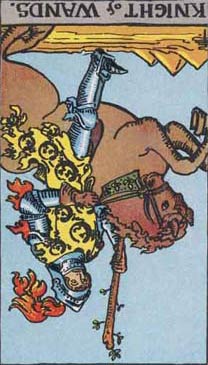 Knight of Wands
He is shewn as if upon a journey, armed with a short wand, and although mailed is not on a warlike errand. He is passing mounds or pyramids. The motion of the horse is a key to the character of its rider, and suggests the precipitate mood, or things connected therewith.

Reversed Meaning:

Rupture, division, interruption, discord.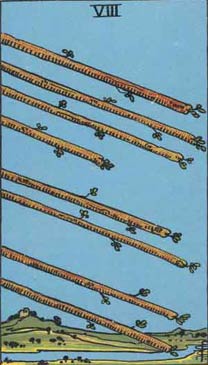 8 of Wands
The card represents motion through the immovable - a flight of wands through an open country; but they draw to the term of their course. That which they signify is at hand; it may be even on the threshold.

Divinatory Meaning:

Activity in undertakings, the path of such activity, swiftness, as that of an express messenger; great haste, great hope, speed towards an end which promises assured felicity; generally, that which is on the move; also the arrows of love.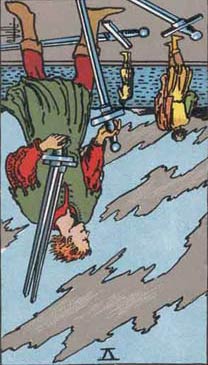 5 of Swords
A disdainful man looks after two retreating and dejected figures. Their swords lie upon the ground. He carries two others on his left shoulder, and a third sword is in his right hand, point to earth. He is the master in possession of the field.

Reversed Meaning:

Degradation, destruction, revocation, infamy, dishonour, loss, with the variants and analogues of these.