Decision Spread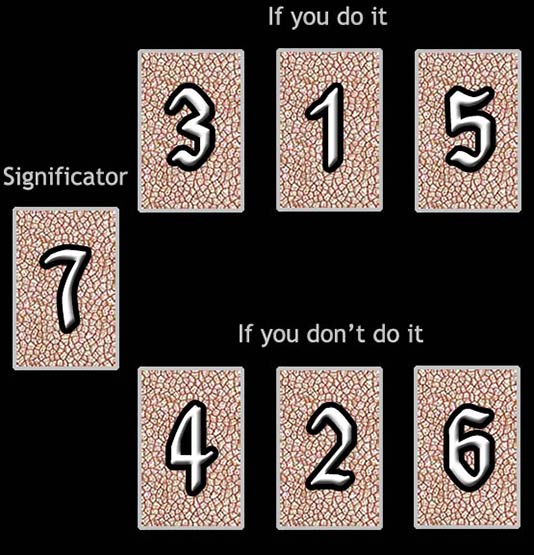 Difficulty: Easy
This simple but highly useful spread calls for a question to be asked in this format:
'What happens if I do (X), and what happens if I do not do (X)?'
Please note that it should not be viewed as a decision between two different options, but about whether a single option should be exercised or not. A second option would call for a separate reading.
Card #7 is the significator, the overall theme of the query.
Cards #3, #1, & #5 represent the chronological sequence of events that occurs if the reader chooses to do (X).
Cards #4, #2, & #6 represent the chronological sequence of events that unfolds if the reader chooses not to do (X).
Your Decision Reading
The Significator

10 of Wands
Outcome if you do it:

10 of Pentacles

King of Wands

Queen of Swords
Outcome if you don't do it:

Queen of Wands

4 of Cups

King of Swords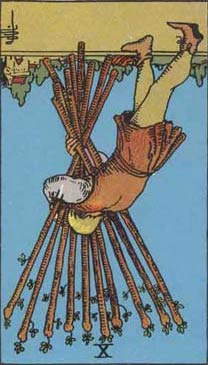 10 of Wands
A man oppressed by the weight of the ten staves which he is carrying.

Reversed Meaning:

Contrarieties, difficulties, intrigues, and their analogies.
Outcome if you do it: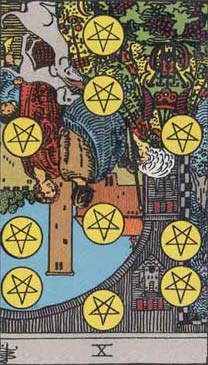 10 of Pentacles
A man and woman beneath an archway which gives entrance to a house and domain. They are accompanied by a child, who looks curiously at two dogs accosting an ancient personage seated in the foreground. The child's hand is on one of them.

Reversed Meaning:

Chance, fatality, loss, robbery, games of hazard; sometimes gift, dowry, pension.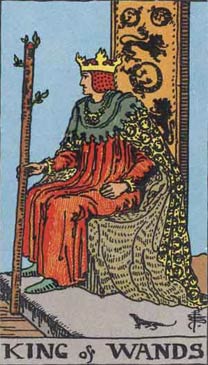 King of Wands
The physical and emotional nature to which this card is attributed is dark, ardent, lithe, animated, impassioned, noble. The King uplifts a flowering wand, and wears, like his three correspondences in the remaining suits, what is called a cap of maintenance beneath his crown. He connects with the symbol of the lion, which is emblazoned on the back of his throne.

Divinatory Meaning:

Dark man, friendly, countryman, generally married, honest and conscientious. The card always signifies honesty, and may mean news concerning an unexpected heritage to fall in before very long.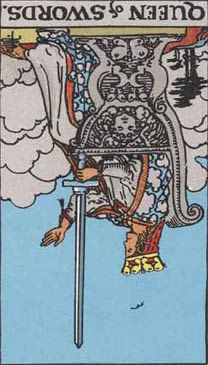 Queen of Swords
Her right hand raises the weapon vertically and the hilt rests on an arm of her royal chair the left hand is extended, the arm raised her countenance is severe but chastened; it suggests familiarity with sorrow. It does not represent mercy, and, her sword notwithstanding, she is scarcely a symbol of power.

Reversed Meaning:

Malice, bigotry, artifice, prudery, bale, deceit.
Outcome if you do not do it: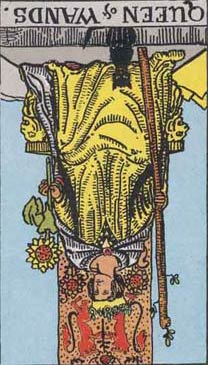 Queen of Wands
The Wands throughout this suit are always in leaf, as it is a suit of life and animation. Emotionally and otherwise, the Queen's personality corresponds to that of the King, but is more magnetic.

Reversed Meaning:

Good, economical, obliging, serviceable. Signifies also – but in certain positions and in the neighbourhood of other cards tending in such directions – opposition, jealousy, even deceit and infidelity.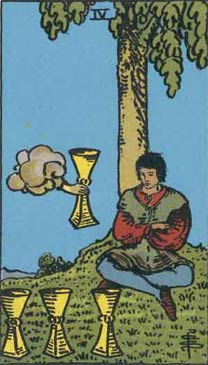 4 of Cups
A young man is seated under a tree and contemplates three cups set on the grass before him; an arm issuing from a cloud offers him another cup. His expression notwithstanding is one of discontent with his environment.

Divinatory Meaning:

Weariness, disgust, aversion, imaginary vexations, as if the wine of this world had caused satiety only; another wine, as if a fairy gift, is now offered the wastrel, but he sees no consolation therein. This is also a card of blended pleasure.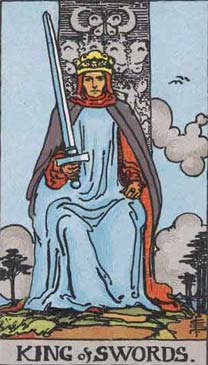 King of Swords
He sits in judgment, holding the unsheathed sign of his suit. He recalls, of course, the conventional Symbol of justice in the Trumps Major, and he may represent this virtue, but he is rather the power of life and death, in virtue of his office.

Divinatory Meaning:

Whatsoever arises out of the idea of judgment and all its connexions – power, command, authority, militant intelligence, law, offices of the crown, and so forth.