Path Spread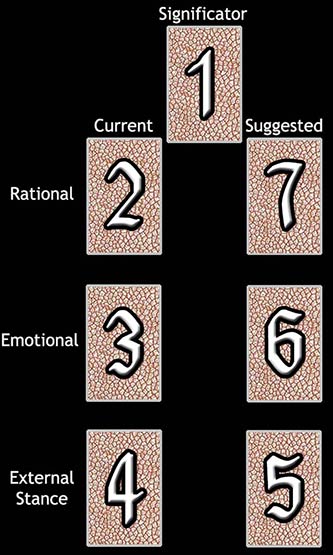 Difficulty: Easy
For the Path, the querent asks for suggestions on how to behave properly in order to achieve a desired result. The Current column shows how the querent has been acting, and the Suggestedcolumn suggests how the querent should act in order to achieve a certain goal. The chart-like spread uses the standard 3 levels: Rational, Emotional, and External Stance (how one projects one's self outwardly). When comparing the Current to Suggested cards, the most important thing is to notice the differences between the 2 cards. It is these differences which hint at the behaviors that you should think about changing.
Card #1 is the significator, the card which should reflect the nature of the query and/or the desired outcome.
Card #2 shows the way you are and have been thinking. Card #7 shows how you need to change the way you think in order to serve yourself better.
Card #3 tells you about your emotional attitude. Though it may seem difficult to manipulate one's own emotions, it can be done if you put your mind to it. For example, acting a certain way such as smiling intently for a few minutes will lead the emotions to follow. If you try this, as silly as the exercise seems, you will find that this evokes the emotion of happiness. For this reading, you should try to make yourself feel the way that Card #6 tells you.
External Stance means how you act outwardly, how you hope others see you. Card #4 tells you how you were acting, while #5 indicates how you should act outwardly, for other people's sake. It is the differences between these cards that hint at what behavior patterns should be altered.
Your Path Reading
Current

The Significator

6 of Pentacles

Suggested

Thought


Ace of Swords

10 of Swords

Emotion


2 of Cups

Ace of Pentacles

External Stance


The Chariot

Queen of Wands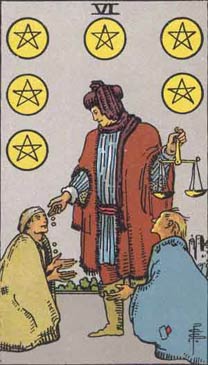 The Significator
6 of Pentacles
A person in the guise of a merchant weighs money in a pair of scales and distributes it to the needy and distressed. It is a testimony to his own success in life, as well as to his goodness of heart.

Divinatory Meaning:

Presents, gifts, gratification another account says attention, vigilance now is the accepted time, present prosperity, etc.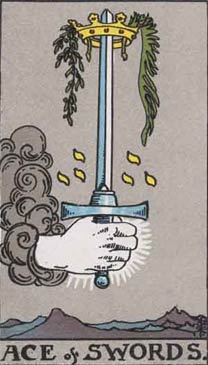 Current Thoughts
Ace of Swords
A hand issues from a cloud, grasping as word, the point of which is encircled by a crown.

Divinatory Meaning:

Triumph, the excessive degree in everything, conquest, triumph of force. It is a card of great force, in love as well as in hatred. The crown may carry a much higher significance than comes usually within the sphere of fortune-telling.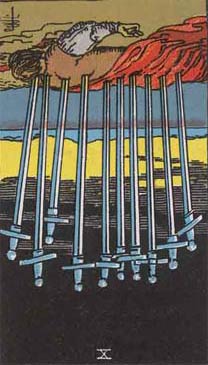 Suggested Thoughts
10 of Swords
A prostrate figure, pierced by all the swords belonging to the card.

Reversed Meaning:

Advantage, profit, success, favour, but none of these are permanent; also power and authority.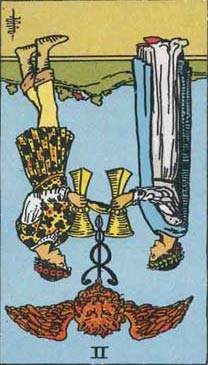 Current Emotions
2 of Cups
A youth and maiden are pledging one another, and above their cups rises the Caduceus of Hermes, between the great wings of which there appears a lion's head. It is a variant of a sign which is found in a few old examples of this card. Some curious emblematical meanings are attached to it, but they do not concern us in this place.

Reversed Meaning:

Love, passion, friendship, affinity, union, concord, sympathy, the interrelation of the sexes, and - as a suggestion apart from all offices of divination - that desire which is not in Nature, but by which Nature is sanctified.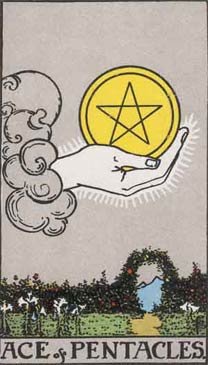 Suggested Emotions
Ace of Pentacles
A hand - issuing from a cloud - holds up a pentacle.

Divinatory Meaning:

Perfect contentment, felicity, ecstasy; also speedy intelligence; gold.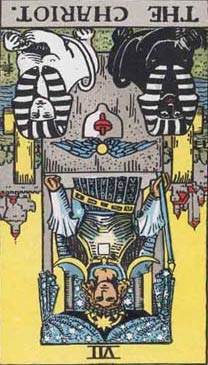 Current External Stance
The Chariot
An erect and princely figure carrying a drawn sword and corresponding, broadly speaking, to the traditional description which I have given in the first part. On the shoulders of the victorious hero are supposed to be the Urim and Thummim. He has led captivity captive; he is conquest on all planes - in the mind, in science, in progress, in certain trials of initiation. He has thus replied to the sphinx, and it is on this account that I have accepted the variation of Eliphas Levi; two sphinxes thus draw his chariot. He is above all things triumph in the mind.

It is to be understood for this reason (a) that the question of the sphinx is concerned with a Mystery of Nature and not of the world of Grace, to which the charioteer could offer no answer; (b) that the planes of his conquest are manifest or external and not within himself; (c) that the liberation which he effects may leave himself in the bondage of the logical understanding; (d) that the tests of initiation through which he has passed in triumph are to be understood physically or rationally; and (e) that if he came to the pillars of that Temple between which the High Priestess is seated, he could not open the scroll called Tora, nor if she questioned him could he answer. He is not hereditary royalty and he is not priesthood.

Reversed Meaning:

Riot, quarrel, dispute, litigation, defeat.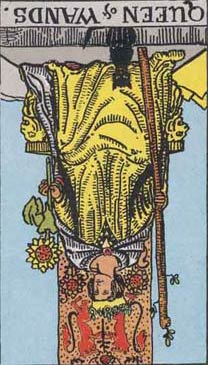 Suggested External Stance
Queen of Wands
The Wands throughout this suit are always in leaf, as it is a suit of life and animation. Emotionally and otherwise, the Queen's personality corresponds to that of the King, but is more magnetic.

Reversed Meaning:

Good, economical, obliging, serviceable. Signifies also - but in certain positions and in the neighbourhood of other cards tending in such directions - opposition, jealousy, even deceit and infidelity.