The Self-Actualization Pyramids Spread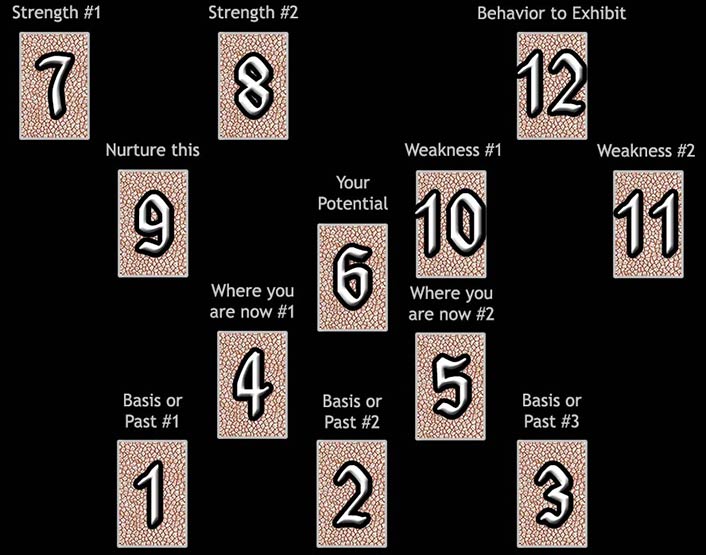 Difficulty: Complicated
Basically there is the main pyramid in the center, and two smaller pyramids on each side. One is inverted.
Positions 1 – 3 represent where you have come from, or what has made you/shaped you on the various levels. Can be from environment, upbringing, schooling etc. A look at the past, but with more objectivity than is usually given when using tarot cards.
Positions 4 – 5 represent "who you are now." May or may not make pleasant reading but hey, this is what this is about right?
Position 6 represents "who you could be." Again it might or might not look good, but you can learn from that and change who you are now accordingly. (This is a bit like how Scrooge did things in "A Christmas Carol")
Positions 7-8 are your strengths. The light you have which can be bought to the forefront. What carries you and should not be hidden or unacknowledged.
Position 9 represents what you should be giving to yourself or creating within.
Position 10 – 11 represent personal areas for development or weaknesses. Again might not make good reading but if you look at your strengths first you will be able to see a balance is there and you can choose to focus on one side or the other… your choice. This is where you could really see how your shadow side comes into play.
Position 12 represents what you should be offering externally, or what you can bring to your world or others who inhabit that world.
Your Self-Actualization Pyramids Reading
| | | | | | | |
| --- | --- | --- | --- | --- | --- | --- |
| Strength #1 | | Strength #2 | | | Exhibit | |
| | Nurture This | | Potential | Infirmity #1 | | Infirmity #2 |
| | | Now #1 | | Now #2 | | |
| | Base (past) #1 | | Base (past) #2 | | Base (past) #3 | |
1: Base #1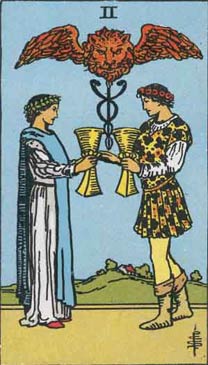 2 of Cups
A youth and maiden are pledging one another, and above their cups rises the Caduceus of Hermes, between the great wings of which there appears a lion's head. It is a variant of a sign which is found in a few old examples of this card. Some curious emblematical meanings are attached to it, but they do not concern us in this place.

Divinatory Meaning:

Love, passion, friendship, affinity, union, concord, sympathy, the interrelation of the sexes, and - as a suggestion apart from all offices of divination - that desire which is not in Nature, but by which Nature is sanctified.
2: Base #2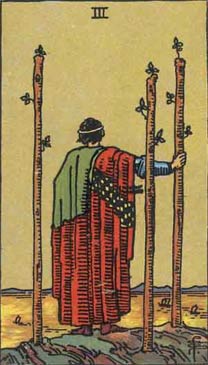 3 of Wands
A calm, stately personage, with his back turned, looking from a cliff's edge at ships passing over the sea. Three staves are planted in the ground, and he leans slightly on one of them.

Divinatory Meaning:

He symbolizes established strength, enterprise, effort, trade, commerce, discovery; those are his ships, bearing his merchandise, which are sailing over the sea. The card also signifies able co-operation in business, as if the successful merchant prince were looking from his side towards yours with a view to help you.
3: Base #3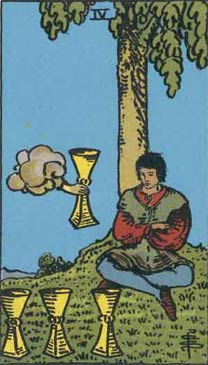 4 of Cups
A young man is seated under a tree and contemplates three cups set on the grass before him; an arm issuing from a cloud offers him another cup. His expression notwithstanding is one of discontent with his environment.

Divinatory Meaning:

Weariness, disgust, aversion, imaginary vexations, as if the wine of this world had caused satiety only; another wine, as if a fairy gift, is now offered the wastrel, but he sees no consolation therein. This is also a card of blended pleasure.
4: Where you are now #1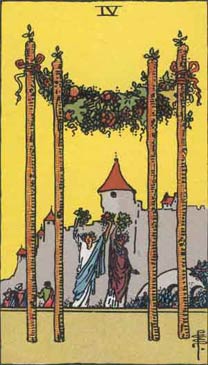 4 of Wands
From the four great staves planted in the foreground there is a great garland suspended; two female figures uplift nosegays; at their side is a bridge over a moat, leading to an old manorial house.

Divinatory Meaning:

They are for once almost on the surface - country life, haven of refuge, a species of domestic harvest-home, repose, concord, harmony, prosperity, peace, and the perfected work of these.
5: Where you are now #2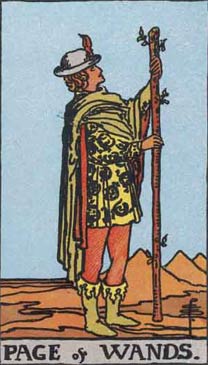 Page of Wands
In a scene similar to the former, a young man stands in the act of proclamation. He is unknown but faithful, and his tidings are strange.

Divinatory Meaning:

Dark young man, faithful, a lover, an envoy, a postman. Beside a man, he will bear favourable testimony concerning him. A dangerous rival, if followed by the Page of Cups. Has the chief qualities of his suit. He may signify family intelligence.
6: Your potential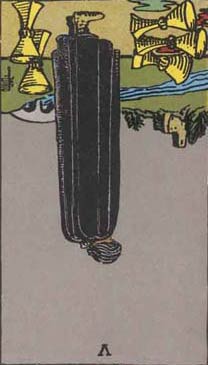 5 of Cups
A dark, cloaked figure, looking sideways at three prone cups two others stand upright behind him; a bridge is in the background, leading to a small keep or holding.

Reversed Meaning:

News, alliances, affinity, consanguinity, ancestry, return, false projects.
7: Strength #1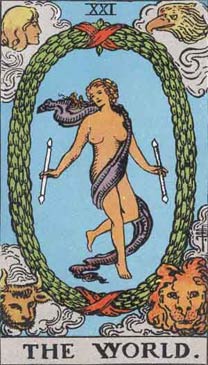 The World
As this final message of the Major Trumps is unchanged - and indeed unchangeable - in respect of its design, it has been partly described already regarding its deeper sense. It represents also the perfection and end of the Cosmos, the secret which is within it, the rapture of the universe when it understands itself in God. It is further the state of the soul in the consciousness of Divine Vision, reflected from the self-knowing spirit. But these meanings are without prejudice to that which I have said concerning it on the material side.

It has more than one message on the macrocosmic side and is, for example, the state of the restored world when the law of manifestation shall have been carried to the highest degree of natural perfection. But it is perhaps more especially a story of the past, referring to that day when all was declared to be good, when the morning stars sang together and all the Sons of God shouted for joy. One of the worst explanations concerning it is that the figure symbolizes the Magus when he has reached the highest degree of initiation; another account says that it represents the absolute, which is ridiculous. The figure has been said to stand for Truth, which is, however, more properly allocated to the seventeenth card. Lastly, it has been called the Crown of the Magi.

Divinatory Meaning:

Assured success, recompense, voyage, route, emigration, flight, change of place.
8: Strength #2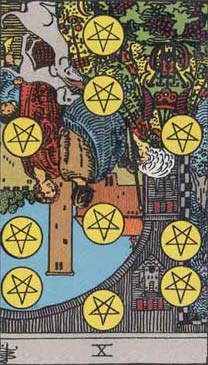 10 of Pentacles
A man and woman beneath an archway which gives entrance to a house and domain. They are accompanied by a child, who looks curiously at two dogs accosting an ancient personage seated in the foreground. The child's hand is on one of them.

Reversed Meaning:

Chance, fatality, loss, robbery, games of hazard; sometimes gift, dowry, pension.
9: Nurture this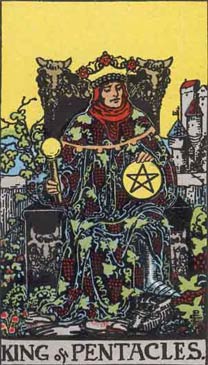 King of Pentacles
The figure calls for no special description - the face is rather dark, suggesting also courage, but somewhat lethargic in tendency. The bull's head should be noted as a recurrent symbol on the throne. The sign of this suit is represented throughout as engraved or blazoned with the pentagram, typifying the correspondence of the four elements in human nature and that by which they may be governed. In many old Tarot packs this suit stood for current coin, money, deniers. I have not invented the substitution of pentacles and I have no special cause to sustain in respect of the alternative. But the consensus of divinatory meanings is on the side of some change, because the cards do not happen to deal especially with questions of money.

Divinatory Meaning:

Valour, realizing intelligence, business and normal intellectual aptitude, sometimes mathematical gifts and attainments of this kind; success in these paths.
10: Weakness #1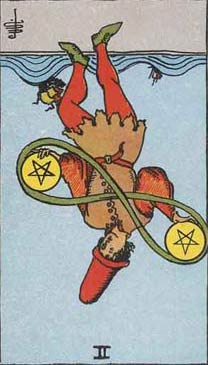 2 of Pentacles
A young man, in the act of dancing, has a pentacle in either hand, and they are joined by that endless cord which is like the number 8 reversed.

Reversed Meaning:

Enforced gaiety, simulated enjoyment, literal sense, handwriting, composition, letters of exchange.
11: Weakness #2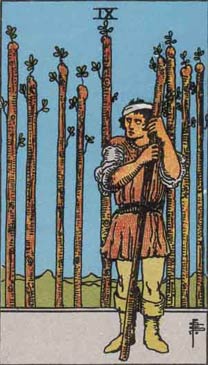 9 of Wands
The figure leans upon his staff and has an expectant look, as if awaiting an enemy. Behind are eight other staves - erect, in orderly disposition, like a palisade.

Divinatory Meaning:

The card signifies strength in opposition. If attacked, the person will meet an onslaught boldly; and his build shews, that he may prove a formidable antagonist. With this main significance there are all its possible adjuncts - delay, suspension, adjournment.
12: Behavior to exhibit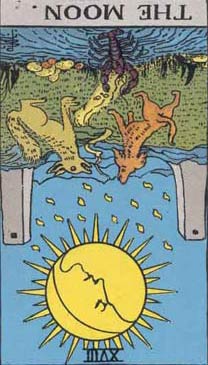 The Moon
The distinction between this card and some of the conventional types is that the moon is increasing on what is called the side of mercy, to the right of the observer. It has sixteen chief and sixteen secondary rays. The card represents life of the imagination apart from life of the spirit. The path between the towers is the issue into the unknown. The dog and wolf are the fears of the natural mind in the presence of that place of exit, when there is only reflected light to guide it.

The last reference is a key to another form of symbolism. The intellectual light is a reflection and beyond it is the unknown mystery which it cannot shew forth. It illuminates our animal nature, types of which are represented below - the dog, the wolf and that which comes up out of the deeps, the nameless and hideous tendency which is lower than the savage beast. It strives to attain manifestation, symbolized by crawling from the abyss of water to the land, but as a rule it sinks back whence it came. The face of the mind directs a calm gaze upon the unrest below; the dew of thought falls; the message is: Peace, be still; and it may be that there shall come a calm upon the animal nature, while the abyss beneath shall cease from giving up a form.

Reversed Meaning:

Instability, inconstancy, silence, lesser degrees of deception and error.