The Self-Actualization Pyramids Spread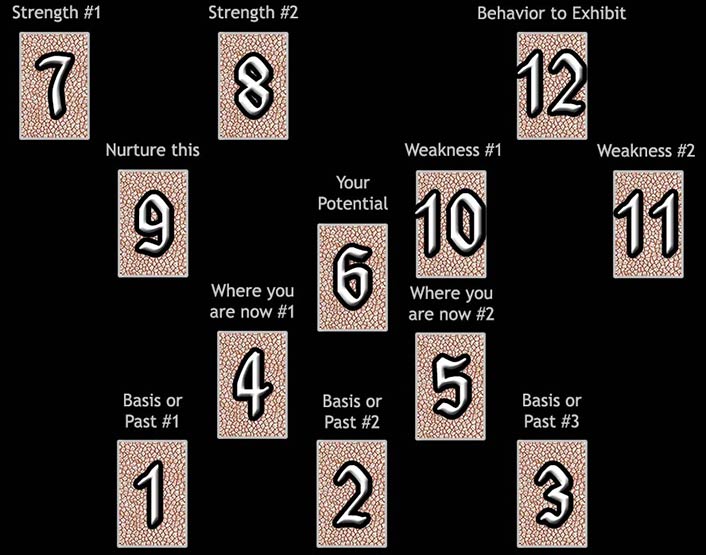 Difficulty: Complicated
Basically there is the main pyramid in the center, and two smaller pyramids on each side. One is inverted.
Positions 1 – 3 represent where you have come from, or what has made you/shaped you on the various levels. Can be from environment, upbringing, schooling etc. A look at the past, but with more objectivity than is usually given when using tarot cards.
Positions 4 – 5 represent "who you are now." May or may not make pleasant reading but hey, this is what this is about right?
Position 6 represents "who you could be." Again it might or might not look good, but you can learn from that and change who you are now accordingly. (This is a bit like how Scrooge did things in "A Christmas Carol")
Positions 7-8 are your strengths. The light you have which can be bought to the forefront. What carries you and should not be hidden or unacknowledged.
Position 9 represents what you should be giving to yourself or creating within.
Position 10 – 11 represent personal areas for development or weaknesses. Again might not make good reading but if you look at your strengths first you will be able to see a balance is there and you can choose to focus on one side or the other… your choice. This is where you could really see how your shadow side comes into play.
Position 12 represents what you should be offering externally, or what you can bring to your world or others who inhabit that world.
Your Self-Actualization Pyramids Reading
| | | | | | | |
| --- | --- | --- | --- | --- | --- | --- |
| Strength #1 | | Strength #2 | | | Exhibit | |
| | Nurture This | | Potential | Infirmity #1 | | Infirmity #2 |
| | | Now #1 | | Now #2 | | |
| | Base (past) #1 | | Base (past) #2 | | Base (past) #3 | |
1: Base #1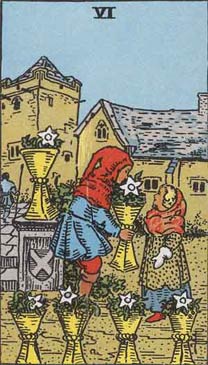 6 of Cups
Children in an old garden, their cups filled with flowers.

Divinatory Meaning:

A card of the past and of memories, looking back, as - for example - on childhood; happiness, enjoyment, but coming rather from the past; things that have vanished. Another reading reverses this, giving new relations, new knowledge, new environment, and then the children are disporting in an unfamiliar precinct.
2: Base #2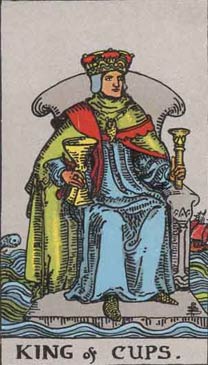 King of Cups
He holds a short sceptre in his left hand and a great cup in his right; his throne is set upon the sea; on one side a ship is riding and on the other a dolphin is leaping. The implicit is that the Sign of the Cup naturally refers to water, which appears in all the court cards.

Divinatory Meaning:

Fair man, man of business, law, or divinity; responsible, disposed to oblige the Querent; also equity, art and science, including those who profess science, law and art; creative intelligence.
3: Base #3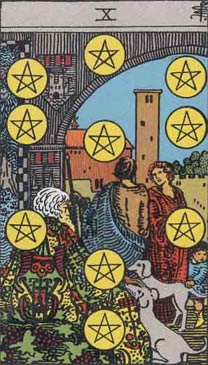 10 of Pentacles
A man and woman beneath an archway which gives entrance to a house and domain. They are accompanied by a child, who looks curiously at two dogs accosting an ancient personage seated in the foreground. The child's hand is on one of them.

Divinatory Meaning:

Gain, riches; family matters, archives, extraction, the abode of a family.
4: Where you are now #1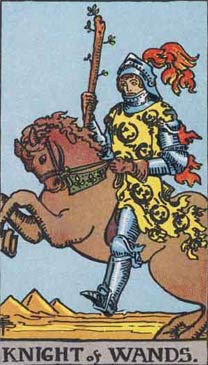 Knight of Wands
He is shewn as if upon a journey, armed with a short wand, and although mailed is not on a warlike errand. He is passing mounds or pyramids. The motion of the horse is a key to the character of its rider, and suggests the precipitate mood, or things connected therewith.

Divinatory Meaning:

Departure, absence, flight, emigration. A dark young man, friendly. Change of residence.
5: Where you are now #2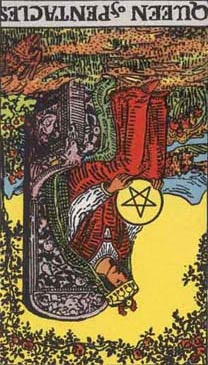 Queen of Pentacles
The face suggests that of a dark woman, whose qualities might be summed up in the idea of greatness of soul; she has also the serious cast of intelligence; she contemplates her symbol and may see worlds therein.

Reversed Meaning:

Evil, suspicion, suspense, fear, mistrust.
6: Your potential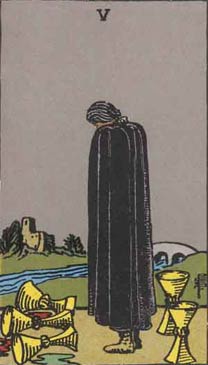 5 of Cups
A dark, cloaked figure, looking sideways at three prone cups two others stand upright behind him; a bridge is in the background, leading to a small keep or holding.

Divinatory Meaning:

It is a card of loss, but something remains over; three have been taken, but two are left; it is a card of inheritance, patrimony, transmission, but not corresponding to expectations; with some interpreters it is a card of marriage, but not without bitterness or frustration.
7: Strength #1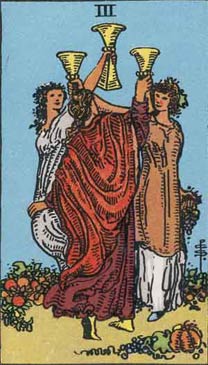 3 of Cups
Maidens in a garden-ground with cups uplifted, as if pledging one another.

Divinatory Meaning:

The conclusion of any matter in plenty, perfection and merriment; happy issue, victory, fulfilment, solace, healing.
8: Strength #2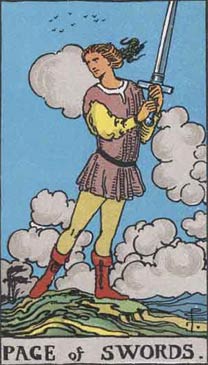 Page of Swords
A lithe, active figure holds a sword upright in both hands, while in the act of swift walking. He is passing over rugged land, and about his way the clouds are collocated wildly. He is alert and lithe, looking this way and that, as if an expected enemy might appear at any moment.

Divinatory Meaning:

Authority, overseeing, secret service, vigilance, spying, examination, and the qualities thereto belonging.
9: Nurture this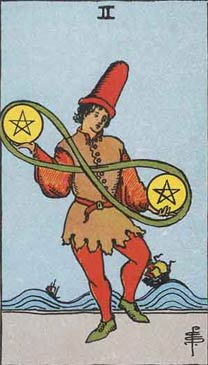 2 of Pentacles
A young man, in the act of dancing, has a pentacle in either hand, and they are joined by that endless cord which is like the number 8 reversed.

Divinatory Meaning:

On the one hand it is represented as a card of gaiety, recreation and its connexions, which is the subject of the design; but it is read also as news and messages in writing, as obstacles, agitation, trouble, embroilment.
10: Weakness #1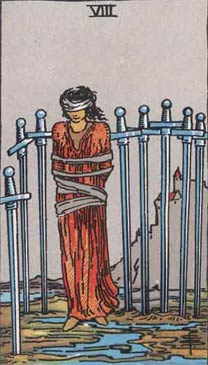 8 of Swords
A woman, bound and hoodwinked, with the swords of the card about her. Yet it is rather a card of temporary durance than of irretrievable bondage.

Divinatory Meaning:

Bad news, violent chagrin, crisis, censure, power in trammels, conflict, calumny; also sickness.
11: Weakness #2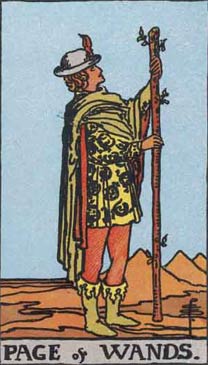 Page of Wands
In a scene similar to the former, a young man stands in the act of proclamation. He is unknown but faithful, and his tidings are strange.

Divinatory Meaning:

Dark young man, faithful, a lover, an envoy, a postman. Beside a man, he will bear favourable testimony concerning him. A dangerous rival, if followed by the Page of Cups. Has the chief qualities of his suit. He may signify family intelligence.
12: Behavior to exhibit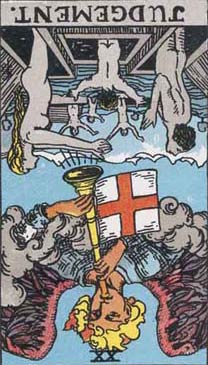 The Last Judgment
The great angel is here encompassed by clouds, but he blows his bannered trumpet, and the cross as usual is displayed on the banner. The dead are rising from their tombs - a woman on the right, a man on the left hand, and between them their child, whose back is turned. But in this card there are more than three who are restored, and it has been thought worth while to make this variation as illustrating the insufficiency of current explanations. It should be noted that all the figures are as one in the wonder, adoration and ecstacy expressed by their attitudes. It is the card which registers the accomplishment of the great work of transformation in answer to the summons of the Supernal - which summons is heard and answered from within.

Herein is the intimation of a significance which cannot well be carried further in the present place. What is that within us which does sound a trumpet and all that is lower in our nature rises in response - almost in a moment, almost in the twinkling of an eye? Let the card continue to depict, for those who can see no further, the Last judgment and the resurrection in the natural body; but let those who have inward eyes look and discover therewith. They will understand that it has been called truly in the past a card of eternal life, and for this reason it may be compared with that which passes under the name of Temperance.

Reversed Meaning:

Weakness, pusillanimity, simplicity; also deliberation, decision, sentence.