The Self-Actualization Pyramids Spread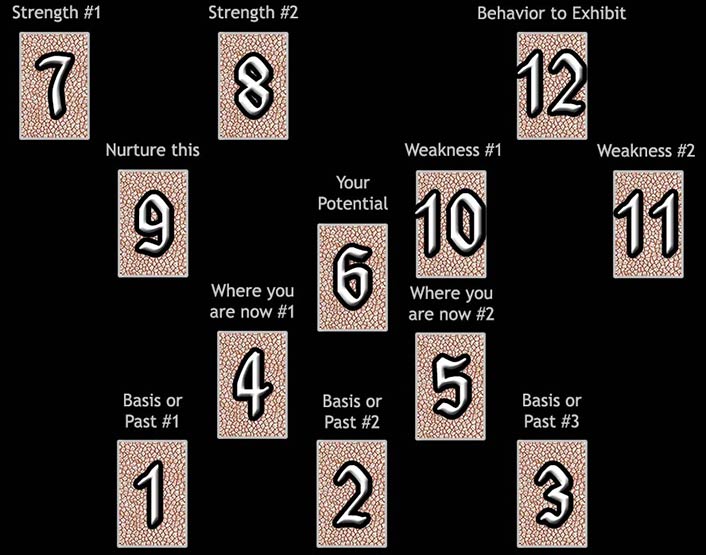 Difficulty: Complicated
Basically there is the main pyramid in the center, and two smaller pyramids on each side. One is inverted.
Positions 1 – 3 represent where you have come from, or what has made you/shaped you on the various levels. Can be from environment, upbringing, schooling etc. A look at the past, but with more objectivity than is usually given when using tarot cards.
Positions 4 – 5 represent "who you are now." May or may not make pleasant reading but hey, this is what this is about right?
Position 6 represents "who you could be." Again it might or might not look good, but you can learn from that and change who you are now accordingly. (This is a bit like how Scrooge did things in "A Christmas Carol")
Positions 7-8 are your strengths. The light you have which can be bought to the forefront. What carries you and should not be hidden or unacknowledged.
Position 9 represents what you should be giving to yourself or creating within.
Position 10 – 11 represent personal areas for development or weaknesses. Again might not make good reading but if you look at your strengths first you will be able to see a balance is there and you can choose to focus on one side or the other… your choice. This is where you could really see how your shadow side comes into play.
Position 12 represents what you should be offering externally, or what you can bring to your world or others who inhabit that world.
Your Self-Actualization Pyramids Reading
| | | | | | | |
| --- | --- | --- | --- | --- | --- | --- |
| Strength #1 | | Strength #2 | | | Exhibit | |
| | Nurture This | | Potential | Infirmity #1 | | Infirmity #2 |
| | | Now #1 | | Now #2 | | |
| | Base (past) #1 | | Base (past) #2 | | Base (past) #3 | |
1: Base #1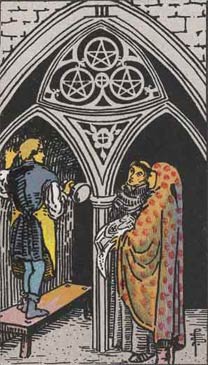 3 of Pentacles
A sculptor at his work in a monastery. Compare the design which illustrates the Eight of Pentacles. The apprentice or amateur therein has received his reward and is now at work in earnest.

Divinatory Meaning:

Metier, trade, skilled labour; usually, however, regarded as a card of nobility, aristocracy, renown, glory.
2: Base #2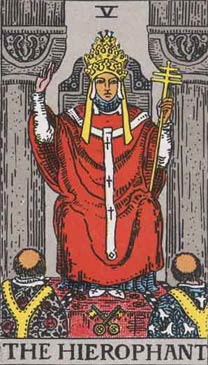 The Hierophant
He wears the triple crown and is seated between two pillars, but they are not those of the Temple which is guarded by the High Priestess. In his left hand he holds a sceptre terminating in the triple cross, and with his right hand he gives the well-known ecclesiastical sign which is called that of esotericism, distinguishing between the manifest and concealed part of doctrine. It is noticeable in this connexion that the High Priestess makes no sign. At his feet are the crossed keys, and two priestly ministers in albs kneel before him. He has been usually called the Pope, which is a particular application of the more general office that he symbolizes. He is the ruling power of external religion, as the High Priestess is the prevailing genius of the esoteric, withdrawn power. The proper meanings of this card have suffered woeful admixture from nearly all hands. Grand Orient says truly that the Hierophant is the power of the keys, exoteric orthodox doctrine, and the outer side of the life which leads to the doctrine; but he is certainly not the prince of occult doctrine, as another commentator has suggested.

He is rather the summa totius theologiae, when it has passed into the utmost rigidity of expression; but he symbolizes also all things that are righteous and sacred on the manifest side. As such, he is the channel of grace belonging to the world of institution as distinct from that of Nature, and he is the leader of salvation for the human race at large. He is the order and the head of the recognized hierarchy, which is the reflection of another and greater hierarchic order; but it may so happen that the pontiff forgets the significance of this his symbolic state and acts as if he contained within his proper measures all that his sign signifies or his symbol seeks to shew forth. He is not, as it has been thought, philosophy - except on the theological side; he is not inspiration; and he is not religion, although he is a mode of its expression.

Divinatory Meaning:

Marriage, alliance, captivity, servitude; by another account, mercy and goodness; inspiration; the man to whom the Querent has recourse.
3: Base #3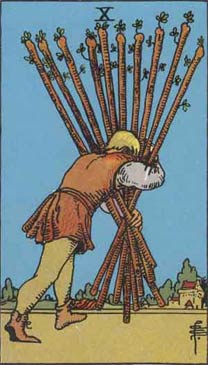 10 of Wands
A man oppressed by the weight of the ten staves which he is carrying.

Divinatory Meaning:

A card of many significances, and some of the readings cannot be harmonized. I set aside that which connects it with honour and good faith. The chief meaning is oppression simply, but it is also fortune, gain, any kind of success, and then it is the oppression of these things. It is also a card of false-seeming, disguise, perfidy. The place which the figure is approaching may suffer from the rods that he carries. Success is stultified if the Nine of Swords follows, and if it is a question of a lawsuit, there will be certain loss.
4: Where you are now #1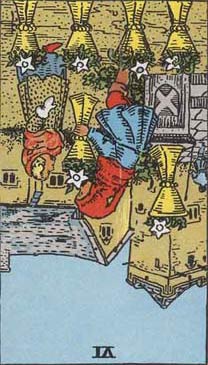 6 of Cups
Children in an old garden, their cups filled with flowers.

Reversed Meaning:

The future, renewal, that which will come to pass presently.
5: Where you are now #2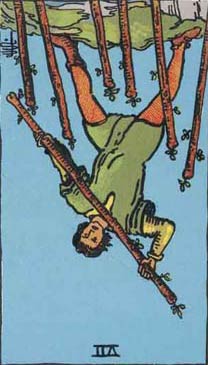 7 of Wands
A young man on a craggy eminence brandishing a staff; six other staves are raised towards him from below.

Reversed Meaning:

Perplexity, embarrassments, anxiety. It is also a caution against indecision.
6: Your potential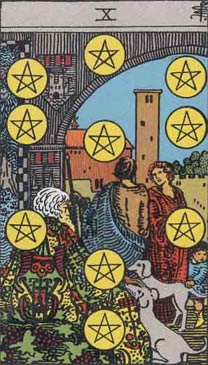 10 of Pentacles
A man and woman beneath an archway which gives entrance to a house and domain. They are accompanied by a child, who looks curiously at two dogs accosting an ancient personage seated in the foreground. The child's hand is on one of them.

Divinatory Meaning:

Gain, riches; family matters, archives, extraction, the abode of a family.
7: Strength #1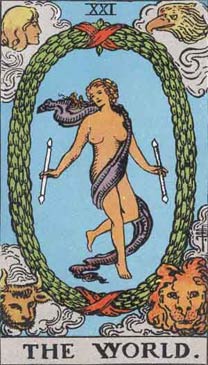 The World
As this final message of the Major Trumps is unchanged - and indeed unchangeable - in respect of its design, it has been partly described already regarding its deeper sense. It represents also the perfection and end of the Cosmos, the secret which is within it, the rapture of the universe when it understands itself in God. It is further the state of the soul in the consciousness of Divine Vision, reflected from the self-knowing spirit. But these meanings are without prejudice to that which I have said concerning it on the material side.

It has more than one message on the macrocosmic side and is, for example, the state of the restored world when the law of manifestation shall have been carried to the highest degree of natural perfection. But it is perhaps more especially a story of the past, referring to that day when all was declared to be good, when the morning stars sang together and all the Sons of God shouted for joy. One of the worst explanations concerning it is that the figure symbolizes the Magus when he has reached the highest degree of initiation; another account says that it represents the absolute, which is ridiculous. The figure has been said to stand for Truth, which is, however, more properly allocated to the seventeenth card. Lastly, it has been called the Crown of the Magi.

Divinatory Meaning:

Assured success, recompense, voyage, route, emigration, flight, change of place.
8: Strength #2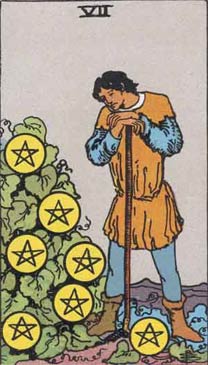 7 of Pentacles
A young man, leaning on his staff, looks intently at seven pentacles attached to a clump of greenery on his right; one would say that these were his treasures and that his heart was there.

Divinatory Meaning:

These are exceedingly contradictory; in the main, it is a card of money, business, barter; but one reading gives altercation, quarrels - and another innocence, ingenuity, purgation.
9: Nurture this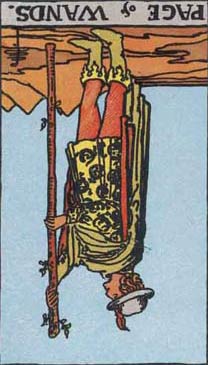 Page of Wands
In a scene similar to the former, a young man stands in the act of proclamation. He is unknown but faithful, and his tidings are strange.

Reversed Meaning:

Anecdotes, announcements, evil news. Also indecision and the instability which accompanies it.
10: Weakness #1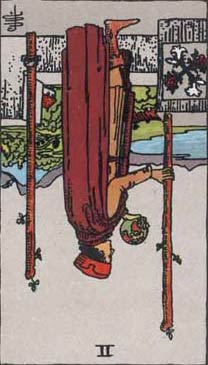 4 of Wands
From the four great staves planted in the foreground there is a great garland suspended; two female figures uplift nosegays; at their side is a bridge over a moat, leading to an old manorial house.

Reversed Meaning:

They are for once almost on the surface - country life, haven of refuge, a species of domestic harvest-home, repose, concord, harmony, prosperity, peace, and the perfected work of these.
11: Weakness #2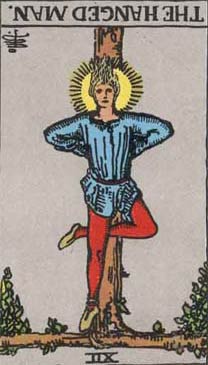 The Hanged Man
The gallows from which he is suspended forms a Tau cross, while the figure - from the position of the legs - forms a fylfot cross. There is a nimbus about the head of the seeming martyr. It should be noted (1) that the tree of sacrifice is living wood, with leaves thereon; (2) that the face expresses deep entrancement, not suffering; (3) that the figure, as a whole, suggests life in suspension, but life and not death. It is a card of profound significance, but all the significance is veiled. One of his editors suggests that Eliphas Levi did not know the meaning, which is unquestionable nor did the editor himself. It has been called falsely a card of martyrdom, a card of prudence, a card of the Great Work, a card of duty; but we may exhaust all published interpretations and find only vanity. It expresses the relation, in one of its aspects, between the Divine and the Universe.

He who can understand that the story of his higher nature is imbedded in this symbolism will receive intimations concerning a great awakening that is possible, and will know that after the sacred Mystery of Death there is a glorious Mystery of Resurrection.

Reversed Meaning:

Selfishness, the crowd, body politic.
12: Behavior to exhibit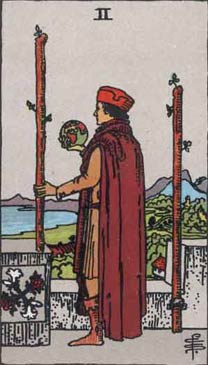 2 of Wands
A tall man looks from a battlemented roof over sea and shore; he holds a globe in his right hand, while a staff in his left rests on the battlement; another is fixed in a ring. The Rose and Cross and Lily should be noticed on the left side.

Divinatory Meaning:

Between the alternative readings there is no marriage possible; on the one hand, riches, fortune, magnificence; on the other, physical suffering, disease, chagrin, sadness, mortification. The design gives one suggestion; here is a lord overlooking his dominion and alternately contemplating a globe; it looks like the malady, the mortification, the sadness of Alexander amidst the grandeur of this world's wealth.
A young lady may expect trivial disappointments.