The Self-Actualization Pyramids Spread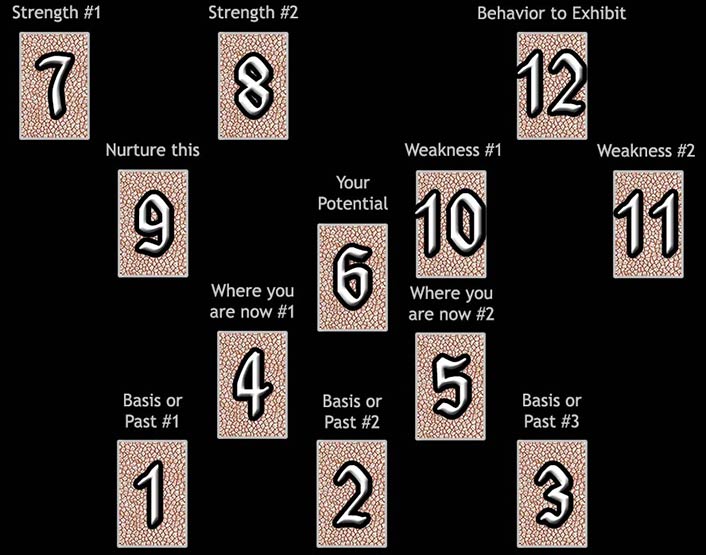 Difficulty: Complicated
Basically there is the main pyramid in the center, and two smaller pyramids on each side. One is inverted.
Positions 1 – 3 represent where you have come from, or what has made you/shaped you on the various levels. Can be from environment, upbringing, schooling etc. A look at the past, but with more objectivity than is usually given when using tarot cards.
Positions 4 – 5 represent "who you are now." May or may not make pleasant reading but hey, this is what this is about right?
Position 6 represents "who you could be." Again it might or might not look good, but you can learn from that and change who you are now accordingly. (This is a bit like how Scrooge did things in "A Christmas Carol")
Positions 7-8 are your strengths. The light you have which can be bought to the forefront. What carries you and should not be hidden or unacknowledged.
Position 9 represents what you should be giving to yourself or creating within.
Position 10 – 11 represent personal areas for development or weaknesses. Again might not make good reading but if you look at your strengths first you will be able to see a balance is there and you can choose to focus on one side or the other… your choice. This is where you could really see how your shadow side comes into play.
Position 12 represents what you should be offering externally, or what you can bring to your world or others who inhabit that world.
Your Self-Actualization Pyramids Reading
| | | | | | | |
| --- | --- | --- | --- | --- | --- | --- |
| Strength #1 | | Strength #2 | | | Exhibit | |
| | Nurture This | | Potential | Infirmity #1 | | Infirmity #2 |
| | | Now #1 | | Now #2 | | |
| | Base (past) #1 | | Base (past) #2 | | Base (past) #3 | |
1: Base #1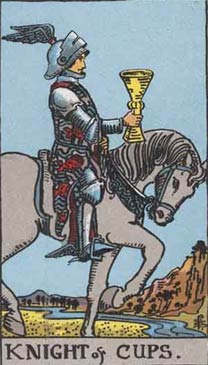 Knight of Cups
Graceful, but not warlike; riding quietly, wearing a winged helmet, referring to those higher graces of the imagination which sometimes characterize this card. He too is a dreamer, but the images of the side of sense haunt him in his vision.

Divinatory Meaning:

Arrival, approach - sometimes that of a messenger; advances, proposition, demeanour, invitation, incitement.
2: Base #2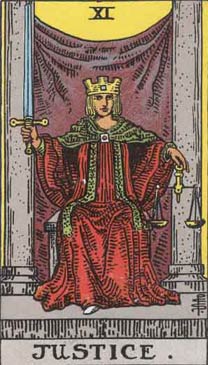 Justice
The figure is seated between pillars, like the High Priestess, and on this account it seems desirable to indicate that the moral principle which deals unto every man according to his works - while, of course, it is in strict analogy with higher things; - differs in its essence from the spiritual justice which is involved in the idea of election. The latter belongs to a mysterious order of Providence, in virtue of which it is possible for certain men to conceive the idea of dedication to the highest things. The operation of this is like the breathing of the Spirit where it wills, and we have no canon of criticism or ground of explanation concerning it. It is analogous to the possession of the fairy gifts and the high gifts and the gracious gifts of the poet: we have them or have not, and their presence is as much a mystery as their absence. The law of Justice is not however involved by either alternative. In conclusion, the pillars of Justice open into one world and the pillars of the High Priestess into another.

Divinatory Meaning:

Equity, rightness, probity, executive; triumph of the deserving side in law.
3: Base #3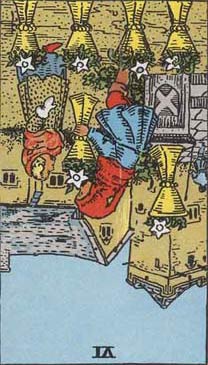 6 of Cups
Children in an old garden, their cups filled with flowers.

Reversed Meaning:

The future, renewal, that which will come to pass presently.
4: Where you are now #1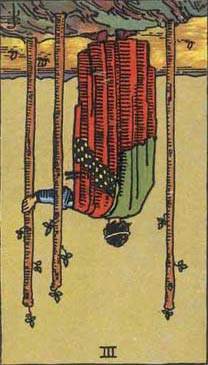 3 of Wands
A calm, stately personage, with his back turned, looking from a cliff's edge at ships passing over the sea. Three staves are planted in the ground, and he leans slightly on one of them.

Reversed Meaning:

The end of troubles, suspension or cessation of adversity, toil and disappointment.
5: Where you are now #2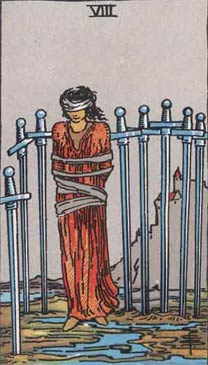 8 of Swords
A woman, bound and hoodwinked, with the swords of the card about her. Yet it is rather a card of temporary durance than of irretrievable bondage.

Divinatory Meaning:

Bad news, violent chagrin, crisis, censure, power in trammels, conflict, calumny; also sickness.
6: Your potential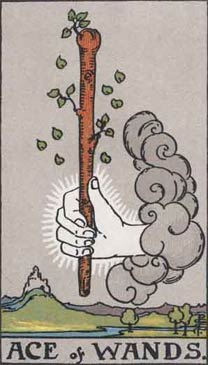 Ace of Wands
A hand issuing from a cloud grasps a stout wand or club.

Divinatory Meaning:

Creation, invention, enterprise, the powers which result in these; principle, beginning, source; birth, family, origin, and in a sense the virility which is behind them; the starting point of enterprises; according to another account, money, fortune, inheritance.
7: Strength #1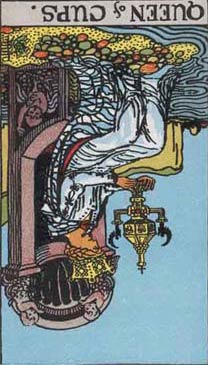 Queen of Cups
Beautiful, fair, dreamy - as one who sees visions in a cup. This is, however, only one of her aspects; she sees, but she also acts, and her activity feeds her dream.

Reversed Meaning:

The accounts vary; good woman; otherwise, distinguished woman but one not to be trusted; perverse woman; vice, dishonour, depravity.
8: Strength #2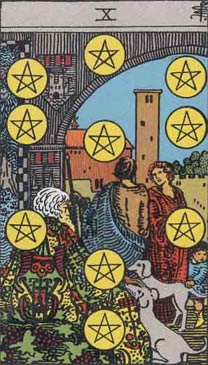 10 of Pentacles
A man and woman beneath an archway which gives entrance to a house and domain. They are accompanied by a child, who looks curiously at two dogs accosting an ancient personage seated in the foreground. The child's hand is on one of them.

Divinatory Meaning:

Gain, riches; family matters, archives, extraction, the abode of a family.
9: Nurture this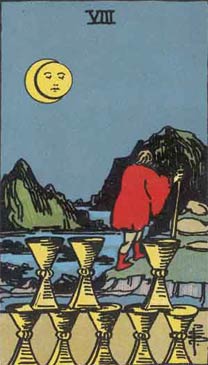 8 of Cups
A man of dejected aspect is deserting the cups of his felicity, enterprise, undertaking or previous concern.

Divinatory Meaning:

The card speaks for itself on the surface, but other readings are entirely antithetical - giving joy, mildness, timidity, honour, modesty. In practice, it is usually found that the card shews the decline of a matter, or that a matter which has been thought to be important is really of slight consequence - either for good or evil.
10: Weakness #1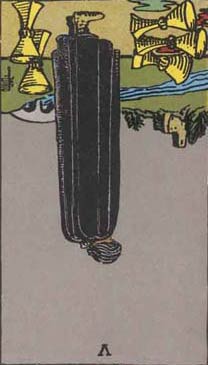 5 of Cups
A dark, cloaked figure, looking sideways at three prone cups two others stand upright behind him; a bridge is in the background, leading to a small keep or holding.

Reversed Meaning:

News, alliances, affinity, consanguinity, ancestry, return, false projects.
11: Weakness #2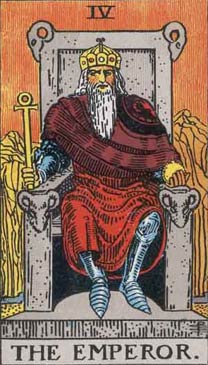 The Emperor
He has a form of the Crux ansata for his sceptre and a globe in his left hand. He is a crowned monarch - commanding, stately, seated on a throne, the arms of which axe fronted by ram heads. He is executive and realization, the power of this world, here clothed with the highest of its natural attributes. He is occasionally represented as seated on a cubic stone, which, however, confuses some of the issues. He is the virile power, to which the Empress responds, and in this sense is he who seeks to remove the Veil of Isis; yet she remains virgo intacta.

It should be understood that this card and that of the Empress do not precisely represent the condition of married life, though this state is implied. On the surface, as I have indicated, they stand for mundane royalty, uplifted on the seats of the mighty; but above this there is the suggestion of another presence. They signify also - and the male figure especially - the higher kingship, occupying the intellectual throne. Hereof is the lordship of thought rather than of the animal world. Both personalities, after their own manner, are full of strange experience, but theirs is not consciously the wisdom which draws from a higher world. The Emperor has been described as (a) will in its embodied form, but this is only one of its applications, and (b) as an expression of virtualities contained in the Absolute Being - but this is fantasy.

Divinatory Meaning:

Stability, power, protection, realization; a great person; aid, reason, conviction; also authority and will.
12: Behavior to exhibit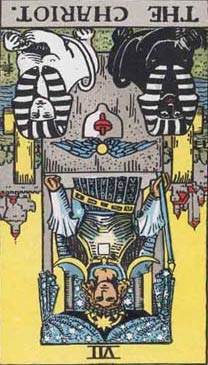 The Chariot
An erect and princely figure carrying a drawn sword and corresponding, broadly speaking, to the traditional description which I have given in the first part. On the shoulders of the victorious hero are supposed to be the Urim and Thummim. He has led captivity captive; he is conquest on all planes - in the mind, in science, in progress, in certain trials of initiation. He has thus replied to the sphinx, and it is on this account that I have accepted the variation of Eliphas Levi; two sphinxes thus draw his chariot. He is above all things triumph in the mind.

It is to be understood for this reason (a) that the question of the sphinx is concerned with a Mystery of Nature and not of the world of Grace, to which the charioteer could offer no answer; (b) that the planes of his conquest are manifest or external and not within himself; (c) that the liberation which he effects may leave himself in the bondage of the logical understanding; (d) that the tests of initiation through which he has passed in triumph are to be understood physically or rationally; and (e) that if he came to the pillars of that Temple between which the High Priestess is seated, he could not open the scroll called Tora, nor if she questioned him could he answer. He is not hereditary royalty and he is not priesthood.

Reversed Meaning:

Riot, quarrel, dispute, litigation, defeat.