One Card Tarot Reading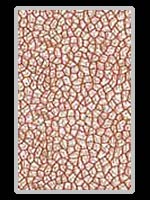 Difficulty: Very easy
The one card tarot reading is best for times when you want to focus on one thing without any potential complications. It can be used for just about any question you can ask, including to draw a card of the day, week, or even your ultimate destiny card. It can also be used in succession, as some readers like to pull one card at a time as a story unfolds. Some readers don't even like to use actual spreads, relying on this method alone.
Your Card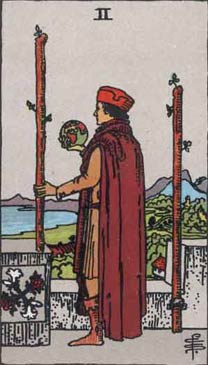 2 of Wands
A tall man looks from a battlemented roof over sea and shore; he holds a globe in his right hand, while a staff in his left rests on the battlement; another is fixed in a ring. The Rose and Cross and Lily should be noticed on the left side.

Divinatory Meaning:

Between the alternative readings there is no marriage possible; on the one hand, riches, fortune, magnificence; on the other, physical suffering, disease, chagrin, sadness, mortification. The design gives one suggestion; here is a lord overlooking his dominion and alternately contemplating a globe; it looks like the malady, the mortification, the sadness of Alexander amidst the grandeur of this world's wealth.
A young lady may expect trivial disappointments.