Three-Card Spread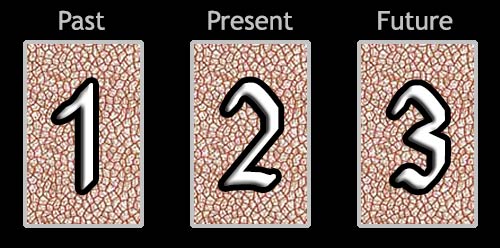 Difficulty: Very easy
This simplistic chronological spread can be used to shed light on the influences that have passed, current influences, and what is approaching in the near future. Not much explanation is necessary for this simple tarot spread.
Your Three-Card Reading
The Past

5 of Wands
The Present

2 of Pentacles
The Future

Ace of Swords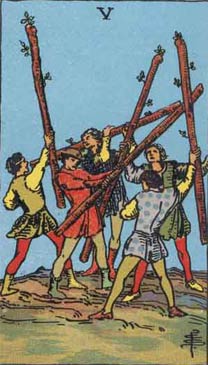 The Past
5 of Wands
A posse of youths, who are brandishing staves, as if in sport or strife. It is mimic warfare.

Divinatory Meaning:

Imitation, as, for example, sham fight, but also the strenuous competition and struggle of the search after riches and fortune. In this sense it connects with the battle of life. Hence some attributions say that it is a card of gold, gain, opulence.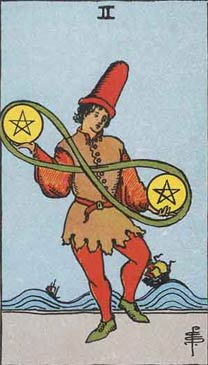 The Present
2 of Pentacles
A young man, in the act of dancing, has a pentacle in either hand, and they are joined by that endless cord which is like the number eight reversed.

Divinatory Meaning:

On the one hand it is represented as a card of gaiety, recreation and its connexions, which is the subject of the design; but it is read also as news and messages in writing, as obstacles, agitation, trouble, embroilment.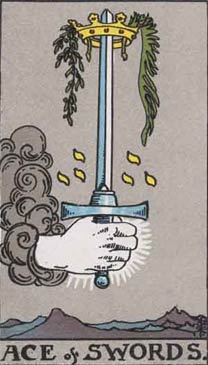 The Future
Ace of Swords
A hand issues from a cloud, grasping as word, the point of which is encircled by a crown.

Divinatory Meaning:

Triumph, the excessive degree in everything, conquest, triumph of force. It is a card of great force, in love as well as in hatred. The crown may carry a much higher significance than comes usually within the sphere of fortune-telling.