3 Card Spread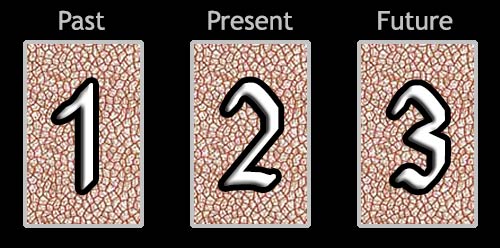 Difficulty: Very easy
This simplistic chronological spread can be used to shed light on the influences that are now behind you, current influences, and what is approaching in the near future. Not much explanation is necessary on this one.
Your 3 Card Reading
The Past

8 of Swords
The Present

7 of Cups
The Future

Justice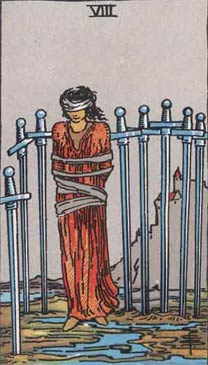 The Past
8 of Swords
A woman, bound and hoodwinked, with the swords of the card about her. Yet it is rather a card of temporary durance than of irretrievable bondage.

Divinatory Meaning:

Bad news, violent chagrin, crisis, censure, power in trammels, conflict, calumny; also sickness.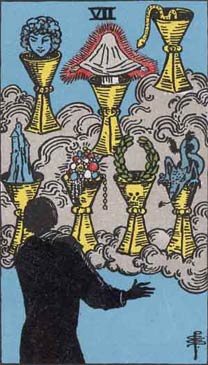 The Present
7 of Cups
Strange chalices of vision, but the images are more especially those of the fantastic spirit.

Divinatory Meaning:

Fairy favours, images of reflection, sentiment, imagination, things seen in the glass of contemplation; some attainment in these degrees, but nothing permanent or substantial is suggested.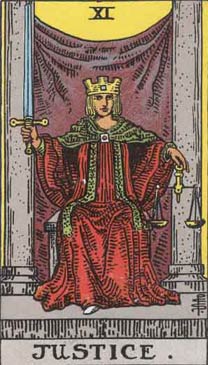 The Future
Justice
The figure is seated between pillars, like the High Priestess, and on this account it seems desirable to indicate that the moral principle which deals unto every man according to his works - while, of course, it is in strict analogy with higher things; - differs in its essence from the spiritual justice which is involved in the idea of election. The latter belongs to a mysterious order of Providence, in virtue of which it is possible for certain men to conceive the idea of dedication to the highest things. The operation of this is like the breathing of the Spirit where it wills, and we have no canon of criticism or ground of explanation concerning it. It is analogous to the possession of the fairy gifts and the high gifts and the gracious gifts of the poet: we have them or have not, and their presence is as much a mystery as their absence. The law of Justice is not however involved by either alternative. In conclusion, the pillars of Justice open into one world and the pillars of the High Priestess into another.

Divinatory Meaning:

Equity, rightness, probity, executive; triumph of the deserving side in law.