3 Card Spread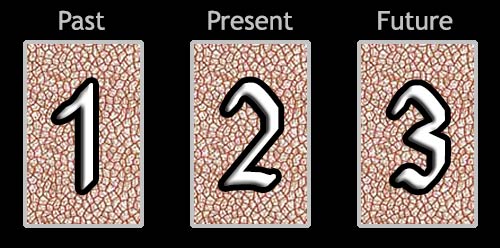 Difficulty: Very easy
This simplistic chronological spread can be used to shed light on the influences that are now behind you, current influences, and what is approaching in the near future. Not much explanation is necessary on this one.
Your 3 Card Reading
The Past

King of Swords
The Present

5 of Swords
The Future

Page of Cups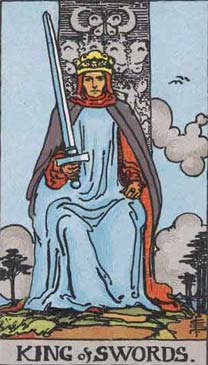 The Past
King of Swords
He sits in judgment, holding the unsheathed sign of his suit. He recalls, of course, the conventional Symbol of justice in the Trumps Major, and he may represent this virtue, but he is rather the power of life and death, in virtue of his office.

Divinatory Meaning:

Whatsoever arises out of the idea of judgment and all its connexions - power, command, authority, militant intelligence, law, offices of the crown, and so forth.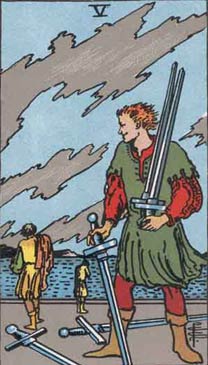 The Present
5 of Swords
A disdainful man looks after two retreating and dejected figures. Their swords lie upon the ground. He carries two others on his left shoulder, and a third sword is in his right hand, point to earth. He is the master in possession of the field.

Divinatory Meaning:

Degradation, destruction, revocation, infamy, dishonour, loss, with the variants and analogues of these.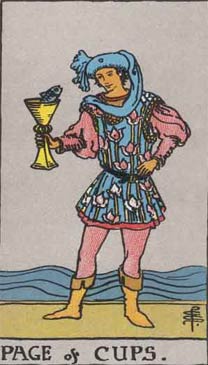 The Future
Page of Cups
A fair, pleasing, somewhat effeminate page, of studious and intent aspect, contemplates a fish rising from a cup to look at him. It is the pictures of the mind taking form.

Divinatory Meaning:

Fair young man, one impelled to render service and with whom the Querent will be connected; a studious youth; news, message; application, reflection, meditation; also these things directed to business.