The Golden Dawn or Thoth Method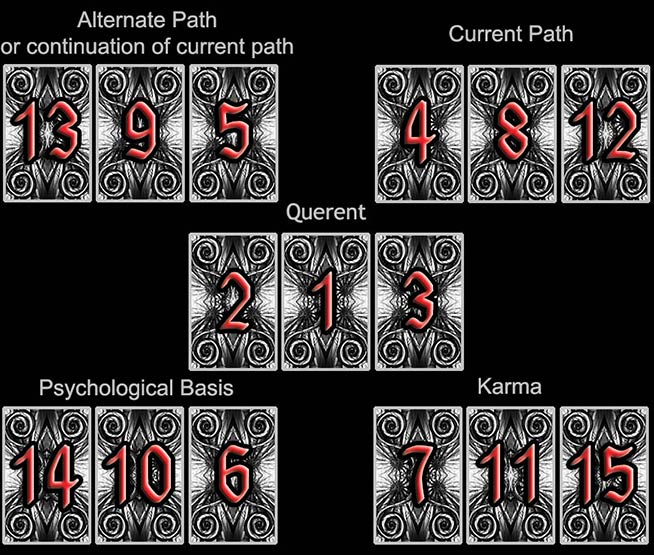 Difficulty: Complicated
Note: Tarot decks that use reversed cards such as the Rider-Waite do not work well with this spread, which was designed to be read using elemental dignity.
The Golden Dawn spread is best suited for use with the bifrost Tarot and especially the Book of Thoth, as these decks are meant to be read a certain way with the court cards. Princes and queens represent actual men and women connected with the matter, while princesses generally represent ideas; thoughts or opinions, and knights represent arrival or departure of a matter depending on the direction faced.
In this tarot spread, particular attention should be paid to a card's exact position in relation to its neighbours. Whether the neighbour cards bear the same energy (suit) determines whether a card is considered well-dignified or ill-dignified. Opposite suits ill-dignify each other, while other suits are considered friendly. Tarot cards of the same suit or element strengthen each other.
As with other tarot spreads, it is important to count the cards' tendencies, such as whether there is a lot of one particular suit or number pattern. The patterns reveal special messages. Having several majors present indicates higher forces at work, several cups suggest strong emotions, etc.
Card #1 represents the reader and the nature of the topic at hand.
Cards #2 & #3 are read in extension of #1 to further comprehend the nature of the topic.
The two sets of three tarot cards at the top of the spread represent chronological sets of events. The current path as it would unfold naturally is represented by cards #4, #8, & #12. The alternate path that could be taken is represented by cards #13, #9, & #5. However, if the reader gets the feeling these cards are telling them they go together, then the alternate path is to be considered an extension of the current path, and to be read chronologically in this order: #4, #8, #12, #13, #9, #5. Just keep in mind: this is only if the two paths seem particularly similar.
Cards #14, #10, & #6 shed light upon the psychological undertones of the current issue.
Cards #7, #11, & #15 represent the influences of karma and destiny beyond the reader's control. These cards suggest adapting to this, as fate.
Your Golden Dawn Reading
The Alternate Path
(or Extension of Current Path)
Your Current Path


8 of Swords

King of Pentacles

Page of Wands

9 of Cups

Knight of Swords

10 of Wands
The Querent

Ace of Cups

6 of Cups

Balance
The Psychological Basis
Karma

King of Cups

Fortitude

The Lovers

5 of Cups

2 of Cups

Knight of Pentacles
The Querent
cards represent the querent and the nature of the topic at hand. The first card (in the center of the spread) represents the very core of the matter, and the other two cards around it are added to it in order to further comprehend the nature of the topic.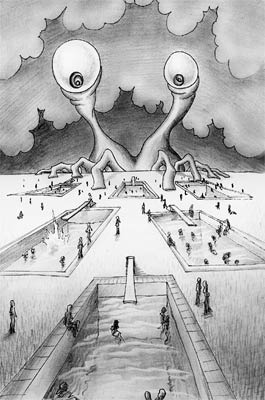 6 of Cups
I have no clue what I was thinking on this one. No clue, but if this card comes into play, remember to watch the horizon.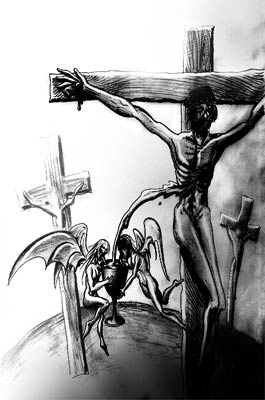 Ace of Cups
AKA 2angels1grail in traditional 4chan. If you're offended, figure out why you're offended and excise the weakness.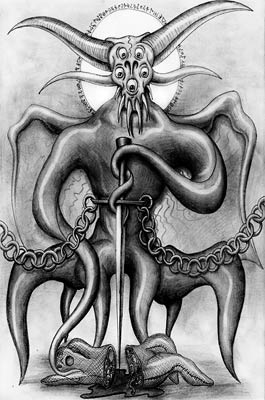 Balance
AKA Justice in traditional Tarot.

Not the scales of a common religious moralist and no longer a cardinal virtue, but the raw, heartless justice of nature.
Your Current Path
cards represent your current path as it would unfold naturally. These cards are read in chronological order from left to right.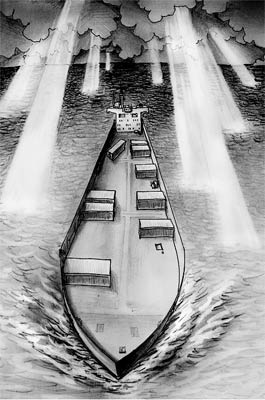 9 of Cups
A whole lot of cargo looks minimal when it's loaded onto a gigantic ship. This applies to more than one might expect.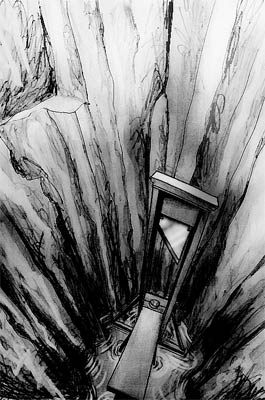 Knight of Swords
The guillotine is the most effective method of killing ever invented. You can poison or shock or stab or shoot people but nothing is so certain to cause death as severing their head. Amazing how fast the world forgot that.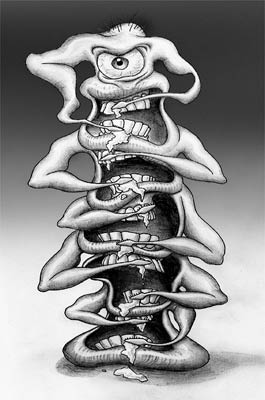 10 of Wands
The average Tarowandian can spend up to 65% of its life span brushing its teeth. No matter what the fates bring, never forget to brush your teeth twice a day and floss. Also be sure to see a dentist twice a year to check for cavities, and brush your gums too to maintain a healthy pink colour. Red gums mean you may be susceptible to GINGIVITIS.
The Alternate Path
cards represent the alternate path that you could choose to take in lieu of the Current Path. However, if the cards that come up seem to indicate that they go along with the Current Path, these three cards should be interpretted not as an Alternate Path, but as a chronological extension of the Current Path (also read from left to right).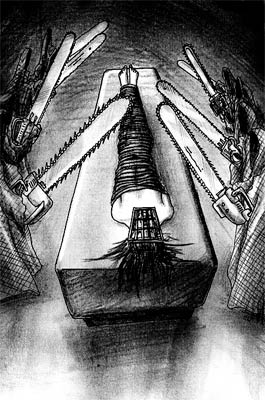 8 of Swords
Why in Pulp Fiction did he go with a Samurai Sword? He had a damn Chainsaw! Half the swords in pawn shops are cheap crap that'll break if you try to use it, chainsaws are dangerous, vicious weapons. It would have been way wiser and way cooler if he went with the Chainsaw. Way cooler.

That aside: It's about sacrifice. Nothing's free and nothing ventured means nothing gained.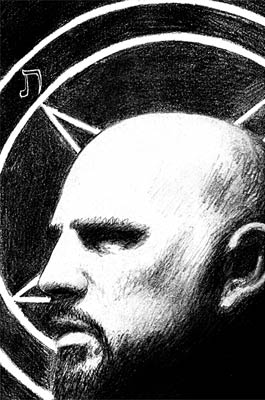 King of Pentacles
A portrait of Anton LaVey, (1930–1997), founder of the Church of Satan and author of The Satanic Bible. Anyone else would be Blasphemy.

You choose who you look up to. If you look up to a musician who does every drug in the book and dies at 25 your results may vary, from admiring the lives of men and women who have changed the world, lived happy and died old.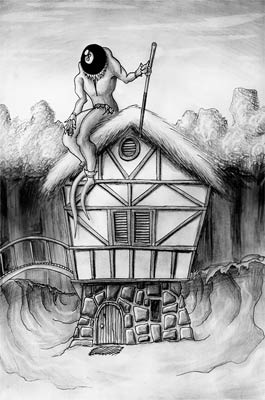 Page of Wands
If you're going to use a pool stick, first be sure that you aren't one of the balls.
The Psychological Basis
cards shed light upon the psychological undertones of the current problem.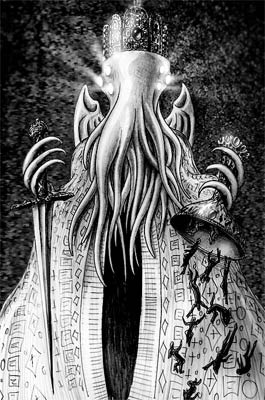 King of Cups
An homage to H.P. Lovecraft and the culture that's grown around his works in the modern world. Charlemagne has been replaced by Cthulhu. Past insanity has been replaced with new insanity, but it's still madness all the same. Don't believe that just because it's changed means it's been fixed.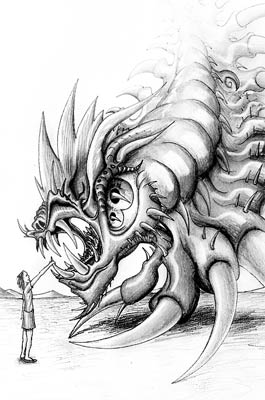 Fortitude
Bravery and strength can get one killed, but they're still pretty badass. Don't fear what you needn't fear, but don't get carried away.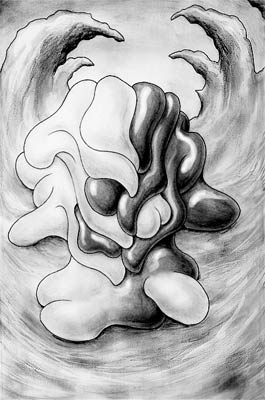 The Lovers
9:00 – Card 6

Male, Air, Sagittarius.

Ceration is the alchemical act of adding a liquid to the substance while heated, yielding a softer substance with a wax-like texture. Not to be confused with alchemical union, but an important step toward it.
Karma
These cards represent the influences of karma and destiny that are beyond your control. They suggest adapting to this fate.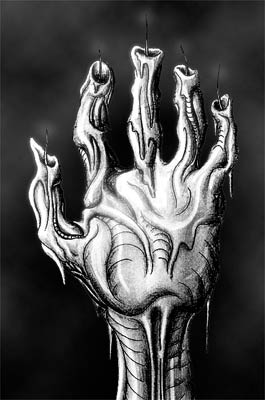 5 of Cups
The problem with a hand of glory is that wax melts and glory fades.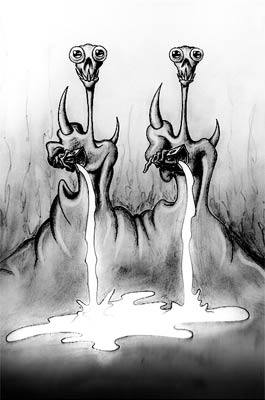 2 of Cups
And two for my homies. Never forget past orthodoxies, past people or past events. Those who don't know their history aren't doomed to repeat it, they're doomed to fail history class and look like idiots. One feels no shame in repeating something they never saw in the first place, but stupidity is the greatest sin.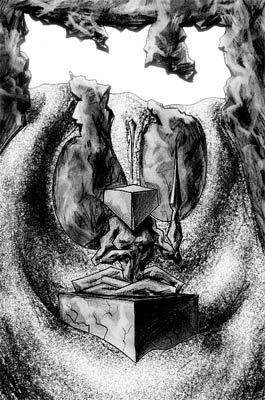 Knight of Pentacles
Stone is hard and sand is soft, yet one can erode the other in time and fundamentally, both are the exact same thing. Odd that the smaller of the two can destroy the larger and make it more like itself. Also note the Wolfs angle rune.