Relationship Spread #1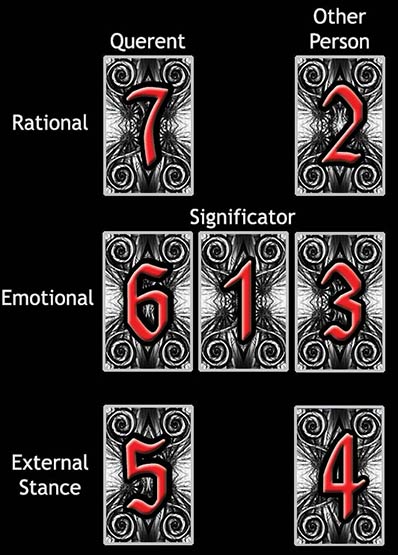 Difficulty: Easy
This tarot spread is easy to read, like a convenient chart. In this spread, court cards generally indicate actual people with the same characteristics. Knights (or corresponding princes, but not kings) and queens are meant to represent actual men and women in this tarot spread. Look for patterns in the cards as always.
Card #1 is the overall significator of the relationship. The two columns on either side of the significator characterise each individual's role in the relationship. The relationship does not have to be romantic. In fact, it could be a relationship between a person and a group, or even how two groups relate.
The top row, cards #7 & #2, is about the conscious thoughts of each person, or what they think about the relationship and likewise how they view their partner.
The middle row, cards #6 & #3, reveals the way each individual feels about the other. Emotional awareness corresponds to a person's unconscious thoughts that run deep, affecting a person in ways he or she is not fully aware of.
The bottom row, cards #5 & #4, represents the way each person behaves, in other words the stance taken regarding the relationship. The way a person acts may be genuine, but sometimes people are phony and manipulative, so it is best to weigh this card against the other person's cards to determine how they match up.
Your Relationship #1 Reading
You
Other Person
Thought

The Star

2 of Cups
Emotion

Knight of Cups
The Significator

Ace of Pentacles

The Chamber
External Stance

The Swamp

2 of Wands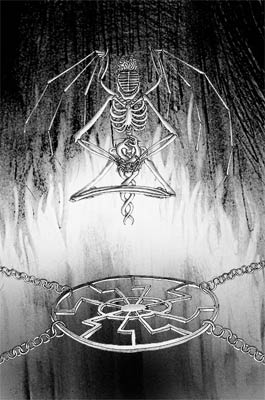 The Significator
Ace of Pentacles
A fencing mask on a skeleton with a cadeceus over a black sun before fire. Refer to the symbolic meaning of each to find the answers you seek.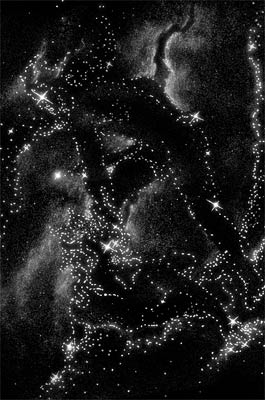 The Querent's Thoughts
The Star
AKA The Star in traditional Tarot.

In this case it's Perseus slaying Medusa, a homage to Marqueste's sculpture.

Crowley explained every man and woman is a star. Astrologically, we all effect the fates with our rises and falls. We also congregate into bodies which are no mere illusion, but powerful forces in time. Other people have power over you, but you too have power over them.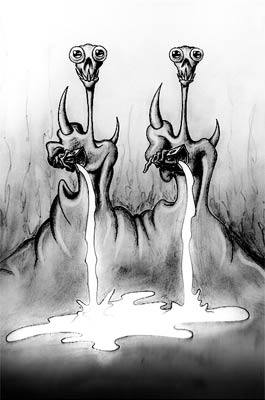 The Other Person's Thoughts
2 of Cups
And two for my homies. Never forget past orthodoxies, past people or past events. Those who don't know their history aren't doomed to repeat it, they're doomed to fail history class and look like idiots. One feels no shame in repeating something they never saw in the first place, but stupidity is the greatest sin.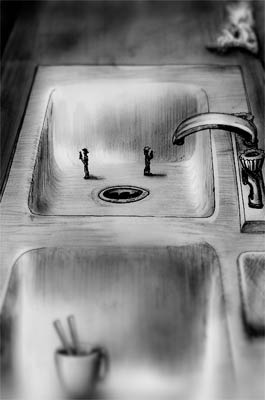 The Querent's Emotions
Knight of Cups
An homage to David Lynch. I don't know what divinatory meaning you might get out of a cowboy duel in a kitchen sink, but please do let me know if you find one.

Traditionally, it means romantic change is coming. If you're smart about it, for the better.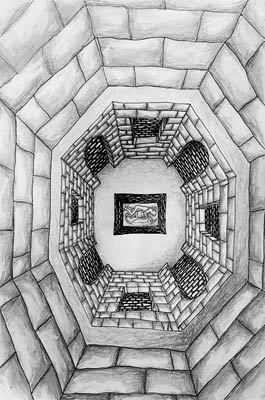 The Other Person's Emotions
The Chamber
AKA The World in traditional Tarot.

The walls and windows are all bricked up, there appears to be no way out, but you got in somehow, so there must be a way. Have you tried looking behind you? Even if you're trapped forever (As you are in this world) there's likely something fun do while you're here.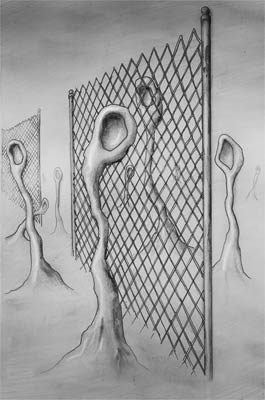 The Querent's External Stance
The Swamp
8:00 – Card 1

AKA Temperance in the traditional Tarot. Male, Earth, Scorpio.

Stagnation, nothing moves, nothing changes. Barriers block every effort to improve or change, not that rock has anywhere to go. The elements and life move around it, grow from it, decay upon it, but it goes nowhere.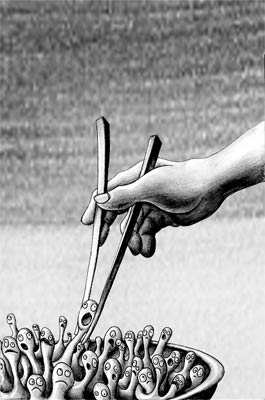 The Other Person's External Stance
2 of Wands
This artist loves Thai food. Tom Yum soup and fried rice mostly. To be honest though I'm very poor at chopsticks.