Blind Spot Spread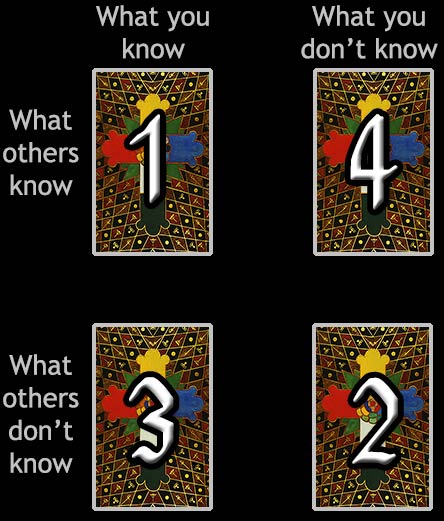 Difficulty: Varies
This tarot spread is used to enhance self-awareness. Questions about learning something about oneself or things that are hidden work very well with this tarot spread, although no question is necessary.
This tarot card displays the obvious identity, the part of oneself that is consciously known and projected to others.
This card indicates unconscious driving forces that neither the reader nor others are aware of about them, the great unknown. Nobody knows what this tarot card means, at least not yet...
The part of oneself that is concealed, to keep others from discovering, is apparent in this card.
This is the Blind Spot. This is what was asked about, that which this reading should bring awareness of. The reader may wish to pay close attention to these mannerisms.
Your Blind Spot Reading
| | | |
| --- | --- | --- |
| | What you know | What you don't know |
| What others know | Prince of Cups | 2 of Swords |
| | | |
| What others don't know | Queen of Wands | The Emperor |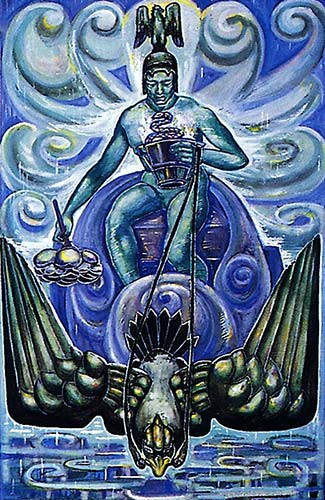 This card displays your obvious identity, the part of you that everyone knows.
Prince of Cups
Scorpio

The Prince of Cups represents the airy part of Water. On the one hand, elasticity, volatility, hydrostatic equilibrium; on the other hand, the catalytic faculty and the energy of steam. He is a warrior partly clad in armour, which seems, however, rather a growth than a covering. His helmet is surmounted by an eagle, and his chariot, which resembles a shell, is also drawn by an eagle. His wings are tenuous, almost of gas. This is a reference to his power of volatilisation understood in the spiritual sense. The whole symbolism of this card is exceedingly complicated, for Scorpio is the most mysterious of the Signs, and the manifested portion of it symbolised by the eagle is in reality the least important part of his nature.

The moral characteristics of the person pictured in this card are subtlety, secret violence, and craft. He is intensely secret, an artist in all his ways. On the surface he appears calm and imperturbable, but this is a mask of the most intense passion. He is on the surface susceptible to external influences, but he accepts them only to transmute them to the advantage of his secret designs. He is thus completely without conscience in the ordinary sense of the word, and is therefore usually distrusted by his neighbours. They feel they do not, and can never, understand him. Thus, he inspires unreasonable fear. He is in fact perfectly ruthless. He cares intensely for power, wisdom, and his own aims.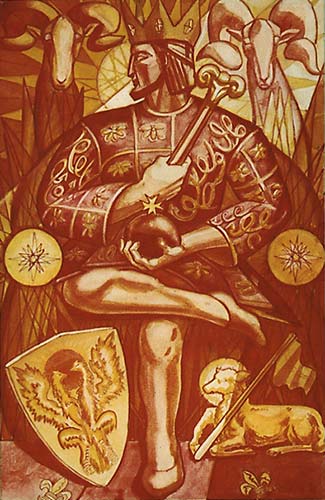 This card shows unconscious driving forces that neither you nor your company is aware of about you. This is the Great Unknown.
The Emperor
Aries

Pour water on thyself thus shalt thou be a Fountain to the Universe. Find thou thyself in every Star. Achieve thou every possibility.

War, conquest, victory, strife, ambition, originality, over-weening confidence and megalomania, quarrelsomeness, energy, vigour, stubbornness, impracticability, rashness, ill- temper.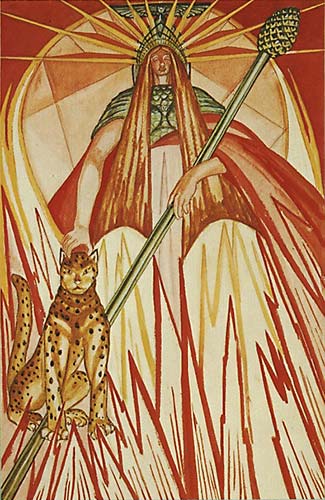 The secrets you keep from others are shown by this card.
Queen of Wands
Aries

The Queen of Wands represents the watery part of Fire, its fluidity and colour. Also, she rules in the Zodiac from the 21st degree of Pisces to the 20th degree of Aries. Her crown is topped with the winged globe and rayed with flame. She is seated upon a throne of flame, ordered into geometrical light by her material power. Beneath the throne the surging flames are steady. She bears a wand in her left hand; but it is topped with a cone suggestive of the mysteries of Bacchus. She is attended by a couchant leopard upon whose head she lays her hand. Her face expresses the ecstasy of one whose mind is well in-drawn to the mystery borne beneath her bosom.

The characteristics of the Queen are adaptability, persistent energy, calm authority which she knows how to use to enhance her attractiveness. She is kindly and generous, but impatient of opposition. She has immense capacity for friendship and for love, but always on her own initiative.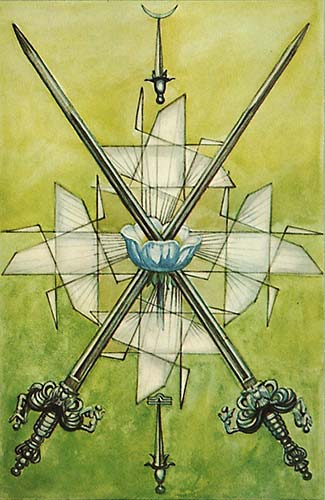 This is your Blind Spot. This is what you asked about – what you wished to be made aware of by this reading.
2 of Swords
Moon in Libra – Peace

The Moon is change, but Nature is peaceful; moreover, Libra represents balance; between them, they regulate the energy of the Swords.

In the card appear two swords crossed; they are united by a blue rose with five petals. This rose represents the influence of the Mother, whose harmonising influence compounds the latent antagonism native to the suit. The Rose emits white rays, producing a geometrical pattern that emphasises the equilibrium of the symbol.