Cross Spread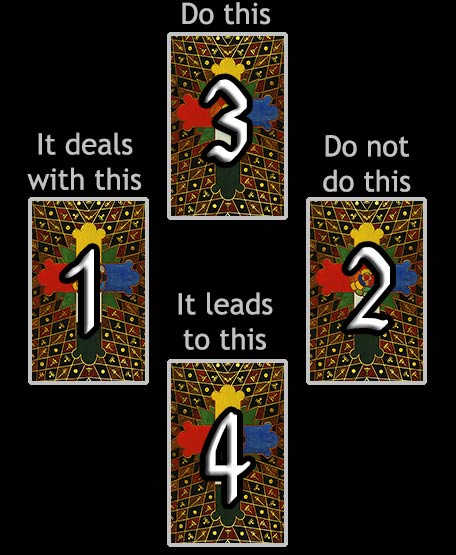 Difficulty: Easy
The Cross Spread is good for questions asking for advice. It can also be used to determine the meaning of a confusing card from a previous reading, or for that matter, to shed light on other points of confusion.
In questions asking advice, this tarot spread is self-explanatory. The main thing is to determine the difference between cards #2 and #3. #1 is the topic and #4 is the result.
In questions regarding confusion, such as: "What was the meaning of Card (X) in the last spread?" the main thing is also to determine the difference between cards #2 and #3. In this case, #2 will show what the card was not referring to, and Card #3 will show what was really meant. Card #1 is the topic and #4 represents the purpose it serves.
Your Cross Reading
DO This

8 of Wands
It Deals with This

Prince of Swords
Do NOT Do This

Queen of Wands
It Leads to This

5 of Wands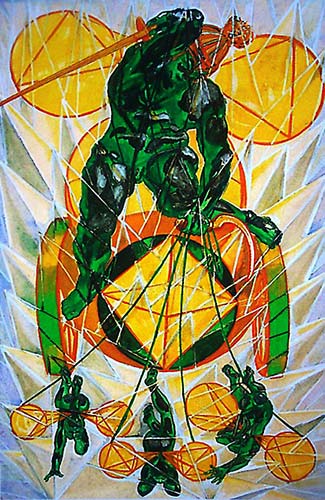 It Deals with This
Prince of Swords
Aquarius

This card represents the airy part of Air. This chariot is drawn by winged children, looking and leaping irresponsibly in any direction that takes their fancy; they are not reined, but perfectly Capricious. The chariot consequently is easy enough to move, but quite unable to progress in any definite direction except by accident. This is a perfect picture of the Mind.

The operation of his logical mental processes has reduced the Air, which is his element, to many diverse geometrical patterns, but in these there is no real plan; they are demonstrations of the powers of the Mind without definite purpose. In his right hand is a lifted sword wherewith to create, but in his left hand a sickle, so that what he creates he instantly destroys. A person thus symbolised is purely intellectual. He is full of ideas and designs which tumble over each other. He is a mass of fine ideals unrelated to practical effort. He has all the apparatus of Thought in the highest degree, intensely clever, admirably rational, but unstable of purpose, and in reality indifferent even to his own ideas, as knowing that any one of them is just as good as any other. He reduces everything to unreality by removing its substance and transmuting it to an ideal world of ratiocination which is purely formal and out of relation to any facts, even those upon which it is based.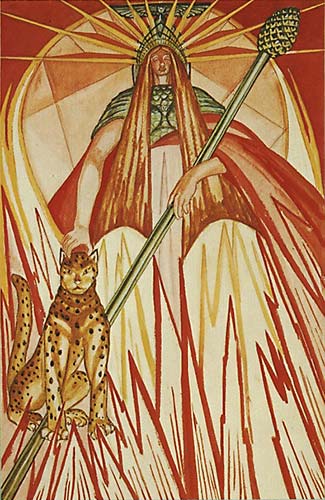 Do NOT Do This
Queen of Wands
Aries

The Queen of Wands represents the watery part of Fire, its fluidity and colour. Also, she rules in the Zodiac from the 21st degree of Pisces to the 20th degree of Aries. Her crown is topped with the winged globe and rayed with flame. She is seated upon a throne of flame, ordered into geometrical light by her material power. Beneath the throne the surging flames are steady. She bears a wand in her left hand; but it is topped with a cone suggestive of the mysteries of Bacchus. She is attended by a couchant leopard upon whose head she lays her hand. Her face expresses the ecstasy of one whose mind is well in-drawn to the mystery borne beneath her bosom.

The characteristics of the Queen are adaptability, persistent energy, calm authority which she knows how to use to enhance her attractiveness. She is kindly and generous, but impatient of opposition. She has immense capacity for friendship and for love, but always on her own initiative.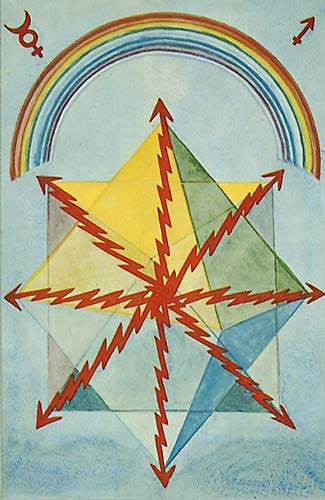 DO This
8 of Wands
Mercury in Sagittarius – Swiftness

The card refers to Hod, splendour, in the suit of Fire, whence it refers to the phenomena of speech, light, electricity. The pictorial representation of the card shows the Light-wands turned into electrical rays, sustaining or even constituting Matter by their vibrating energy. Above this restored universe shines the rainbow; the division of pure light, which deals with maxima, into the seven colours of the spectrum, which exhibit interplay and correlation.

This card, therefore, represents energy of high velocity, such as furnishes the master-key to modern mathematical physics.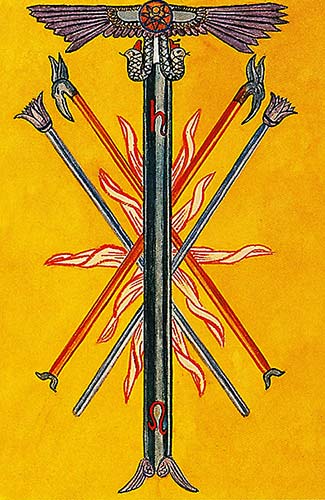 It Leads to This
5 of Wands
Saturn in Leo – Strife

This card is referred to Geburah of the suit of Fire. Geburah itself being fiery, it is a purely active force. It is ruled also by Saturn and Leo. Leo shows the element of Fire at its strongest and most balanced. Saturn tends to weigh it down and to embitter it. There is no limit to the scope of this volcanic energy.

The symbol represents the wand of the Chief Adept, showing that the authority is derived from the superiors; were it not so, this card would be thoroughly disastrous. Moreover, there are also two wands of the Second, or Major Adept. They have the head of the Phoenix, which gives the idea of destruction (or rather purgation) through fire, and the resurrection of the energy from its ashes.