Cross Spread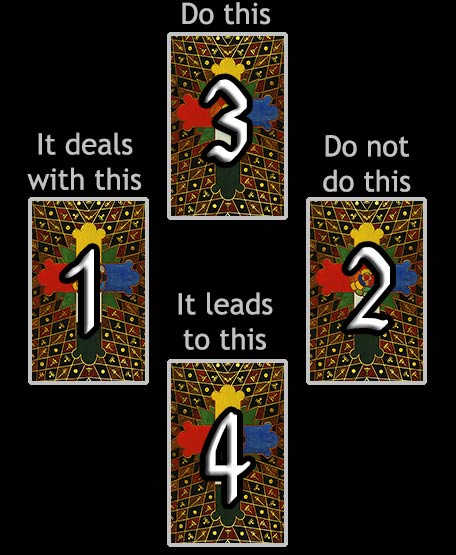 Difficulty: Easy
The Cross Spread is good for questions asking for advice. It can also be used to determine the meaning of a confusing card from a previous reading, or for that matter, to shed light on other points of confusion as well.
In questions asking advice, this spread is self-explanatory. The main thing is to determine the difference between cards #2 and #3. #1 is the topic and #4 is the result.
In questions regarding confusion, such as: "What was the meaning of Card (X) in the last spread?" the main thing is also to determine the difference between cards #2 and #3. In this case, Card #2 will show what the card was not referring to, and Card #3 will show what the card really meant. #1 is the topic and #4 represents the purpose it serves.
Your Cross Reading
DO This

7 of Wands
It Deals with This

The Universe
Do NOT Do This

The Fool
It Leads to This

Adjustment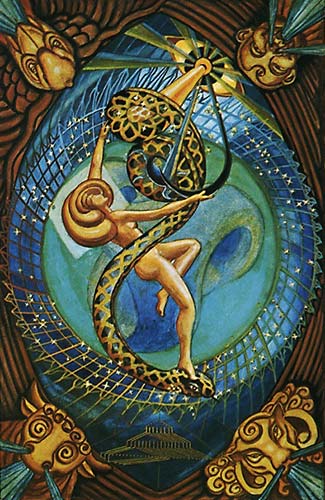 It Deals with This
The Universe
Earth

Treat time and all conditions of Event as Servants of thy Will, appointed to present the Universe to thee in the form of thy Plan. And: blessing and worship to the prophet of the lovely Star.

The matter of the question itself, synthesis, the end of the matter, may mean delay, opposition, obstinacy, inertia, patience, perseverance, persistent stubbornness in difficulty. The crystallization of the whole matter involved.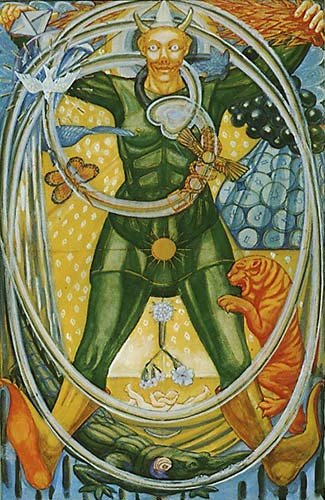 Do NOT Do This
The Fool
Air

In spiritual matters, the Fool means idea, thought, spirituality, that which endeavours to transcend earth.

In material matters, it may, if badly dignified, mean folly, eccentricity, or even mania.

But the essential of this card is that it represents an original, subtle, sudden impulse or impact, coming from a completely strange quarter.

All such impulses are right, if rightly received; and the good or ill interpretation of the card depends entirely on the right attitude of the Querent.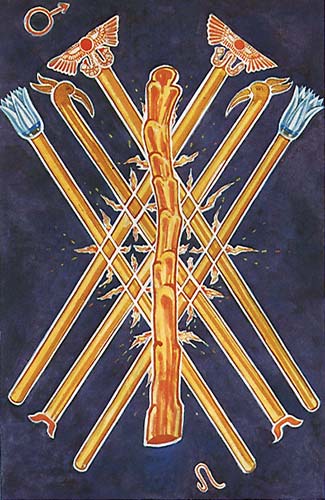 DO This
7 of Wands
Mars in Leo - Valour

This card derives from Netzach (Victory) in the suit of Fire. But the Seven is a weak, earthy, feminine number as regards the Tree of Life, and represents a departure from the balance so low down on the Tree that this implies a loss of confidence.

Fortunately, the card is also attributed to Mars in Leo. The army has been thrown into disorder; if victory is to be won, it will be by dint of individual valour - a "soldiers' battle".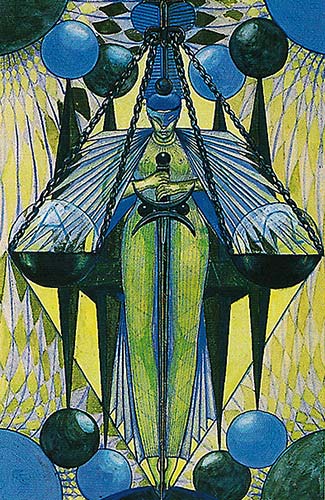 It Leads to This
Adjustment
Libra

Balance against each thought its exact opposite. For the Marriage of these is the Annihilation of Illusion.

Justice, or rather justesse, the act of adjustment, suspension of all action pending decision; in material matters, may refer to law suits or prosecutions. Socially, marriage or marriage agreements; politically, treaties.