One Card Tarot Reading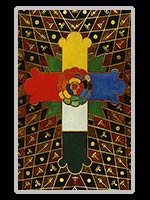 Difficulty: Very easy
The one card tarot reading is best for times when you want to focus on one thing without any potential complications. It can be used for just about any question you can ask, including to draw a card of the day, week, or even your ultimate destiny card. It can also be used in succession, as some readers like to pull one card at a time as a story unfolds. Some readers don't even like to use actual spreads, relying on this method alone.
Your Card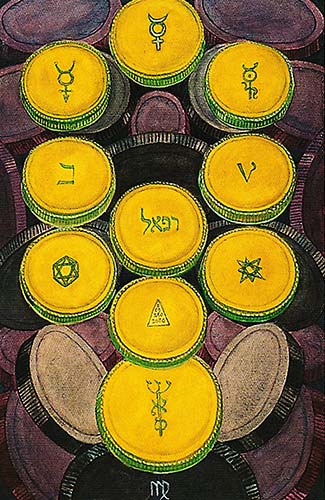 10 of Disks
Mercury in Virgo - Wealth

Mercury rules this card in Virgo; and this may imply that the acquired wealth, being inert, will be dissipated unless put to further use by devoting its power to objects other than mere accumulation. The disks, or (as they have now become) coins, are arranged on the Tree of Life, but the Tenth coin is much larger than the rest; the image indicates the futility of material gain.

These disks are inscribed with various symbols of mercurial character except that the coin in the place of Hod (Mercury) on the Tree is marked with the cipher of the Sun.