One Card Tarot Reading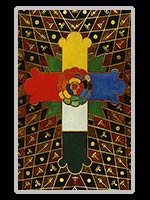 Difficulty: Very easy
The one card tarot reading is best for times when you want to focus on one thing without any potential complications. It can be used for just about any question you can ask, including to draw a card of the day, week, or even your ultimate destiny card. It can also be used in succession, as some readers like to pull one card at a time as a story unfolds. Some readers don't even like to use actual spreads, relying on this method alone.
Your Card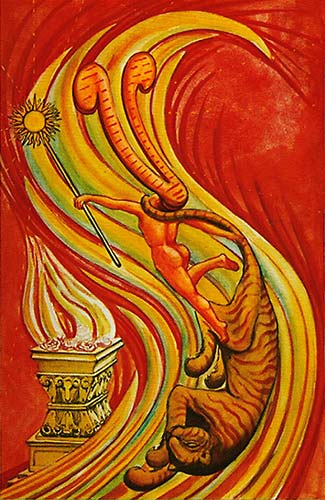 Princess of Wands
The Princess of Wands represents the earthy part of Fire; one might say, she is the fuel of Fire. This expression implies the irresistible chemical attraction of the combustible substance. The Princess is therefore shewn with the plumes of justice streaming like flames from her brow; and she is unclothed, shewing that chemical action can only take place when the element is perfectly free to combine with its partner.

This card may be said to represent the dance of the virgin priestess of the Lords of Fire, for she is in attendance upon the golden altar ornamented with rams' heads) symbolizing the fires of Spring. The character of the Princess is extremely individual. She is brilliant and daring. She creates her own beauty by her essential vigour and energy. The force of her character imposes the impression of beauty upon the beholder. In anger or love she is sudden, violent, and implacable. She consumes all that comes into her sphere. She is ambitious and aspiring, full of enthusiasm which is often irrational. She never forgets an injury, and the only quality of patience to be found in her is the patience with which she lies in ambush to avenge.