One-Card Tarot Reading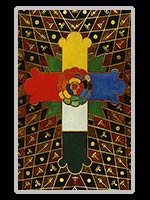 Difficulty: Easiest
The one card tarot reading is best for times when focusing on just one thing without any potential complications is desirable. It can be used for just about any question, including to draw a card of the day, week, or even one's card of ultimate destiny. It can also be used repetitively, as some readers prefer to pull one card at a time, watching as a story unfolds. There are even some readers who don't use tarot spreads at all, relying on this method alone.
Your Card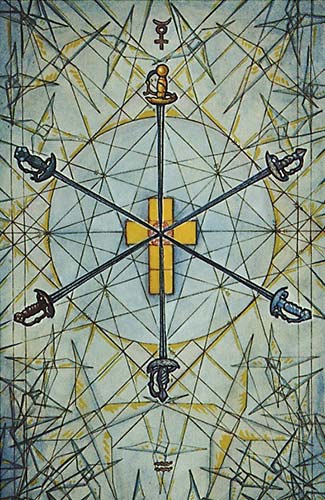 6 of Swords
Mercury in Aquarius – Science

Tiphareth shows the full establishment and balance of the idea of the suit. This is particularly the case with this card, as the intellect itself is also referred to the number Six. Mercury, in Aquarius, represents the celestial Energy influencing the Kerub of the Man, thus showing intelligence and humanity.

But there is much more than this in the symbol. The perfect balance of all mental and moral faculties, hardly won, and almost impossible to hold in an ever-changing world, declares the idea of Science in its fullest interpretation.

The hilts of the Swords, which are very ornamental, are in the form of the hexagram. Their points touch the outer petals of a red rose upon a golden cross of six squares, thus showing the Rosy Cross as the central secret of scientific truth.