Blind Spot Layout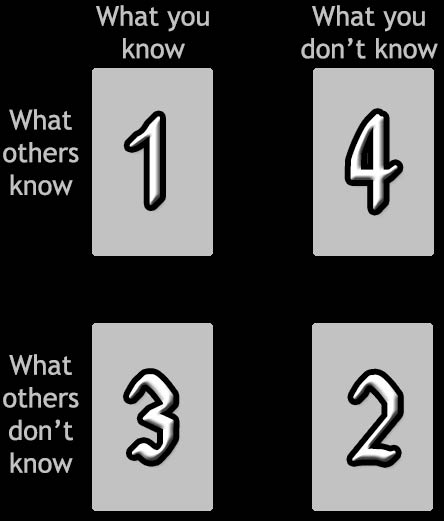 Difficulty: Varies
This layout is used to enhance self-awareness. Questions about learning something about oneself or things that are hidden work very well with this layout, although no question is necessary.
This rune displays the obvious identity, the part of oneself that is consciously known and projected to others.
This rune indicates unconscious driving forces that neither the reader nor others are aware of about them, the great unknown. Nobody knows what this rune means, at least not yet...
The part of oneself that is concealed, to keep others from discovering, is apparent in this rune.
This is the Blind Spot. This is what was asked about, that which this reading should bring awareness of. The reader may wish to pay close attention to these mannerisms.
Your Blind Spot Reading
| | | |
| --- | --- | --- |
| | What you know | What you don't know |
| What others know | Sowilo | Raidho |
| | | |
| What others don't know | Wunjo | Berkano |

This rune displays your obvious identity, the part of you that everyone knows.
Sowilo
Sowilo is the sun; the life source of the world, the destroyer of ice. The life-force, health. A time when you will be able to grab the reins of power to make positive changes in your life. It is a rune of fortune, health, clarity of thought, vitality, accomplishment, and victory. Contact between the higher self and the unconscious.

Success, glory, honour, victory, health, and success. Wholeness, fullness, raw power, primordial force, natural phenomenon, sword of fire, baptism by fire. This very powerful and generally positive rune sheds the light of a sunny day on a reading.

Ill-dignification suggests bad ideals, bad company, tainted victory, trickery. Excessive force, destruction, retribution, bad karma.

This rune shows unconscious driving forces that neither you nor your company is aware of about you. This is the Great Unknown.
Berkano
Berkano is a rune of desire, fertility, birth, growth, regeneration, renewal, new beginnings, celebration, and liberation. A love affair or new birth. A prosperous partnership, team, enterprise, or venture.

Ill-dignification suggests something may be stunting the growth process. It may be necessary to examine your choices, and to go back and correct mistakes before moving forward again. There could be family problems or someone close to you that has you worried. Reckless abandon, going wild. Loss of consciousness, deceit, sterility, stagnation.

The secrets you keep from others are shown by this rune.
Wunjo
An omen of prosperity on the horizon. Projects relating to creativity, art, or intuition are favoured by this rune. A sign of comfort, pleasure, comradery, joy, and harmony.

Glory, ecstasy, and spiritual frenzy. If controlled, success and general increase of one's personal stock. If unloosed, over-enthusiastic zeal can lead to maniacal raving, going berserk. Don't blow your top.

This is your Blind Spot. This is what you asked about - what you wished to be made aware of by this reading.
Raidho
A rune of action and movement, Raidho indicates that business is about to pick up. Travel and movement are suggested, both in immediate terms and those of overall lifestyle. An adventure, journey, vacation, relocation, personal evolution, or other conceivable change of place or perception. Mind expansion.

Knowing what you want and going for it. The personal in rhythm with the world, the dance of life. Raidho's connection to the number 2 is a reminder that there are two sides to every story. Be careful not to get side tracked into a disruptive misadventure that could set you back.