Blind Spot Layout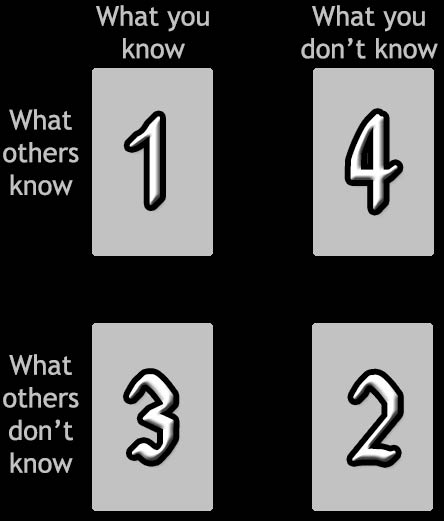 Difficulty: Varies
This layout is used to enhance self-awareness. Questions about learning something about oneself or things that are hidden work very well with this layout, although no question is necessary.
This rune displays the obvious identity, the part of oneself that is consciously known and projected to others.
This rune indicates unconscious driving forces that neither the reader nor others are aware of about them, the great unknown. Nobody knows what this rune means, at least not yet...
The part of oneself that is concealed, to keep others from discovering, is apparent in this rune.
This is the Blind Spot. This is what was asked about, that which this reading should bring awareness of. The reader may wish to pay close attention to these mannerisms.
Your Blind Spot Reading
| | | |
| --- | --- | --- |
| | What you know | What you don't know |
| What others know | Gebo | Raidho |
| | | |
| What others don't know | Othala | Perthro |

This rune displays your obvious identity, the part of you that everyone knows.
Gebo
Gifts, in the spirit of both giving and receiving. Gebo is one of the runes of love, relating to partnerships and generosity. Matters related to exchanges. This rune can suggest an important favour and self-sacrifice as a reward in itself.

Ill-dignification can mean selfishness, loneliness, desperation, over-sacrifice, or bribery.

This rune shows unconscious driving forces that neither you nor your company is aware of about you. This is the Great Unknown.
Perthro
As the rune of fate and gaming, Perthro suggests that people are remembered for the games they play. Uncertainty, a mystery, secrets, hidden things, the unknown, gambling. Initiation, knowing one's purpose, knowledge of one's self. Evolutionary adaptation.

Pertaining to feminine things such as the mystery of fertility. Good times and companionship, fun and friends, a time of joy. Connected to prophetic dreams, old memories may be stirred resulting in personal revelations and clarity of thought.

Ill-dignification can mean: addiction, stagnation, loneliness, malaise, disappointment, disloyalty.

The secrets you keep from others are shown by this rune.
Othala
This rune is concerned with home, land, and property. What is truly important to one. Group order, group prosperity. Land of birth, spiritual heritage, experience and fundamental values. Inheritance. Aid in journeys.

Othala relates to marriage, family, and things which are fixed and unchangeable, set-in stone. On a spiritual level this is a reminder that your body is the temple and home of your soul, a source of security, increase, and abundance.

Ill-dignification can mean lack of respect, totalitarianism, slavery, poverty, homelessness. Bad karma, prejudice, injury. This is a warning to take care of what you have if you care about it.

This is your Blind Spot. This is what you asked about - what you wished to be made aware of by this reading.
Raidho
A rune of action and movement, Raidho indicates that business is about to pick up. Travel and movement are suggested, both in immediate terms and those of overall lifestyle. An adventure, journey, vacation, relocation, personal evolution, or other conceivable change of place or perception. Mind expansion.

Knowing what you want and going for it. The personal in rhythm with the world, the dance of life. Raidho's connection to the number 2 is a reminder that there are two sides to every story. Be careful not to get side tracked into a disruptive misadventure that could set you back.