Cross Layout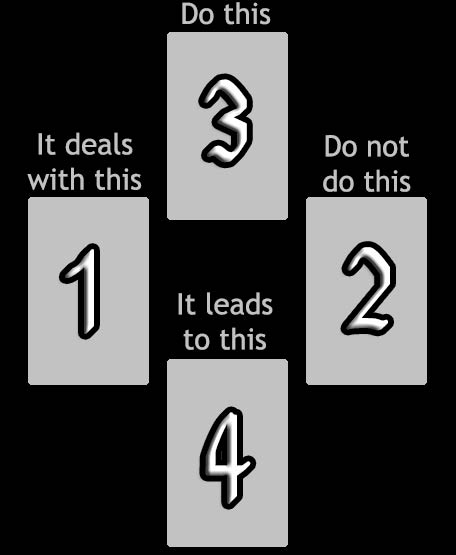 Difficulty: Easy
The Cross Spread is good for questions asking for advice. It can also be used to determine the meaning of a confusing rune from a previous reading, or for that matter, to shed light on other points of confusion.
In questions asking advice, this layout is self-explanatory. The main thing is to determine the difference between runes #2 and #3. #1 is the topic and #4 is the result.
In questions regarding confusion, such as: "What was the meaning of Rune (X) in the last layout?" the main thing is also to determine the difference between runes #2 and #3. In this case, #2 will show what the rune was not referring to, and Rune #3 will show what was really meant. Rune #1 is the topic and #4 represents the purpose it serves.
Your Cross Reading
DO This

Ansuz
It Deals with This

Mannaz
Do NOT Do This

Tiwaz
It Leads to This

Laguz

It Deals with This
Mannaz
Mankind, the Self; the individual or the human race. Your attitude toward others and their attitudes towards you. Friends and enemies, social order. This is the rune of help. Intelligence, forethought, creative ability, divine awareness.

Ill-dignification suggests a problem with authority, or possibly a conflict with people of a different culture. Mortality, blindness, self-deception, manipulation, cunning, slyness. A warning to be more careful of people, to pay closer attention to their motives. This rune may indicate a period of depression and suggests waiting or seeking consultation before making any important decisions.

Do NOT Do This
Tiwaz
Tiwaz is the warrior rune, and also one of the runes of love. It is concerned with self-knowledge, self-actualisation, leadership, authority, rationality, honour, justice, and self-sacrifice. Opportunities should be seized. Success is indicated by this rune, particularly in competitive and legal matters.

Ill-dignification can mean writer's block, creative slump, over-analysis, over-sacrifice, injustice, imbalance. Conflict, strife, and losing in competitive matters. A lack of passion, miscommunication, even a separation. The male in a relationship may be involved for superficial reasons.

DO This
Ansuz
Ansuz signifies the protection of Odin, concerned with man's connection with the universe, spiritual messages, learning, communication, and the spoken word. Signs, inspiration, visions, and the symbolic power of words and names.

Acceptance of good advice yields blessings in health, harmony, and wisdom. Non-acceptance of good advice results in manipulation by others, misunderstanding, and delusion. Vanity and arrogance may deceive one's self. This rune may indicate that dreams are giving you important messages that you should take note of.

It Leads to This
Laguz
Laguz is related with water and the sea. Flow, a fertility source, the healing cycle of constant change renewal. This is a strong feminine rune of intuition that also relates to fertility.

Heightened imagination and psychic abilities. Dreams, fantasies, mysteries, the unknown, the occult. A breakthrough in awareness. Success in travel or acquisition, but presenting the possibility of loss.

Ill-dignification suggests you're taking things too hard. Prevent your emotions from running wild. This indicates of a period of confusion. Lack of creativity and feelings of being in a rut may lead to bad decisions and poor judgement. Circumstances may be beyond your control, so the trick is to adapt. Terror, circular logic, avoidance, cowardice, madness, obsession, despair, perversity, sickness, depression.