Cross Layout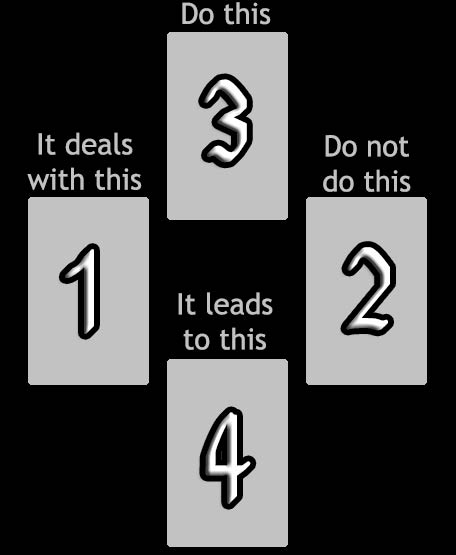 Difficulty: Easy
The Cross Layout is good for questions asking for advice. It can also be used to determine the meaning of a confusing rune from a previous reading, or for that matter, to shed light on other points of confusion as well.
In questions asking advice, this layout is self-explanatory. The main thing is to determine the difference between runes #2 and #3. #1 is the topic and #4 is the result.
In questions regarding confusion, such as: "What was the meaning of Rune (X) in the last layout?" the main thing is also to determine the difference between runes #2 and #3. In this case, Rune #2 will show what the rune was not referring to, and Rune #3 will show what the rune really meant. #1 is the topic and #4 represents the purpose it serves.
Your Cross Reading
DO This

Jera
It Deals with This

Perthro
Do NOT Do This

Isa
It Leads to This

Berkano

It Deals with This
Perthro
As the rune of fate and gaming, Perthro suggests that people are remembered for the games they play. Uncertainty, a mystery, secrets, hidden things, the unknown, gambling. Initiation, knowing one's purpose, knowledge of one's self. Evolutionary adaptation.

Pertaining to feminine things such as the mystery of fertility. Good times and companionship, fun and friends, a time of joy. Connected to prophetic dreams, old memories may be stirred resulting in personal revelations and clarity of thought.

Ill-dignification can mean: addiction, stagnation, loneliness, malaise, disappointment, disloyalty.

Do NOT Do This
Isa
A mental block presents a frustrating challenge. A standstill, when patience is a blessing, it is a good time search within one's self for clarity, a great opportunity for meditation. This rune reinforces runes around it.

Ill-dignification of this rune may mean ego-mania, self-absorption, blindness, and dissipation of willpower. Delusion, deceit, guile, stealth, ambush, plots, grievances, treachery, betrayal.

DO This
Jera
Jera is a rune of harvest, abundance, reward, fortune, completion, and putting things in order. The fruits of earlier labors are ripe for the picking. Abundant peace and contentedness due to a nice surplus. The promise of success earned. The life cycle of eternal change which rules the universe.

Ill-dignification can mean a sudden setback or reversal of fortune. A major change, bad timing, conflict, poverty, or getting stuck in a repeating loop.

It Leads to This
Berkano
Berkano is a rune of desire, fertility, birth, growth, regeneration, renewal, new beginnings, celebration, and liberation. A love affair or new birth. A prosperous partnership, team, enterprise, or venture.

Ill-dignification suggests something may be stunting the growth process. It may be necessary to examine your choices, and to go back and correct mistakes before moving forward again. There could be family problems or someone close to you that has you worried. Wreckless abandon, going wild. Loss of consciousness, deceit, sterility, stagnation.