Cross Layout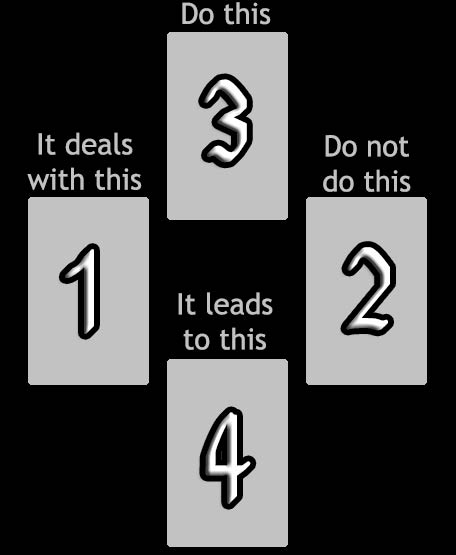 Difficulty: Easy
The Cross Spread is good for questions asking for advice. It can also be used to determine the meaning of a confusing rune from a previous reading, or for that matter, to shed light on other points of confusion.
In questions asking advice, this layout is self-explanatory. The main thing is to determine the difference between runes #2 and #3. #1 is the topic and #4 is the result.
In questions regarding confusion, such as: "What was the meaning of Rune (X) in the last layout?" the main thing is also to determine the difference between runes #2 and #3. In this case, #2 will show what the rune was not referring to, and Rune #3 will show what was really meant. Rune #1 is the topic and #4 represents the purpose it serves.
Your Cross Reading
DO This

Thurisaz
It Deals with This

Uruz
Do NOT Do This

Raidho
It Leads to This

Eihwaz

It Deals with This
Uruz
Self-improvement is the ideal of this rune, which indicates the formation of a pattern of success. Responsibility and authority earned raise one's personal stock. New awareness makes it possible to capitalise on new opportunities, and this rune's appearance suggests that opportunity is about to knock. This rune suggests a period of wonder and adventure before adaptation settles in. Beginner's luck, freedom, electricity, action, courage, strength, tenacity, understanding, experience. Masculine sexual potency.

Do NOT Do This
Raidho
A rune of action and movement, Raidho indicates that business is about to pick up. Travel and movement are suggested, both in immediate terms and those of overall lifestyle. An adventure, journey, vacation, relocation, personal evolution, or other conceivable change of place or perception. Mind expansion.

Knowing what you want and going for it. The personal in rhythm with the world, the dance of life. Raidho's connection to the number 2 is a reminder that there are two sides to every story. Be careful not to get side tracked into a disruptive misadventure that could set you back.

DO This
Thurisaz
Thor, the Thunder god. Male core fertility. Thurisaz has to do with strife, conflict, combat, defence, and aggression. Reacting forcefully, as if threatened. Instinctual will, eroticism, a catalyst for change. A purging flood, a cleansing fire, catharsis.

This rune suggests that now may not be the best time to make any hasty decisions. Perhaps time should be set aside to reflect.

It Leads to This
Eihwaz
Eihwaz is a rune of progress. The desire for material gain provides motivation and a sense of purpose. It indicates a plan being formulated and moving forward. May indicate a person who can be trusted. Some keywords are: honesty, dependability, reliability, endurance, strength, defence, protection.

Ill-dignification can mean: confusion, delays, disturbance, destruction, dissatisfaction, weakness.