Decision Layout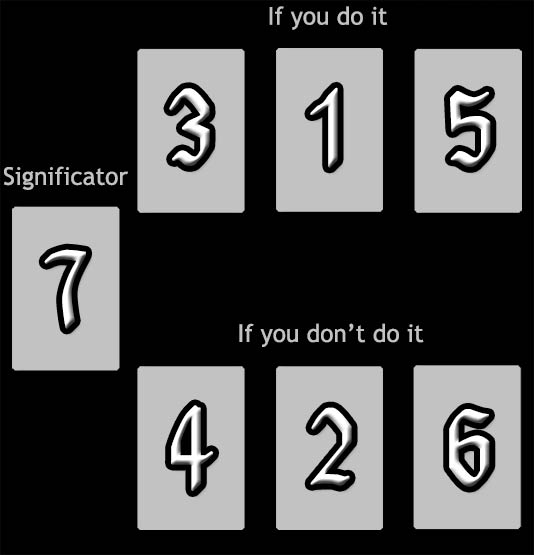 Difficulty: Easy
This simple but highly useful layout calls for a question to be asked in this format:
"What happens if I do (X), and what happens if I do not do (X)?"
Please note that it should not be viewed as a decision between 2 different options, but about whether or not a single option should be exercised. A second option would call for a separate reading.
Rune #7 is the significator, the overall theme of the query.
Runes #3, #1, & #5 represent the chronological sequence of events that occurs if you choose to do (X).
Runes #4, #2, & #6 represent the chronological sequence of events that unfolds if you choose NOT to do (X).
Your Decision Reading
The Significator

Mannaz
Outcome if you do it:

Othala

Jera

Fehu
Outcome if you don't do it:

Elhaz

Hagalaz

Eihwaz

Mannaz
Mankind, the Self; the individual or the human race. Your attitude toward others and their attitudes towards you. Friends and enemies, social order. This is the rune of help. Intelligence, forethought, creative ability, divine awareness.

Ill-dignification suggests a problem with authority, or possibly a conflict with people of a different culture. Mortality, blindness, self-deception, manipulation, cunning, slyness. A warning to be more careful of people, to pay closer attention to their motives. This rune may indicate a period of depression and suggests waiting or seeking consultation before making any important decisions.
Outcome if you do it:

Othala
This rune is concerned with home, land, and property. What is truly important to one. Group order, group prosperity. Land of birth, spiritual heritage, experience and fundamental values. Inheritance. Aid in journeys.

Othala relates to marriage, family, and things which are fixed and unchangeable, set in stone. On a spiritual level this is a reminder that your body is the temple and home of your soul, a source of security, increase, and abundance.

Ill-dignification can mean lack of respect, totalitarianism, slavery, poverty, homelessness. Bad karma, prejudice, injury. This is a warning to take care of what you have if you care about it.

Jera
Jera is a rune of harvest, abundance, reward, fortune, completion, and putting things in order. The fruits of earlier labors are ripe for the picking. Abundant peace and contentedness due to a nice surplus. The promise of success earned. The life cycle of eternal change which rules the universe.

Ill-dignification can mean a sudden setback or reversal of fortune. A major change, bad timing, conflict, poverty, or getting stuck in a repeating loop.

Fehu
Fehu is one of three mother stones. This rune deals with earning success in matters of material gain or the increase of knowledge. It reveals a impending influence of prosperity, abundance, fullness, and happiness. It can indicate climbing the social ladder. Other key words are: vitality, energy, power, mojo, foresight, fertility, creativity, motion.
Outcome if you do not do it:

Elhaz
Elhaz is concerned with security, protection, and defense. Warding off of evil, shield, guardian. Connection with the gods, awakening, higher purpose, divine inspiration, channeling energy or spirits, spiritual enlightenment. This rune is connected to shamans and alternative medicine that are no longer popular in today's society. May indicate a need of retreat for introspection.

Follow your instincts. Elhaz warns that people may want to push you into doing something against your will. You must stand your ground to maintain the rewards of your success or to maintain a position earned.

Ill-dignification warns you to watch for people taking advantage of you. Be careful not to take on their burdens. Can mean hidden danger, deception, confusion, reversal of fortune, weakening of the divine link. Taboo, warning, peril, repugnance. A creative drought.

Hagalaz
Sudden storm without warning, natural disaster, catastrophe, uncontrollable forces, destructive weather, especially hail or blizzards. Can be a sign of sudden disruption, chaos, and delays. Stagnation, pain, loss, suffering, hardship, sickness.

A trial by fire, temperance. Recovery from crisis leading to completion of a story. This rune is said to relate to the hidden desires of the unconcious mind, which may indicate the need for meditation and spiritual guidance.

Eihwaz
Eihwaz is a rune of progress. The desire for material gain provides motivation and a sense of purpose. It indicates a plan being formulated and moving forward. May indicate a person who can be trusted. Some keywords are: honesty, dependability, reliability, endurance, strength, defense, protection.

Ill-dignification can mean: confusion, delays, disturbance, destruction, dissatisfaction, weakness.