Decision Layout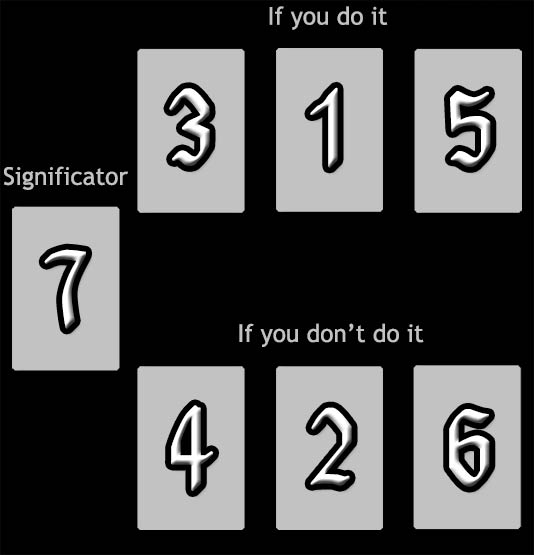 Difficulty: Easy
This simple but highly useful layout calls for a question to be asked in this format:
"What happens if I do (X), and what happens if I do not do (X)?"
Please note that it should not be viewed as a decision between 2 different options, but about whether or not a single option should be exercised. A second option would call for a separate reading.
Rune #7 is the significator, the overall theme of the query.
Runes #3, #1, & #5 represent the chronological sequence of events that occurs if you choose to do (X).
Runes #4, #2, & #6 represent the chronological sequence of events that unfolds if you choose NOT to do (X).
Your Decision Reading
The Significator

Wunjo
Outcome if you do it:

Raidho

Isa

Eihwaz
Outcome if you don't do it:

Gebo

Thurisaz

Perthro

Wunjo
An omen of prosperity on the horizon. Projects relating to creativity, art, or intuition are favored by this rune. A sign of comfort, pleasure, comradery, joy, and harmony.

Glory, ecstasy, and spiritual frenzy. If controlled, success and general increase of one's personal stock. If unloosed, over-enthusiastic zeal can lead to maniacal raving, going berzerk. Don't blow your top.
Outcome if you do it:

Raidho
A rune of action and movement, Raidho indicates that business is about to pick up. Travel and movement is suggested, both in immediate terms and those of overall lifestyle. An adventure, journey, vacation, relocation, personal evolution, or other conceivable change of place or perception. Mind expansion.

Knowing what you want and going for it. The personal in rhythm with the world, the dance of life. Raidho's connection to the number 2 is a reminder that there are 2 sides to every story. Be careful not to get side tracked into a disruptive misadventure that could set you back.

Isa
A mental block presents a frustrating challenge. A standstill, when patience is a blessing, it is a good time search within one's self for clarity, a great opportunity for meditation. This rune reinforces runes around it.

Ill-dignification of this rune may mean ego-mania, self-absorption, blindness, and dissipation of willpower. Delusion, deceit, guile, stealth, ambush, plots, grievances, treachery, betrayal.

Eihwaz
Eihwaz is a rune of progress. The desire for material gain provides motivation and a sense of purpose. It indicates a plan being formulated and moving forward. May indicate a person who can be trusted. Some keywords are: honesty, dependability, reliability, endurance, strength, defense, protection.

Ill-dignification can mean: confusion, delays, disturbance, destruction, dissatisfaction, weakness.
Outcome if you do not do it:

Gebo
Gifts, in the spirit of both giving and receiving. Gebo is one of the runes of love, relating to partnerships and generosity. Matters related to exchanges. This rune can suggest an important favor and self-sacrifice as a reward in itself.

Ill-dignification can mean selfishness, loneliness, desperation, over-sacrifice, or bribery.

Thurisaz
Thor, the Thunder god. Male core fertility. Thurisaz has to do with strife, conflict, combat, defense, and aggression. Reacting forcefully, as if theatened. Instinctual will, eroticism, a catalyst for change. A purging flood, a cleansing fire, catharsis.

This rune suggests that now may not be the best time to make any hasty decisions. Perhaps time should be set aside to reflect.

Perthro
As the rune of fate and gaming, Perthro suggests that people are remembered for the games they play. Uncertainty, a mystery, secrets, hidden things, the unknown, gambling. Initiation, knowing one's purpose, knowledge of one's self. Evolutionary adaptation.

Pertaining to feminine things such as the mystery of fertility. Good times and companionship, fun and friends, a time of joy. Connected to prophetic dreams, old memories may be stirred resulting in personal revelations and clarity of thought.

Ill-dignification can mean: addiction, stagnation, loneliness, malaise, disappointment, disloyalty.