Decision Layout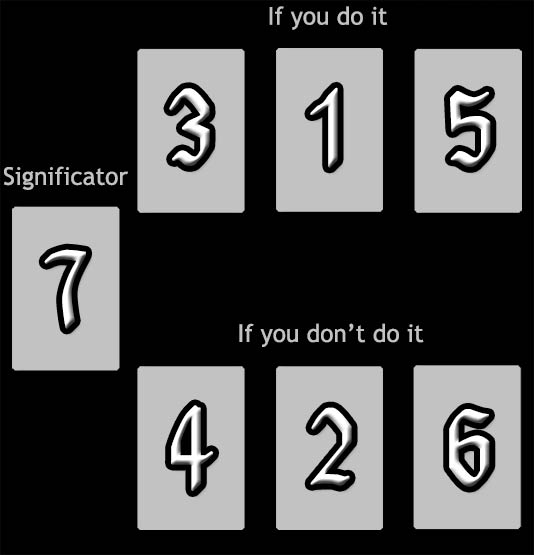 Difficulty: Easy
This simple but highly useful layout calls for a question to be asked in this format:
"What happens if I do (X), and what happens if I do not do (X)?"
Please note that it should not be viewed as a decision between two different options, but about whether a single option should be exercised or not. A second option would call for a separate reading.
Rune #7 is the significator, the overall theme of the query.
Runes #3, #1, & #5 represent the chronological sequence of events that occurs if the reader chooses to do (X).
Runes #4, #2, & #6 represent the chronological sequence of events that unfolds if the reader chooses not to do (X).
Your Decision Reading
The Significator

Mannaz
Outcome if you do it:

Berkano

Raidho

Kenaz
Outcome if you don't do it:

Eihwaz

Ansuz

Tiwaz

Mannaz
Mankind, the Self; the individual or the human race. Your attitude toward others and their attitudes towards you. Friends and enemies, social order. This is the rune of help. Intelligence, forethought, creative ability, divine awareness.

Ill-dignification suggests a problem with authority, or possibly a conflict with people of a different culture. Mortality, blindness, self-deception, manipulation, cunning, slyness. A warning to be more careful of people, to pay closer attention to their motives. This rune may indicate a period of depression and suggests waiting or seeking consultation before making any important decisions.
Outcome if you do it:

Berkano
Berkano is a rune of desire, fertility, birth, growth, regeneration, renewal, new beginnings, celebration, and liberation. A love affair or new birth. A prosperous partnership, team, enterprise, or venture.

Ill-dignification suggests something may be stunting the growth process. It may be necessary to examine your choices, and to go back and correct mistakes before moving forward again. There could be family problems or someone close to you that has you worried. Reckless abandon, going wild. Loss of consciousness, deceit, sterility, stagnation.

Raidho
A rune of action and movement, Raidho indicates that business is about to pick up. Travel and movement are suggested, both in immediate terms and those of overall lifestyle. An adventure, journey, vacation, relocation, personal evolution, or other conceivable change of place or perception. Mind expansion.

Knowing what you want and going for it. The personal in rhythm with the world, the dance of life. Raidho's connection to the number 2 is a reminder that there are two sides to every story. Be careful not to get side tracked into a disruptive misadventure that could set you back.

Kenaz
This is the primary female rune, representing things such as motherly instincts, guidance and support, intuition, and love. Spiritual visions, revelation, esoteric knowledge, inspiration, creativity, technical ability.

A sign of success, particularly in artistic endeavours. Vitality, harnessed ability, transformation, and reinvention. The pioneer spirit, the power to create your own reality. The power of light, to uncover and inspire.

Female passion and sexual desire. Being exposed, loss of illusion and false hope. It can conversely serve as a reminder that a loss may seem unpleasant, but that it can be a blessing in disguise.
Outcome if you do not do it:

Eihwaz
Eihwaz is a rune of progress. The desire for material gain provides motivation and a sense of purpose. It indicates a plan being formulated and moving forward. May indicate a person who can be trusted. Some keywords are: honesty, dependability, reliability, endurance, strength, defence, protection.

Ill-dignification can mean: confusion, delays, disturbance, destruction, dissatisfaction, weakness.

Ansuz
Ansuz signifies the protection of Odin, concerned with man's connection with the universe, spiritual messages, learning, communication, and the spoken word. Signs, inspiration, visions, and the symbolic power of words and names.

Acceptance of good advice yields blessings in health, harmony, and wisdom. Non-acceptance of good advice results in manipulation by others, misunderstanding, and delusion. Vanity and arrogance may deceive one's self. This rune may indicate that dreams are giving you important messages that you should take note of.

Tiwaz
Tiwaz is the warrior rune, and also one of the runes of love. It is concerned with self-knowledge, self-actualisation, leadership, authority, rationality, honour, justice, and self-sacrifice. Opportunities should be seized. Success is indicated by this rune, particularly in competitive and legal matters.

Ill-dignification can mean writer's block, creative slump, over-analysis, over-sacrifice, injustice, imbalance. Conflict, strife, and losing in competitive matters. A lack of passion, miscommunication, even a separation. The male in a relationship may be involved for superficial reasons.