Decision Layout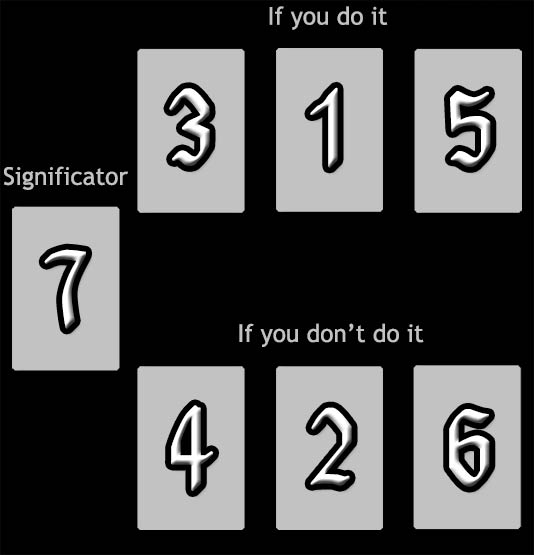 Difficulty: Easy
This simple but highly useful layout calls for a question to be asked in this format:
"What happens if I do (X), and what happens if I do not do (X)?"
Please note that it should not be viewed as a decision between two different options, but about whether a single option should be exercised or not. A second option would call for a separate reading.
Rune #7 is the significator, the overall theme of the query.
Runes #3, #1, & #5 represent the chronological sequence of events that occurs if the reader chooses to do (X).
Runes #4, #2, & #6 represent the chronological sequence of events that unfolds if the reader chooses not to do (X).
Your Decision Reading
The Significator

Othala
Outcome if you do it:

Dagaz

Ingwaz

Mannaz
Outcome if you don't do it:

Laguz

Hagalaz

Gebo

Othala
This rune is concerned with home, land, and property. What is truly important to one. Group order, group prosperity. Land of birth, spiritual heritage, experience and fundamental values. Inheritance. Aid in journeys.

Othala relates to marriage, family, and things which are fixed and unchangeable, set-in stone. On a spiritual level this is a reminder that your body is the temple and home of your soul, a source of security, increase, and abundance.

Ill-dignification can mean lack of respect, totalitarianism, slavery, poverty, homelessness. Bad karma, prejudice, injury. This is a warning to take care of what you have if you care about it.
Outcome if you do it:

Dagaz
This is the rune of the day, daylight, and summer time. This rune heralds new perspective and new opportunity. Breakthrough in awareness, an awakening. Achievement of spiritual equilibrium by coming to the place where opposites meet.

A prosperous time to plan out or embark upon a new project. You recognise the power that is in your own hands. Ambitions and ideals run high. Smart work pays off. Self-reliance, independence, security, and self-assuredness.

Ill-dignification can mean coming to the end of the road, reaching the maximum limit, coming full circle, blindness, confusion, and despair.

Ingwaz
This is the rune of male health, fertility, creativity, gestation, and personal growth. Common sense, simple virtue, family, home. The spark of a new idea could start a fire. Often relates to a pivotal point, perhaps a rest stage, a time of relief, of healing and regeneration. A time when loose ends can be tied, freeing one to possibly move in a new direction. You must listen to yourself.

Ill-dignification can suggest impotence and circular movement. Production, labour, work.

Mannaz
Mankind, the Self; the individual or the human race. Your attitude toward others and their attitudes towards you. Friends and enemies, social order. This is the rune of help. Intelligence, forethought, creative ability, divine awareness.

Ill-dignification suggests a problem with authority, or possibly a conflict with people of a different culture. Mortality, blindness, self-deception, manipulation, cunning, slyness. A warning to be more careful of people, to pay closer attention to their motives. This rune may indicate a period of depression and suggests waiting or seeking consultation before making any important decisions.
Outcome if you do not do it:

Laguz
Laguz is related with water and the sea. Flow, a fertility source, the healing cycle of constant change renewal. This is a strong feminine rune of intuition that also relates to fertility.

Heightened imagination and psychic abilities. Dreams, fantasies, mysteries, the unknown, the occult. A breakthrough in awareness. Success in travel or acquisition, but presenting the possibility of loss.

Ill-dignification suggests you're taking things too hard. Prevent your emotions from running wild. This indicates of a period of confusion. Lack of creativity and feelings of being in a rut may lead to bad decisions and poor judgement. Circumstances may be beyond your control, so the trick is to adapt. Terror, circular logic, avoidance, cowardice, madness, obsession, despair, perversity, sickness, depression.

Hagalaz
Sudden storm without warning, natural disaster, catastrophe, uncontrollable forces, destructive weather, especially hail or blizzards. Can be a sign of sudden disruption, chaos, and delays. Stagnation, pain, loss, suffering, hardship, sickness.

A trial by fire, temperance. Recovery from crisis leading to completion of a story. This rune is said to relate to the hidden desires of the unconscious mind, which may indicate the need for meditation and spiritual guidance.

Gebo
Gifts, in the spirit of both giving and receiving. Gebo is one of the runes of love, relating to partnerships and generosity. Matters related to exchanges. This rune can suggest an important favour and self-sacrifice as a reward in itself.

Ill-dignification can mean selfishness, loneliness, desperation, over-sacrifice, or bribery.