Game Plan Layout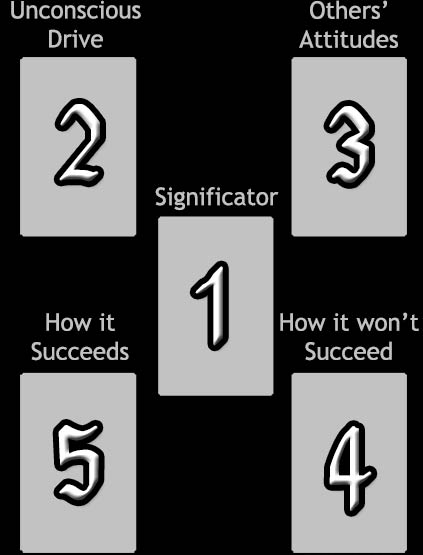 Difficulty: Easy
When a person has a certain plan in mind, this simple five-rune layout presents a choice, hinting at what action or attitude should be taken for their plan to succeed, and what should be avoided to help the plan work out for the best.
The initial rune is laid in the centre of the layout, the significator. The following four runes are laid out clockwise around the significator.
In this layout, the second rune is about what drives the reader, but also says they are not fully conscious of this, perhaps even completely unaware of it. It provides a hint as to the reason they strive for their goal.
The third rune uncovers what others think of the reader and their goals. The reader may or may not be aware of this. Sometimes other people factor into the plans (and sometimes they don't).
The fourth rune suggests what not to do. If things are permitted to go down this path, the plan will collapse.
The fifth rune is a hint as to how to make this plan work out favourably. The idea this rune presents should be followed to make the plan successful. It is the differences between Runes #4 & #5 that should be noted, as the differences provide important clues.
Your Game Plan Reading
Unconscious Drive

Hagalaz
External Influences

Sowilo
Significator

Othala
How it Will Succeed

Mannaz
How it Will Not Succeed

Eihwaz

Othala
This rune is concerned with home, land, and property. What is truly important to one. Group order, group prosperity. Land of birth, spiritual heritage, experience and fundamental values. Inheritance. Aid in journeys.

Othala relates to marriage, family, and things which are fixed and unchangeable, set-in stone. On a spiritual level this is a reminder that your body is the temple and home of your soul, a source of security, increase, and abundance.

Ill-dignification can mean lack of respect, totalitarianism, slavery, poverty, homelessness. Bad karma, prejudice, injury. This is a warning to take care of what you have if you care about it.

Hagalaz
Sudden storm without warning, natural disaster, catastrophe, uncontrollable forces, destructive weather, especially hail or blizzards. Can be a sign of sudden disruption, chaos, and delays. Stagnation, pain, loss, suffering, hardship, sickness.

A trial by fire, temperance. Recovery from crisis leading to completion of a story. This rune is said to relate to the hidden desires of the unconscious mind, which may indicate the need for meditation and spiritual guidance.

Sowilo
Sowilo is the sun; the life source of the world, the destroyer of ice. The life-force, health. A time when you will be able to grab the reins of power to make positive changes in your life. It is a rune of fortune, health, clarity of thought, vitality, accomplishment, and victory. Contact between the higher self and the unconscious.

Success, glory, honour, victory, health, and success. Wholeness, fullness, raw power, primordial force, natural phenomenon, sword of fire, baptism by fire. This very powerful and generally positive rune sheds the light of a sunny day on a reading.

Ill-dignification suggests bad ideals, bad company, tainted victory, trickery. Excessive force, destruction, retribution, bad karma.

Eihwaz
Eihwaz is a rune of progress. The desire for material gain provides motivation and a sense of purpose. It indicates a plan being formulated and moving forward. May indicate a person who can be trusted. Some keywords are: honesty, dependability, reliability, endurance, strength, defence, protection.

Ill-dignification can mean: confusion, delays, disturbance, destruction, dissatisfaction, weakness.

Mannaz
Mankind, the Self; the individual or the human race. Your attitude toward others and their attitudes towards you. Friends and enemies, social order. This is the rune of help. Intelligence, forethought, creative ability, divine awareness.

Ill-dignification suggests a problem with authority, or possibly a conflict with people of a different culture. Mortality, blindness, self-deception, manipulation, cunning, slyness. A warning to be more careful of people, to pay closer attention to their motives. This rune may indicate a period of depression and suggests waiting or seeking consultation before making any important decisions.