Game Plan Layout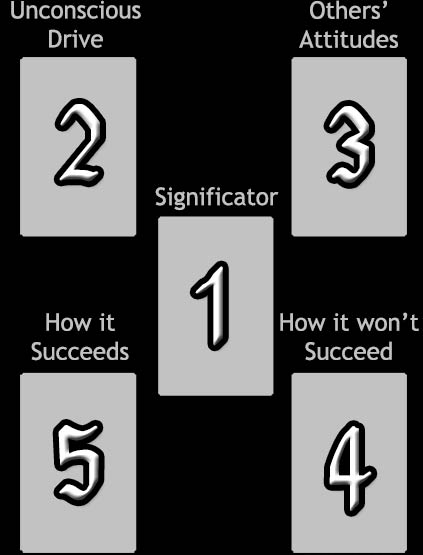 Difficulty: Easy
When you have a certain plan in mind, this simple 5-rune layout presents a choice, hinting at what action or attitude should be taken for your plan to succeed, and what should be avoided in order to help your plan work out for the best.
The initial rune is laid in the center of the layout, the significator. The following 4 runes are laid out clockwise around the significator.
In this layout, the second rune shows what drives you, but also says you are not fully conscious of this, perhaps even completely unaware of it. It gives you a hint as to the reason that you strive for your goal.
The third rune shows what others think of you and your goals. You may or may not be aware of this. Sometimes other people factor into your plans, and sometimes they don't.
The fourth rune shows what you should not do. If things are permitted to go down this path, your plan will collapse.
The fifth rune is a hint as to how to make your plan work out favorably. The idea that this rune presents should be followed in order to make your plan a success. It is the differences between Runes #4 and #5 that should be noted, as the differences provide the clues you need.
Your Game Plan Reading
Unconscious Drive

Sowilo
External Influences

Ansuz
Significator

Isa
How it Will Succeed

Ehwaz
How it Will Not Succeed

Naudhiz

Isa
A mental block presents a frustrating challenge. A standstill, when patience is a blessing, it is a good time search within one's self for clarity, a great opportunity for meditation. This rune reinforces runes around it.

Ill-dignification of this rune may mean ego-mania, self-absorption, blindness, and dissipation of willpower. Delusion, deceit, guile, stealth, ambush, plots, grievances, treachery, betrayal.

Sowilo
Sowilo is the sun; the life source of the world, the destroyer of ice. The life-force, health. A time when you will be able to grab the reigns of power to make positive changes in your life. It is a rune of fortune, health, clarity of thought, vitality, accomplishment, and victory. Contact between the higher self and the unconscious.

Success, glory, honor, victory, health, and success. Wholeness, fullness, raw power, primordial force, natural phenomenon, sword of fire, baptism by fire. This very powerful and generally positive rune sheds the light of a sunny day on a reading.

Ill-dignification suggests bad ideals, bad company, tainted victory, trickery. Excessive force, destruction, retribution, bad karma.

Ansuz
Ansuz signifies the protection of Odin, concerned with man's connection with the universe, spiritual messages, learning, communication, and the spoken word. Signs, inspiration, visions, and the symbolic power of words and names.

Acceptance of good advice yields blessings in health, harmony, and wisdom. Non-acceptance of good advice results in manipulation by others, misunderstanding, and delusion. Vanity and arrogance may deceive one's self. This rune may indicate that dreams are giving you important messages that you should take note of.

Naudhiz
Naudhiz warns about awareness of one's limitations. But resistance builds strength. Delays, restrictions, confusion, conflict, and the will to defeat them. Endurance, survival, determination. Patience and endurance is called for. Innovation, adaptation, and independence. The will power to direct fate.

An opportunity may not be what it seems. You may want to wait before making any important decisions. Tension in relationships is likely. If a risk has been taken, results are still forthcoming. Stress, and frustration are also associated with this sign.

Ehwaz
This rune typically signifies big changes - changes for the better. Transportation. May represent a horse, car, plane, boat or other vehicle. Slow but steady progress is indicated. Trust, loyalty, harmony, teamwork, an ideal partnership.

This rune also strengthens adjacent runes, adding clarification and solidarity to their meanings when in doubt. It is also connected with science and higher education. Communication reaches peak harmony.

Ill-dignification could mean a change is craved. Haste, disharmony, betrayal. Feeling trapped. Paranoia and superstition.