Path Layout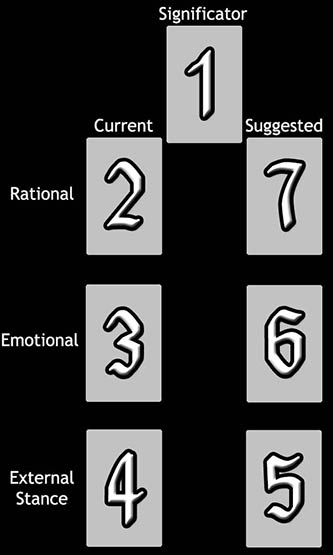 Difficulty: Easy
For the Path, the querent asks for suggestions on how to behave properly in order to achieve a desired result. The Current column shows how the querent has been acting, and the Suggestedcolumn suggests how the querent should act in order to achieve a certain goal. The chart-like layout uses the standard 3 levels: Rational, Emotional, and External Stance (how one projects one's self outwardly). When comparing the Current to Suggested runes, the most important thing is to notice the differences between the 2 runes. It is these differences which hint at the behaviors that you should think about changing.
Rune #1 is the significator, the rune which should reflect the nature of the query and/or the desired outcome.
Rune #2 shows the way you are and have been thinking. Rune #7 shows how you need to change the way you think in order to serve yourself better.
Rune #3 tells you about your emotional attitude. Though it may seem difficult to manipulate one's own emotions, it can be done if you put your mind to it. For example, acting a certain way such as smiling intently for a few minutes will lead the emotions to follow. If you try this, as silly as the exercise seems, you will find that this evokes the emotion of happiness. For this reading, you should try to make yourself feel the way that Rune #6 tells you.
External Stance means how you act outwardly, how you hope others see you. Rune #4 tells you how you were acting, while #5 indicates how you should act outwardly, for other people's sake. It is the differences between these runes that hint at what behavior patterns should be altered.
Your Path Reading
Current

The Significator

Laguz

Suggested

Thought


Hagalaz

Ansuz

Emotion


Sowilo

Berkano

External Stance


Wunjo

Raidho

The Significator
Laguz
Laguz is related with water and the sea. Flow, a fertility source, the healing cycle of constant change renewal. This is a strong feminine rune of intuition that also relates to fertility.

Heightened imagination and psychic abilities. Dreams, fantasies, mysteries, the unknown, the occult. A breakthrough in awareness. Success in travel or acquisition, but presenting the possibility of loss.

Ill-dignification suggests you're taking things too hard. Prevent your emotions from running wild. This indicates of a period of confusion. Lack of creativity and feelings of being in a rut may lead to bad decisions and poor judgement. Circumstances may be beyond your control, so the trick is to adapt. Terror, circular logic, avoidance, cowardice, madness, obsession, despair, perversity, sickness, depression.

Current Thoughts
Hagalaz
Sudden storm without warning, natural disaster, catastrophe, uncontrollable forces, destructive weather, especially hail or blizzards. Can be a sign of sudden disruption, chaos, and delays. Stagnation, pain, loss, suffering, hardship, sickness.

A trial by fire, temperance. Recovery from crisis leading to completion of a story. This rune is said to relate to the hidden desires of the unconcious mind, which may indicate the need for meditation and spiritual guidance.

Suggested Thoughts
Ansuz
Ansuz signifies the protection of Odin, concerned with man's connection with the universe, spiritual messages, learning, communication, and the spoken word. Signs, inspiration, visions, and the symbolic power of words and names.

Acceptance of good advice yields blessings in health, harmony, and wisdom. Non-acceptance of good advice results in manipulation by others, misunderstanding, and delusion. Vanity and arrogance may deceive one's self. This rune may indicate that dreams are giving you important messages that you should take note of.

Current Emotions
Sowilo
Sowilo is the sun; the life source of the world, the destroyer of ice. The life-force, health. A time when you will be able to grab the reigns of power to make positive changes in your life. It is a rune of fortune, health, clarity of thought, vitality, accomplishment, and victory. Contact between the higher self and the unconscious.

Success, glory, honor, victory, health, and success. Wholeness, fullness, raw power, primordial force, natural phenomenon, sword of fire, baptism by fire. This very powerful and generally positive rune sheds the light of a sunny day on a reading.

Ill-dignification suggests bad ideals, bad company, tainted victory, trickery. Excessive force, destruction, retribution, bad karma.

Suggested Emotions
Berkano
Berkano is a rune of desire, fertility, birth, growth, regeneration, renewal, new beginnings, celebration, and liberation. A love affair or new birth. A prosperous partnership, team, enterprise, or venture.

Ill-dignification suggests something may be stunting the growth process. It may be necessary to examine your choices, and to go back and correct mistakes before moving forward again. There could be family problems or someone close to you that has you worried. Wreckless abandon, going wild. Loss of consciousness, deceit, sterility, stagnation.

Current External Stance
Wunjo
An omen of prosperity on the horizon. Projects relating to creativity, art, or intuition are favored by this rune. A sign of comfort, pleasure, comradery, joy, and harmony.

Glory, ecstasy, and spiritual frenzy. If controlled, success and general increase of one's personal stock. If unloosed, over-enthusiastic zeal can lead to maniacal raving, going berzerk. Don't blow your top.

Suggested External Stance
Raidho
A rune of action and movement, Raidho indicates that business is about to pick up. Travel and movement is suggested, both in immediate terms and those of overall lifestyle. An adventure, journey, vacation, relocation, personal evolution, or other conceivable change of place or perception. Mind expansion.

Knowing what you want and going for it. The personal in rhythm with the world, the dance of life. Raidho's connection to the number 2 is a reminder that there are 2 sides to every story. Be careful not to get side tracked into a disruptive misadventure that could set you back.