Path Layout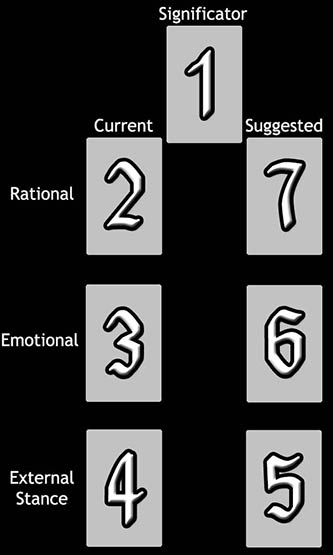 Difficulty: Easy
For the Path reading, one asks for suggestions how to behave properly to achieve a desired result. The Current column represents how the reader has been acting, and the Suggestedcolumn suggests how they should act to achieve a certain goal. The chart-like layout uses the standard three levels: Rational, Emotional, and External Stance (how one projects oneself outwardly). When comparing the Current and Suggested runes, the most important thing is to notice the differences between the two runes. It is these differences which hint at the behaviours that should be altered.
Rune #1 is the significator, the rune which should reflect the nature of the query and/or the desired outcome.
Rune #2 shows the way the reader is and has been thinking. Rune #7 suggests how to change the way one thinks to serve themselves better.
Rune #3 suggests the reader's emotional attitude. Though it may seem difficult to manipulate one's own emotions, it can be done if one puts their mind to it. For example, acting a certain way such as smiling intently for a few minutes will lead the emotions to follow. When a person tries this, as silly as the exercise seems, they find this to evoke the emotion of happiness. For this reading, one should try to make themselves feel the way that Rune #6 suggests.
External Stance means how one acts outwardly, how they hope others see them. Rune #4 is about how the reader has been acting, while #5 indicates how they should act outwardly, for other people's sake. It is the differences between these runes that hint at what behaviour patterns should be altered.
Your Path Reading
Current

The Significator

Eihwaz

Suggested

Thought


Berkano

Ingwaz

Emotion


Mannaz

Sowilo

External Stance


Fehu

Uruz

The Significator
Eihwaz
Eihwaz is a rune of progress. The desire for material gain provides motivation and a sense of purpose. It indicates a plan being formulated and moving forward. May indicate a person who can be trusted. Some keywords are: honesty, dependability, reliability, endurance, strength, defence, protection.

Ill-dignification can mean: confusion, delays, disturbance, destruction, dissatisfaction, weakness.

Current Thoughts
Berkano
Berkano is a rune of desire, fertility, birth, growth, regeneration, renewal, new beginnings, celebration, and liberation. A love affair or new birth. A prosperous partnership, team, enterprise, or venture.

Ill-dignification suggests something may be stunting the growth process. It may be necessary to examine your choices, and to go back and correct mistakes before moving forward again. There could be family problems or someone close to you that has you worried. Reckless abandon, going wild. Loss of consciousness, deceit, sterility, stagnation.

Suggested Thoughts
Ingwaz
This is the rune of male health, fertility, creativity, gestation, and personal growth. Common sense, simple virtue, family, home. The spark of a new idea could start a fire. Often relates to a pivotal point, perhaps a rest stage, a time of relief, of healing and regeneration. A time when loose ends can be tied, freeing one to possibly move in a new direction. You must listen to yourself.

Ill-dignification can suggest impotence and circular movement. Production, labour, work.

Current Emotions
Mannaz
Mankind, the Self; the individual or the human race. Your attitude toward others and their attitudes towards you. Friends and enemies, social order. This is the rune of help. Intelligence, forethought, creative ability, divine awareness.

Ill-dignification suggests a problem with authority, or possibly a conflict with people of a different culture. Mortality, blindness, self-deception, manipulation, cunning, slyness. A warning to be more careful of people, to pay closer attention to their motives. This rune may indicate a period of depression and suggests waiting or seeking consultation before making any important decisions.

Suggested Emotions
Sowilo
Sowilo is the sun; the life source of the world, the destroyer of ice. The life-force, health. A time when you will be able to grab the reins of power to make positive changes in your life. It is a rune of fortune, health, clarity of thought, vitality, accomplishment, and victory. Contact between the higher self and the unconscious.

Success, glory, honour, victory, health, and success. Wholeness, fullness, raw power, primordial force, natural phenomenon, sword of fire, baptism by fire. This very powerful and generally positive rune sheds the light of a sunny day on a reading.

Ill-dignification suggests bad ideals, bad company, tainted victory, trickery. Excessive force, destruction, retribution, bad karma.

Current External Stance
Fehu
Fehu is one of three mother stones. This rune deals with earning success in matters of material gain or the increase of knowledge. It reveals an impending influence of prosperity, abundance, fullness, and happiness. It can indicate climbing the social ladder. Other key words are: vitality, energy, power, mojo, foresight, fertility, creativity, motion.

Suggested External Stance
Uruz
Self-improvement is the ideal of this rune, which indicates the formation of a pattern of success. Responsibility and authority earned raise one's personal stock. New awareness makes it possible to capitalise on new opportunities, and this rune's appearance suggests that opportunity is about to knock. This rune suggests a period of wonder and adventure before adaptation settles in. Beginner's luck, freedom, electricity, action, courage, strength, tenacity, understanding, experience. Masculine sexual potency.