Path Layout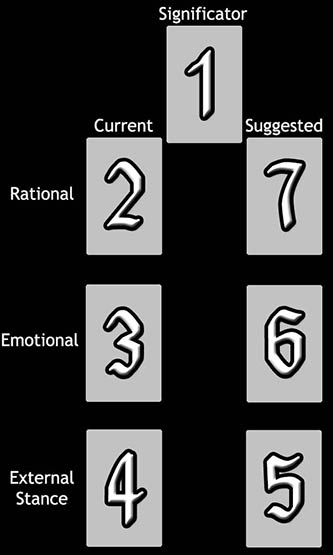 Difficulty: Easy
For the Path reading, one asks for suggestions how to behave properly to achieve a desired result. The Current column represents how the reader has been acting, and the Suggestedcolumn suggests how they should act to achieve a certain goal. The chart-like layout uses the standard three levels: Rational, Emotional, and External Stance (how one projects oneself outwardly). When comparing the Current and Suggested runes, the most important thing is to notice the differences between the two runes. It is these differences which hint at the behaviours that should be altered.
Rune #1 is the significator, the rune which should reflect the nature of the query and/or the desired outcome.
Rune #2 shows the way the reader is and has been thinking. Rune #7 suggests how to change the way one thinks to serve themselves better.
Rune #3 suggests the reader's emotional attitude. Though it may seem difficult to manipulate one's own emotions, it can be done if one puts their mind to it. For example, acting a certain way such as smiling intently for a few minutes will lead the emotions to follow. When a person tries this, as silly as the exercise seems, they find this to evoke the emotion of happiness. For this reading, one should try to make themselves feel the way that Rune #6 suggests.
External Stance means how one acts outwardly, how they hope others see them. Rune #4 is about how the reader has been acting, while #5 indicates how they should act outwardly, for other people's sake. It is the differences between these runes that hint at what behaviour patterns should be altered.
Your Path Reading
Current

The Significator

Mannaz

Suggested

Thought


Dagaz

Kenaz

Emotion


Tiwaz

Eihwaz

External Stance


Hagalaz

Berkano

The Significator
Mannaz
Mankind, the Self; the individual or the human race. Your attitude toward others and their attitudes towards you. Friends and enemies, social order. This is the rune of help. Intelligence, forethought, creative ability, divine awareness.

Ill-dignification suggests a problem with authority, or possibly a conflict with people of a different culture. Mortality, blindness, self-deception, manipulation, cunning, slyness. A warning to be more careful of people, to pay closer attention to their motives. This rune may indicate a period of depression and suggests waiting or seeking consultation before making any important decisions.

Current Thoughts
Dagaz
This is the rune of the day, daylight, and summer time. This rune heralds new perspective and new opportunity. Breakthrough in awareness, an awakening. Achievement of spiritual equilibrium by coming to the place where opposites meet.

A prosperous time to plan out or embark upon a new project. You recognise the power that is in your own hands. Ambitions and ideals run high. Smart work pays off. Self-reliance, independence, security, and self-assuredness.

Ill-dignification can mean coming to the end of the road, reaching the maximum limit, coming full circle, blindness, confusion, and despair.

Suggested Thoughts
Kenaz
This is the primary female rune, representing things such as motherly instincts, guidance and support, intuition, and love. Spiritual visions, revelation, esoteric knowledge, inspiration, creativity, technical ability.

A sign of success, particularly in artistic endeavours. Vitality, harnessed ability, transformation, and reinvention. The pioneer spirit, the power to create your own reality. The power of light, to uncover and inspire.

Female passion and sexual desire. Being exposed, loss of illusion and false hope. It can conversely serve as a reminder that a loss may seem unpleasant, but that it can be a blessing in disguise.

Current Emotions
Tiwaz
Tiwaz is the warrior rune, and also one of the runes of love. It is concerned with self-knowledge, self-actualisation, leadership, authority, rationality, honour, justice, and self-sacrifice. Opportunities should be seized. Success is indicated by this rune, particularly in competitive and legal matters.

Ill-dignification can mean writer's block, creative slump, over-analysis, over-sacrifice, injustice, imbalance. Conflict, strife, and losing in competitive matters. A lack of passion, miscommunication, even a separation. The male in a relationship may be involved for superficial reasons.

Suggested Emotions
Eihwaz
Eihwaz is a rune of progress. The desire for material gain provides motivation and a sense of purpose. It indicates a plan being formulated and moving forward. May indicate a person who can be trusted. Some keywords are: honesty, dependability, reliability, endurance, strength, defence, protection.

Ill-dignification can mean: confusion, delays, disturbance, destruction, dissatisfaction, weakness.

Current External Stance
Hagalaz
Sudden storm without warning, natural disaster, catastrophe, uncontrollable forces, destructive weather, especially hail or blizzards. Can be a sign of sudden disruption, chaos, and delays. Stagnation, pain, loss, suffering, hardship, sickness.

A trial by fire, temperance. Recovery from crisis leading to completion of a story. This rune is said to relate to the hidden desires of the unconscious mind, which may indicate the need for meditation and spiritual guidance.

Suggested External Stance
Berkano
Berkano is a rune of desire, fertility, birth, growth, regeneration, renewal, new beginnings, celebration, and liberation. A love affair or new birth. A prosperous partnership, team, enterprise, or venture.

Ill-dignification suggests something may be stunting the growth process. It may be necessary to examine your choices, and to go back and correct mistakes before moving forward again. There could be family problems or someone close to you that has you worried. Reckless abandon, going wild. Loss of consciousness, deceit, sterility, stagnation.