Path Layout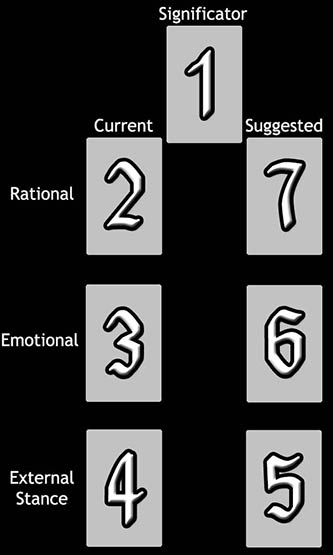 Difficulty: Easy
For the Path, the querent asks for suggestions on how to behave properly in order to achieve a desired result. The Current column shows how the querent has been acting, and the Suggestedcolumn suggests how the querent should act in order to achieve a certain goal. The chart-like layout uses the standard 3 levels: Rational, Emotional, and External Stance (how one projects one's self outwardly). When comparing the Current to Suggested runes, the most important thing is to notice the differences between the 2 runes. It is these differences which hint at the behaviors that you should think about changing.
Rune #1 is the significator, the rune which should reflect the nature of the query and/or the desired outcome.
Rune #2 shows the way you are and have been thinking. Rune #7 shows how you need to change the way you think in order to serve yourself better.
Rune #3 tells you about your emotional attitude. Though it may seem difficult to manipulate one's own emotions, it can be done if you put your mind to it. For example, acting a certain way such as smiling intently for a few minutes will lead the emotions to follow. If you try this, as silly as the exercise seems, you will find that this evokes the emotion of happiness. For this reading, you should try to make yourself feel the way that Rune #6 tells you.
External Stance means how you act outwardly, how you hope others see you. Rune #4 tells you how you were acting, while #5 indicates how you should act outwardly, for other people's sake. It is the differences between these runes that hint at what behavior patterns should be altered.
Your Path Reading
Current

The Significator

Uruz

Suggested

Thought


Naudhiz

Mannaz

Emotion


Jera

Ansuz

External Stance


Othala

Thurisaz

The Significator
Uruz
Self improvement is the ideal of this rune, which indicates the formation of a pattern of success. Responsibility and authority earned raise one's personal stock. New awarenesses make it possible to capitalize on new opportunities, and this rune's appearance suggests that opportunity is about to knock. This rune suggests a period of wonder and adventure before adaptation settles in. Beginner's luck, freedom, electricity, action, courage, strength, tenacity, understanding, experience. Masculine sexual potency.

Current Thoughts
Naudhiz
Naudhiz warns about awareness of one's limitations. But resistance builds strength. Delays, restrictions, confusion, conflict, and the will to defeat them. Endurance, survival, determination. Patience and endurance is called for. Innovation, adaptation, and independence. The will power to direct fate.

An opportunity may not be what it seems. You may want to wait before making any important decisions. Tension in relationships is likely. If a risk has been taken, results are still forthcoming. Stress, and frustration are also associated with this sign.

Suggested Thoughts
Mannaz
Mankind, the Self; the individual or the human race. Your attitude toward others and their attitudes towards you. Friends and enemies, social order. This is the rune of help. Intelligence, forethought, creative ability, divine awareness.

Ill-dignification suggests a problem with authority, or possibly a conflict with people of a different culture. Mortality, blindness, self-deception, manipulation, cunning, slyness. A warning to be more careful of people, to pay closer attention to their motives. This rune may indicate a period of depression and suggests waiting or seeking consultation before making any important decisions.

Current Emotions
Jera
Jera is a rune of harvest, abundance, reward, fortune, completion, and putting things in order. The fruits of earlier labors are ripe for the picking. Abundant peace and contentedness due to a nice surplus. The promise of success earned. The life cycle of eternal change which rules the universe.

Ill-dignification can mean a sudden setback or reversal of fortune. A major change, bad timing, conflict, poverty, or getting stuck in a repeating loop.

Suggested Emotions
Ansuz
Ansuz signifies the protection of Odin, concerned with man's connection with the universe, spiritual messages, learning, communication, and the spoken word. Signs, inspiration, visions, and the symbolic power of words and names.

Acceptance of good advice yields blessings in health, harmony, and wisdom. Non-acceptance of good advice results in manipulation by others, misunderstanding, and delusion. Vanity and arrogance may deceive one's self. This rune may indicate that dreams are giving you important messages that you should take note of.

Current External Stance
Othala
This rune is concerned with home, land, and property. What is truly important to one. Group order, group prosperity. Land of birth, spiritual heritage, experience and fundamental values. Inheritance. Aid in journeys.

Othala relates to marriage, family, and things which are fixed and unchangeable, set in stone. On a spiritual level this is a reminder that your body is the temple and home of your soul, a source of security, increase, and abundance.

Ill-dignification can mean lack of respect, totalitarianism, slavery, poverty, homelessness. Bad karma, prejudice, injury. This is a warning to take care of what you have if you care about it.

Suggested External Stance
Thurisaz
Thor, the Thunder god. Male core fertility. Thurisaz has to do with strife, conflict, combat, defense, and aggression. Reacting forcefully, as if theatened. Instinctual will, eroticism, a catalyst for change. A purging flood, a cleansing fire, catharsis.

This rune suggests that now may not be the best time to make any hasty decisions. Perhaps time should be set aside to reflect.