Relationship Layout #1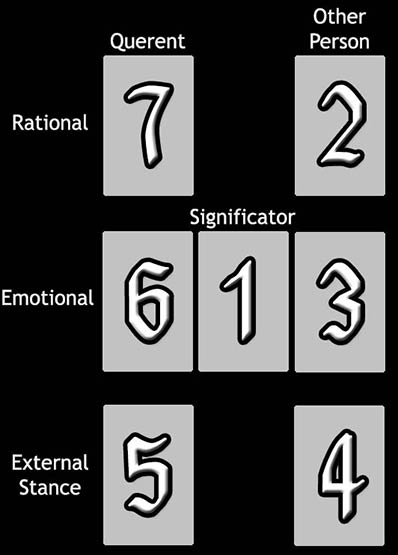 Difficulty: Easy
This layout is easy to read, like a convenient chart. In this layout, court runes generally indicate actual people with the same characteristics. Knights (or corresponding Princes, but not Kings) and Queens are meant to represent actual men and women in this tarot layout. Look for patterns in the runes as always.
Rune #1 is the overall significator of the relationship. The 2 columns on either side of the significator characterize each individual's role in the relationship. The relationship does not have to be romantic. In fact it could be a relationship between a person and a group, or even how 2 groups relate.
The top row, runes #7 & 2, shows the conscious thoughts of each person, or what they think about the relationship and likewise how they view their partner.
The middle row, runes #6 & 3, shows the way each individual feels about the other. Emotional awareness corresponds to a person's unconscious thoughts that run deep, effecting a person in ways he or she is not fully aware of.
The bottom row, runes #5 & 4, represents the way each person behaves, in other words the stance taken regarding the relationship. The way a person acts may be genuine, but sometimes people are phony and manipulative, so it is best to weigh this rune against your partner's other runes to determine if they match up.
Your Relationship #1 Reading
You
Other Person
Thought

Ingwaz

Fehu
Emotion

Dagaz
The Significator

Elhaz

Sowilo
External Stance

Hagalaz

Thurisaz

The Significator
Elhaz
Elhaz is concerned with security, protection, and defense. Warding off of evil, shield, guardian. Connection with the gods, awakening, higher purpose, divine inspiration, channeling energy or spirits, spiritual enlightenment. This rune is connected to shamans and alternative medicine that are no longer popular in today's society. May indicate a need of retreat for introspection.

Follow your instincts. Elhaz warns that people may want to push you into doing something against your will. You must stand your ground to maintain the rewards of your success or to maintain a position earned.

Ill-dignification warns you to watch for people taking advantage of you. Be careful not to take on their burdens. Can mean hidden danger, deception, confusion, reversal of fortune, weakening of the divine link. Taboo, warning, peril, repugnance. A creative drought.

The Querent's Thoughts
Ingwaz
This is the rune of male health, fertility, creativity, gestation, and personal growth. Common sense, simple virtue, family, home. The spark of a new idea could start a fire. Often relates to a pivotal point, perhaps a rest stage, a time of relief, of healing and regeneration. A time when loose ends can be tied, freeing one to possibly move in a new direction. You must listen to yourself.

Ill-dignification can suggest impotence and circular movement. Production, labor, work.

The Other Person's Thoughts
Fehu
Fehu is one of three mother stones. This rune deals with earning success in matters of material gain or the increase of knowledge. It reveals a impending influence of prosperity, abundance, fullness, and happiness. It can indicate climbing the social ladder. Other key words are: vitality, energy, power, mojo, foresight, fertility, creativity, motion.

The Querent's Emotions
Dagaz
This is the rune of the day, daylight, and summer time. This rune heralds new perspective and new opportunity. Breakthrough in awareness, an awakening. Achievement of spiritual equilibrium by coming to the place where opposites meet.

A prosperous time to plan out or embark upon a new project. You recognize the power that is in your own hands. Ambitions and ideals run high. Smart work pays off. Self-reliance, independence, security, and self-assuredness.

Ill-dignification can mean coming to the end of the road, reaching the maximum limit, coming full circle, blindness, confusion, and despair.

The Other Person's Emotions
Sowilo
Sowilo is the sun; the life source of the world, the destroyer of ice. The life-force, health. A time when you will be able to grab the reigns of power to make positive changes in your life. It is a rune of fortune, health, clarity of thought, vitality, accomplishment, and victory. Contact between the higher self and the unconscious.

Success, glory, honor, victory, health, and success. Wholeness, fullness, raw power, primordial force, natural phenomenon, sword of fire, baptism by fire. This very powerful and generally positive rune sheds the light of a sunny day on a reading.

Ill-dignification suggests bad ideals, bad company, tainted victory, trickery. Excessive force, destruction, retribution, bad karma.

The Querent's External Stance
Hagalaz
Sudden storm without warning, natural disaster, catastrophe, uncontrollable forces, destructive weather, especially hail or blizzards. Can be a sign of sudden disruption, chaos, and delays. Stagnation, pain, loss, suffering, hardship, sickness.

A trial by fire, temperance. Recovery from crisis leading to completion of a story. This rune is said to relate to the hidden desires of the unconcious mind, which may indicate the need for meditation and spiritual guidance.

The Other Person's External Stance
Thurisaz
Thor, the Thunder god. Male core fertility. Thurisaz has to do with strife, conflict, combat, defense, and aggression. Reacting forcefully, as if theatened. Instinctual will, eroticism, a catalyst for change. A purging flood, a cleansing fire, catharsis.

This rune suggests that now may not be the best time to make any hasty decisions. Perhaps time should be set aside to reflect.