Relationship Layout #1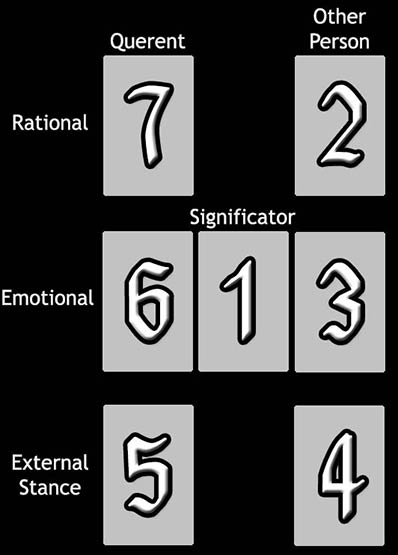 Difficulty: Easy
This layout is easy to read, like a convenient chart. In this layout, court runes generally indicate actual people with the same characteristics. Knights (or corresponding Princes, but not Kings) and Queens are meant to represent actual men and women in this tarot layout. Look for patterns in the runes as always.
Rune #1 is the overall significator of the relationship. The 2 columns on either side of the significator characterize each individual's role in the relationship. The relationship does not have to be romantic. In fact it could be a relationship between a person and a group, or even how 2 groups relate.
The top row, runes #7 & 2, shows the conscious thoughts of each person, or what they think about the relationship and likewise how they view their partner.
The middle row, runes #6 & 3, shows the way each individual feels about the other. Emotional awareness corresponds to a person's unconscious thoughts that run deep, effecting a person in ways he or she is not fully aware of.
The bottom row, runes #5 & 4, represents the way each person behaves, in other words the stance taken regarding the relationship. The way a person acts may be genuine, but sometimes people are phony and manipulative, so it is best to weigh this rune against your partner's other runes to determine if they match up.
Your Relationship #1 Reading
You
Other Person
Thought

Wunjo

Isa
Emotion

Raidho
The Significator

Uruz

Sowilo
External Stance

Othala

Naudhiz

The Significator
Uruz
Self improvement is the ideal of this rune, which indicates the formation of a pattern of success. Responsibility and authority earned raise one's personal stock. New awarenesses make it possible to capitalize on new opportunities, and this rune's appearance suggests that opportunity is about to knock. This rune suggests a period of wonder and adventure before adaptation settles in. Beginner's luck, freedom, electricity, action, courage, strength, tenacity, understanding, experience. Masculine sexual potency.

The Querent's Thoughts
Wunjo
An omen of prosperity on the horizon. Projects relating to creativity, art, or intuition are favored by this rune. A sign of comfort, pleasure, comradery, joy, and harmony.

Glory, ecstasy, and spiritual frenzy. If controlled, success and general increase of one's personal stock. If unloosed, over-enthusiastic zeal can lead to maniacal raving, going berzerk. Don't blow your top.

The Other Person's Thoughts
Isa
A mental block presents a frustrating challenge. A standstill, when patience is a blessing, it is a good time search within one's self for clarity, a great opportunity for meditation. This rune reinforces runes around it.

Ill-dignification of this rune may mean ego-mania, self-absorption, blindness, and dissipation of willpower. Delusion, deceit, guile, stealth, ambush, plots, grievances, treachery, betrayal.

The Querent's Emotions
Raidho
A rune of action and movement, Raidho indicates that business is about to pick up. Travel and movement is suggested, both in immediate terms and those of overall lifestyle. An adventure, journey, vacation, relocation, personal evolution, or other conceivable change of place or perception. Mind expansion.

Knowing what you want and going for it. The personal in rhythm with the world, the dance of life. Raidho's connection to the number 2 is a reminder that there are 2 sides to every story. Be careful not to get side tracked into a disruptive misadventure that could set you back.

The Other Person's Emotions
Sowilo
Sowilo is the sun; the life source of the world, the destroyer of ice. The life-force, health. A time when you will be able to grab the reigns of power to make positive changes in your life. It is a rune of fortune, health, clarity of thought, vitality, accomplishment, and victory. Contact between the higher self and the unconscious.

Success, glory, honor, victory, health, and success. Wholeness, fullness, raw power, primordial force, natural phenomenon, sword of fire, baptism by fire. This very powerful and generally positive rune sheds the light of a sunny day on a reading.

Ill-dignification suggests bad ideals, bad company, tainted victory, trickery. Excessive force, destruction, retribution, bad karma.

The Querent's External Stance
Othala
This rune is concerned with home, land, and property. What is truly important to one. Group order, group prosperity. Land of birth, spiritual heritage, experience and fundamental values. Inheritance. Aid in journeys.

Othala relates to marriage, family, and things which are fixed and unchangeable, set in stone. On a spiritual level this is a reminder that your body is the temple and home of your soul, a source of security, increase, and abundance.

Ill-dignification can mean lack of respect, totalitarianism, slavery, poverty, homelessness. Bad karma, prejudice, injury. This is a warning to take care of what you have if you care about it.

The Other Person's External Stance
Naudhiz
Naudhiz warns about awareness of one's limitations. But resistance builds strength. Delays, restrictions, confusion, conflict, and the will to defeat them. Endurance, survival, determination. Patience and endurance is called for. Innovation, adaptation, and independence. The will power to direct fate.

An opportunity may not be what it seems. You may want to wait before making any important decisions. Tension in relationships is likely. If a risk has been taken, results are still forthcoming. Stress, and frustration are also associated with this sign.