Relationship Layout #1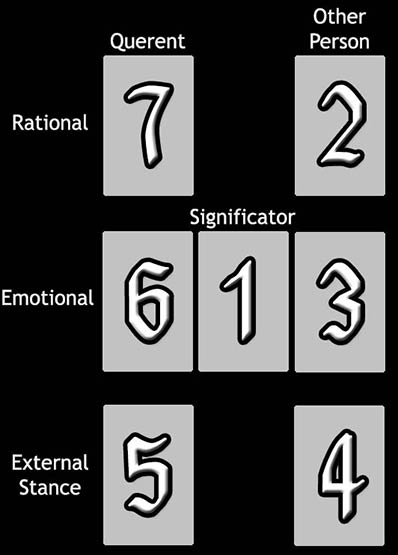 Difficulty: Easy
This layout is easy to read, like a convenient chart. In this layout, court runes generally indicate actual people with the same characteristics. Knights (or corresponding princes, but not kings) and queens are meant to represent actual men and women in this layout. Look for patterns in the runes as always.
Rune #1 is the overall significator of the relationship. The two columns on either side of the significator characterise each individual's role in the relationship. The relationship does not have to be romantic. In fact, it could be a relationship between a person and a group, or even how two groups relate.
The top row, runes #7 & #2, is about the conscious thoughts of each person, or what they think about the relationship and likewise how they view their partner.
The middle row, runes #6 & #3, reveals the way each individual feels about the other. Emotional awareness corresponds to a person's unconscious thoughts that run deep, affecting a person in ways he or she is not fully aware of.
The bottom row, runes #5 & #4, represents the way each person behaves, in other words the stance taken regarding the relationship. The way a person acts may be genuine, but sometimes people are phony and manipulative, so it is best to weigh this rune against the other person's runes to determine how they match up.
Your Relationship #1 Reading
You
Other Person
Thought

Perthro

Fehu
Emotion

Gebo
The Significator

Thurisaz

Elhaz
External Stance

Ehwaz

Eihwaz

The Significator
Thurisaz
Thor, the Thunder god. Male core fertility. Thurisaz has to do with strife, conflict, combat, defence, and aggression. Reacting forcefully, as if threatened. Instinctual will, eroticism, a catalyst for change. A purging flood, a cleansing fire, catharsis.

This rune suggests that now may not be the best time to make any hasty decisions. Perhaps time should be set aside to reflect.

The Querent's Thoughts
Perthro
As the rune of fate and gaming, Perthro suggests that people are remembered for the games they play. Uncertainty, a mystery, secrets, hidden things, the unknown, gambling. Initiation, knowing one's purpose, knowledge of one's self. Evolutionary adaptation.

Pertaining to feminine things such as the mystery of fertility. Good times and companionship, fun and friends, a time of joy. Connected to prophetic dreams, old memories may be stirred resulting in personal revelations and clarity of thought.

Ill-dignification can mean: addiction, stagnation, loneliness, malaise, disappointment, disloyalty.

The Other Person's Thoughts
Fehu
Fehu is one of three mother stones. This rune deals with earning success in matters of material gain or the increase of knowledge. It reveals an impending influence of prosperity, abundance, fullness, and happiness. It can indicate climbing the social ladder. Other key words are: vitality, energy, power, mojo, foresight, fertility, creativity, motion.

The Querent's Emotions
Gebo
Gifts, in the spirit of both giving and receiving. Gebo is one of the runes of love, relating to partnerships and generosity. Matters related to exchanges. This rune can suggest an important favour and self-sacrifice as a reward in itself.

Ill-dignification can mean selfishness, loneliness, desperation, over-sacrifice, or bribery.

The Other Person's Emotions
Elhaz
Elhaz is concerned with security, protection, and defence. Warding off of evil, shield, guardian. Connection with the gods, awakening, higher purpose, divine inspiration, channelling energy or spirits, spiritual enlightenment. This rune is connected to shamans and alternative medicine that are no longer popular in today's society. May indicate a need of retreat for introspection.

Follow your instincts. Elhaz warns that people may want to push you into doing something against your will. You must stand your ground to maintain the rewards of your success or to maintain a position earned.

Ill-dignification warns you to watch for people taking advantage of you. Be careful not to take on their burdens. Can mean hidden danger, deception, confusion, reversal of fortune, weakening of the divine link. Taboo, warning, peril, repugnance. A creative drought.

The Querent's External Stance
Ehwaz
This rune typically signifies big changes – changes for the better. Transportation. May represent a horse, car, plane, boat or other vehicle. Slow but steady progress is indicated. Trust, loyalty, harmony, teamwork, an ideal partnership.

This rune also strengthens adjacent runes, adding clarification and solidarity to their meanings when in doubt. It is also connected with science and higher education. Communication reaches peak harmony.

Ill-dignification could mean a change is craved. Haste, disharmony, betrayal. Feeling trapped. Paranoia and superstition.

The Other Person's External Stance
Eihwaz
Eihwaz is a rune of progress. The desire for material gain provides motivation and a sense of purpose. It indicates a plan being formulated and moving forward. May indicate a person who can be trusted. Some keywords are: honesty, dependability, reliability, endurance, strength, defence, protection.

Ill-dignification can mean: confusion, delays, disturbance, destruction, dissatisfaction, weakness.