Relationship Layout #2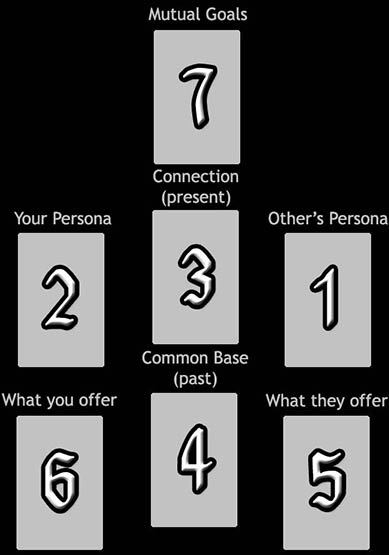 Difficulty: Easy
This relationship layout focuses more on the common ground of the relationship, with three runes in the middle column showing the common ground. The middle column essentially displays the past, present, and future of the relationship.
Rune #4 stands for the common base of the relationship, which may be thought of as the past events which have shaped their characters, bringing them together. The current connection that binds them together is Rune #3, indicating the values shared. Rune #7 implies the common goals that would keep the pair together moving into the future.
The columns on either side show what each partner brings to the table. Remember, relationships need not be romantic, and the partners could even be groups rather than individuals. In this layout, the other person is on the left-hand side and the reader on the right.
Runes #1 & #2 indicate the separate personalities of each member of the relationship. These runes form a sort of bridge with the runes beneath them, #5 & #6, which show the qualities that each partner offers the other person, and thus to the relationship as a whole.
Your Relationship #2 Reading
| | | |
| --- | --- | --- |
| | Mutual Goals | |
| Your Qualities | Connection (Present) | Others' Qualities |
| What You Bring | Common Base (Past) | What They Bring |

7: Mutual Goals
Wunjo
An omen of prosperity on the horizon. Projects relating to creativity, art, or intuition are favoured by this rune. A sign of comfort, pleasure, comradery, joy, and harmony.

Glory, ecstasy, and spiritual frenzy. If controlled, success and general increase of one's personal stock. If unloosed, over-enthusiastic zeal can lead to maniacal raving, going berserk. Don't blow your top.

3: Connection
Isa
A mental block presents a frustrating challenge. A standstill, when patience is a blessing, it is a good time search within one's self for clarity, a great opportunity for meditation. This rune reinforces runes around it.

Ill-dignification of this rune may mean ego-mania, self-absorption, blindness, and dissipation of willpower. Delusion, deceit, guile, stealth, ambush, plots, grievances, treachery, betrayal.

4: Common Base
Dagaz
This is the rune of the day, daylight, and summer time. This rune heralds new perspective and new opportunity. Breakthrough in awareness, an awakening. Achievement of spiritual equilibrium by coming to the place where opposites meet.

A prosperous time to plan out or embark upon a new project. You recognise the power that is in your own hands. Ambitions and ideals run high. Smart work pays off. Self-reliance, independence, security, and self-assuredness.

Ill-dignification can mean coming to the end of the road, reaching the maximum limit, coming full circle, blindness, confusion, and despair.

2: Your Qualities
Uruz
Self-improvement is the ideal of this rune, which indicates the formation of a pattern of success. Responsibility and authority earned raise one's personal stock. New awareness makes it possible to capitalise on new opportunities, and this rune's appearance suggests that opportunity is about to knock. This rune suggests a period of wonder and adventure before adaptation settles in. Beginner's luck, freedom, electricity, action, courage, strength, tenacity, understanding, experience. Masculine sexual potency.

1: Their Qualities
Fehu
Fehu is one of three mother stones. This rune deals with earning success in matters of material gain or the increase of knowledge. It reveals an impending influence of prosperity, abundance, fullness, and happiness. It can indicate climbing the social ladder. Other key words are: vitality, energy, power, mojo, foresight, fertility, creativity, motion.

6: What You Bring
Thurisaz

5: What They Bring
Ansuz
Ansuz signifies the protection of Odin, concerned with man's connection with the universe, spiritual messages, learning, communication, and the spoken word. Signs, inspiration, visions, and the symbolic power of words and names.

Acceptance of good advice yields blessings in health, harmony, and wisdom. Non-acceptance of good advice results in manipulation by others, misunderstanding, and delusion. Vanity and arrogance may deceive one's self. This rune may indicate that dreams are giving you important messages that you should take note of.