Relationship Layout #2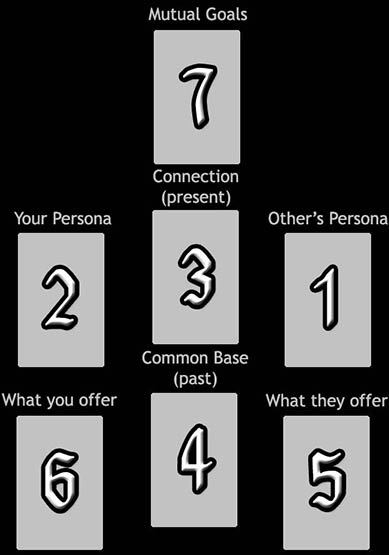 Difficulty: Easy
This relationship layout focuses on the common ground of the relationship, with 3 runes in the middle column showing the common ground. The middle column essentially shows the past, present, and future of the relationship.

Rune #4 shows the common base of the relationship, which may be thought of as the past events which have shaped their characters, bringing them together. Rune #3 represents the current connection that binds them together, the values they share. Rune #7 shows the common goals that would keep them together moving into the future.

The columns on either side show what each partner brings to the table. Remember, relationships need not be romantic, and they partners could even be groups rather than individuals, whatever you choose. In this layout, the other person is on the left hand side, and you, the querent on the right.

Runes #1 & 2 indicate the separate personalities of each member of the relationship. These runes form a sort of bridge with the runes beneath them, #5 & 6, which show the qualities that each partner offers the other person, and thus to the relationship as a whole.
Your Relationship #2 Reading
| | | |
| --- | --- | --- |
| | Mutual Goals | |
| Your Qualities | Connection (Present) | Others' Qualities |
| What You Bring | Common Base (Past) | What They Bring |

7: Mutual Goals
Wunjo
An omen of prosperity on the horizon. Projects relating to creativity, art, or intuition are favored by this rune. A sign of comfort, pleasure, comradery, joy, and harmony.

Glory, ecstasy, and spiritual frenzy. If controlled, success and general increase of one's personal stock. If unloosed, over-enthusiastic zeal can lead to maniacal raving, going berzerk. Don't blow your top.

3: Connection
Fehu
Fehu is one of three mother stones. This rune deals with earning success in matters of material gain or the increase of knowledge. It reveals a impending influence of prosperity, abundance, fullness, and happiness. It can indicate climbing the social ladder. Other key words are: vitality, energy, power, mojo, foresight, fertility, creativity, motion.

4: Common Base
Sowilo
Sowilo is the sun; the life source of the world, the destroyer of ice. The life-force, health. A time when you will be able to grab the reigns of power to make positive changes in your life. It is a rune of fortune, health, clarity of thought, vitality, accomplishment, and victory. Contact between the higher self and the unconscious.

Success, glory, honor, victory, health, and success. Wholeness, fullness, raw power, primordial force, natural phenomenon, sword of fire, baptism by fire. This very powerful and generally positive rune sheds the light of a sunny day on a reading.

Ill-dignification suggests bad ideals, bad company, tainted victory, trickery. Excessive force, destruction, retribution, bad karma.

2: Your Qualities
Berkano
Berkano is a rune of desire, fertility, birth, growth, regeneration, renewal, new beginnings, celebration, and liberation. A love affair or new birth. A prosperous partnership, team, enterprise, or venture.

Ill-dignification suggests something may be stunting the growth process. It may be necessary to examine your choices, and to go back and correct mistakes before moving forward again. There could be family problems or someone close to you that has you worried. Wreckless abandon, going wild. Loss of consciousness, deceit, sterility, stagnation.

1: Their Qualities
Laguz
Laguz is related with water and the sea. Flow, a fertility source, the healing cycle of constant change renewal. This is a strong feminine rune of intuition that also relates to fertility.

Heightened imagination and psychic abilities. Dreams, fantasies, mysteries, the unknown, the occult. A breakthrough in awareness. Success in travel or acquisition, but presenting the possibility of loss.

Ill-dignification suggests you're taking things too hard. Prevent your emotions from running wild. This indicates of a period of confusion. Lack of creativity and feelings of being in a rut may lead to bad decisions and poor judgement. Circumstances may be beyond your control, so the trick is to adapt. Terror, circular logic, avoidance, cowardice, madness, obsession, despair, perversity, sickness, depression.

6: What You Bring
Ehwaz

5: What They Bring
Dagaz
This is the rune of the day, daylight, and summer time. This rune heralds new perspective and new opportunity. Breakthrough in awareness, an awakening. Achievement of spiritual equilibrium by coming to the place where opposites meet.

A prosperous time to plan out or embark upon a new project. You recognize the power that is in your own hands. Ambitions and ideals run high. Smart work pays off. Self-reliance, independence, security, and self-assuredness.

Ill-dignification can mean coming to the end of the road, reaching the maximum limit, coming full circle, blindness, confusion, and despair.