Relationship Layout #2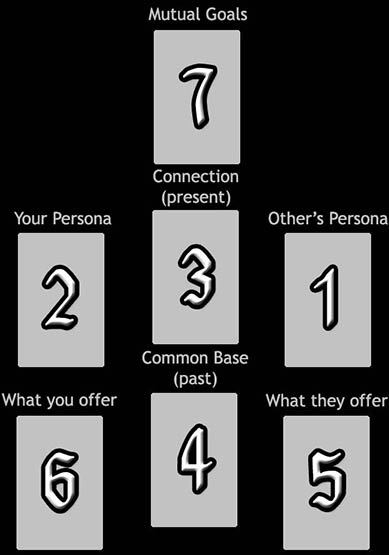 Difficulty: Easy
This relationship layout focuses on the common ground of the relationship, with 3 runes in the middle column showing the common ground. The middle column essentially shows the past, present, and future of the relationship.

Rune #4 shows the common base of the relationship, which may be thought of as the past events which have shaped their characters, bringing them together. Rune #3 represents the current connection that binds them together, the values they share. Rune #7 shows the common goals that would keep them together moving into the future.

The columns on either side show what each partner brings to the table. Remember, relationships need not be romantic, and they partners could even be groups rather than individuals, whatever you choose. In this layout, the other person is on the left hand side, and you, the querent on the right.

Runes #1 & 2 indicate the separate personalities of each member of the relationship. These runes form a sort of bridge with the runes beneath them, #5 & 6, which show the qualities that each partner offers the other person, and thus to the relationship as a whole.
Your Relationship #2 Reading
| | | |
| --- | --- | --- |
| | Mutual Goals | |
| Your Qualities | Connection (Present) | Others' Qualities |
| What You Bring | Common Base (Past) | What They Bring |

7: Mutual Goals
Raidho
A rune of action and movement, Raidho indicates that business is about to pick up. Travel and movement is suggested, both in immediate terms and those of overall lifestyle. An adventure, journey, vacation, relocation, personal evolution, or other conceivable change of place or perception. Mind expansion.

Knowing what you want and going for it. The personal in rhythm with the world, the dance of life. Raidho's connection to the number 2 is a reminder that there are 2 sides to every story. Be careful not to get side tracked into a disruptive misadventure that could set you back.

3: Connection
Isa
A mental block presents a frustrating challenge. A standstill, when patience is a blessing, it is a good time search within one's self for clarity, a great opportunity for meditation. This rune reinforces runes around it.

Ill-dignification of this rune may mean ego-mania, self-absorption, blindness, and dissipation of willpower. Delusion, deceit, guile, stealth, ambush, plots, grievances, treachery, betrayal.

4: Common Base
Thurisaz
Thor, the Thunder god. Male core fertility. Thurisaz has to do with strife, conflict, combat, defense, and aggression. Reacting forcefully, as if theatened. Instinctual will, eroticism, a catalyst for change. A purging flood, a cleansing fire, catharsis.

This rune suggests that now may not be the best time to make any hasty decisions. Perhaps time should be set aside to reflect.

2: Your Qualities
Jera
Jera is a rune of harvest, abundance, reward, fortune, completion, and putting things in order. The fruits of earlier labors are ripe for the picking. Abundant peace and contentedness due to a nice surplus. The promise of success earned. The life cycle of eternal change which rules the universe.

Ill-dignification can mean a sudden setback or reversal of fortune. A major change, bad timing, conflict, poverty, or getting stuck in a repeating loop.

1: Their Qualities
Wunjo
An omen of prosperity on the horizon. Projects relating to creativity, art, or intuition are favored by this rune. A sign of comfort, pleasure, comradery, joy, and harmony.

Glory, ecstasy, and spiritual frenzy. If controlled, success and general increase of one's personal stock. If unloosed, over-enthusiastic zeal can lead to maniacal raving, going berzerk. Don't blow your top.

6: What You Bring
Othala

5: What They Bring
Tiwaz
Tiwaz is the warrior rune, and also one of the runes of love. It is concerned with self-knowledge, self-actualization, leadership, authority, rationality, honor, justice, and self-sacrifice. Opportunities should be seized. Success is indicated by this rune, particularly in competitive and legal matters.

Ill-dignification can mean writer's block, creative slump, over-analysis, over-sacrifice, injustice, imbalance. Conflict, strife, and losing in competitive matters. A lack of passion, miscommunication, even a separation. The male in a relationship may be involved for superficial reasons.