Relationship Layout #2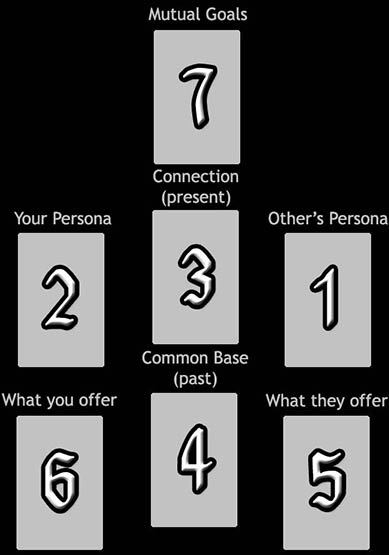 Difficulty: Easy
This relationship layout focuses more on the common ground of the relationship, with three runes in the middle column showing the common ground. The middle column essentially displays the past, present, and future of the relationship.
Rune #4 stands for the common base of the relationship, which may be thought of as the past events which have shaped their characters, bringing them together. The current connection that binds them together is Rune #3, indicating the values shared. Rune #7 implies the common goals that would keep the pair together moving into the future.
The columns on either side show what each partner brings to the table. Remember, relationships need not be romantic, and the partners could even be groups rather than individuals. In this layout, the other person is on the left-hand side and the reader on the right.
Runes #1 & #2 indicate the separate personalities of each member of the relationship. These runes form a sort of bridge with the runes beneath them, #5 & #6, which show the qualities that each partner offers the other person, and thus to the relationship as a whole.
Your Relationship #2 Reading
| | | |
| --- | --- | --- |
| | Mutual Goals | |
| Your Qualities | Connection (Present) | Others' Qualities |
| What You Bring | Common Base (Past) | What They Bring |

7: Mutual Goals
Mannaz
Mankind, the Self; the individual or the human race. Your attitude toward others and their attitudes towards you. Friends and enemies, social order. This is the rune of help. Intelligence, forethought, creative ability, divine awareness.

Ill-dignification suggests a problem with authority, or possibly a conflict with people of a different culture. Mortality, blindness, self-deception, manipulation, cunning, slyness. A warning to be more careful of people, to pay closer attention to their motives. This rune may indicate a period of depression and suggests waiting or seeking consultation before making any important decisions.

3: Connection
Hagalaz
Sudden storm without warning, natural disaster, catastrophe, uncontrollable forces, destructive weather, especially hail or blizzards. Can be a sign of sudden disruption, chaos, and delays. Stagnation, pain, loss, suffering, hardship, sickness.

A trial by fire, temperance. Recovery from crisis leading to completion of a story. This rune is said to relate to the hidden desires of the unconscious mind, which may indicate the need for meditation and spiritual guidance.

4: Common Base
Ansuz
Ansuz signifies the protection of Odin, concerned with man's connection with the universe, spiritual messages, learning, communication, and the spoken word. Signs, inspiration, visions, and the symbolic power of words and names.

Acceptance of good advice yields blessings in health, harmony, and wisdom. Non-acceptance of good advice results in manipulation by others, misunderstanding, and delusion. Vanity and arrogance may deceive one's self. This rune may indicate that dreams are giving you important messages that you should take note of.

2: Your Qualities
Eihwaz
Eihwaz is a rune of progress. The desire for material gain provides motivation and a sense of purpose. It indicates a plan being formulated and moving forward. May indicate a person who can be trusted. Some keywords are: honesty, dependability, reliability, endurance, strength, defence, protection.

Ill-dignification can mean: confusion, delays, disturbance, destruction, dissatisfaction, weakness.

1: Their Qualities
Jera
Jera is a rune of harvest, abundance, reward, fortune, completion, and putting things in order. The fruits of earlier labours are ripe for the picking. Abundant peace and contentedness due to a nice surplus. The promise of success earned. The life cycle of eternal change which rules the universe.

Ill-dignification can mean a sudden setback or reversal of fortune. A major change, bad timing, conflict, poverty, or getting stuck in a repeating loop.

6: What You Bring
Naudhiz

5: What They Bring
Kenaz
This is the primary female rune, representing things such as motherly instincts, guidance and support, intuition, and love. Spiritual visions, revelation, esoteric knowledge, inspiration, creativity, technical ability.

A sign of success, particularly in artistic endeavours. Vitality, harnessed ability, transformation, and reinvention. The pioneer spirit, the power to create your own reality. The power of light, to uncover and inspire.

Female passion and sexual desire. Being exposed, loss of illusion and false hope. It can conversely serve as a reminder that a loss may seem unpleasant, but that it can be a blessing in disguise.