The Love Triangle Layout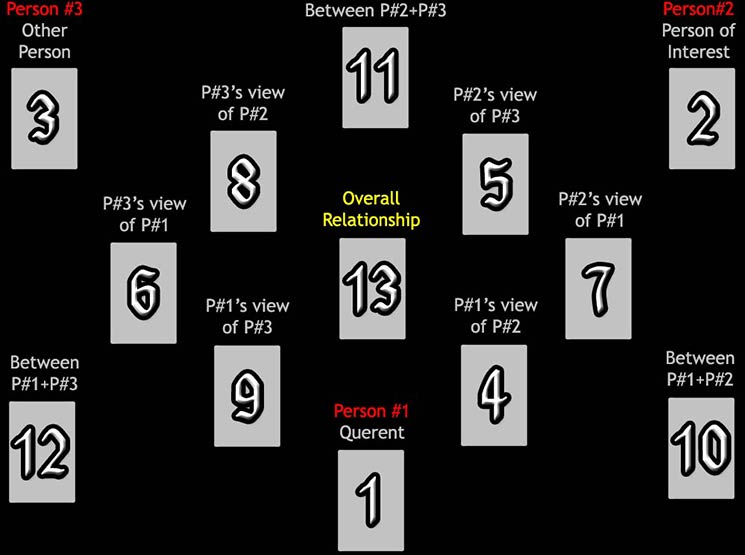 Difficulty: Complicated
Casually referred to as the Love Triangle, this layout can be used to determine the dynamics of the relationship between three people, regardless of whether romance is involved. This layout is arranged in the form of a hexagram, consisting of several large and small triangles. This layout may seem somewhat complicated, but it is not entirely that difficult.
The first step is to interpret the rune for each individual position in the layout. Generally, one might ask about a relationship they are involved in, but this does not have to be the case. Ordinarily, the reader's representative rune is #1, their main person of interest is #2, and the other person would be #3.
The second step fills in the downward triangle and involves further examination of the individuals through their views of the other people. Each person has two more runes showing the way they see and relate to the other members of the triangle. For example, Rune #6 indicates how Person #3 relates to Person #1, while Rune #9 stands for Person #1's attitude toward Person #3.
The next step completes the upward triangle and the hexagram, focusing on runes #10–13. It also completes the many smaller triangles and hints at the potential for each relationship. The final rune, #13 can be considered the significator of the reading, which suggests the overall potential for this three-way relationship.
Your Love Triangle Reading
| | | | | | | |
| --- | --- | --- | --- | --- | --- | --- |
| P#3 | | 3to2 | 2+3 | 2to3 | | P#2 |
| | 3to1 | | Overall | | 2to1 | |
| 1+3 | | 1to3 | | 1to2 | | 1+2 |
| | | | P#1 | | | |
| | | | | | | |
1: Person #1
Raidho
A rune of action and movement, Raidho indicates that business is about to pick up. Travel and movement are suggested, both in immediate terms and those of overall lifestyle. An adventure, journey, vacation, relocation, personal evolution, or other conceivable change of place or perception. Mind expansion.

Knowing what you want and going for it. The personal in rhythm with the world, the dance of life. Raidho's connection to the number 2 is a reminder that there are two sides to every story. Be careful not to get side tracked into a disruptive misadventure that could set you back.
2: Person #2

Elhaz
Elhaz is concerned with security, protection, and defence. Warding off of evil, shield, guardian. Connection with the gods, awakening, higher purpose, divine inspiration, channelling energy or spirits, spiritual enlightenment. This rune is connected to shamans and alternative medicine that are no longer popular in today's society. May indicate a need of retreat for introspection.

Follow your instincts. Elhaz warns that people may want to push you into doing something against your will. You must stand your ground to maintain the rewards of your success or to maintain a position earned.

Ill-dignification warns you to watch for people taking advantage of you. Be careful not to take on their burdens. Can mean hidden danger, deception, confusion, reversal of fortune, weakening of the divine link. Taboo, warning, peril, repugnance. A creative drought.
3: Person #3

Ingwaz
This is the rune of male health, fertility, creativity, gestation, and personal growth. Common sense, simple virtue, family, home. The spark of a new idea could start a fire. Often relates to a pivotal point, perhaps a rest stage, a time of relief, of healing and regeneration. A time when loose ends can be tied, freeing one to possibly move in a new direction. You must listen to yourself.

Ill-dignification can suggest impotence and circular movement. Production, labour, work.
4: Person #1's view of #2

Tiwaz
Tiwaz is the warrior rune, and also one of the runes of love. It is concerned with self-knowledge, self-actualisation, leadership, authority, rationality, honour, justice, and self-sacrifice. Opportunities should be seized. Success is indicated by this rune, particularly in competitive and legal matters.

Ill-dignification can mean writer's block, creative slump, over-analysis, over-sacrifice, injustice, imbalance. Conflict, strife, and losing in competitive matters. A lack of passion, miscommunication, even a separation. The male in a relationship may be involved for superficial reasons.
5: Person #2's view of #3

Thurisaz
Thor, the Thunder god. Male core fertility. Thurisaz has to do with strife, conflict, combat, defence, and aggression. Reacting forcefully, as if threatened. Instinctual will, eroticism, a catalyst for change. A purging flood, a cleansing fire, catharsis.

This rune suggests that now may not be the best time to make any hasty decisions. Perhaps time should be set aside to reflect.
6: Person #3's view of #1

Gebo
Gifts, in the spirit of both giving and receiving. Gebo is one of the runes of love, relating to partnerships and generosity. Matters related to exchanges. This rune can suggest an important favour and self-sacrifice as a reward in itself.

Ill-dignification can mean selfishness, loneliness, desperation, over-sacrifice, or bribery.
7: Person #2's view of #1

Naudhiz
Naudhiz warns about awareness of one's limitations. But resistance builds strength. Delays, restrictions, confusion, conflict, and the will to defeat them. Endurance, survival, determination. Patience and endurance are called for. Innovation, adaptation, and independence. The will power to direct fate.

An opportunity may not be what it seems. You may want to wait before making any important decisions. Tension in relationships is likely. If a risk has been taken, results are still forthcoming. Stress, and frustration are also associated with this sign.
8: Person #3's view of #2

Sowilo
Sowilo is the sun; the life source of the world, the destroyer of ice. The life-force, health. A time when you will be able to grab the reins of power to make positive changes in your life. It is a rune of fortune, health, clarity of thought, vitality, accomplishment, and victory. Contact between the higher self and the unconscious.

Success, glory, honour, victory, health, and success. Wholeness, fullness, raw power, primordial force, natural phenomenon, sword of fire, baptism by fire. This very powerful and generally positive rune sheds the light of a sunny day on a reading.

Ill-dignification suggests bad ideals, bad company, tainted victory, trickery. Excessive force, destruction, retribution, bad karma.
9: Person #1's view of #3

Wunjo
An omen of prosperity on the horizon. Projects relating to creativity, art, or intuition are favoured by this rune. A sign of comfort, pleasure, comradery, joy, and harmony.

Glory, ecstasy, and spiritual frenzy. If controlled, success and general increase of one's personal stock. If unloosed, over-enthusiastic zeal can lead to maniacal raving, going berserk. Don't blow your top.
10: Overall relationship between persons #1 and #2

Berkano
Berkano is a rune of desire, fertility, birth, growth, regeneration, renewal, new beginnings, celebration, and liberation. A love affair or new birth. A prosperous partnership, team, enterprise, or venture.

Ill-dignification suggests something may be stunting the growth process. It may be necessary to examine your choices, and to go back and correct mistakes before moving forward again. There could be family problems or someone close to you that has you worried. Reckless abandon, going wild. Loss of consciousness, deceit, sterility, stagnation.
11: Overall relationship between persons #2 and #3

Ansuz
Ansuz signifies the protection of Odin, concerned with man's connection with the universe, spiritual messages, learning, communication, and the spoken word. Signs, inspiration, visions, and the symbolic power of words and names.

Acceptance of good advice yields blessings in health, harmony, and wisdom. Non-acceptance of good advice results in manipulation by others, misunderstanding, and delusion. Vanity and arrogance may deceive one's self. This rune may indicate that dreams are giving you important messages that you should take note of.
12: Overall relationship between persons #1 and #3

Ehwaz
This rune typically signifies big changes – changes for the better. Transportation. May represent a horse, car, plane, boat or other vehicle. Slow but steady progress is indicated. Trust, loyalty, harmony, teamwork, an ideal partnership.

This rune also strengthens adjacent runes, adding clarification and solidarity to their meanings when in doubt. It is also connected with science and higher education. Communication reaches peak harmony.

Ill-dignification could mean a change is craved. Haste, disharmony, betrayal. Feeling trapped. Paranoia and superstition.
13: Overall 3-way Relationship

Hagalaz
Sudden storm without warning, natural disaster, catastrophe, uncontrollable forces, destructive weather, especially hail or blizzards. Can be a sign of sudden disruption, chaos, and delays. Stagnation, pain, loss, suffering, hardship, sickness.

A trial by fire, temperance. Recovery from crisis leading to completion of a story. This rune is said to relate to the hidden desires of the unconscious mind, which may indicate the need for meditation and spiritual guidance.