Three-Rune Layout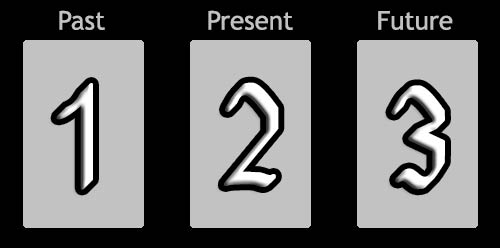 Difficulty: Very easy
This simplistic chronological layout can be used to shed light on the influences that have passed, current influences, and what is approaching in the near future. Not much explanation is necessary for this simple layout.
Your Three-Rune Reading
The Past

Kenaz
The Present

Ehwaz
The Future

Naudhiz

The Past
Kenaz
This is the primary female rune, representing things such as motherly instincts, guidance and support, intuition, and love. Spiritual visions, revelation, esoteric knowledge, inspiration, creativity, technical ability.

A sign of success, particularly in artistic endeavours. Vitality, harnessed ability, transformation, and reinvention. The pioneer spirit, the power to create your own reality. The power of light, to uncover and inspire.

Female passion and sexual desire. Being exposed, loss of illusion and false hope. It can conversely serve as a reminder that a loss may seem unpleasant, but that it can be a blessing in disguise.

The Present
Ehwaz
This rune typically signifies big changes – changes for the better. Transportation. May represent a horse, car, plane, boat or other vehicle. Slow but steady progress is indicated. Trust, loyalty, harmony, teamwork, an ideal partnership.

This rune also strengthens adjacent runes, adding clarification and solidarity to their meanings when in doubt. It is also connected with science and higher education. Communication reaches peak harmony.

Ill-dignification could mean a change is craved. Haste, disharmony, betrayal. Feeling trapped. Paranoia and superstition.

The Future
Naudhiz
Naudhiz warns about awareness of one's limitations. But resistance builds strength. Delays, restrictions, confusion, conflict, and the will to defeat them. Endurance, survival, determination. Patience and endurance are called for. Innovation, adaptation, and independence. The will power to direct fate.

An opportunity may not be what it seems. You may want to wait before making any important decisions. Tension in relationships is likely. If a risk has been taken, results are still forthcoming. Stress, and frustration are also associated with this sign.