Three-Rune Layout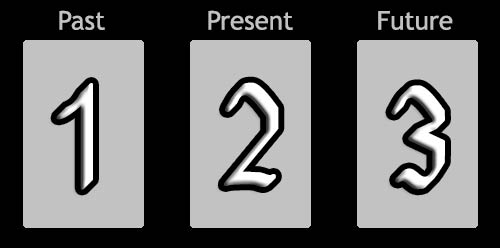 Difficulty: Very easy
This simplistic chronological layout can be used to shed light on the influences that have passed, current influences, and what is approaching in the near future. Not much explanation is necessary for this simple layout.
Your Three-Rune Reading
The Past

Kenaz
The Present

Thurisaz
The Future

Ingwaz

The Past
Kenaz
This is the primary female rune, representing things such as motherly instincts, guidance and support, intuition, and love. Spiritual visions, revelation, esoteric knowledge, inspiration, creativity, technical ability.

A sign of success, particularly in artistic endeavours. Vitality, harnessed ability, transformation, and reinvention. The pioneer spirit, the power to create your own reality. The power of light, to uncover and inspire.

Female passion and sexual desire. Being exposed, loss of illusion and false hope. It can conversely serve as a reminder that a loss may seem unpleasant, but that it can be a blessing in disguise.

The Present
Thurisaz
Thor, the Thunder god. Male core fertility. Thurisaz has to do with strife, conflict, combat, defence, and aggression. Reacting forcefully, as if threatened. Instinctual will, eroticism, a catalyst for change. A purging flood, a cleansing fire, catharsis.

This rune suggests that now may not be the best time to make any hasty decisions. Perhaps time should be set aside to reflect.

The Future
Ingwaz
This is the rune of male health, fertility, creativity, gestation, and personal growth. Common sense, simple virtue, family, home. The spark of a new idea could start a fire. Often relates to a pivotal point, perhaps a rest stage, a time of relief, of healing and regeneration. A time when loose ends can be tied, freeing one to possibly move in a new direction. You must listen to yourself.

Ill-dignification can suggest impotence and circular movement. Production, labour, work.